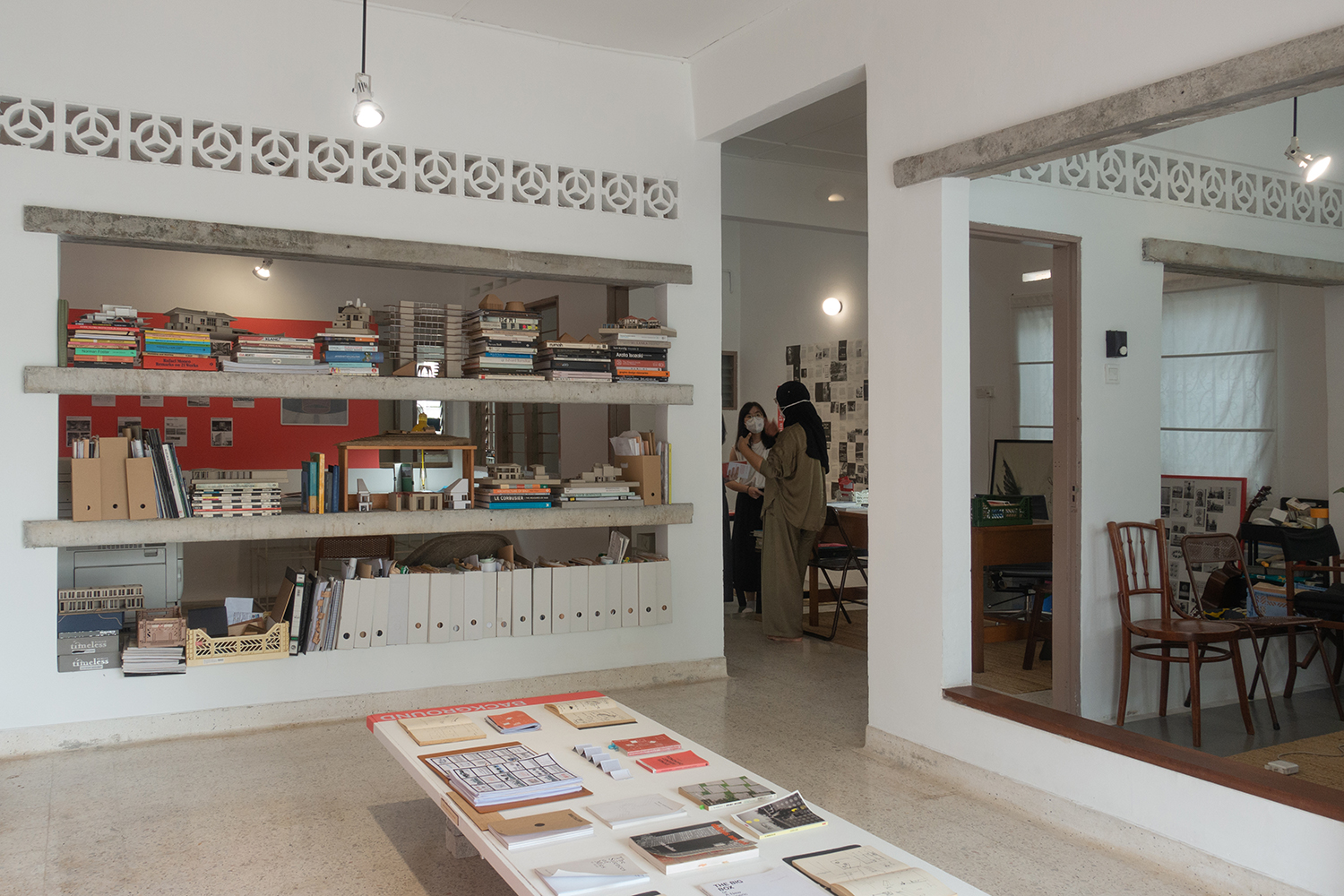 Suburbia Projects seeks to provide a space for critical yet accessible architectural literature currently lacking on local bookshelves, challenging the conventions of architectural bookmaking in the region.
By WIILLIAM CHEW for LENSA SENI
Set within rows of terrace houses in the quiet suburbs of Petaling Jaya, an unassuming single storey house now accommodates Suburbia Projects, an architectural book publisher, retailer, gallery and studio space. The duo behind it, Ashran Bahari and Naadiya Hani, were looking to fill the gaps within the state of Malaysian architectural publications. They then decided to provide a space for critical yet accessible architectural writings currently not seen on our bookshelves.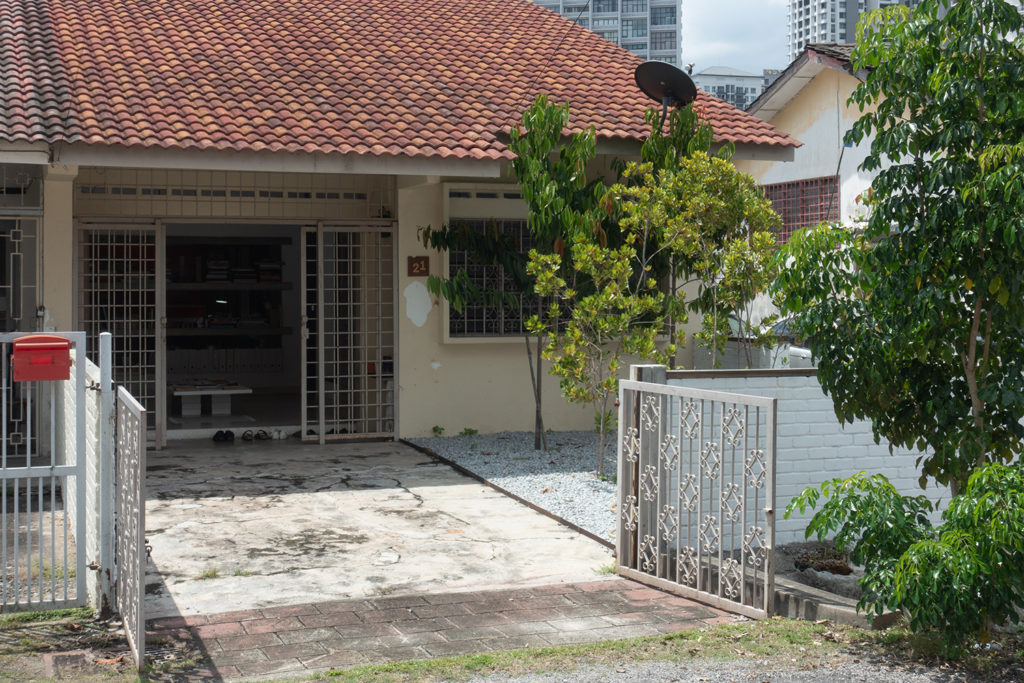 Background: case against coffee table books
Their first publication, Background, Frame, Platform is a book of essays written by Nazmi Anuar, an architect and an educator. The essays range from observing pop-up markets under concrete flyovers, to documenting life in the now demolished Razak Mansion. Throughout the book, Nazmi advocates for architecture that recedes into the background, allowing the inhabitants and their use of the space to take centre stage. LENSA SENI spoke to the duo to learn their insights about the new space.
Nazmi: A few years ago, someone told me, "No one buys books of essays in Malaysia, what you need is to make a coffee table book that shows flashy architecture, those kinds of books will sell. Books of essays that involve reading and thinking don't sell." So I'm quite happy to see people connecting with the book because I think it simply demonstrates a real hunger for the written word.
Naadiya: It's not even a Malaysian problem per se. You try to get Singaporean or Indonesian literature on architecture, it's equally limited, because everyone is so fixated on beautiful images. Imagine looking back 20 years from now, and the only publications you have are books filled with houses of "third-world aesthetics" – not even civic buildings. Is that what architecture has been reduced to? Surely there are other conversations that we could have.
Nazmi: Yes, and I think doing the book is also an experiment or an attempt to disprove the notion that Malaysian readers are only interested in books that show flashy photographs. If you keep churning out those kinds of books, then that's all the public will consume. I mean, I have nothing against coffee table books, I have some myself… Well, actually, I don't… But it's about trying to put ideas out there that are accessible, that are meant for people to connect and formulate their own opinions in parallel with them, or as a reaction to them – that is the attempt with the book.
Frame: possibilities within a domestic realm
The house, once made of a series of private rooms, now provides a spatial framework for a variety of uses on a rotation basis. Ashran, who also runs the architectural practice Studio Karya with his partner, have made simple yet effective interventions by carving out openings in the walls.
The result is a set of interconnected rooms with places to sit or lean and have conversations, where from any quadrant of the house, you can view the other three. Yet, the walls are not redundant: as they retain their presence, allowing different activities to happen all at once.
Nazmi: In a way it shows that sometimes what you need to do in architecture is very minimal. It's simply removing some walls and suddenly this space becomes completely different. It's not about adding a titanium ceiling or brass copings everywhere. I guess those things are nice, but by simply opening up these rooms, you create this collaborative space.
Ashran: Studio Karya's intention with the space is clear. We retain as much as we can and keep the changes to what is necessary, to make the space work.
Naadiya: I think that's the real sustainable architecture though: you prioritise what you have to do. I guess with Studio Karya's projects it's mostly that, putting interventions in where they're needed.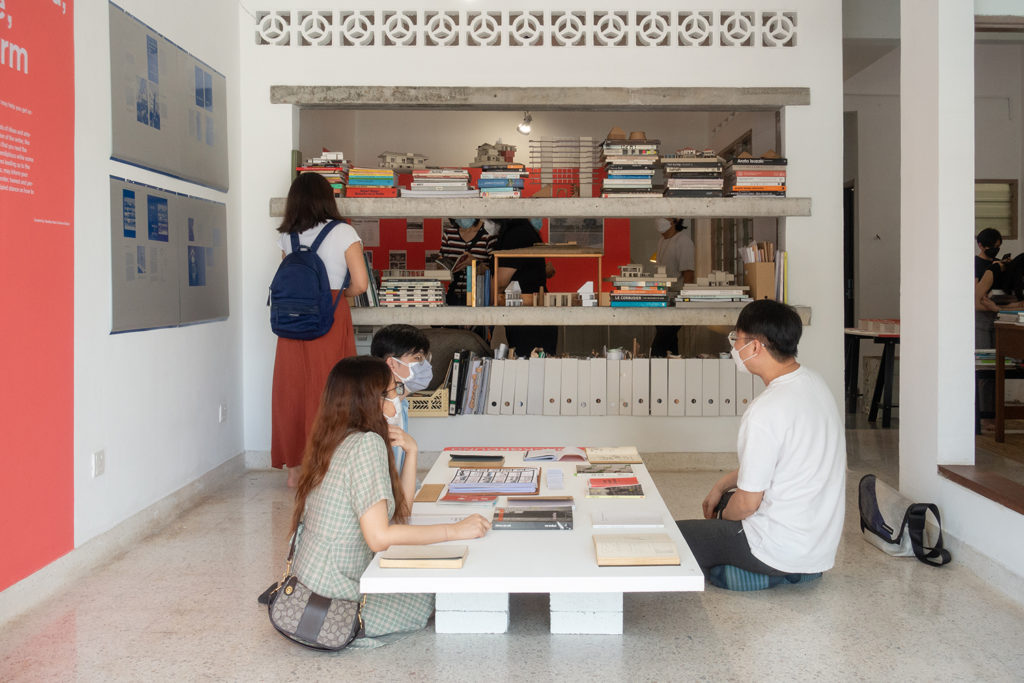 Platform: house as a forum
In the spaces between these walls, Nazmi's ideas were cultivated and brought into their physical manifestations, as a book and exhibition.      Strands of thoughts which led to the book fill the shelves, walls, and tables in the house and invite visitors to flow from one room to another. As they begin discussing the works, voices of celebration and critique ring throughout the house, the atmosphere turns into a market, where seeds of thoughts are shared and exchanged.
Naadiya: Architecture in Malaysia has always been very institutional, PAM [Pertubuhan Arkitek Malaysia] is always the gatekeeper, and everyone is just waiting on PAM to initiate or approve things. So, prior to Suburbia Projects, we've had the advantage of hosting a few of our own events. We've attempted a networking night, installations, just trying to bridge between commercial practice and what we want to do. It has always existed as somewhat of a platform, it has been a space that thrives on collaboration. Sometimes students would come in for crits, friends would drop by to brainstorm ideas – it's an office that welcomes you lah, I guess.
Ashran: It's very interesting to see, suddenly, people start coming in, meeting us, and discussing. "Ok, I have 7000 words, would you be interested in looking at it?" – something like that. It's always our belief that you should work with people that you trust, but it's not wrong that new faces come in, I think it is an opportunity.
Nazmi: I think one of the ideas with Background, Frame, Platform is to demystify the perception that it is difficult to make a book. That you need to have a long career behind you and then you can make a book about your work. We want to show that whilst making a book is not necessarily easy and simple, it is something that is accessible for other people to do.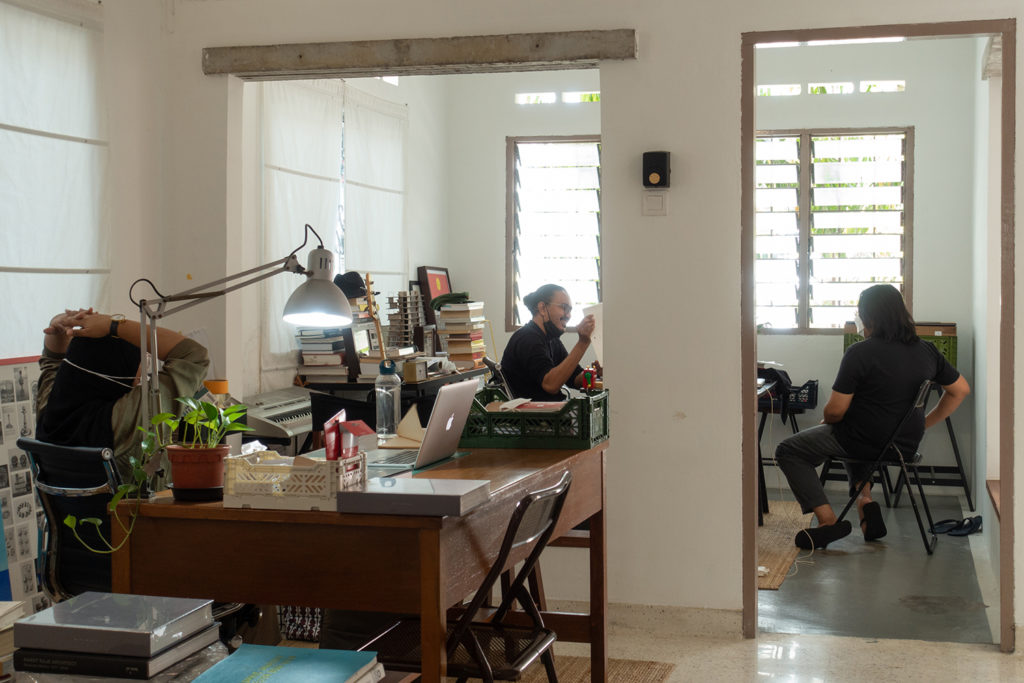 As the exhibition comes to a close, the gallery spaces return to their normal, day-to-day office setting, with an aura of domesticity and the occasional visit from friends. In the coming weeks, Naadiya and Ashran will be busy juggling hosting an exhibition for an artist and working on their upcoming publication.
Naadiya: I never considered that people would be asking us to look at their drafts. I thought that I had to keep on thinking what the next project would be. Sometimes I get very stressed out over that question. But now it's a matter of trying to see what suits our vision, how we come forward as Suburbia Projects.
William Chew is a participant in the CENDANA ARTS WRITING MASTERCLASS & MENTORSHIP PROGRAMME 2021.
The views and opinions expressed in this article are strictly the author's own and do not reflect those of CENDANA. CENDANA reserves the right to be excluded from any liabilities, losses, damages, defaults, and/or intellectual property infringements caused by the views and opinions expressed by the author in this article at all times, during or after publication, whether on this website or any other platforms hosted by CENDANA or if said opinions/views are republished on third party platforms.