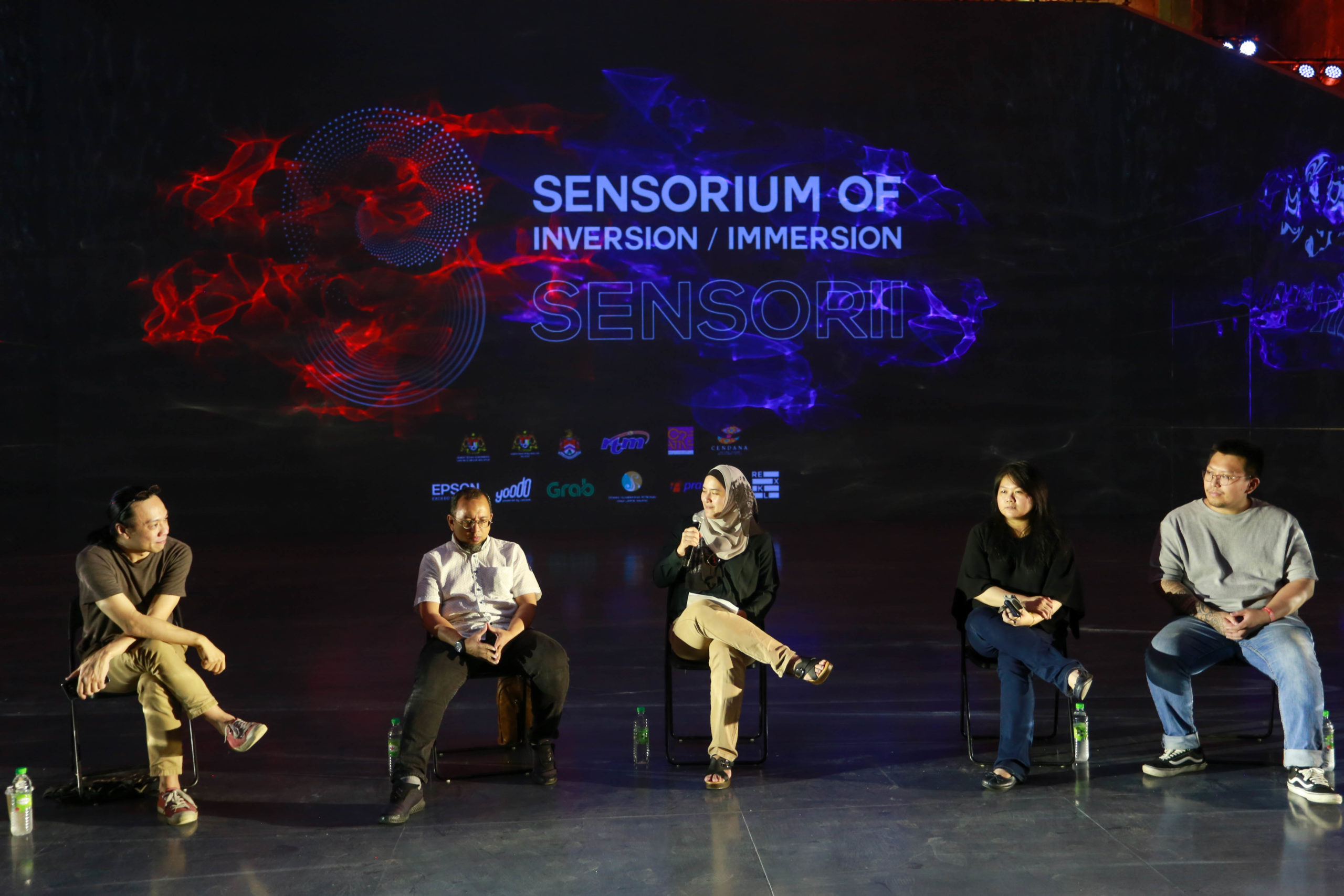 Missed out of listening to what the curators and creators of SENSORii had to share during the post show talks? We've got you covered.
By DANIAL FUAD
Sensorium of Inversion/Immersion (SENSORii) was a media art showcase held at REXKL as part of the Art In The City Program by Cultural Economic Development Agency (CENDANA) which ran last December. It featured four works by multimedia artists Lim Kok Yoong & KC Tan, Wee Jia Foong, FLUX 28 dan Ashly Nandong & Azarikh Amran.
The showcase was a hit, with almost ten thousand people flocking in to get a glimpse of the spectacular assemblages of vibrant light projection artworks. Surreal as some of the artworks were, it was indeed an experience to have caught.
The artistic team for the project was helmed by renowned curator Yap Sau Bin, while the engrossing music for all the works were composed by Ahmad Muriz Che Rose and the technical duties were handled by Melissa Teoh and FABU Design. For the exhibition, the team built a projection room to display the works so they were larger than life. These works were Primordial Memory, Through the Lens of Fire, CHECKPOINT and Dream Wandering with Guardian Spirits of Borneo.
In a series of talks held with the creators, artists and techies, audience members and interested parties were given a chance to ask questions and learn how the amazing installation was set up.
Primordial Memory was a collaborative effort of Lim Kok Yoong and KC Tan. They brought projectors out into the wild into places such as jungles and parks to do projection mapping; these footages were then recorded and edited for SENSORii. The work spoke about the birth of artificial life produced through the combination of biological and digital life. Aside from using projection mapping, they also used microscopic footages to question the concept of life. The concept of life was reframed in order to question the limited beliefs we have regarding life.
Wee Jia Foong is passionate about technology and its relationship with the arts. Through that, he has created various experimental works that have been exhibited in Malaysia as well as internationally. For SENSORii, Wee showcased his interest with technology in Through the Lens of Fire. Images of daily life was collected, and he was able to experiment with various techniques to deconstruct them. In one of the talks, Wee mentioned that he explores how reality is represented through the technical lens and also the role of technology as culture and history recorder.
FLUX28's Tsa Meera and Talha K. have been making a name for themselves in new media installations. CHECKPOINT was the work that they produced for SENSORii – it was a fully rendered CGI short film. The work brought the audience through a journey of self-discovery flying along the frames following a person's journey towards self-mastery and breakthrough in life.
Finally, the showcase featured Dream Wandering, by Ashly Nandong and Azarikh Amran. Ashly, a Kuching-based artist and researcher, who does work revolving around Dayak designs and symbols. Azarikh is an award-winning graphic designer who loves to delve into sci-fi, cyberpunk and retro-futuristic. Ashly's research towards the mystical rituals of the Borneo coupled with with Azarikh's CGI, enabled them to look closely at the shared intangible heritage, exploring concepts of Guardian Spirits.
The mixed media showcase was a good example of how far technology can help strengthen the arts. Today, that synergy of arts and technology is so important, and we need more such efforts to keep arts thriving, and draw in fresh, new audiences curious to learn more.