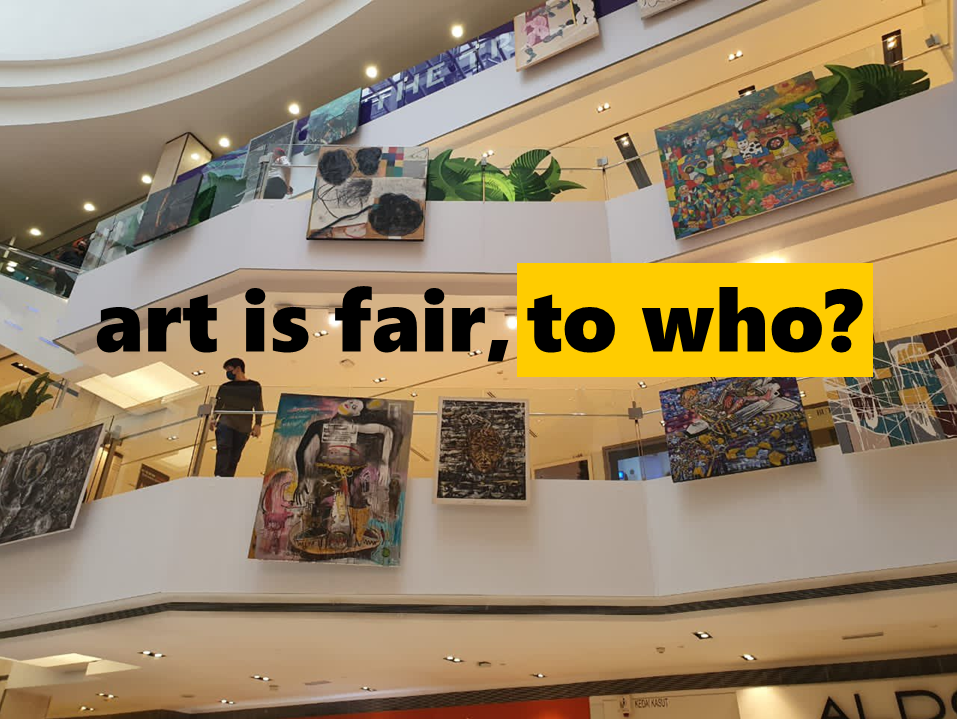 When artisfair/KL opened in November 2021, it was the talk of the town. From being described as "the best thing I have ever seen" to "a glorious art show where artists lost their glory", it sparked questions around the narrative behind its title. Ivan Alexander Francis Gabriel, a curator, and artist based in Penang, shares his take on the issues we should notice beneath all the noise.
By KOAY CHOON SEAN for Lensa Seni
The largest art exhibition in the region. More than 2,000 artworks by over 500 artists from Malaysia and Indonesia. artisfair/KL was the talk of the town following its launch on Nov 11. The show asserted to challenge the conventional presentation of art by taking it beyond the galleries and into the open space of a shopping mall, Fahrenheit88, in Kuala Lumpur. Literally the entire shopping mall.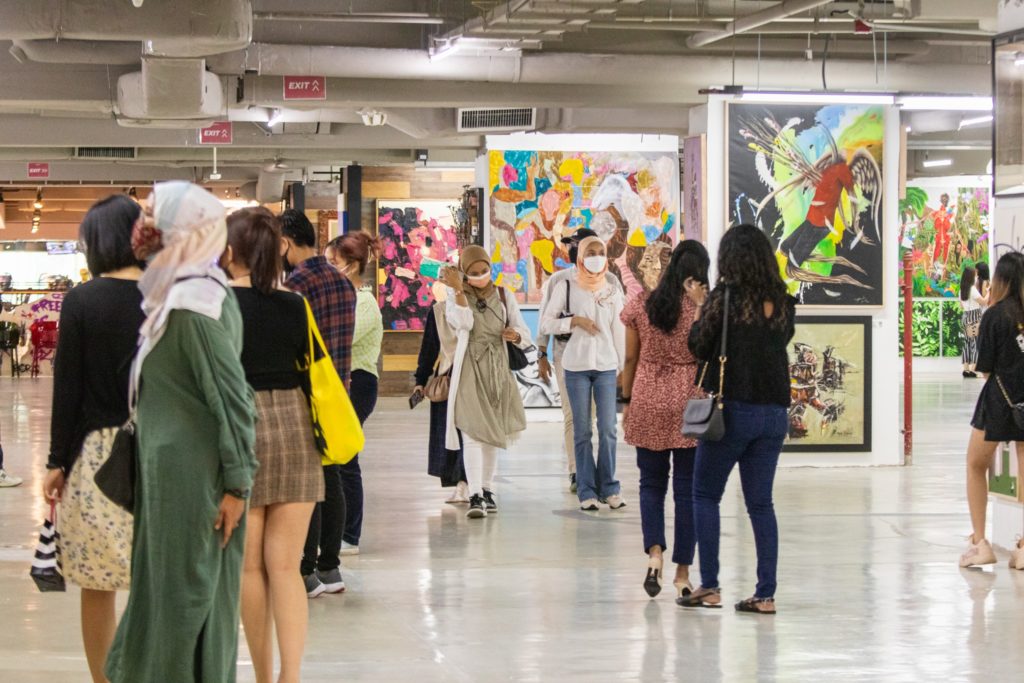 The exhibition/fair was the brainchild of three "art outliers" – Malaysian fashion designer Dato' Sri Bernard Chandran, founder of BookXcess Andrew Yap and rapper-turned-art-lover Nicholas Siau.
It was an Avengers-team up of sorts which sought to explore new narratives in the appreciation of art while making it affordable for the general public to own artworks by both emerging as well as established artists. It almost sounded like a potential summer blockbuster in the making for the art community.
But sadly, it didn't quite hit the mark.
During its opening week, tweets and photos of artworks being dangled like laundry on the railings inside the mall swarmed social media. Artists and art lovers alike were criticising the accessibility of the artworks and the absence of labels. The art community was up in arms. Stories emerged on ambiguous and unfair contract terms.  Artworks were being pulled out from the show or went missing.
Perhaps it was best summed up through the line from veteran Malaysian artist Jalaini Abu Hassan: Acara Gemilang kesenian begitu hebat cuma yang hilang gemilang ialah seniman. (A glorious art show where artists lost their glory)
On the other spectrum, however, things were different. Everyday Joes flooded Instagram with selfies and stories on how it was the greatest thing they had ever seen. It was as though the rainbow had descended to the foreground with bursts of colours behind #ootd and #portrait poses. Artworks were snapped up like hotcakes. And yes, we are still talking about the same event.
So, the question arises: what's the story here?
Seeing Through the Noise
Ivan Alexander Francis Gabriel is a Penang-based stage actor, visual artist, curator, and educator. But above all, he is an eloquent storyteller at heart. And a figure who befits the true definition of a curator. The term has its origin in the Latin word cura, which means to care.
"I don't take the meaning, nor my role as a curator lightly. Given that I am also an artist myself, a lot of personal care is involved in the process," he said in a recent interview. And he shows it through his subjects, the artists he works with, and the audiences he engages with.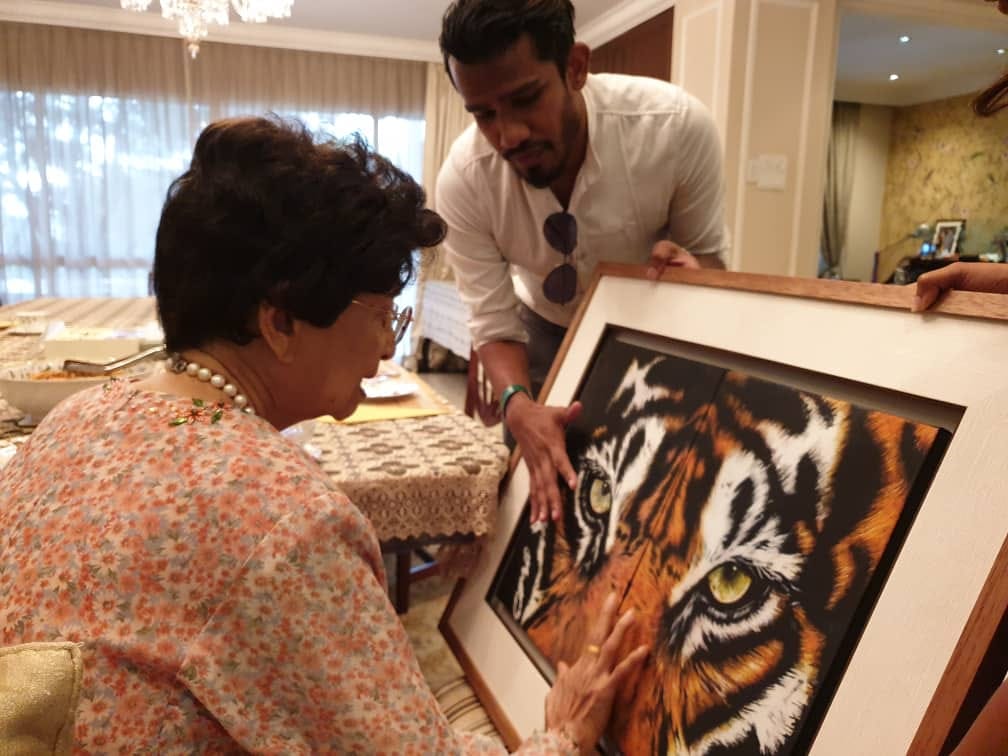 In 2017, his Black Rhino sketch was crowned as Art of the Year by Eksentrika, an online Asian art magazine. In one of the auctions, his painting of the Malayan Tiger was purchased by Tun Dr Siti Hasmah Mohd. Ali, the wife of Malaysia's former Prime Minister Tun Dr Mahathir Mohamad. Ivan has also worked with the World Wildlife Fund (WWF) for more than three years as an advocate for endangered animals.
Recently, he curated a group exhibition on the threatened dusky leaf monkeys (LangUR: Building Bridge Between Our Worlds).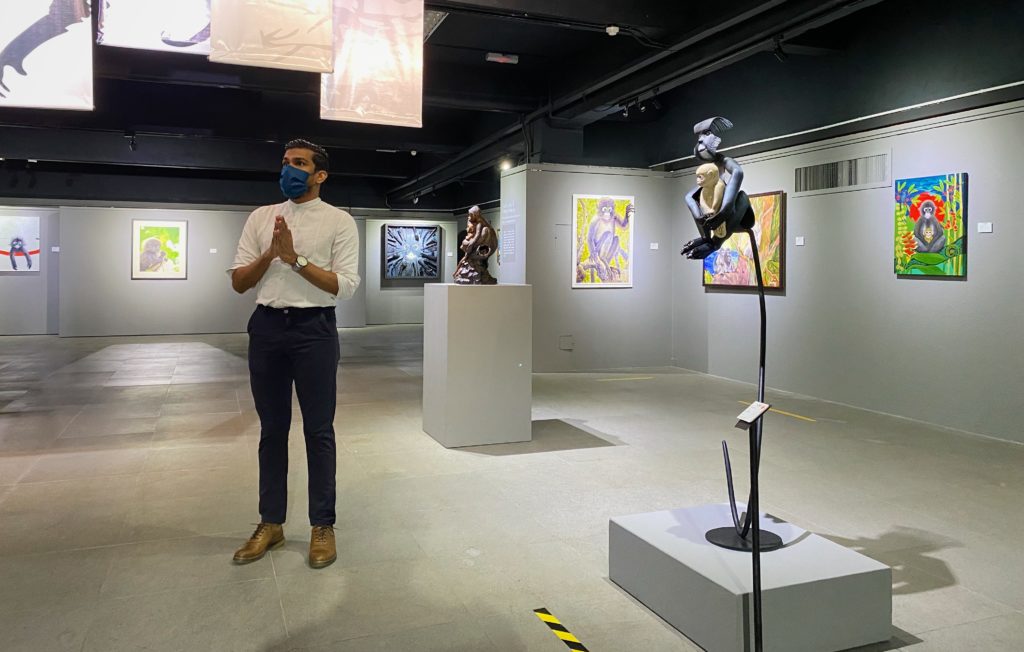 Gabriel was in Penang, a state some 400 km from the art event. But despite being in Penang, he told me that he kept close tabs on artisfair/KL because many of his friends were involved as exhibiting artists. One of them, Bono Stellar, was quoted in several articles with a short clip of her removing her Clair de Lune piece from the show.
When you first heard about the stories from the artisfair/KL event, what was your immediate take?
It was funny because, for me, the biggest takeaway from this entire thing is the title and its correlation to what happened on its opening week. It's catchy, and I do love the play on words. But here's the thing about the title: art is fair, to whom? Looking at the way it was done, I am (still) struggling to find the answer.
I believe they were pushing for the message of 'making arts accessible and affordable' to connect to the title. From a marketing point of view, it works!
It fell a little short in delivering that. Perhaps they did achieve what they intended for the public, but not the artists. Art is for everyone, and that is undeniable. But who are also the people you are doing this exhibition, or any exhibition, for? Isn't it our job as a curator to also take care of the artists and their artwork?
It seems that the question of 'art is fair, but to whom' has a clear answer here.
Having said that, it's not fair to pin the blame on anyone specific here. I do think everyone has a role to play in this and to ask questions. Something as simple as the act of communicating with one another could have solved a lot of the issues here. Between the curator and the organiser, with the artists, as well as among the artists themselves. As a curator myself, I believe it is important to have an honest and open dialogue with the artists in order to respect their creative processes and ideas. It shows that you care about them, and you want to hear their voices.
Do you think this story also unearthed the issue of opportunities for artists in the market?
You are absolutely right. I can't help but ask: why did the artists say 'yes' to the show in the first place? Despite the terms in the contract, they agreed to sign up for it! That was the sad bit. Opportunities don't come by easily these days. When they do, artists won't pass over them! They can't afford to do that. But then again, because of the scarcity of prospects, the artists wouldn't know what it's like to sign a contract like that. Like I said earlier, if the artists had communicated with one another, they would have asked questions that needed to be asked. Be open and talk about it. I do hope something good can come out of this.
What can the general public do to support the artists in these trying times?
Buy their artworks if you can afford them, and for the right reason. I don't subscribe to the idea of supporting artists because they are struggling. Support them because you think they resonate with you or even your values. Otherwise, talk about them on your social media! Help them to build a following or presence by sharing their works in your circle. Create conversations around the artists and their works even on your usual social outings. You never truly realise how powerful social media is.
Comment, like and share!
I do like to do one cheeky thing when I'm on tour. I ask my audiences to go and look around their neighbourhood and see if they can find five artists. You can even start with one. By communicating with that one artist, you will then be introduced to another artist, or even three. Those three will introduce you to another three, and it goes on! It's a very communicable act, but for good reason. Unlike COVID, of course.
Koay Choon Sean is a participant in the CENDANA ARTS WRITING MASTERCLASS & MENTORSHIP PROGRAMME 2021.
The views and opinions expressed in this article are strictly the author's own and do not reflect those of CENDANA. CENDANA reserves the right to be excluded from any liabilities, losses, damages, defaults, and/or intellectual property infringements caused by the views and opinions expressed by the author in this article at all times, during or after publication, whether on this website or any other platforms hosted by CENDANA or if said opinions/views are republished on third party platforms.