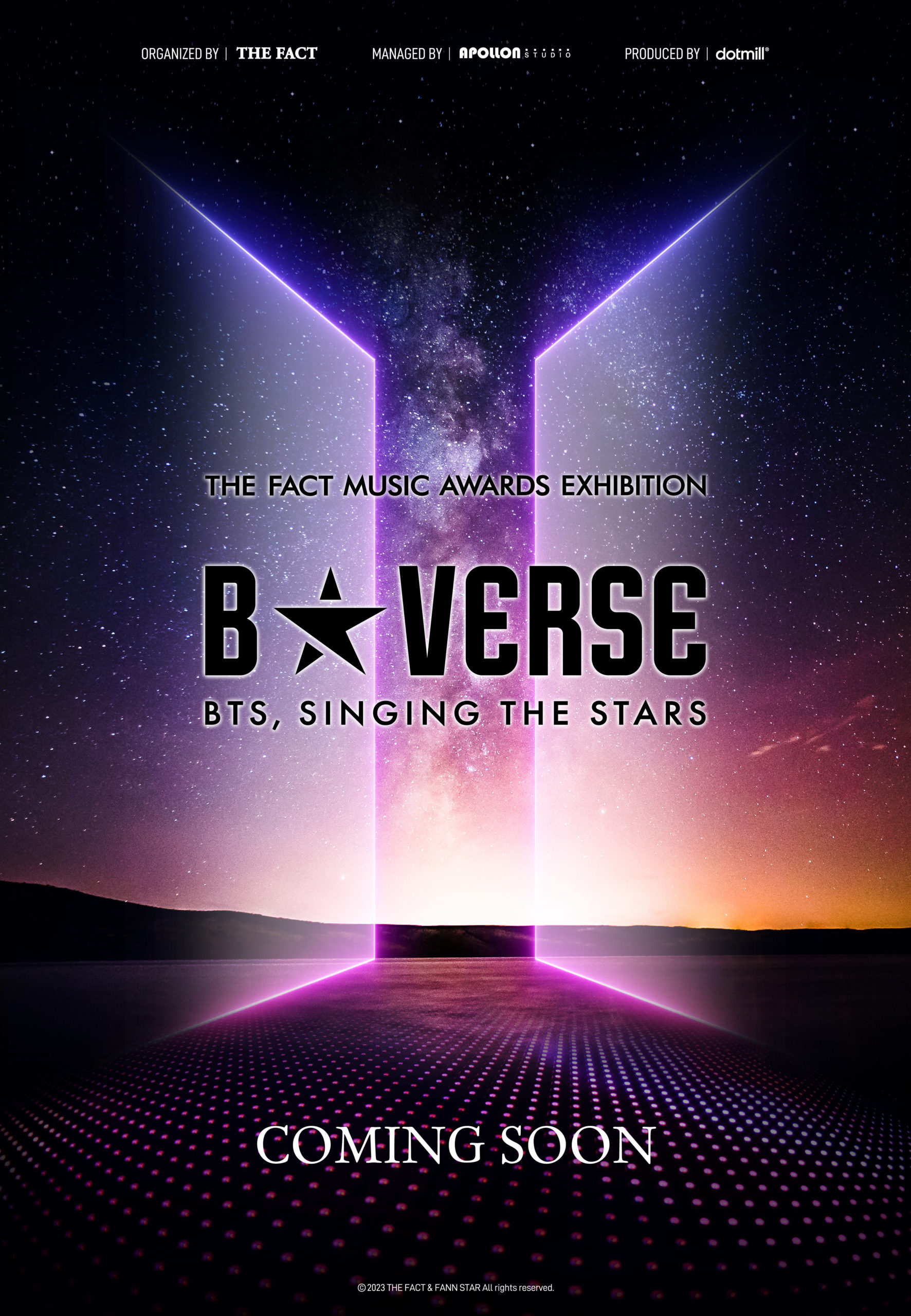 Proudly presented by Seni Jaya, THE FACT 'B★VERSE' (BTS, Singing the Stars) exhibition world tour - a spectacular treat for K-POP enthusiasts worldwide is coming to Malaysia.
B★VERSE (BTS, Singing the Stars) Exhibition is making its first Southeast Asian stop in Malaysia this December 2023! This one-of-a-kind exhibition is dedicated to the journey of the Bulletproof Boys during THE FACT MUSIC AWARDS and promises to excite visitors with immersive and dazzling light shows! Get ready to dive headfirst into the magical world of BTS with the sensational B★VERSE exhibition, set to grace our shores later this year.
This is THE event you've been dreaming of! B★VERSE is more than an exhibition; it's a heart-pounding, soul-soaring journey through BTS's universe, spanning their electrifying years from 2020 to 2022. And here's the exciting part – it's all inspired by the legendary THE FACT BTS PHOTOBOOK SPECIAL EDITION, a treasure trove of visuals unleashed alongside the prestigious THE FACT MUSIC AWARDS (TMA).
Now, prepared to be amazed by:
VR Room: Face to Face – Dive into the spotlight with lifelike VR experience of BTS electrifying performance!
Intro: Orbital Tunnel – Take a celestial voyage through music and light as you journey to the radiant BTS Universe.
BTS Universe – Immerse yourself in a starlit wonderland with a personalised gift from the BTS members themselves.
7 Planets Experience – Explore BTS's diverse worlds as each room represent each of the member's distinct universe.
ARMY Way – Experience the enchantment of BTS with a special tribute to ARMY.
Immersive Projection Mapping – Fully experience BTS's iconic TMA stage like never before with immersive projection and concert-quality sound!
Make your B★VERSE experience unforgettable with must-have limited-edition merchandise – available for ARMY!
Photo zone – Capture joyful ARMY moments near the gift shop. Don't miss this perfect photo opportunity!
Stay tuned for the full schedule of the B★VERSE (BTS, Singing the Stars) exhibition, meticulously brought to you by THE FACT and brilliantly crafted by APOLLON STUDIO. Keep those ARMY bombs at the ready, because this is one event you won't want to miss!
Exciting news for our friends in the neighbouring region! B★VERSE Singapore is also set to make its grand entrance in the second quarter of 2024 with a third tour set to land in Jakarta, Indonesia in the fourth quarter of the same year. The spotlight in Jakarta will be skillfully managed by the talented team at AMG (PT. Alternative Media Group).
For more info, visit this link. Stay tuned for updates via Instagram, Twitter and TikTok.