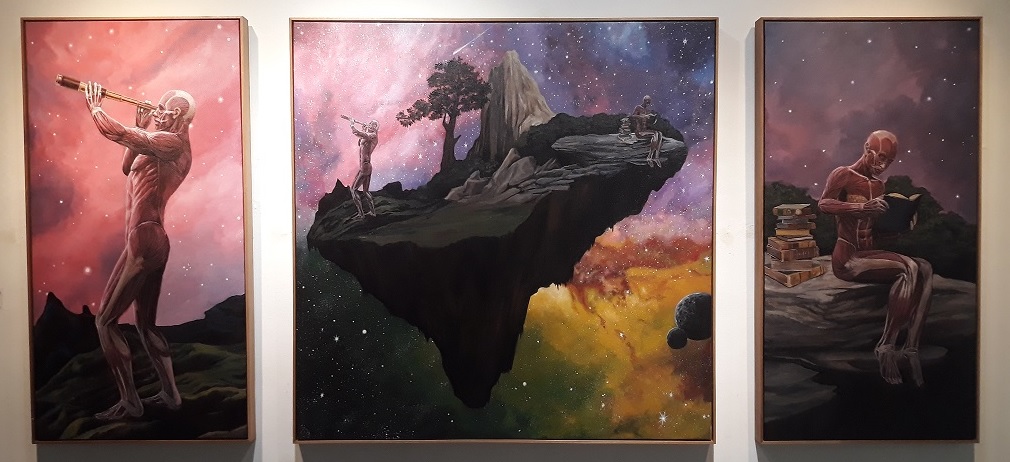 By WAI LU YIN
The saying "Don't judge a book by its cover" is a self-reminder when I get to know someone. We are often misled by attraction to a person's beauty on the outside, but we can't forget about inner beauty. Just like looking through the pages of a book from cover to cover, we have to know the person better, beyond just skin deep.
Conceptual and multi-disciplinary visual artist Edroger Rosili has been producing and showcasing his ecorché (unskinned figures) works for the past eight years. He closes the chapter with his solo exhibition, On the Anatomy of Fate, featuring 14 new works and two works from his archive. Held at the Segaris Art Center in Publika, his works display the intricacy of what makes us 'human' and how we become 'human'. His works bear some resemblance to Damien Hirst's anatomical sculptures.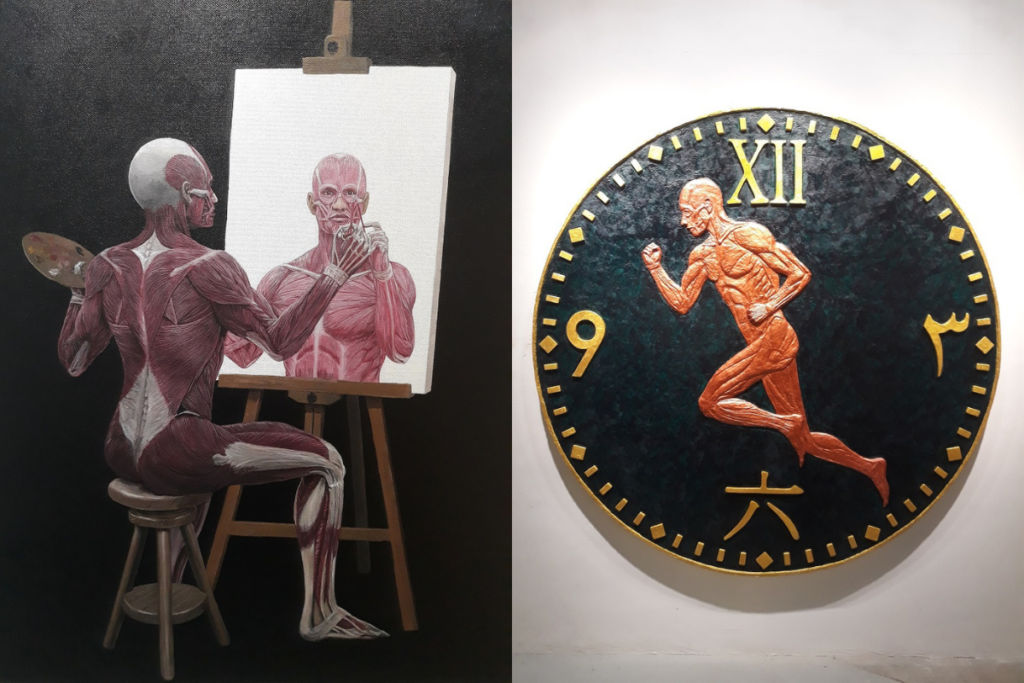 Walking at my own pace through the gallery and taking in his works, I imagine myself time-travelling through the evolution of the human race. My journey begins with "Thy Self", which depicts an ecorché painter creating a portrait of himself on a canvas. It makes me look at my past, present and future self through my own reflection as I am part of the human race. Then, I visualise using a time machine like "Fig. 103: 1 – 3 Time", a running man on a timepiece with different numerals, so I can travel to different time periods across the universe and learn about the stories that made us who we are today.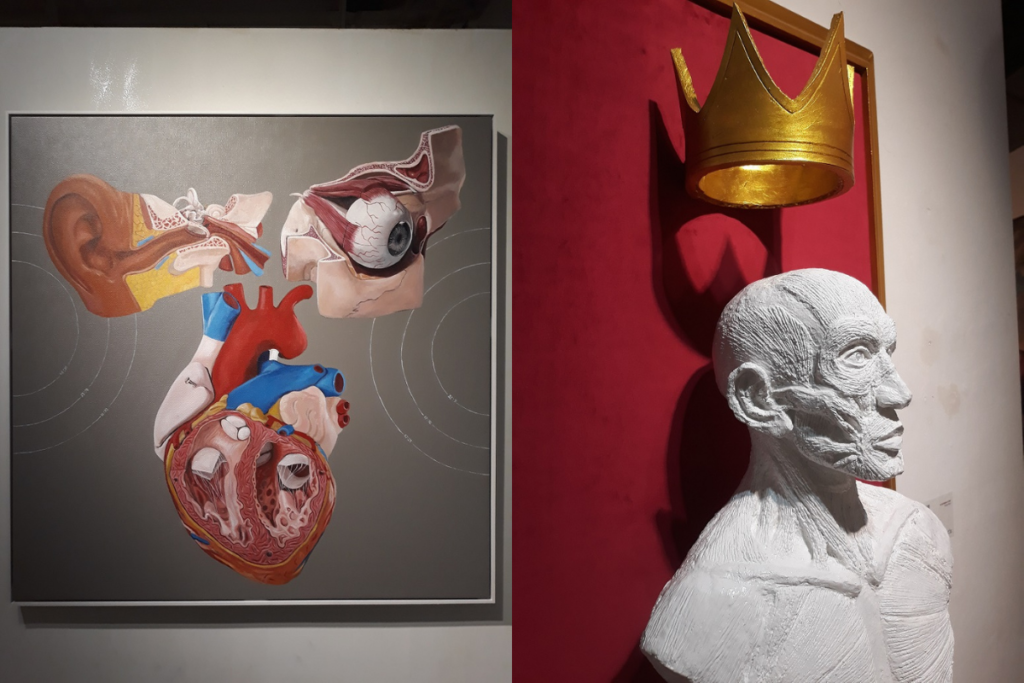 On the right of the gallery, Edroger dissects the creation of power from within us. "Fig. 16:78 Senses" guides me deeper into understanding that our body parts are connected to the brain – the mastermind controlling power and movement. He reminds us that we control our minds – our intelligence and emotions – which build the waves of power so we are able to overcome any challenges.
Opposite "Fig. 10:14 Authority", I find myself drawn to the galaxy-like "Voyager" that deeply resonates with my experience in understanding the world and building connections with people. On a floating island, a man and a woman have their individual ways of learning – he watches the galaxy through a telescope while she reads books – but together, they love and help each other throughout their journey. Their strong bond shows that despite the distance between us, we are connected in a vast world where we are bound to meet at a crossroads and support one another.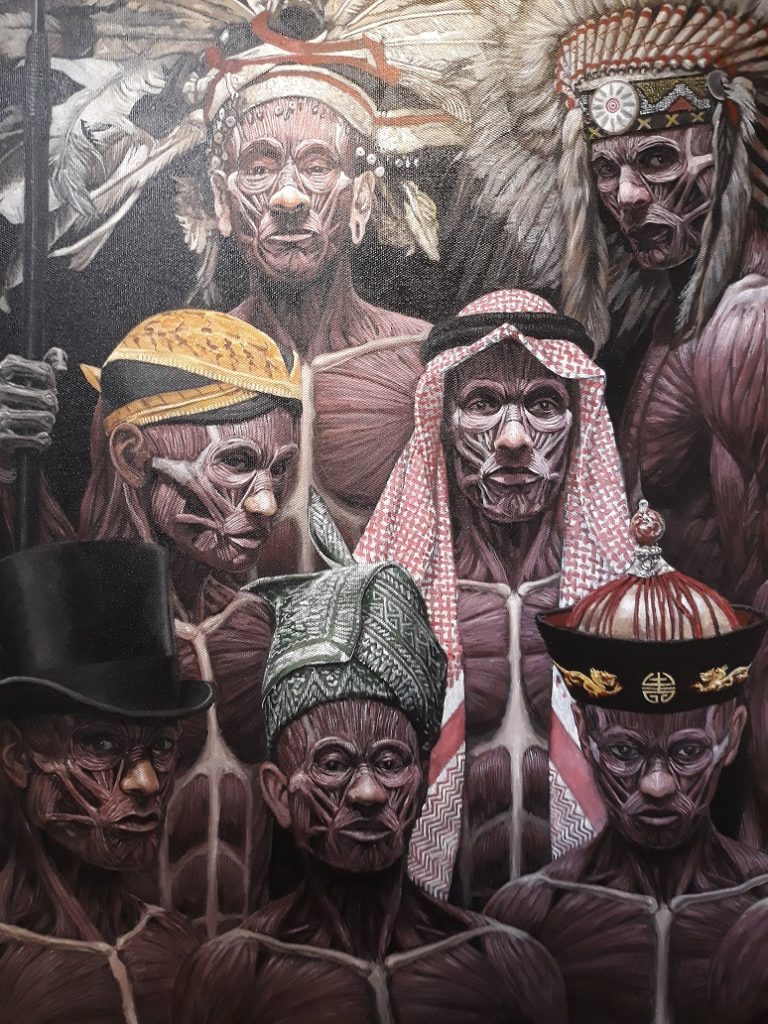 Walking towards the left of the gallery, Edroger's "Fig. 49:13 Tribes" shows a human race in unity, which pulls on my heartstrings as I am reminded that some people still face discrimination and systematic racism because of their skin colour. Each individual is dressed in striking headgear representing where they came from and expressing their perseverance in protecting their unique cultures and traditions. Standing side-by-side, under the surface, all of us are the same – our thoughts and experiences are universal. Like in the Black Lives Matter protests across the world, people stand together to voice out the issues that matter to the communities.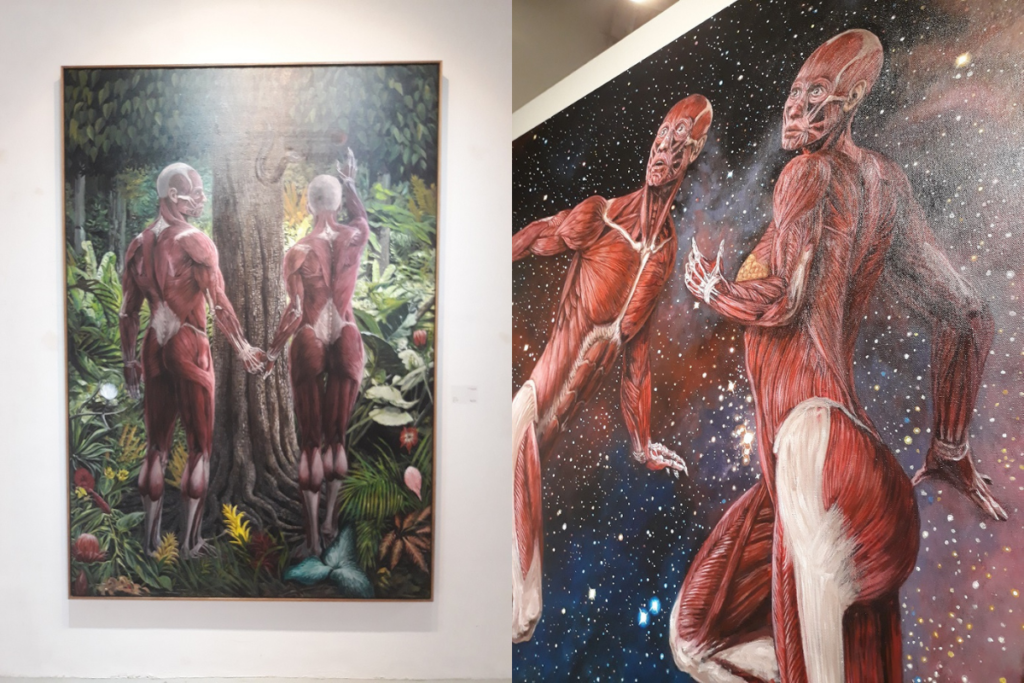 Inspired by Adam and Eve, "Hukuman Yang Pertama" and "Let's Do This" make me ponder the consequences of an all-consuming love. Hypnotised by the serpent's words and ignoring ecorché Adam's warning, ecorché Eve picks the forbidden fruit from the tree of knowledge which sends them into exile in a secluded world. These works reflect on how love fulfils our desires, but society and communities tend to criticise us for that. In contrast, as love turns into greed, we are punished for our actions.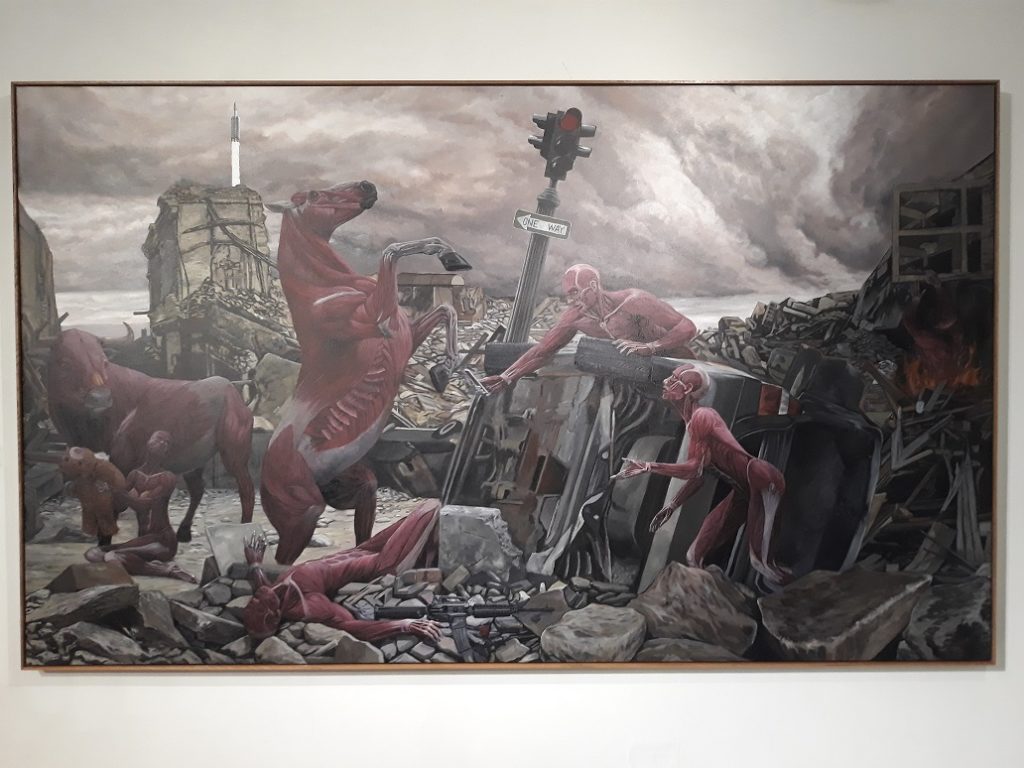 The compelling "Tuhan Sengaja Menduga Kita" reflects on the chaotic war zones in today's society, a product of power and greed. The wars between groups with different agendas destroy livelihoods. Some people hide in the dark while others sacrifice their lives to protect their homes and communities. Relating to armed conflicts like those in Iraq and Syria and the Nagorno-Karabakh war, I can hear the figures in the painting crying out with tears of fear and voices of anger. They fight to protect themselves and at the same time, they are also battling their inner selves.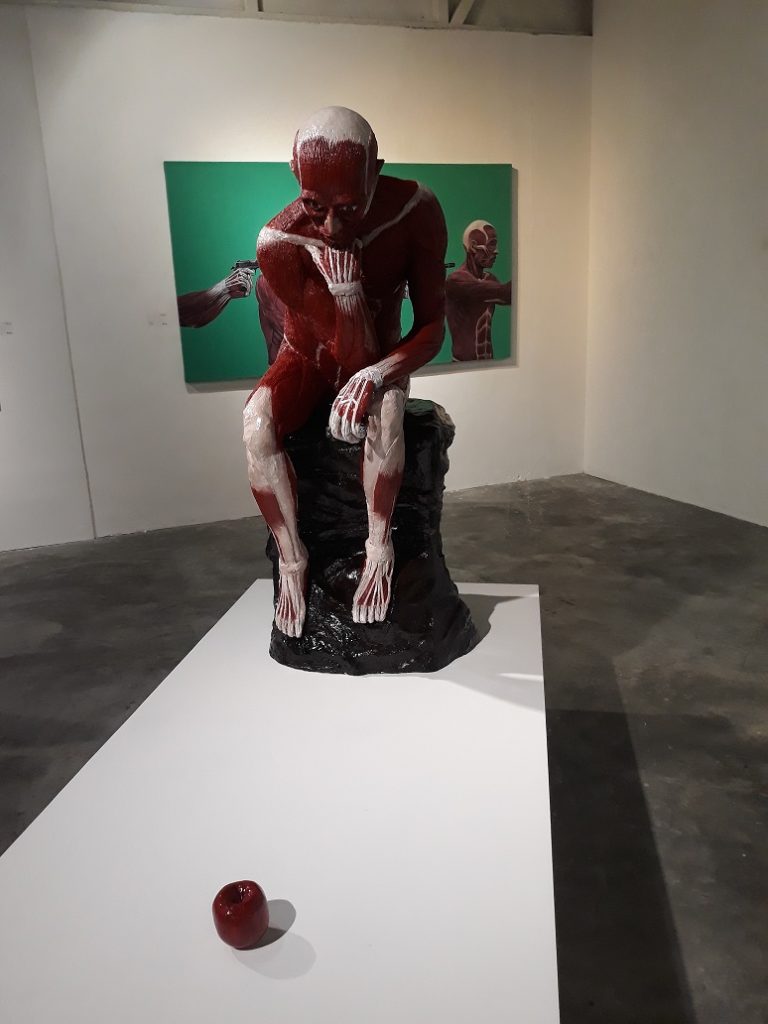 My journey through time ends with the Rodin-inspired "Fig. 16:12 Reason" that completes the whole story about the evolution of the human race. Like the ecorché "Thinker", deep questions run through my mind, including how our past and present make us 'human'. Ultimately, I am concerned about how we can contribute to our society and future generations without giving in to those with absolute power.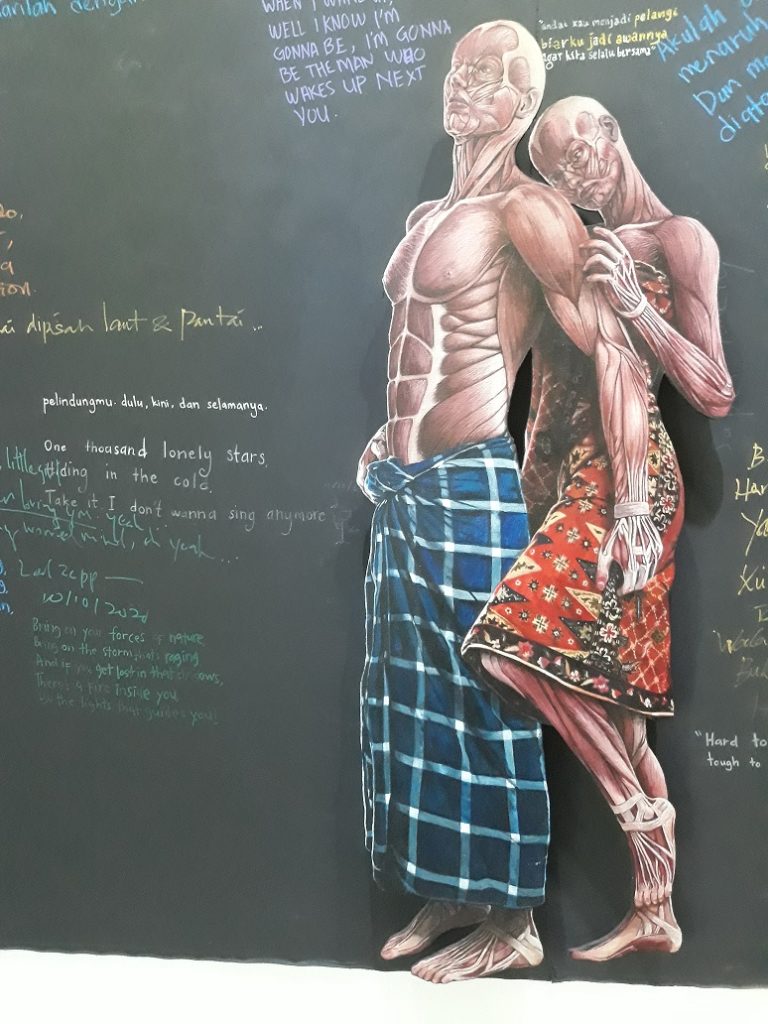 Edroger's detailed ecorché works showcase the complexity of the human race in the essence of space and time. He lays out his sophisticated expressions about the human race and builds a platform for us to think and question how we can build a united and connected world together. Imagine a world without hate and war.
I return to my starting point in the exhibition, "A Tribute to Over a Million of Love Songs on the Radio", where a board is covered in love song lyrics written by visitors. I realise that all we need is the power of love. We have to love ourselves and give love, with compassion and empathy, to every person. Only then can we, the human race, make the world a better and safer place for all of us.
Edroger Rosili's The Anatomy of Fate was shown at the Segaris Art Centre in Publika from Oct 20 – Nov 22, 2020.
Wai Lu Yin is a participant of the CENDANA-ASWARA Arts Writing Mentorship Programme 2020-2021