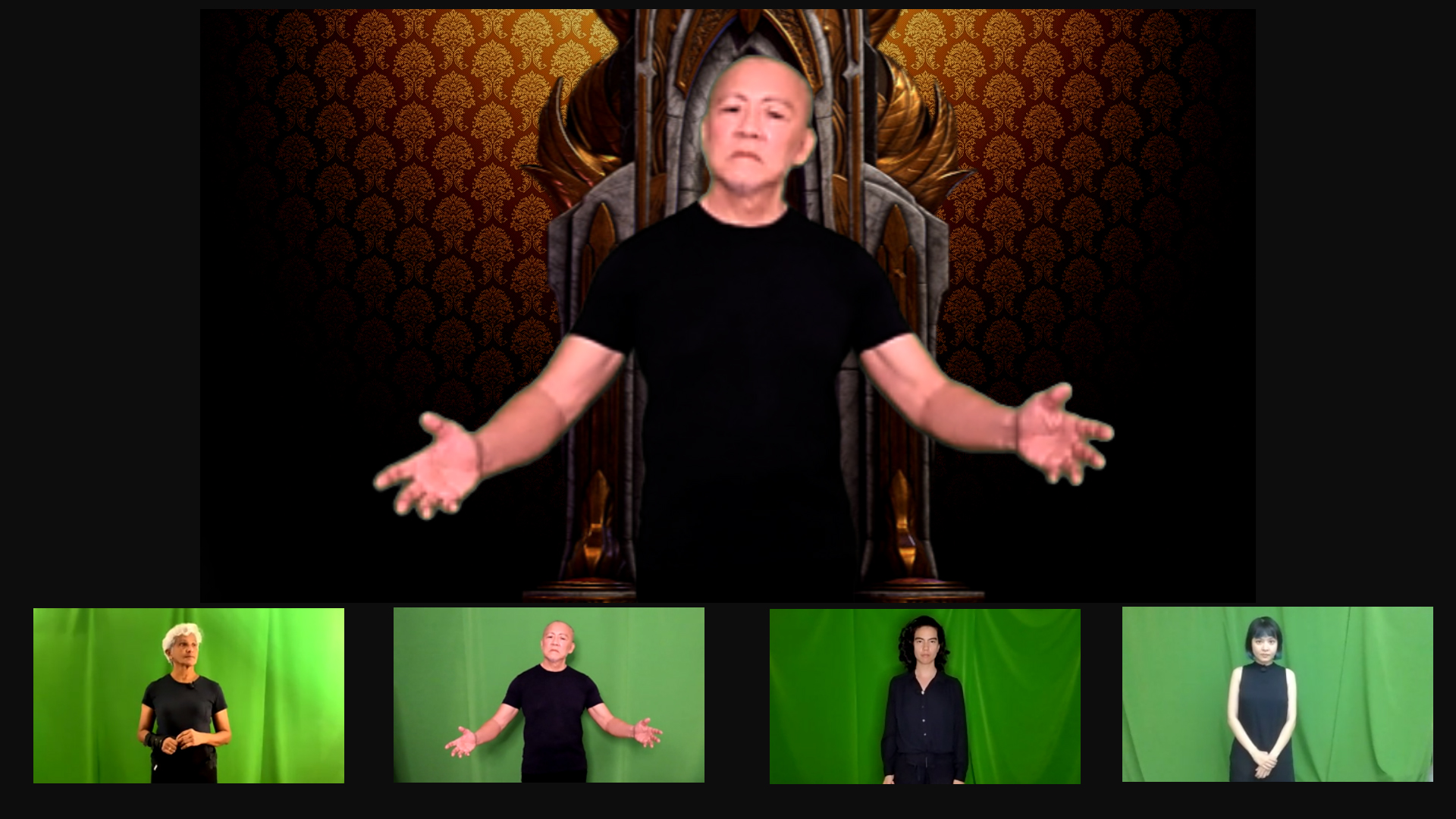 Good now some excellent fortune ... Demystifying Shakespeare once again, the KL Shakespeare Players troupe is presenting audiences with 'King Lear', online and in real time!
By ANN MARIE CHANDY
The KL Shakespeare Players (KLSP) is presenting its annual Shakespeare Demystified series online. No big deal, right? If you can't do it live, you can just work from home and stream everything online … right? Well, it's not as easy as it sounds when you're staging King Lear … performed in real time, with actors in different venues!
This arduous feat of performing live online will be the result of many hours spent, since the lockdown in 2020, brainstorming, experimenting, exploring, testing, failing, succeeding, and trying again.
Performing together while being physically apart presented challenges beyond the technological limitations of video platforms, according to the players. In fact, KLSP even had to get in touch with Zoom and have an hour-long session with one of its technicians to find workarounds to the audio issues it encountered!
Because of the demands of working with inadequate equipment (and not always the most appropriate technology), the actors also had to be very patient, and acting became a whole lot more technical with director Lim Kien Lee determining what the audience would see because of the limited frame and much smaller performance space.
Nonetheless, still keeping to the format of its Shakespeare Demystified series, KLSP will present canonical scenes and speeches from the play in the original text, all knit together by narration in contemporary English. And as an added feature, the show is going to be interactive, giving audiences a chance to go onto the virtual stage, discuss and comment on what they see!
The players are Lim Soon Heng, Anne James, Zul Zamir, Hana Nadira, Arief Hamizan and Tika Mu'tamir. In the Q&A below, Soon Heng, who takes on the role of the aging ruler of England who divides his kingdom among his three daughters in the play, shares some of the challenges and processes the team had to go through to get this show off the ground.
What have the rehearsals been like?
Rehearsals have been and are being conducted online, with all the actors in their own homes. No exceptions. Right from the beginning, when we started our table work on the play, we read the script on a "shared screen."
Over Zoom, we clarified words, debated interpretations, analysed characters, talked over each other, and watched, on occasions, how certain actors would freeze in mid-sentence and move jerkily on our monitors. Sometimes these consequences of technical inadequacies offered moments of levity.
Online performances, unlike regular online meetings, require better equipment. So we begged, borrowed and delivered to the actors lavalier wireless microphones, tripods, green screens and lights, and explained how to turn their phone cameras into better quality webcams.
Rehearsing online isn't easy. It is harder to look for visual cues from your fellow actors and to sense the scene. More challenging to give your fellow actors visual cues. We are not always looking at the monitor. We cannot really look into each other's eyes when we are supposed to. To create the illusion of looking at one another, we have to get our eyeline correct in the (physical) absence of the other. The director guides us here.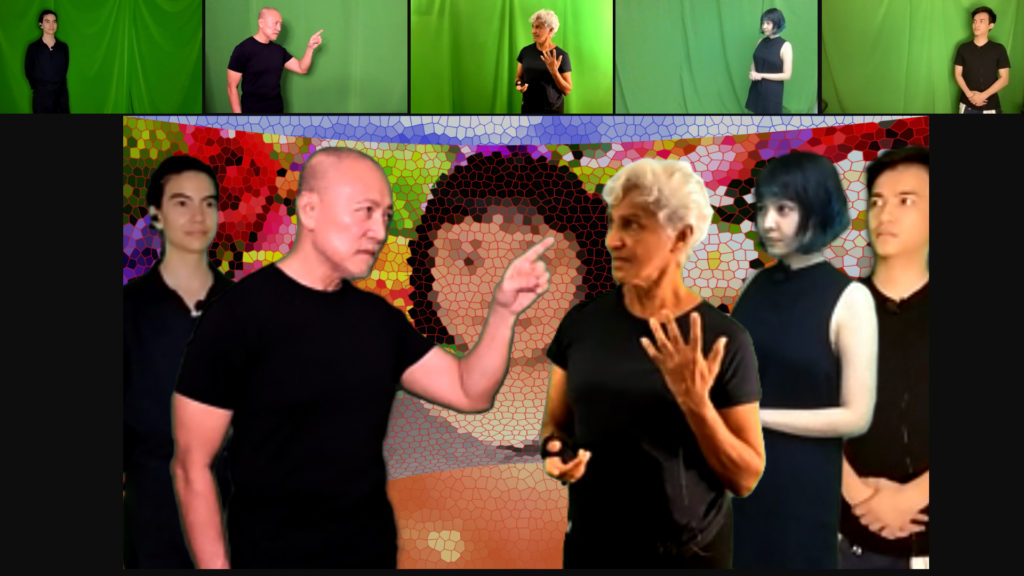 It's easy for the actors to inadvertently create giants or dwarfs of themselves. Sizes need to correspond with who's in the foreground (downstage), who's background (upstage). The performance space is much smaller because a webcam cannot move to track a moving actor. Notions of closeups, midshots and longshots are much more complicated to execute with webcams that cannot zoom in and out.
The other thing is wearing earbuds or using your computer speakers to listen to your fellow actors. The experience is very different from being on stage hearing voices and music unmediated and immediate. There is some latency online.
Rehearsing in a space that normally serves as your bedroom, kitchen area or living room also poses a problem which must be overcome.  A greater demand on actors' ability to imagine and to immerse themselves in the imaginary world midst the distractions of the real world – noise from people living in the same home; noise from neighbours who are remodelling their homes, whose children are screaming, etc. are all beyond our control!
What have some of the challenges of adapting the play online been?
We get tired faster from online meetings, so we needed to limit the show duration to 75-90 minutes, while the original play is three to four hours long. We had to cut the text and plot heavily. Although we had already been doing that for all our in-person Shakespeare Demystified series, the added challenge for this online show has been that we also want to include interactive moments when the actors and audience can speak to each other and this takes up some of the time. Therefore, a lot of work has to be done in the script adaptation to ensure we still present the main plot and core elements of the play.
Some scene blocking and arrangement that seem straightforward on stage turned out challenging when done online, with actors in different places. For example, how to show an object being passed from one character to another? How to show two characters holding hands, hugging or fighting?
Actors also can't speak or sing as a chorus/at the same time. Meeting platforms like Zoom do not support multiple voices spoken at the same time. The inevitable difference of Internet latency for different areas and computers make it even more impossible to have everyone in sync during a live show.
We insist on doing the show live, to provide the audience an experience different from pre-recorded film or video. This also means we have to deal with all possible technical glitches or mistakes!
Have any of the actors done this type of performance before?
Some actors started experimenting and performing online with us since last year, while others have not done it except for some online reading sessions.
Our performance uses several types of software to create a "virtual stage", where actors from windows in Zoom can be placed in the same scene, creating the illusion that they are physically together. This type of acting requires new skills and languages, which everyone in the team is still exploring, learning and adapting along the way.
In 2020, we did 40 online storytelling sessions which allowed us to test certain ideas on presentation and engagement. We also successfully performed in 10 online corporate training sessions. And this year, we have already done six with a few more lined up.
We spend a lot of time training, exploring, discussing, testing.
Do you think this will make Shakespeare more accessible to younger audiences?
For young Malaysian audiences, watching a live in-person KLSP's production, in a proper theatre space, is an inimitable experience. We hear that from our school-and-university age audience. They have told us after a show, "We didn't think live theatre could be so fun."
KLSP started in 2011 with the focus to be a theatre-in-education that takes Shakespeare to schools and universities. Over time (we are celebrating our 10th anniversary this year), we learned how to engage better, what teachers wanted and what students desired.
Keeping these in mind, we developed our King Lear. We are also aware that Gen Z are visually very literate. Even primary school student can navigate in Zoom, Teams, or any video platform with ease and confidence. We found that out at our very first storytelling in April 2020.
An online experience is different because it is closer to film/video. But ours is different. It is live. It is as if you are watching a film being shot, edited and what's traditional post-production done right there in front of your eyes.
Live performances carry an element of risk: things don't go the same way all the time, things don't always go as anticipated, notwithstanding the best laid plans.
Regardless of whether it is a live in-person or online production, KLSP focuses on making its Shakespeare production accessible, engaging and interactive. Online, however, enables us to reach anyone who has an Internet-ready device. Our reach can be farther and wider.
What do you hope to achieve with the interactive element to the show?
The interactive elements ensure that there is a "live communion", and distinguish the show from film, video or any pre-recorded or broadcast shows.
This pandemic has really made us revisit the question: what is the essence of theatre?
One of the definitions is that theatre is the mutual presence of performers and audience in the same space, sharing the same air, or, expressed differently, as an encounter which enables the actor-spectator relationship of perceptual, direct, "live" communion (Grotowski). Covid-19 and the urgency of online performances demand a rethinking of what it means to share "space" and "time," and more importantly, "live communion."
Notwithstanding some latency, group video platforms offer a simulacrum of shared space and time between the actor and spectator in a live online performance. By adding interactive elements, we want the audience to know and remember that the actors are really performing live in front of them, and they can break the imaginary and actual fourth wall.
Shakespeare Demystified: King Lear runs on May 25, 26 & 28 @11am and on May 27 @3pm on Zoom. RM30 standard; RM600 group (for groups watching via one login). For tickets, click here