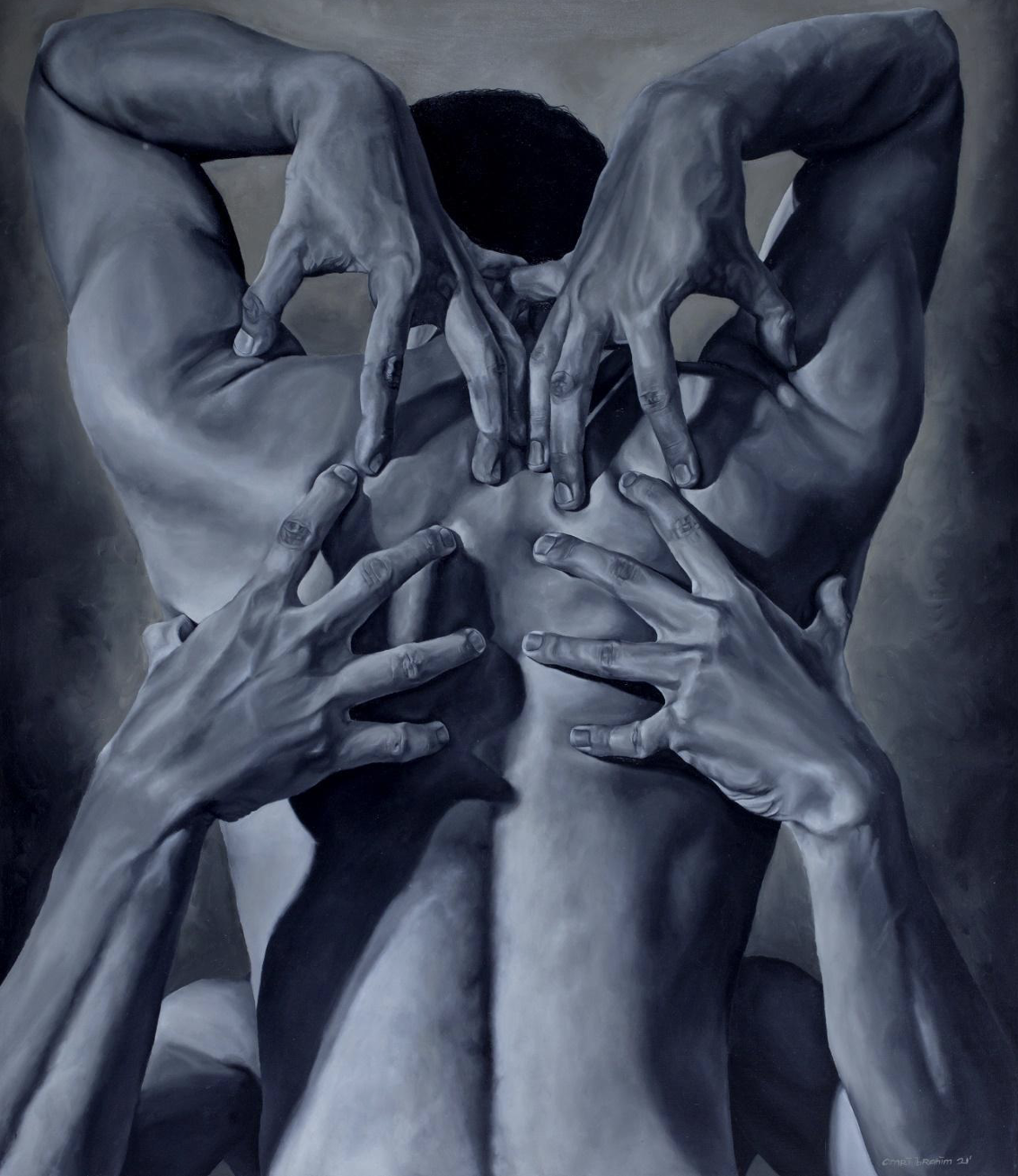 By ELIZABETH LOW for Lensa Seni
As forms of non-verbal communication, symbols and gestures exist in our everyday life: in our food, signs, conversations and more. It is believed that going back as far as the Neolithic and Bronze ages, gestures were the precursors of language, while cave paintings suggest that man has been communicating through symbols for hundreds and thousands of years.
The exhibition entitled Symbol & Gesture was held at HOM Art Trans from Nov 17 to 27, 2021. It featured two emerging young artists, Amri Ibrahim and Aqim Adil, who use these forms of communication to convey their individual ideas, beliefs and discoveries.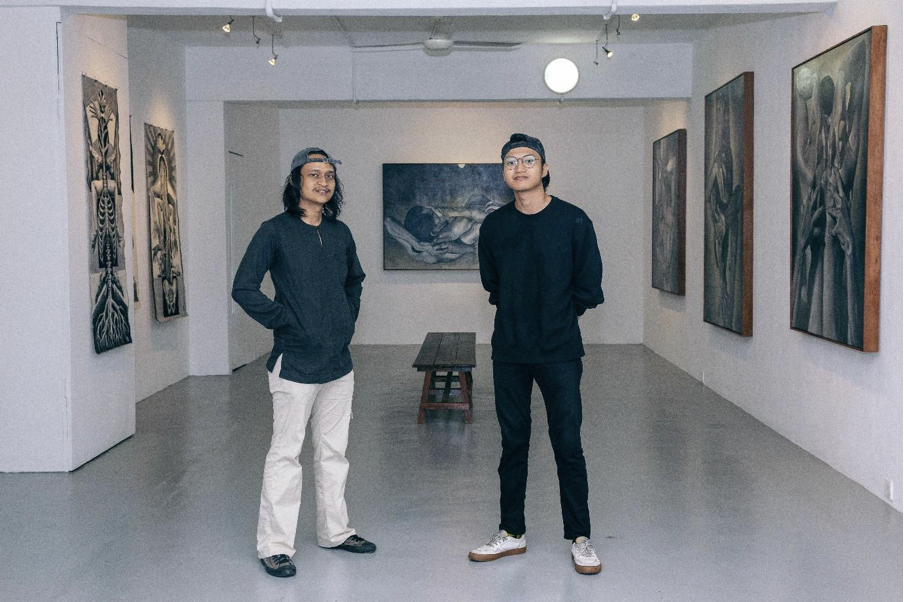 Amri and Aqim are budding artists at the early stages of their careers. Ipoh-born Amri Ibrahim graduated from UiTM Shah Alam in 2019 and has participated in numerous group exhibitions locally. He was also a resident artist at HOM Art Trans' 3M Studio residency between October and December 2020, which ended with an open studio showcase. Aqim Adil received his degree from Universiti Malaysia Sarawak (UNIMAS) in 2020. With a background in graphic design prior to his formal fine art education, his drawings are comparable to a collage of imagery and symbols. Like Amri, he has actively participated in a number of group exhibitions locally.
Thus, at the ripening points of creative practice, it is fitting that their first duo show was held at HOM Art Trans, a well-known platform in the local art scene that supports young and emerging artists.
Walking through the exhibit, there was no question as to why they were selected to showcase in a duo show together. Through a series of grayscale paintings and drawings, they share an understanding and interest in the human body and how it can be translated into a message. While their works may look nothing alike, their choice of colour palette and use of body language find them in tandem.
Amri's series of works featured large oil paintings of two seemingly identical male figures in constant battle with one another — sometimes with themselves. Yet, this is a battle that is neither bloody nor unpleasing to the eye, for the bodies of the two figures seemed to almost dance with one another in what appeared as their struggle for power.
Studying Amri's painting "Keep Telling Yourself", one may notice how the dramatic play of light and shadow combined with the chosen pose, accentuates the movement and expressiveness of the painting. Undeniably, the artist is skilled in bringing to life the intensity of each gesture and motion. The beauty of his paintings lies in their ability to make you feel as though they are amid the struggle depicted. You can almost feel the pressure behind every touch, grasp and grapple.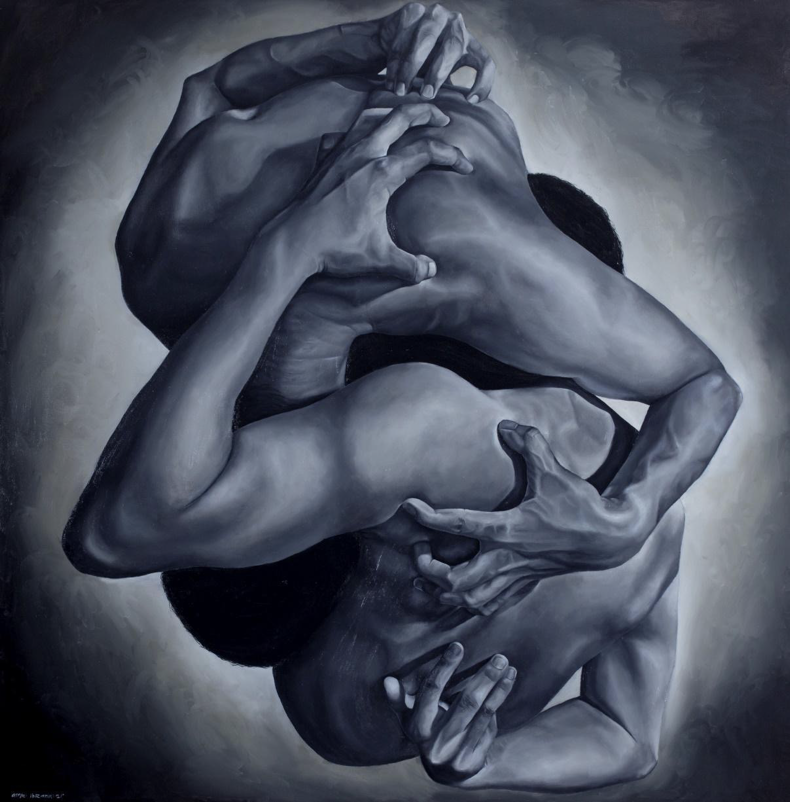 The figures in "To Find Meaning in Ego" can be found locked in an embrace; with their heads under the other's armpit, and their torso curled away from one another, they can be seen from above as a ball of limbs. Despite the evident unity in the way their forms fit together like a puzzle, their body language indicates they are against one another, akin to a battle between conflicting thoughts and emotions. One cannot help but wonder if the identical figures could reflect an internal battle with ourselves?
Primal was the word that came to mind instantly when first encountering this figurative series of works as a whole. Collectively considering the different compositions of the paintings prompts one to reflect how hardship, insecurities, and struggles can present themselves in multiple ways; observing them individually allows the audience to take in the tension and dispute encapsulated through the various entanglements. There is no masquerade or façade hidden beneath the figures. Though tastefully depicted, the figures are captured in a state of imperfection – they are real, raw, and human.
Aqim Adil's work deals with the relationship between man and nature. Employing elements of the human anatomy juxtaposed against nature, he builds a reality whereby man is one with the landscape. The charcoal rendered against the unprimed canvases in smooth, blended tones created realistic depictions of surreal compositions.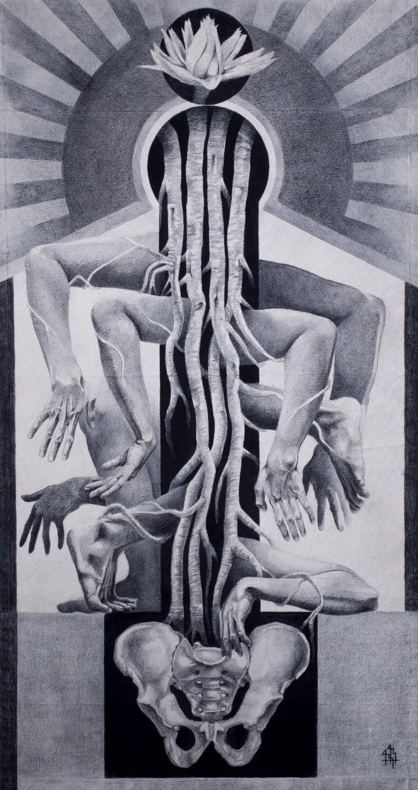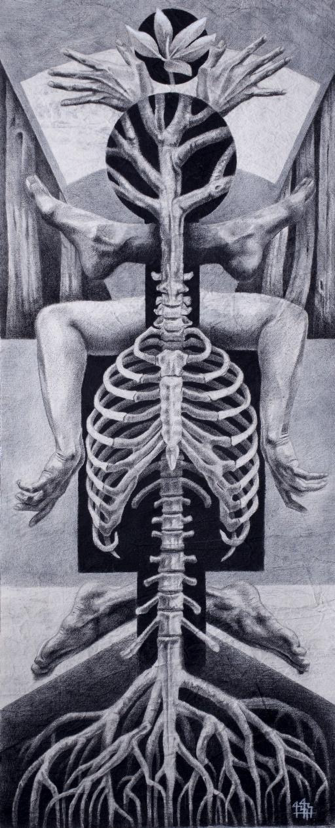 The drawing, "Pokok Tanjung" features an iconographic style of the solar symbol at the top of the artwork, with branches that creep down from its centre to a hip bone of the human skeletal system. Arms and feet that appear from behind the branches seem to dance like the breeze of the wind, reaching out to hold and caress something. In his attempt to express how man and nature are connected, Aqim conceived a series of works that encapsulates unity and harmony between the two.
In "Pokok Bakau" the ribcage and the spine are one with the roots and branches of a tree. The arms that rest just above the ribcage and the strong presence of geometry forms a profile of a figure. Unlike the chaos that exists between man and nature in the reality we live in, there is evident peace in the bond depicted through the abstract use of symbols and imagery.
Unlike Amri's large paintings, Aqim's drawings were not stretched onto wooden stretchers or framed. The raw, unframed canvases were hung with metal binder clips instead. While they did not disrupt the drawings, there were notable qualities of the artwork that did not involve any rendering on Aqim's part. Like the carefully stitched edges, that appears like an inconspicuous, quiet frame and the texture and wrinkles of the surface that became one with the artwork – these were the little things that complemented each piece.
Having clearly given careful consideration towards the balance between shapes, lines, space and imagery in each piece, Aqim had essentially created a pictorial language of his own.
With each artist's work displayed across one another, they dominated their individual spaces without overshadowing the other. In employing gestures and symbols in their creative practice, Amri and Aqim respectively brought forth series of works that consider subjects close to their hearts.
You can keep up with Amri Ibrahim here and Aqim Adil here. Symbol & Gesture took place between Nov 17 and 27, 2021. You can view the artworks featured here.
Elizabeth Low is a participant in the CENDANA ARTS WRITING MASTERCLASS & MENTORSHIP PROGRAMME 2021
The views and opinions expressed in this article are strictly the author's own and do not reflect those of CENDANA. CENDANA reserves the right to be excluded from any liabilities, losses, damages, defaults, and/or intellectual property infringements caused by the views and opinions expressed by the author in this article at all times, during or after publication, whether on this website or any other platforms hosted by CENDANA or if said opinions/views are republished on third party platforms.