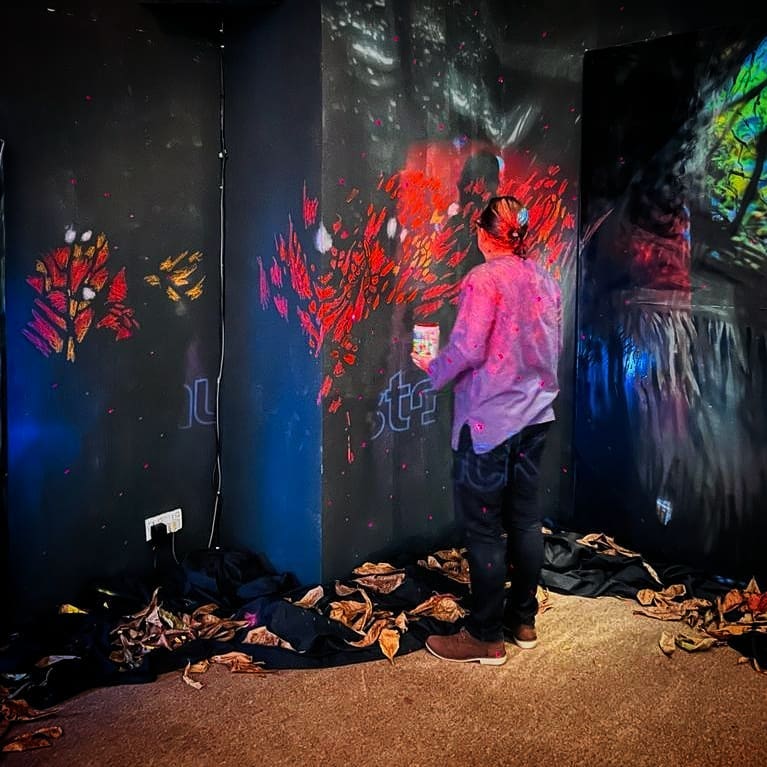 Immersing oneself in arts, literature and humanities has the potential to be therapeutic for wounded souls. Arts can heal not just its creators but also those who let their soul bask in any form of art experience.
By ATIKAH HANAFI for Lensa Seni
In a post-COVID world, setting some time to let your mind soak in the arts allows you to make sense of the world and reflect upon yourself. This "space" also allows you to reconnect once again with other fellow human beings. We look back on five events that allowed many to end 2021 on a positive note, with a renewed spirit.
Be Closer to Nature with Project Monyet @MGTF USM
We always forget that we exist in a bigger universe than ourselves. If you wanted an immersive, meaningful and hands-on experience, then "Project Monyet@MGTF USM" was definitely one for you. "Project Monyet@MGT USM" was a hybrid exhibition that allowed one to experience, explore, discover and learn about Malaysia's primates, their habitats and their challenges for survival.
This exhibition fused your role as a mere visitor to an active collaborator of the project. One was allowed to get closer to our arboreal cousins through Peter Ong's lens in his enthralling photographic collection of Malaysia's primates while also contributing one's artworks and photographs of these creatures. The gallery provided Studio Monyet for you to create an artwork using any media or style in your exploration of these creatures we call (Pri-)mates.
To make your experience more impactful, visitors were also invited to paint burning red pigments on the black plastic wall and plastic sheets that framed the photographs of several species of primates. This allowed visitors to experience the threat of deforestation towards this species. According to gallery director Associate Professor Hasnul Jamal Saidon, the square plastic frames were "reflective of the artificial human gaze, driven by excessive greed and selfishness." By the end of the two months of the exhibition, the wall would be engulfed by the fire, "signifying the paradoxical consequence of human desire to develop whilst destroying the rainforest".    
The exhibition ended on Dec 24, 2021.
Learn How to Lead a Fulfilling Life in the Prophet – Theatre Edition
Theatre performance The Prophet, inspired by Kahlil Gibran's literary masterpiece, was presented by IND606046096 Production Practicum 2021 TUTAS Conservatory Degree Programme, directed by Charity Yong, Daniel Hussin and Kristy Yee.
The Prophet is a story of Al-Mustafa who has been living in exile in a city called Orphalese for 12 years. Before he boards a ship to return to his birthplace, the people of Orphalese gather around him to listen to his final words of wisdom. From moments of love to the uncertainties of marriage, his advice covers some aspects of being human – friendship, joy and sorrow, good and evil.
The production ended on Dec 12, 2021.
Pamper Your Ear and Soul with Healing: Cycle of Emotions
Now, imagine walking along gallery walls filled with mesmerizing artworks accompanied by instrumental music — an experience that was not only be a feast to your eyes but also your ears. For those who were looking for a captivating combination of art and music, Healing: Cycle of Emotion served as a delightful concoction to ignite your senses and emotions.
A Sunday matinee of music surrounded by exquisite artworks by local artists, it showcased gems of choral, solo vocal and acoustic instrumental music from the years 1600 to 1900, including specially curated music such as Dido's Lament (Purcell) and Bist du bei mir (Bach).
Performing artists such as YS Tang (Classical guitar), Dr Yili Chang (Gamba), Wong Ming Li (Soprano soloist), Darrel Chan (Countertenor soloist), Tan Jong Hann (Tenor soloist) and KL Madrigal Sing (Acappella) heightened your visual experience while exploring the art at Ilham Gallery.
The show took place on Dec 12, 2021.
Reminisce the COVID-19 Pandemic in Pemulihan: Pembaharuan
After two years of dealing with COVID-19, the country is slowly moving towards recovery. Looking back, the pandemic has brought new norms and meanings to the way we lead our lives. Pemulihan: Pembaharuan was a visual performance art exhibition that combined various genres such as visual arts, sculpture, motion graphics and music to document the responses and observations in light of the recent pandemic.
A collaborative project between Fergana Art gallery and The Biddy's, with support from Yayasan Hasanah and UEM Sunrise Berhad, Pemulihan: Pembaharuan offered "a sense of positivity, renewal, remodelling, relooking, reassessment, revaluation and most importantly, resurgence for a better."
The exhibition ended on Dec 5, 2021.
Embrace Our Multicultural Heritage with All Together Now
We got a taste of Malaysia's multiculturalism and diversity with All Together Now, a cultural and contemporary dance performance that combined both traditional and modern elements to celebrate the diversity and multiculturalism in Malaysia. Commissioned by George Town Festival 2021, this dance performance featured the country's three outstanding dance companies known for their highly acclaimed performances both in the local and international scene.

One was able to explore the silat movement in "Langkah 17" and experience the various elements of traditional dances with "Eclectic Shift" by ASK Dance Company. You could swim into a pool of dance interpretation inspired by culture and nature in "Ancient Inscriptions 万象甲骨" and "Black & White @ Variation – The Black Snake in the White" by Dua Space Dance Theatre. Then, engage with contemporary and classical Indian dance by Sutra Foundation in "Aditya Archana (Odissi)" and "Pibare Ramarasam & Exalted (Contemporary Indian Dance)".
The exhibition ended on Dec 12, 2021.
Atikah Hanafi is a participant in the CENDANA ARTS WRITING MASTERCLASS & MENTORSHIP PROGRAMME 2021
The views and opinions expressed in this article are strictly the author's own and do not reflect those of CENDANA. CENDANA reserves the right to be excluded from any liabilities, losses, damages, defaults, and/or intellectual property infringements caused by the views and opinions expressed by the author in this article at all times, during or after publication, whether on this website or any other platforms hosted by CENDANA or if said opinions/views are republished on third-party platforms.