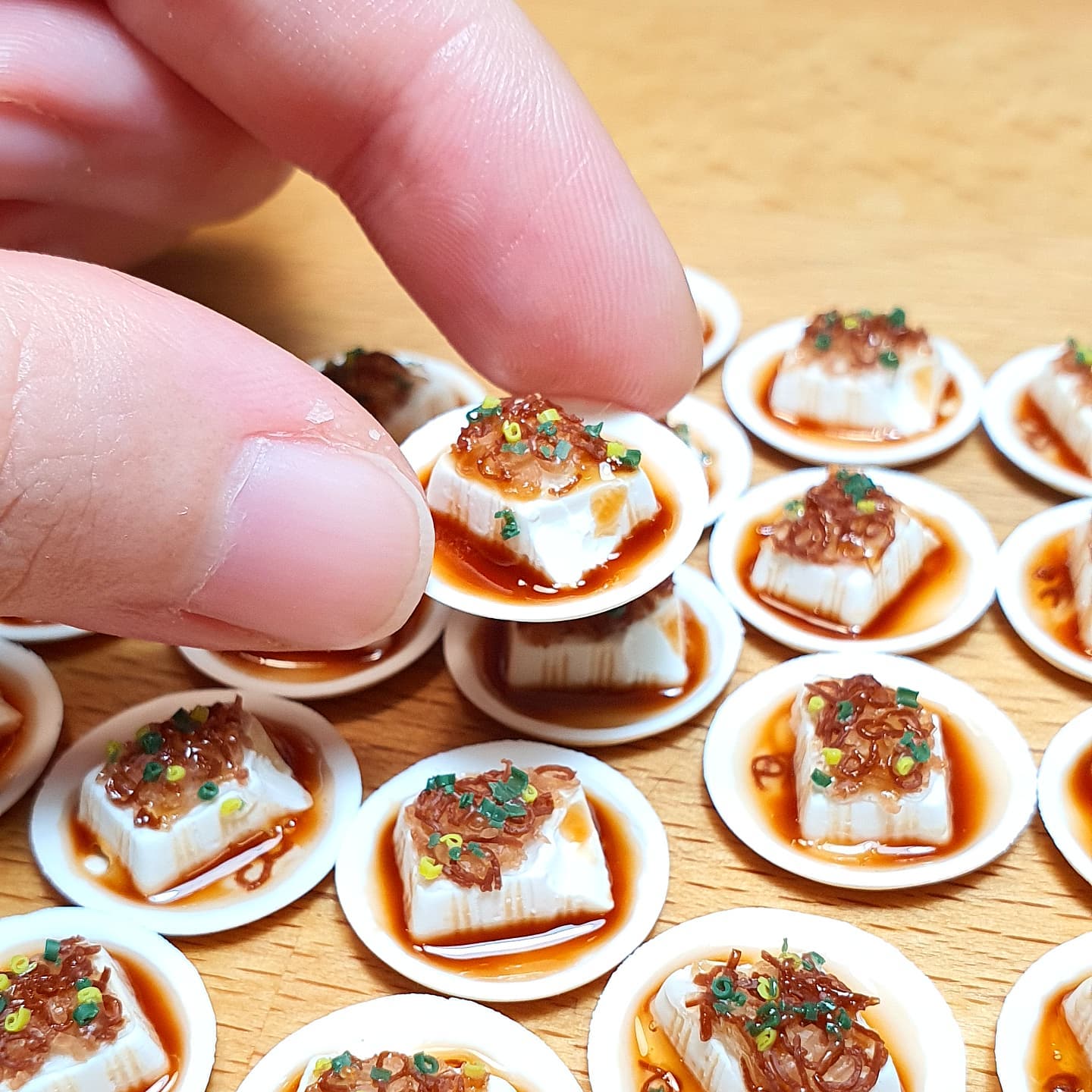 From 'figurine' things out to fully flourishing ... See TinyPinc's Malaysian-inspired clay miniatures made not for eating, but for cherishing!
By NABILA AZLAN
We have such huge admiration for miniatures and the painstaking processes taken by artists to perfect the art.
Don't you think these miniatures look so much like the lifelike erasers that you find in Japanese souvenir shops? It's no surprise that Japanese miniature artists might have been the trailblazers for this corner of the art world, with Tomo Tanaka (aka Nunu's House), Mayumi Kiyose (aka ooidesang), Misaki Miniature and petite fleur all having showcased some of the most Instagrammable minis.
Many of you would be surprised to learn that we have solid Malaysian reps in the miniature business too! Alongside TinyPinc, a senior developer of tiny things, you may have seen the works of Pui Wan Lim (aka Picoworm) and Zati Ezwani in the midst of your social media scrolls.
Curious about what goes on in creating these tiny pieces of art, and what may be the allure of bringing them home? BASKL speaks to Ling Hooi Yin, 30, the owner of TinyPinc and full-time miniature creator.
Discovering passion
"I have been running TinyPinc for 12 years."
Ling's first clay creation was a cupcake she made in in 2010. "It's something I learned off simple YouTube tutorials. I still keep it to this day," she says. The artist, who is a Multimedia Design graduate from The One Academy first dabbled in clay miniature making as a means to destress from college assignments. The escapade introduced her to a community of makers and subsequently, polymer clay. A stranger to the material then, Ling thought it was an interesting to work with, something as durable as it is easily moulded. "It's not like working with plasticine nor air-dry clay," says Ling, who thinks of them as limiting in terms of getting the shape and tone right. "As far as polymer clay goes, you bake it at a suitable temperature and it stays like that forever."
Post-graduation, Ling found work in a design agency only to discover that she did not enjoy the corporate life. "There were a lot of restrictions at work," she says, craving for the desire to create freely like she did in college. She busied herself with the craft instead, but only in the after hours and on weekends, until one day she decided to leave her job. "I figured that it was time to do what I wanted," she says, a decision made after three years.
She put cute and cute together with the words Tiny and Pink (spelled with a C just to be fancy), a decision she thought was funny at the time but seemed fitting, and voila, TinyPinc was born!
Discovering obstacles
"There was a price to pay to get artistic freedom!"
Of course, it took time for Ling to stand on her own feet after resigning from her job. For close to a year, in order to supply herself with some financial backup, Ling found work in a printing company. With newfound determination, she jumped into setting up TinyPinc, first conducting business in her bedroom before going into to a small studio in Petaling Jaya, Selangor.
Business was slow in the first year. On the start of her full-time job, says Ling, "I sat up straight in front of my desk thinking about what to do next." She would have to learn everything she needed to know about starting up her own small business in her 350sqft soho studio. As a "company of one" before recruiting part-time help, she did it all – from crafting to marketing, packaging and stockpiling. Her grand motivation? "The RM10 left in my bank account as I was surviving on my savings!"
Ling has since moved to a larger space (also in Petaling Jaya).
Discovering a love for home
"People wanted to bring back a piece of Malaysia."
We asked her, how do you decide what to create? "The ones I choose to make mostly come from memory or experience, perhaps something from my childhood. Imagine finger food like cucur udang (prawn fritters) and apam balik, which were my parents' favourites," she says. Some would even remind you of certain local festivities like Hari Raya and Chinese New Year. Then there's the classic kuih (traditional cakes) and comfort food – everything from kuih lapis to kaya puff and roti canai which are essential if you ever grew up or resided in Malaysia.
With detailing comes patience. "I usually opt for food I have eaten before, as I know their appearances best. I used to collect recipe books for patterns and textures, if not I would buy the food and bring them back to the studio to study them up close," says Ling. "There is always something to make. Just look at the amount of food available in Malaysia thanks to our multiracial make-up!"
No stranger to art markets and workshops, Ling travels abroad with her creations. Her past trips include Cambodia, Singapore and Hong Kong. "People would come up to me and point out the Malaysian food they have tried before," she says. "I think it's the cutest thing when they say they love eating those food items, and would like to buy my miniatures because they remind them of Malaysia!" This is one of the most rewarding reasons Ling does this for a living. "I feel like I've done my part in letting people know how awesome my country is!" she says.
Discovering self-worth and community
"Learn how to protect your creations."
The complexity of miniatures varies, so does the time and energy it takes to make them. In simpler terms, the harder it is to make a mini, the pricier the finished product becomes. On average it takes anywhere from 15 minutes to 8 hours for the sculpting process, not taking into consideration Ling's process of baking, glossing and assembly work. "There is a lot of experimentation that goes on whenever I make something new or custom-make something. I have to get the proportions just right," she says, admitting she has sent failed trays straight to the bin. "Many times, I would remake my miniatures because I am not happy with the way they look. I ask myself this: how am I going to present my art in the way that people would recognise them at first sight?"
Ling admits her past struggles with pricing her craft. With more than a decade of experience, she has since become more comfortable with aligning figures to her skills and efforts. "An appreciation for art isn't common. Some people would call my art childish, while some bargain for cheaper prices, without knowing the trial and effort spent to perfect these miniatures," she says.
The artist hopes for progress – a future where more people would appreciate original creators like herself and support such crafts by knowing the creators' side of their stories. "I try to educate my audience on social media by showcasing my crafting process. I guide them through my ideas and explain why certain steps are important," she says.
Ling is always on the verge of something new. She's always thinking about what miniature delicacy to spend her time on next, but also with the changing times and trends, she expresses a new interest towards NFTs. Would her new creations spur a different style? That's a delight for another time!