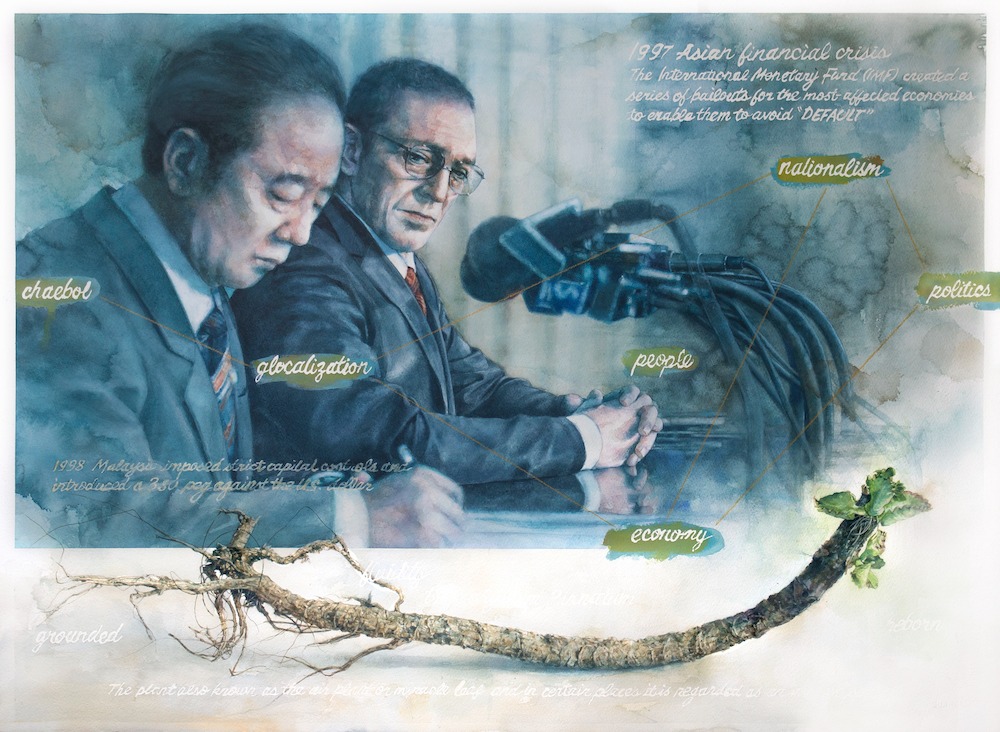 Fifteen artists from around South-East Asia come together in 'This Time: Contemporary Watercolour', offering a smorgasbord of an exhibition that acknowledges the pandemic but doesn't occupy itself with it.
By ADRIANA NORDIN MANAN 
What should one look for in a group exhibition? Cohesion emerging from variety, or individuality within a group setting? These are questions one leaves with after visiting A+ Works of Art's
This Time: Contemporary Watercolour. The unifying theme is the watercolour medium, so anyone expecting works on (by now pat) pandemic themes of ennui, alienation and solitude will be disappointed. Or perhaps they'll welcome the smorgasbord of an exhibition that acknowledges the pandemic but doesn't occupy itself with it. 
The curatorial essay describes the 15 artists, from around South-East Asia, as those "who embrace a fluid understanding of (the watercolour) medium, actively rehearsing and playing with its surrounding ideas to engage us in the unstable imaginary of being in this time today."
As we're told that the focus is on watercolour as a medium, visitors can latch on to the opportunity to just observe and enjoy, without forcing any convergences or confluences. This approach makes This Time quite a fun outing.
First there's the theme of contact. For example, the mini freezer in Chan Kok Hooi (Malaysia)'s The Spring in The Winter. Boxy and grey, it sits on the floor with a lone cable connected to a nearby power point. In a time when everyone is wary of surface contact, it takes a moment to realise that the freezer must be opened to view the complete artwork. Chan makes a literal take on watercolour, leaving two small, flower-shaped palettes—the kind used in primary school—filled with paint in the freezer's top shelf, alongside a few paintbrushes.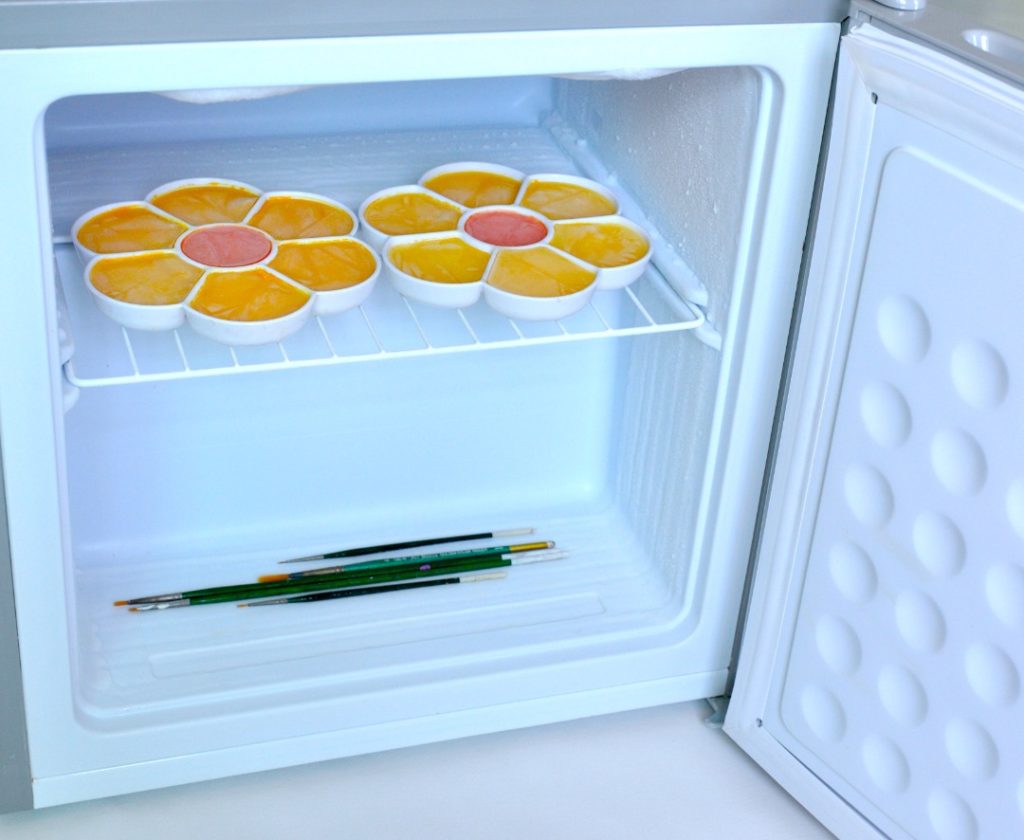 Then there's the one-seater sofa and ottoman at Chang Fee Ming (Malaysia)'s Bhutan. Two framed pieces by the famed watercolour artist sit on a side table, making one wonder why the choice for a homely presentation was made. In another corner, a video on loop shows Isola Tong (Philippines) crawling around on all fours, her long hair dipped in black paint making swirls like trails of jet fuel on paper in Ghost Calligraphy, a nine-panel piece on display right next to the video.
A multi-country line-up introduces us to artists from beyond our shores, and two artists of special mention at This Time are Tith Kanitha (Cambodia) and Lêna Bùi (Vietnam). Their works stand out for their beautiful pastels. Kanitha's Untitled I-XVII is made up of small, framed paintings, all featuring splotches of watercolour surrounded by the white space of paper. The colours are very diluted and remind one of the translucent surface of dragonfly wings, at once multicoloured, faint and dainty. A few of the paintings appear to be in the shape of animals, and attempting guesses feels like those times when you look up at the sky and try to make out the shape of a travelling cloud.
Bùi's two-piece Unwritten radiates hues of pink and features geometric shapes that reel you in. One of the framed works looks like a suspended magnet between two coils, while the other has flora elements that look like fern leaves reaching from the centre to the four corners.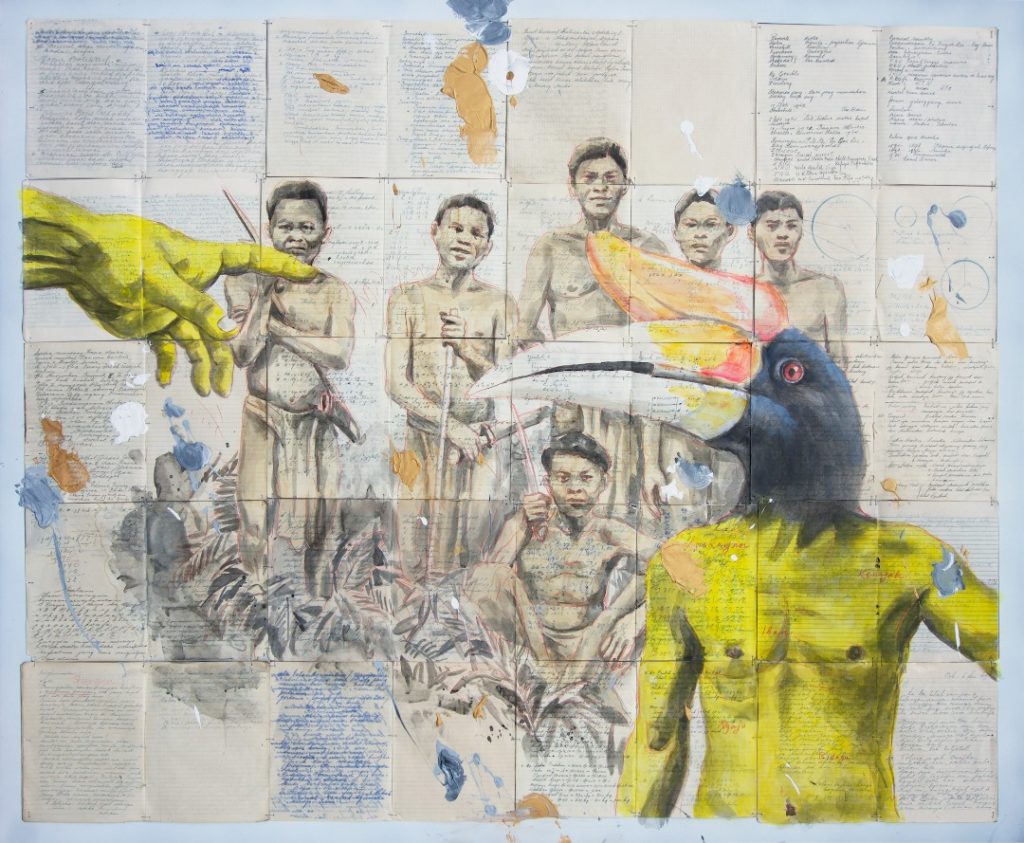 Not all the works at This Time are fluid releases of abstract beauty, however. Agus Suwage (Indonesia)'s Borneo – The Missionaries and The Hornbill, Chang Fee Ming's Remembering 8 May 2021 and In Search of Native Bandanese, and Phuan Thai Meng (Malaysia)'s After Default: Reality and Fiction treat historical events as entry points to question violence and conquest, especially in the case of Chang's work. Both his pieces concern destruction by colonising forces in South-East Asia, specifically the Dutch VOC and its hunt for spices such as nutmeg. 
Agus Suwage's Borneo meanwhile sustains one's gaze with its discoloured background, made up of handwritten notes in Bahasa Indonesia. Are they notes from an orientalist officer, maybe a government anthropologist? Or maybe the last words of a village elder, urging their people to rise against the colonialists? Without context, the writing doesn't reveal much.
Phuan Thai Meng's After Default (featured pic on top of page), on the other hand, stands out for its mention of a word unmistakably associated with economic heft and domination: chaebol, or the powerful South Korean business groups that are indispensable to any discussion of the country's political economy. In a piece that resembles a mind map on one hand, and historical jottings of Malaysia's capital controls during the 1998 Asian Financial Crisis on the other, viewers are left wondering what about 2021 made the artist turn toward a quarter century earlier?
An artist deserves their secrets, one could say.  
This Time: Contemporary Watercolour is on until Nov 27 at A+ Works of Art, Jalan Sentul, Kuala Lumpur.