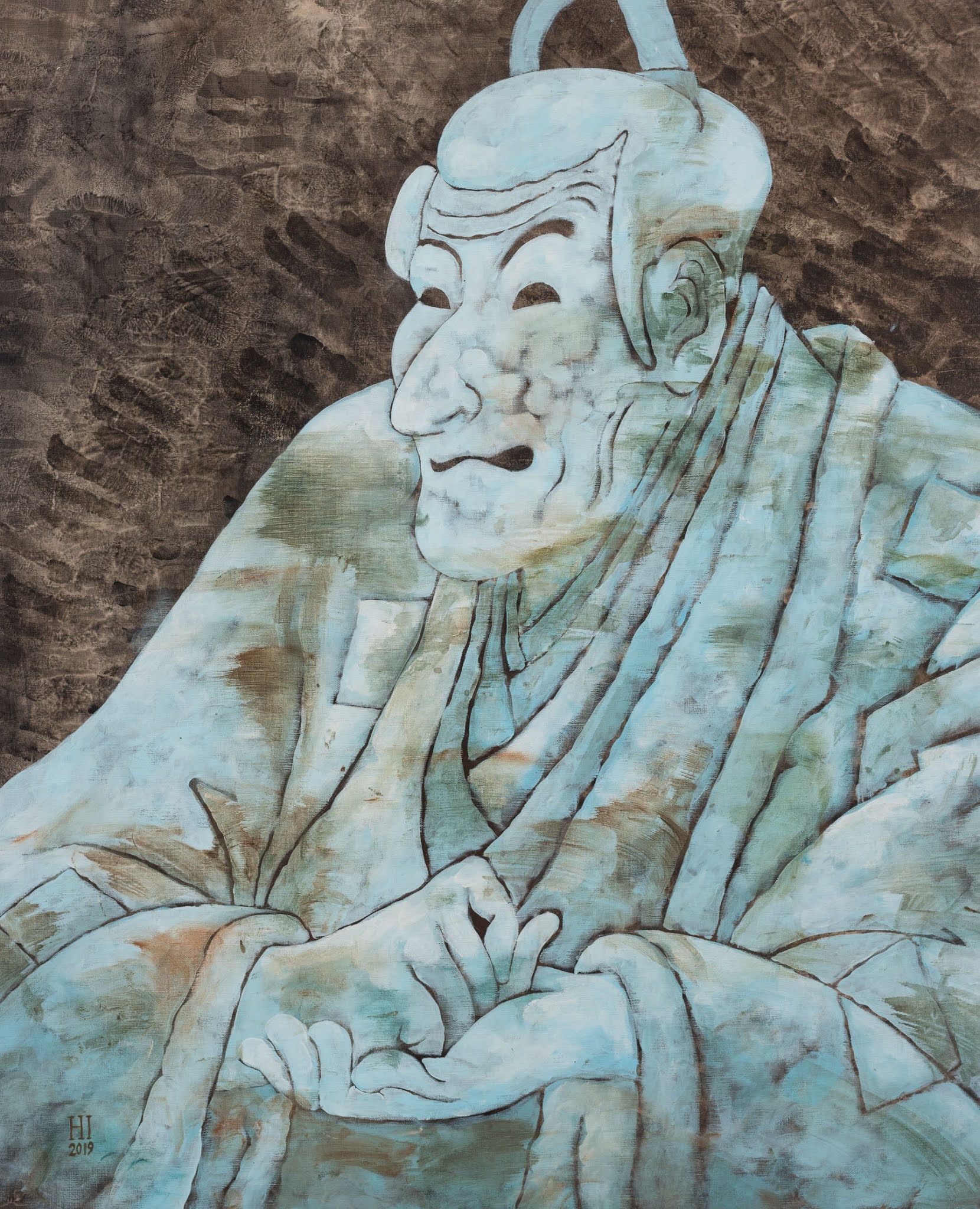 By DANIAL FUAD
A painting of a Kabuki actor greets me as I enter the gallery, setting the tone and direction for Haslin Ismail's recent solo exhibition, which centres around his experience in Sapporo, Japan, during his two-month residency last year.
Walking further into the gallery, I am held in awe by several large scale paintings of various subject matters, along with four individual drawings and a set of comics, which Haslin completed during the recent government-imposed Movement Control Order.
Haslin's surrealism style has always intrigued me and he brings his A game for his latest solo exhibition at HOM Art Trans, KL, called ROT. Nature takes centre-stage this time around compared to the more sci-fi look of his past work. Each one of Haslin's paintings evokes a sense of mystery and discovery as at first glance, I can see individual elements such as grass, frogs and leaves, but taking a step back, cleverly hidden portraits are revealed. The optical illusions found in his paintings remind me of works by the Ukranian artist, Oleg Shuplyak who is famous for hiding portraits in his sceneries. Of all the paintings in this exhibition, the one I find most captivating is "Rupa Orang Tengah"- maybe because it has skulls in it, and I am a sucker for skulls.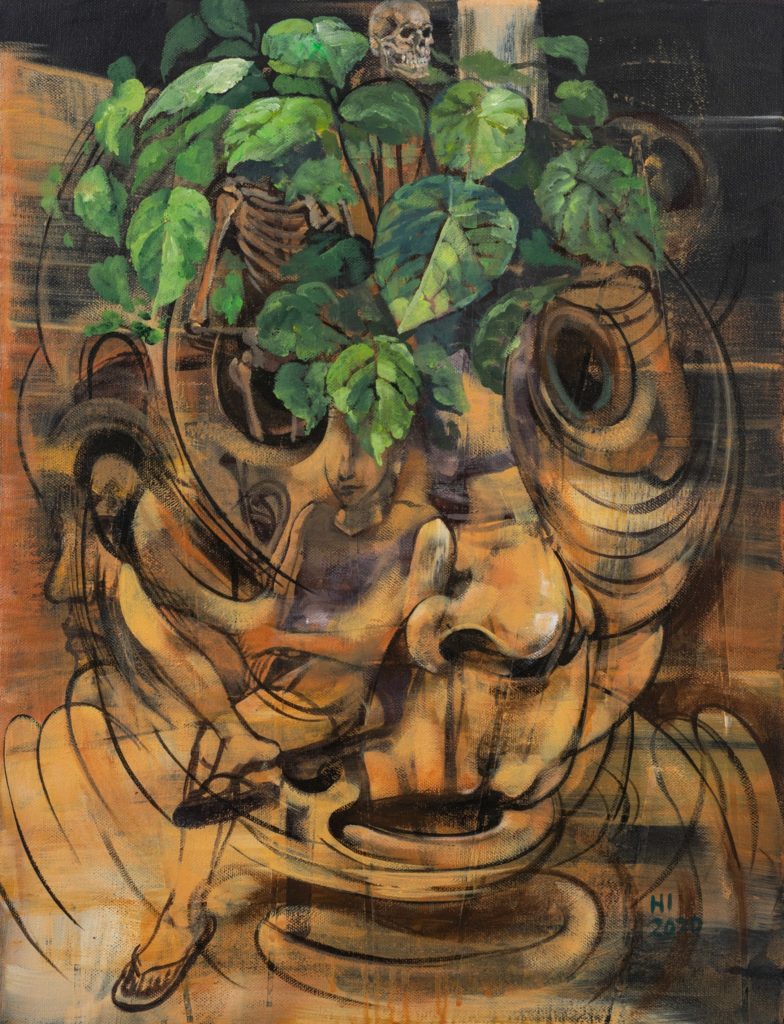 I move on to Haslin's drawings, inspired by the mundaneness of the mandatory home confinement earlier this year.
Of a set of four drawings, the first is a portrait that seems to go on and on. Two seem to be inspired by his home's surroundings and the last is a loaf of bread with weird creatures.
Just like his paintings, his drawings are packed to the brim with various subject matters especially "Hansel & Gretel" & "Cemas 29/3/2020" which look to be inspired by daily life during the MCO. To me, the latter piece is the most intriguing as the tornado with household objects in it somehow embodies the chaos and turmoil inflicted by the pandemic.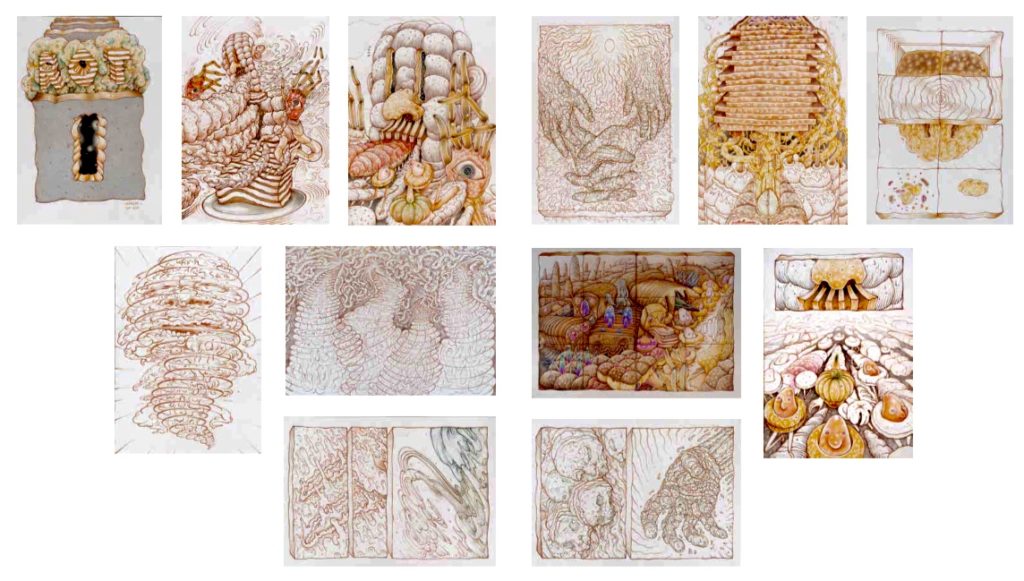 The title piece, "ROT" is a comic strip that really showcases the wild imagination of Haslin. The comic portrays a society that lives inside a loaf of bread and depends on each other, as interpreted from one of the images depicting hand-holding. To me, the comic truly displays Haslin's skills and the power of his imagination; to be able to come up with something as surreal as a city of organisms living inside a loaf of bread.
In my opinion, "ROT" shows us just how wild Haslin's imagination is. Of all the pieces on display, the ones that had the greatest impact on me were his paintings as each affected me deeply.
Danial Fuad is a participant of the CENDANA – ASWARA Arts Writing Mentorship Programme 2020-2021