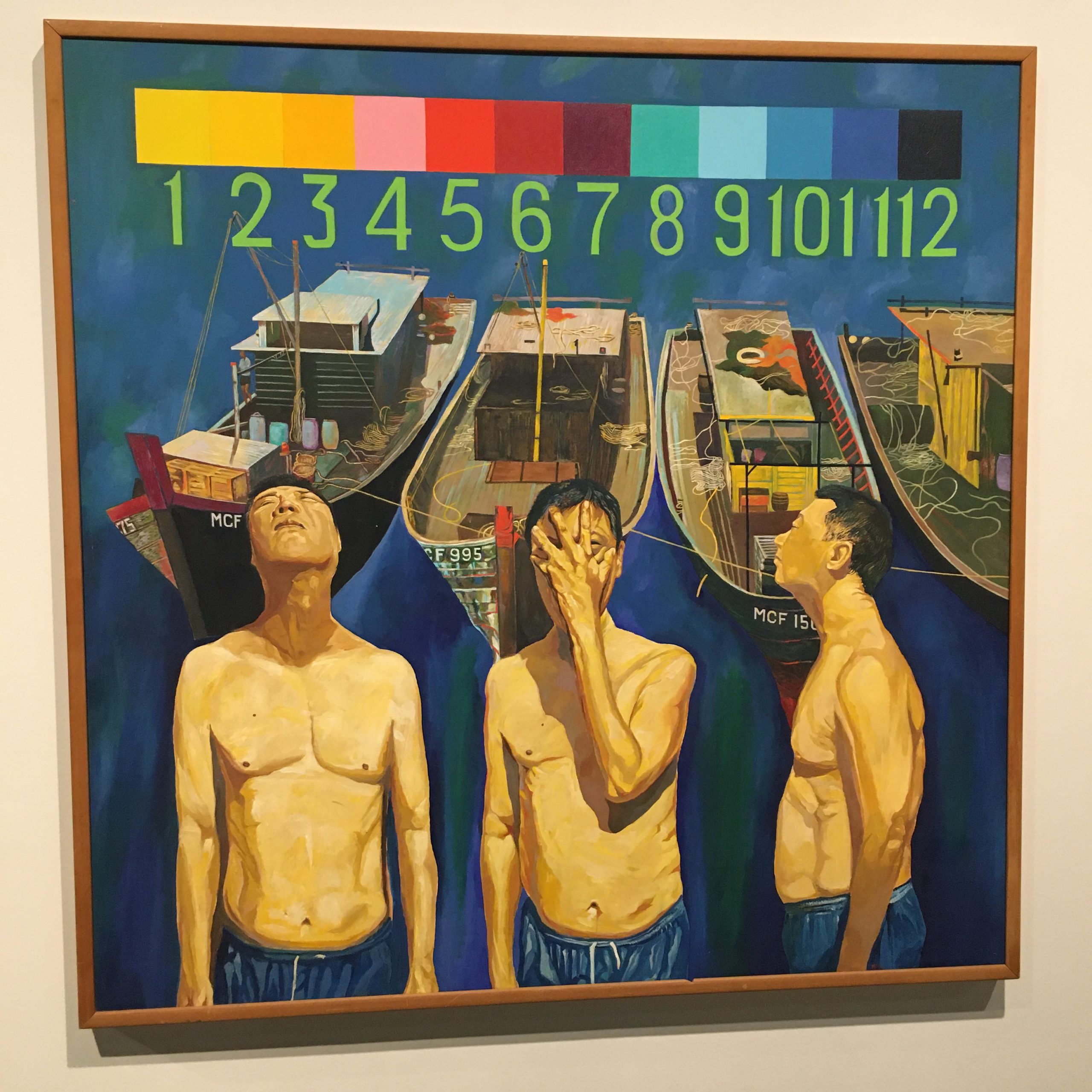 Portrait of a Malaysian Artist is an exhibition that recounts the story of Kok Yew Puah, who was the Malaysian who became an artist twice
Story and photos by MURGAN GOVINDASAMY for Lensa Seni
When consuming art, sometimes a big part of what we value is drawn not from the piece itself but from the story of the artist behind it. The beauty of this is the fact that, sometimes, that story might be something very grounded and not too extraordinary. 
In Kok Yew Puah : Portrait of a Malaysian Artist recently held at Ilham Gallery, visitors were invited to take a walk down memory lane and experience the story behind the works of the late Kok Yew Puah. This exhibition, curated by Beverly Yong and Rahel Joseph, was not just limited to Kok's artworks, but also featured many things ranging from candid photographs of the man to video snippets of his friends and family telling anecdotal tales about Kok's life. All this served to immerse visitors into his life so that one was able to learn about the man himself and what inspired him.
So what is Kok's story then? Well, his life story is characterised by one thing above all else: change with time. Born in 1947, the Klang native studied at Pin Hwa High School, where he was first introduced to art by his teacher Tan Kim Sar, a Chinese Ink painter. 
In 1967, Kok was accepted as a student at the National Gallery of Victoria School of Art in Australia. Having returned to Malaysia in the 1970s, he embarked on a bold endeavour to try and make a career as an abstract printmaker. Unfortunately, the dreams that manifested themselves as his printmaking studio, Studio 22, didn't go very far, as there wasn't much interest at the time in abstract prints beyond the circles of the printmakers themselves. With that, Kok seemingly abandoned his artistic career to take up the family chilli sauce business. However, in the 90s he would return to take on a significant role in the local arts scene, this time with realist works, before he passed away in 1999 at the age of 51.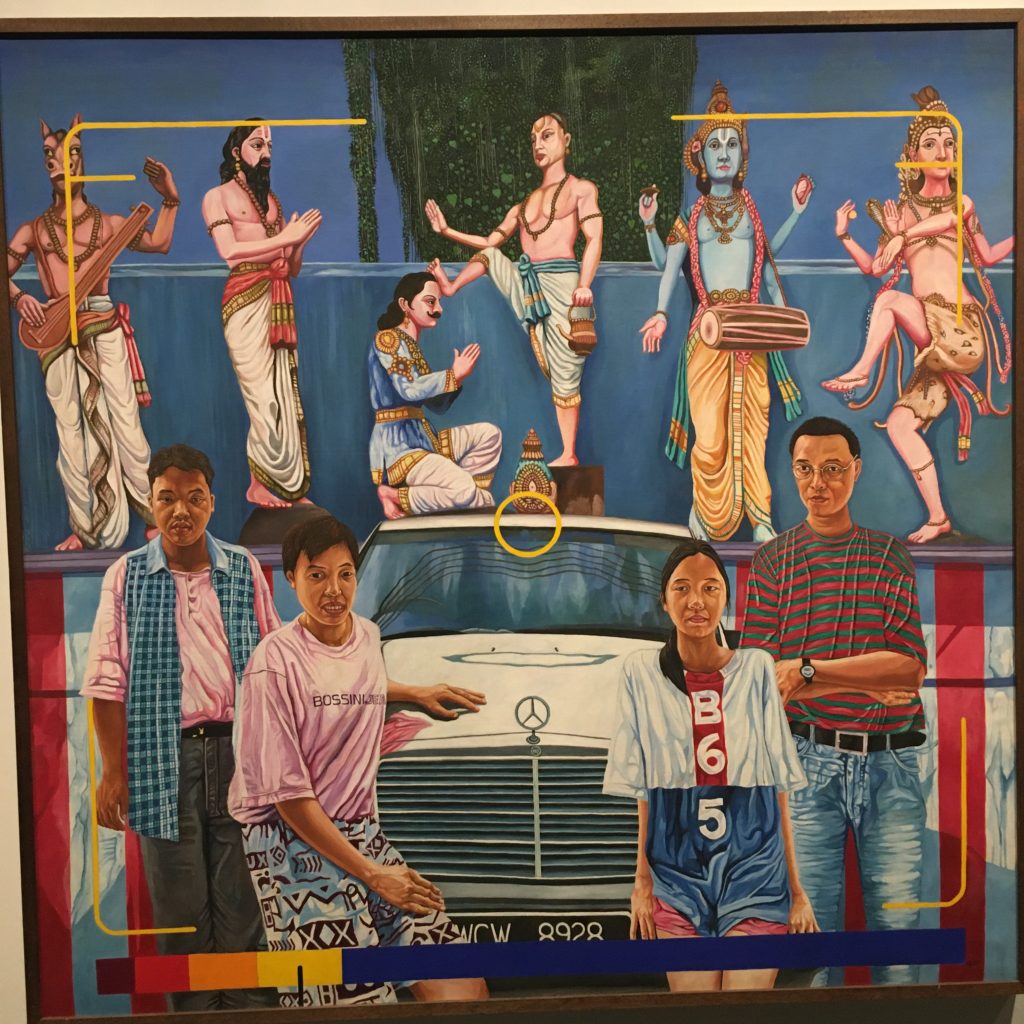 From abstract prints to realist portraits, from Victoria to Selangor, Kok's life story shows that time can change a lot of things, often in a very bold manner. His story reminds us that in life, we must accept these changes and make the most of them. Only after making a major stylistic shift later in his career did Kok really hit his stride. His paintings definitely stood out much more than his prints, with an interesting selection of subjects, a multitude of perspectives and a painting style that fused realism with pop art.
In his paintings, we see humorous depictions of Malaysians often in funny poses with various backdrops, presented like a newspaper cartoon with a cheesy punchline. What gave an added layer of humour to his paintings from a Gen-Z perspective is the romanticising of his home town Klang, where the spirit of the city is imbued in all his paintings. Being a man who rarely liked to go outside Klang, often not travelling beyond 10 km of his home, his works give an all encompassing view of his hometown – the good, bad and the ugly. Thus, Kok's paintings in one sense serve as a commentary on life in Klang. 
In his untitled series of paintings of people in front of a Hindu temple, he highlights the complex cultural diversity that Klang was home to. The various races, dressing styles and expressions of the people coupled with the striking colours and the backdrop of the temple really flesh out this idea. Many of his Klang-centric works also highlight the rapid development and industrialisation that took place in his beloved city throughout the 80s and 90s. His works explore the visual and environmental implications of these changes, often highlighting the pollution and degradation of the landscape. In Sisters, we see two women, one facing the viewer and the other facing the first woman, standing against a backdrop of a grassy field with abandoned cars scattered throughout, seeming to express the need to stick together as family in a rapidly changing and degrading world.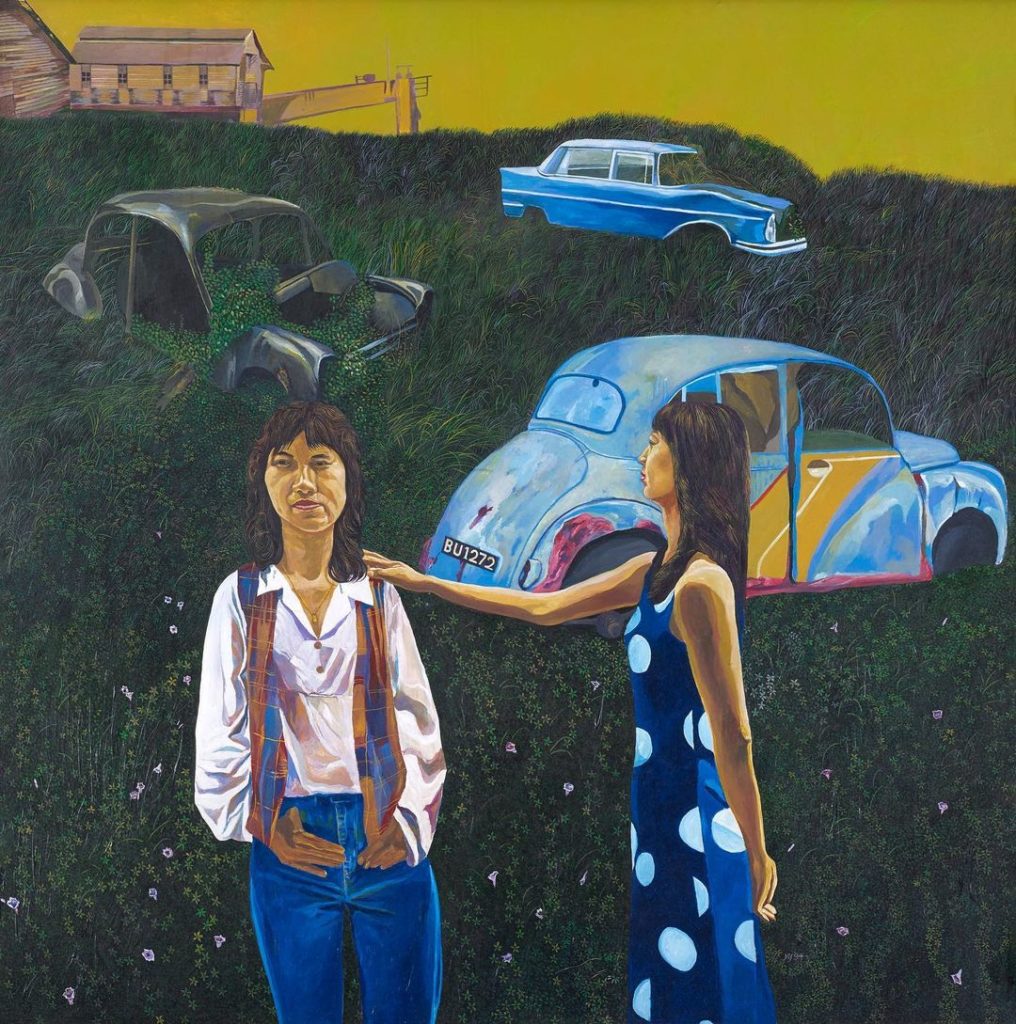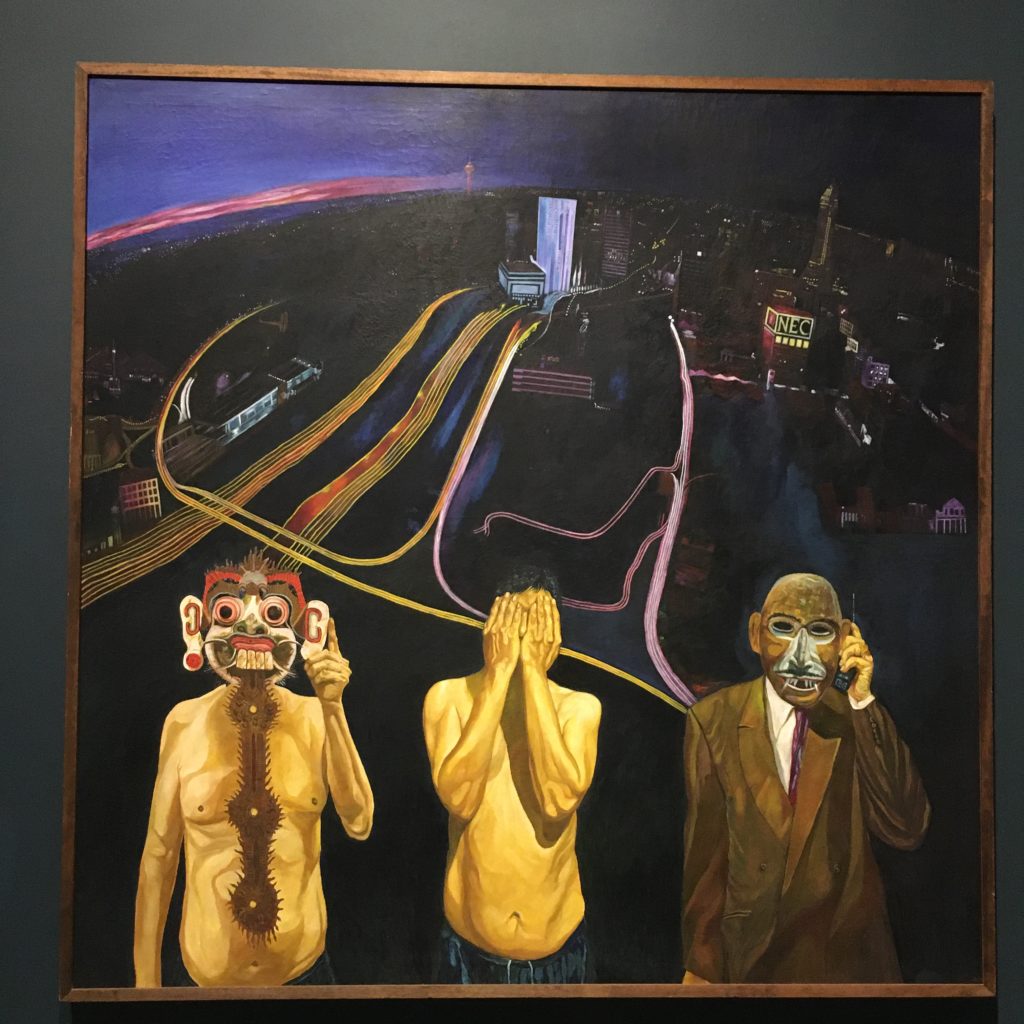 One painting that stood out the most at the Ilham Gallery exhibition, partially for its style, and partially for the trademark comedic undertones in his paintings was from the Masks and Modern Man series. This series has three men wearing masks – one a Balinese Rangda, one a Mah Meri mask, and one an African Tribal mask, standing against various backdrops as usual. These works are meant to highlight the various identities that people can "wear" like masks, be it ethnic, regional or national. The particular work that stood out showed two masked men with a racecar between them, with the backdrop being the Kota Darul Ehsan arch, standing in the distance over the Federal Highway – a subtle hint that "all roads lead to Klang" as fellow artist Anurendra Jegadeva puts it in one of the featured videos at the exhibition. 
The exhibition did a great job showing the various trademarks of Kok's work. A recurring theme in his paintings is the use of colour bars as well as viewfinders, intending to make his paintings look more like photographs. However, it has been said by one of his daughter's friends (who is in a number of his paintings himself) that the subjects are often not depicted the way they actually look, and are often distorted in the image but with very intricate details present. Kok's paintings thus do not obey the laws of reality, but aim to show the viewer what he sees. Besides that, the exhibition also featured multiple paintings of the same thing but in different perspectives or styles. These were interesting because they almost appear like dry runs of the final product.
Though overall an enjoyable experience and a brilliant showcase of Kok's vision, the exhibition could have benefited from featuring even more of his paintings with a smaller space designated for the prints. The silkscreen prints were definitely worth seeing, but one can't spend much time on them. They seemed somewhat inaccessible. With the geometric patterns and striking colours, they were pretty for sure, but they all appeared as if they had some meaning or message that was just too hard to grasp. However, the presence of the prints were useful to put into perspective the sheer magnitude of the transformation in style Kok underwent throughout his career. Ultimately, the story that this exhibition aimed to tell, the story of "the Malaysian who became an artist twice", was that of Kok reconnecting with a lost love. Kok had to let time change his style, his hometown and the arts scene itself before he could put his business aside and go do what he loved.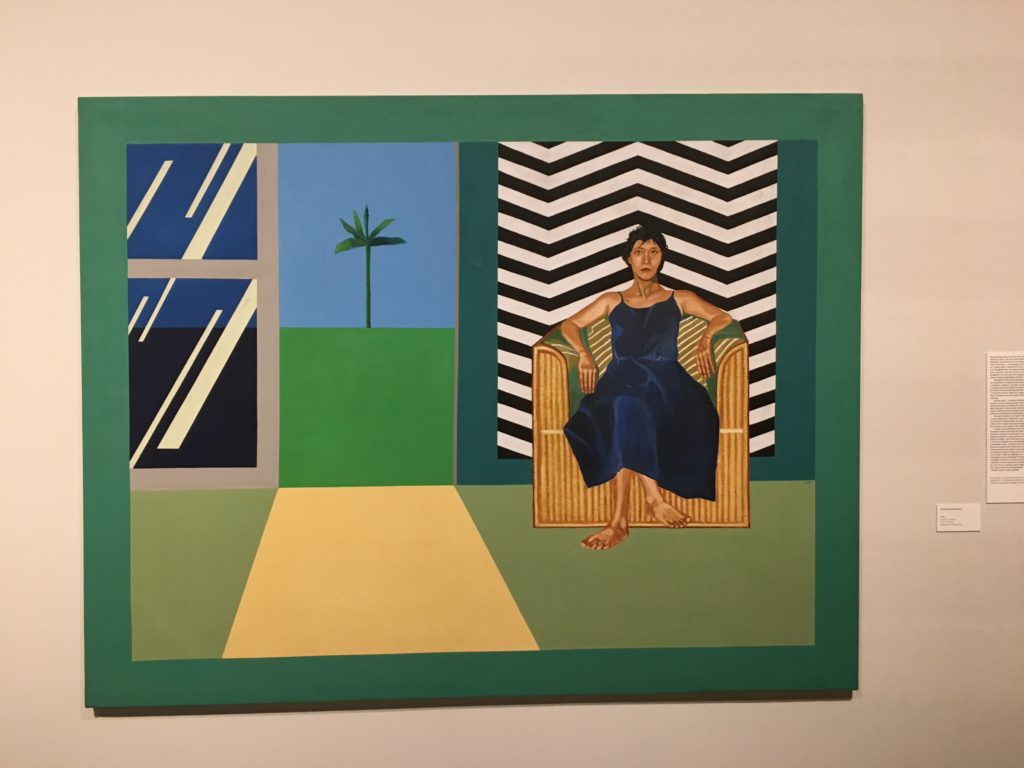 Murgan Govindasamy is a participant in the CENDANA ARTS WRITING MASTERCLASS & MENTORSHIP PROGRAMME 2021
The views and opinions expressed in this article are strictly the author's own and do not reflect those of CENDANA. CENDANA reserves the right to be excluded from any liabilities, losses, damages, defaults, and/or intellectual property infringements caused by the views and opinions expressed by the author in this article at all times, during or after publication, whether on this website or any other platforms hosted by CENDANA or if said opinions/views are republished on third party platforms.