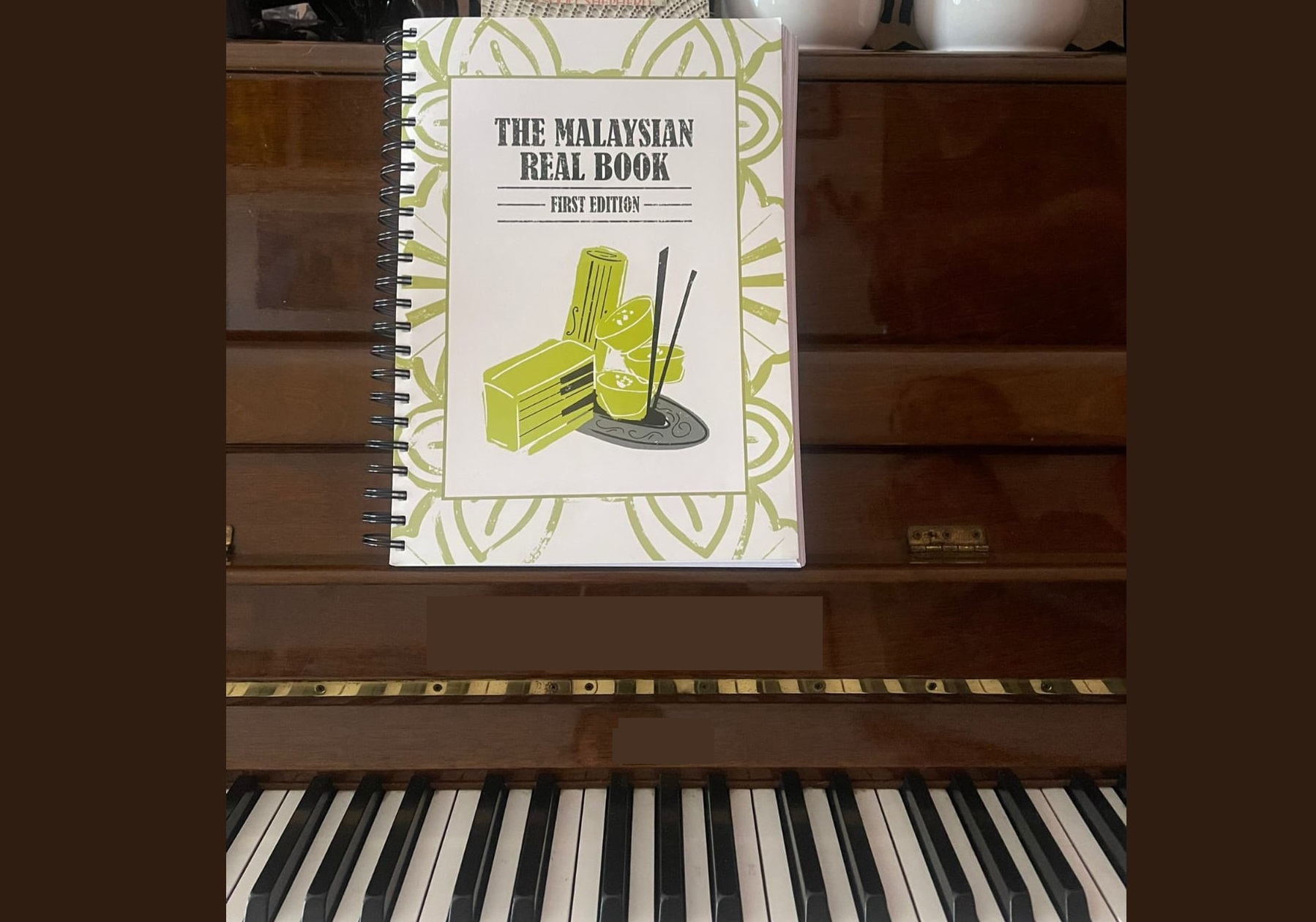 How many Malaysian composers do you know? Featuring songs by composers from past and present – P. Ramlee & Sudirman to Fauzi Marzuki & Aubrey Suwito, Alleycats & Ah Niu – this anthology is a must-have for every Malaysian music lover.
By ANN MARIE CHANDY
Launched in January, The Malaysian Real Book is a superb initiative to document, transcribe and present a comprehensive repertoire of Malaysia's music heritage ranging from traditional-folk to jazz to contemporary popular music.
Chock full with 241 songs, Real Book was a community-based project which aimed to highlight the rich and diverse heritage of Malaysian music while also highlighting the music of contemporary composers, songwriters and groups – which it does! Poring over the many songs, you will be happy reminiscing over folk songs like Enjit Enjit Semut and Chan Mali Chan, then turn a few pages and come to Seven Collar T-Shirt's Fragile!
The compilation in itself is a historic, nostalgic journey of sorts as you remember songs, sing or play them on an instrument, and appreciate the numerous songwriters, musicians and artistes that our beloved Malaysia has been blessed with!
Project Director Michael Veerapen says it took one and a half years for the Malaysian Jazz Piano Festival (MJPF) Committee to work on the book.
"The idea was to encourage Malaysian musicians, music lovers and enthusiasts to play Malaysian songs professionally, at home, in schools and colleges and also to present Malaysian music to the world," Michael said, explaining that the Real Book offers an anthology of playable sheet music, and the song selection was done by the MJPF committee according to various categories.
MJPF committee current president Tay Cher Siang elaborated that the seed of the idea was planted in January 2020, during the postmortem of the 2020 MJPF. We started the discussion during the lockdown.
"We tried to do a festival in June (2020) to raise funds and announce the book, but the second lockdown put those plans on hold. In November that year we managed to raise funds via the Malaysian Jazz Marathon online streaming concert featuring 18 bands lasting 12 hours, on FB. The concert reached an audience of 100k, and much support poured in … plus we got a healthy number of pre-orders!" Tay shared.
"The transcription of the songs went along, and it took months to finalise everything, including ironing out all copyright, led by Michael Veerapen and Jennifer Thompson."
Over two hundred songs may sound like a lot to pack into one book but Tay said the committee was trying to include as many categories as they could including Classics (pre-1970s), Contemporary Jazz, Pop Yeah Yeah (1970s to 90s), Contemporary Pop/Rock, Folk, Ethnic songs (Peninsular, as well as Sabah & Sarawak) and Chinese Pop. 
Tay explained: "With the breakdown of the categories, the book represents many facets of Malaysian music: popularity, cultural values, artistic values and heritage. The debates during our many zoom meetings were interesting and heated, to say the least! A lot of thought has been put into the selection, and we consulted many parties to ensure we got it right."
The MJPF Committee was formed in 2013 with the goal of widening the prevalence of Malaysian Jazz music and to cultivate a musical community that exemplifies what it truly means to be "Malaysian". The motivation behind the Real Book, therefore, was apparent, since it serves as a platform for the Malaysian music community to unite for a greater cause. The book offers a much-needed educational resource for students, teachers and researchers, while also providing professional musicians an accessible and accurate reference for their performances, arrangements, and compositions; thus, bridging the gap between the music student and working musician. Amateur musicians and music fans will also benefit from the anthology – which the MJPF says is the first ever Real Book of Malaysian music, a first of its kind for any country in the wider Asian region!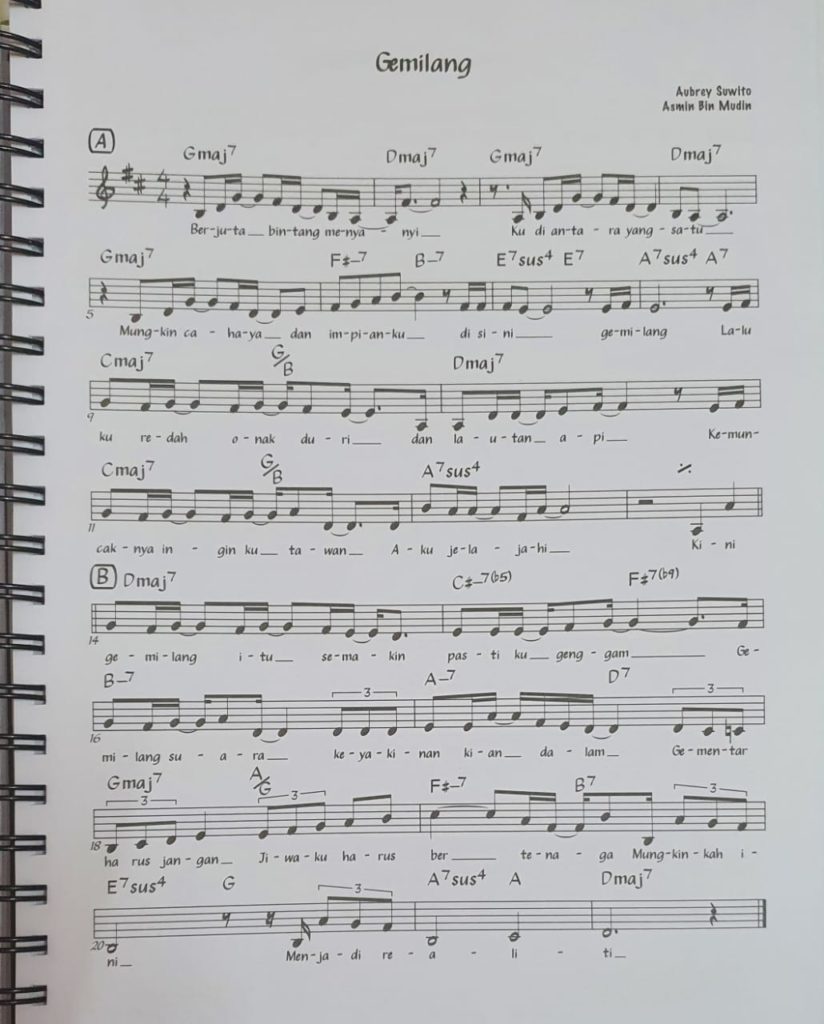 For those who don't know, MJPF schools us: a "Real Book" is a compilation of music that is written in the format of a Lead Sheet. Its origins can be traced to George Goodwin, a radio station director, who started printing small cards that contained the lyrics, melody, chord symbols and copyright information of a song during the 1940s. These small index cards were eventually compiled into books known as "Fake Books", since no royalties were paid to the owners of the copyright. In the 1970s, a group of music students at the Berklee College of Music in Boston, United States, published their own version of the fake book entitled "The Real Book" with the help of Steve Swallow, a Berklee Professor at the time who edited some of the lead sheets alongside the students. Books like these have helped music students of jazz to learn and perform the wide repertoire of American songs. Since then, the "real book" format was formalised and published legally by companies such as Hal Leonard and Sher Music in the United States.
In the Malaysian context, Tay says that occasionally you may have been able to find some sheet music online (usually by hobbyists, and usually not copyrighted!) … "but I gotta say compared to finding sheet music of Western songs, it was maybe 10000 times harder to find Malaysian song sheets! We Malaysians are quite a funny bunch in that we always look out rather than look within."
Tay said:"The preservation of our musical culture is definitely one of the goals we hope to achieve with this book. We also hope that this is the beginning of a future. Just take myself as an example: I know a lot about foreign musicians and composers. I read about John Coltrane, The Beatles, Bjork, Teresa Teng, but I am embarrassed to admit that I didn't know a lot about our own musical heritage. Thus the strong need to start the process of introducing Malaysian music to Malaysian musicians and students, and the public, via The Malaysian Real Book. That way, our music students could start playing Malaysian music, teachers can start teaching Malaysian music, and arrangers will arrange Malaysian music. Play the music, listen to the music, create new music on top of old music, that's the way forward."
What was the best thing about putting this book together? Michael succinctly summed up: "Teamwork and cooperation with the whole community."
For more information about the book and how you can purchase it go to malaysianrealbook.com