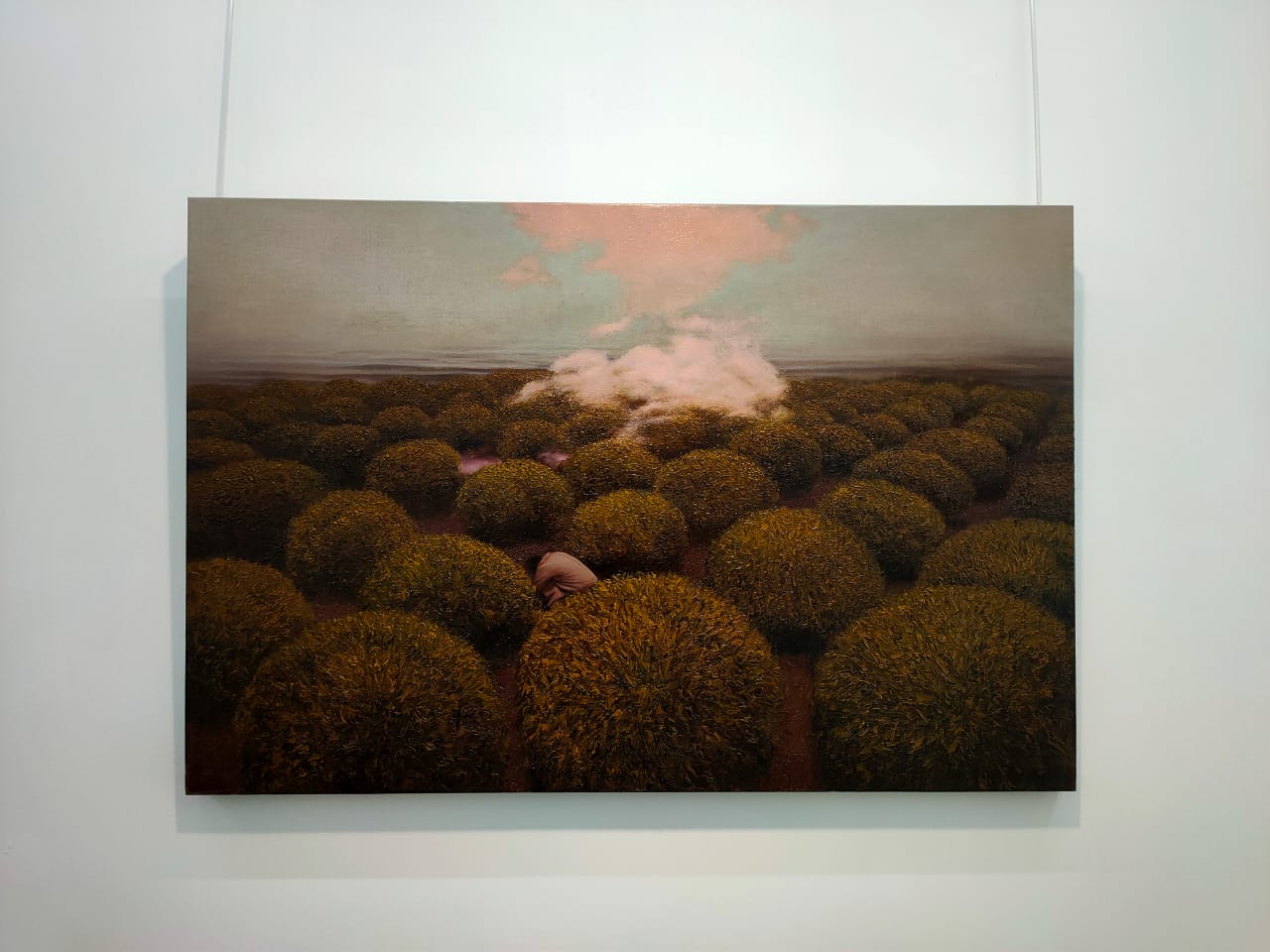 In his latest exhibition, Pachara Piyasangsoot uses canvases to artistically and tactfully depict his sentiments regarding the political friction in his homeland.
Story and photos by MIRA S for Lensa Seni
Is it possible to use familiar, everyday scenery to invoke the spirit of activism and political advocacy in the community? Pachara Piyasongsoot proves yes.
Pachara hails from Thailand and is no stranger to the visual arts world. He is known for his paintings of everyday regular places, people and stories that contain backstories of political messages. His exhibition titled Harvest consists of multiple paintings that at first glance seem like typical scenery, but looking deeper, you will discover numerous underlying interpretations to his work.
The foundation of this exhibition encapsulates Pachara's depiction of the long-running coup culture that runs deep in Thailand. To date, the country has endured 13 coups with the latest one in 2014. On this occasion, Pachara seems to be using the idea of the harvest to reflect on the extensive time spans of political distress that generates a power play cycle. This seems to allude to authority building up, gradually growing; and once resources and people power are snipped out of the equation and uprooted, society is left bare and empty from anguish.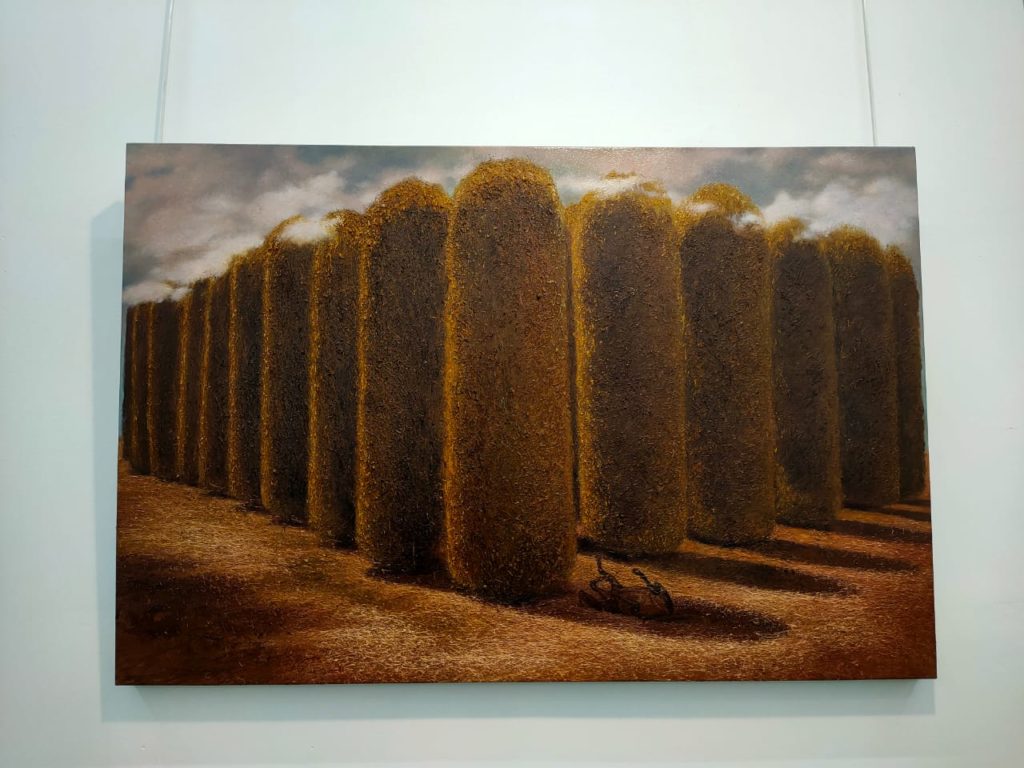 Upon entering the Richard Koh Fine Art gallery for Pachara's first solo exhibition in Malaysia, the first art piece that greeted the audience is "Horse Play Dead". On the canvas were large, elongated bushes that were carved and trimmed to perfection. However, in the bottom corner, a horse lies on its back, giving the impression that it is injured or dead. Amidst the perfectly shaped bushes (that are usually solely in the expansive lawns of the rich and powerful) lies a poor helpless animal that is struggling, with no assistance being offered, left there for dead. Pachara tactfully plays the metaphor game, using the pristine lawns to symbolise the wealthy and the horse as the victim who suffers from their greed and ignorance.
The details incorporated to everyday scenery
In "The Beach", there is a similar depiction of spherical bushes, scattered and spaced apart in a vast field. In between the nooks, lies a man humbly crouching down, almost as if he is a labour worker tending to the field.
There is a sturdy bridge that links the messages between these two paintings. The disparity displayed is obvious, Pachara is trying to depict the imbalances in power. Wherein amidst expansive, lush fields of abundance lie human beings and animals who are fighting for breath.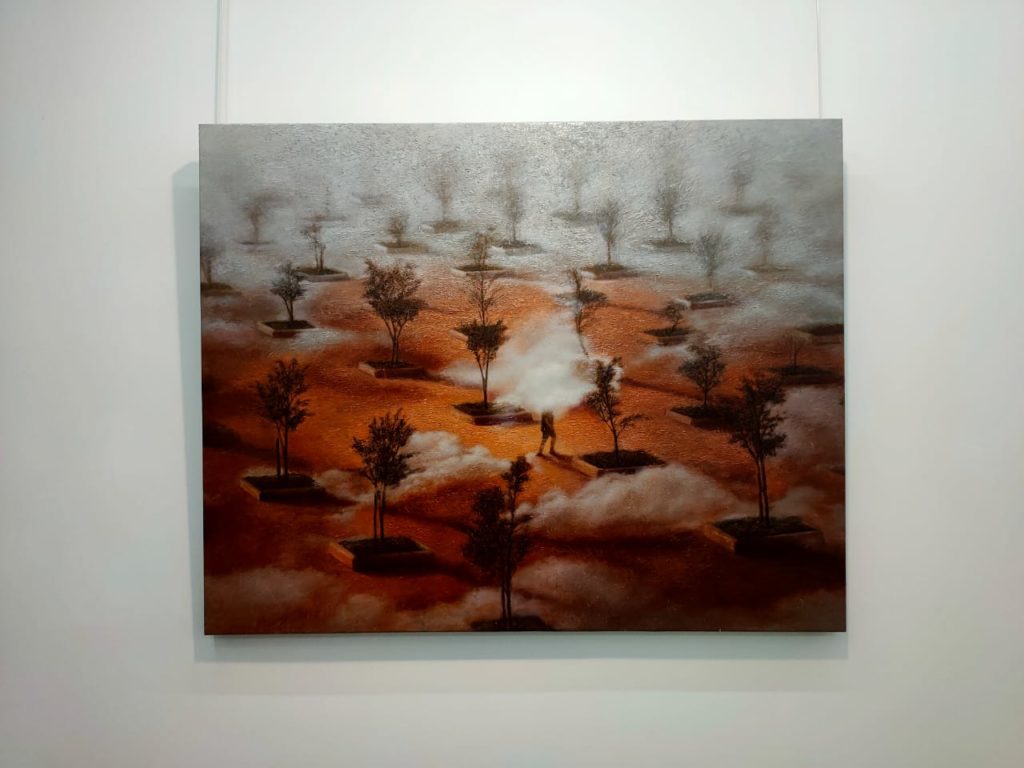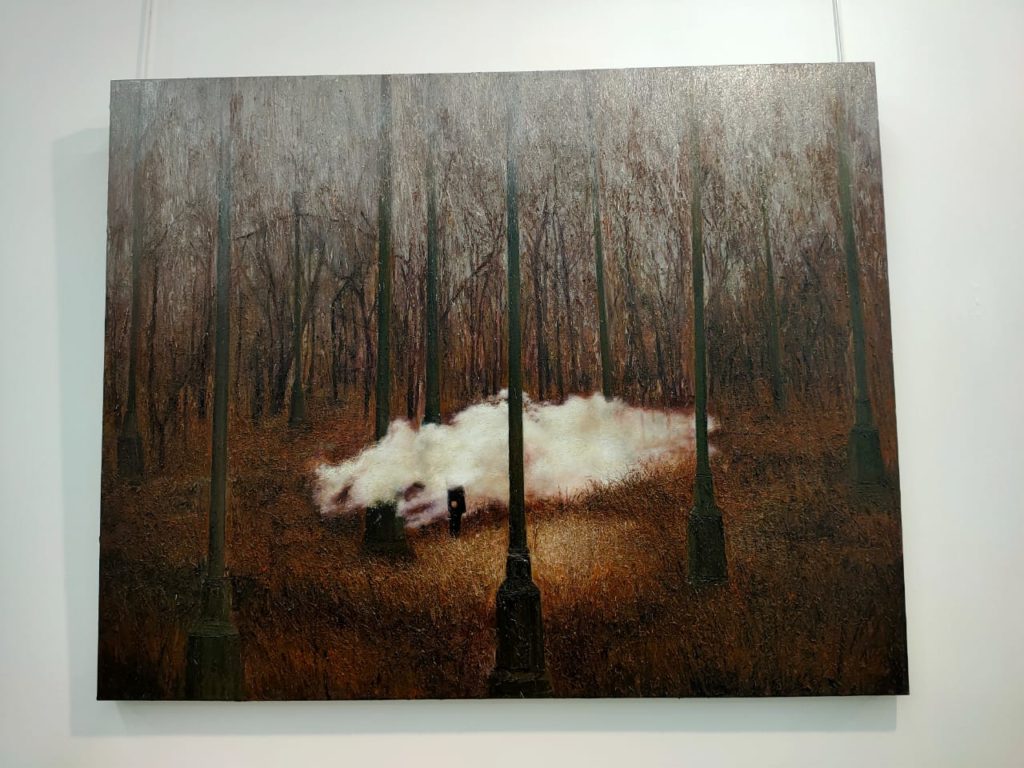 Next in line are his artworks titled "Vanilla Sky" and "There is no No.797". There were some similarities between these two works. Spread across the canvas were orange hued earthy soil, boxed trees and potted plants. In the middle of the vast area stood a singular lone, forlorn person whose face was blurred by a massive, fluffy cloud.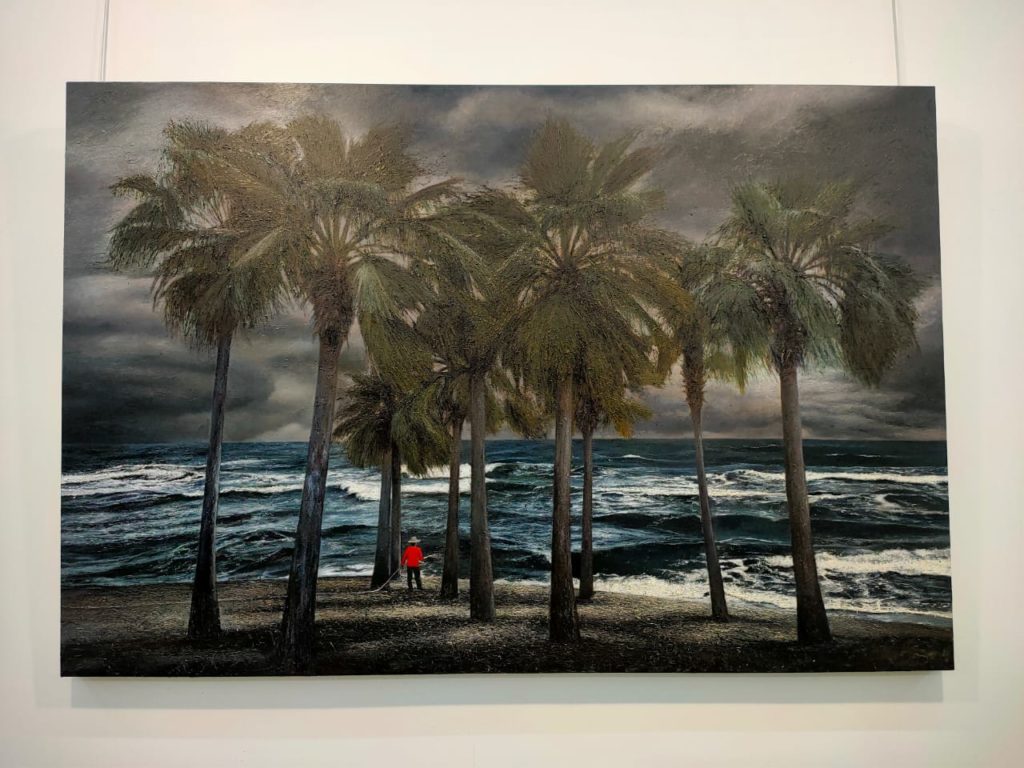 Even in "Gardener in Red", there lies a fisherman donning a bright red shirt staring at calm, unbothered waves as palm trees sway behind him. Pachara uses these characters in his pieces to elaborate on the state of reflection the people live in after enduring intense authorities and corruption.
One notable element that begs to be noticed is the presence of order in almost all of Pachara's paintings. The trees are perfectly aligned, the bushes are carved in symmetrical triangles, spheres or cones and the forests and palm trees are flawlessly arranged. From a bird's eye view, everything seems structured and orderly. This can be interpreted as Pachara subtly displaying that things are "seemingly" perfect, but may not necessarily mean they are. Everything can be perceived as being aligned or in its place but it does not negate the fact that chaos has or will flood the area. Order is, after all, a facade at times. Until we magnify the struggling tiny creatures lurking in between the crevices of the fields, will we get a hint of the suffering they're enduring.
Pachara also utilises his colour palette to invoke certain emotions. Across his exhibition, the theme of its hues were consistent and it was obvious how they were all solemn and subdued. But, Pachara managed to successfully dull down the tones of his palette to invigorate a sense of gloom that lurks in a society ridden with corruption and distress. He managed to even make the colour orange seem despondent.
The pieces in this exhibition have one thing in common. The plants, crops and trees are healthy and thriving. Leaves are green, trees are thick and flourishing and the fields look healthy. True to the name of the exhibition, Pachara captures the moment where the flora thrives. But, this might not be for long, as political turmoil promises that contentment is not permanent.
All in all, Pachara did an excellent job at articulating how he personally feels about any form of political distress while simultaneously not being too descriptive of what he was trying to portray. There are some parts of the exhibition where one would need to ponder and reflect on what he was trying to convey through his work. Pachara plays a game with the ordinary and successfully draws attention to the intricate details of everyday sceneries. However, it just demonstrates that the minute details are in fact extremely powerful and poignant because it accentuates simplicity to leave a lasting impact on its viewers.
By using everyday occurrences and landscapes, Pachara also allows a sense of relatability and ease for his audience to perceive his message, these settings are after all understood and experienced by all types of people. It is not a simple task to find depth and meaning- especially from a political angle- in what is common. But, Pachara does so with flair.
Harvest ran from Nov 2-20, 2021 at Richard Koh Fine Art, 34-1, Jalan Telawi 2, Bangsar Baru, 59100 Kuala Lumpur, Malaysia.
Mira Sharon is a participant in the CENDANA ARTS WRITING MASTERCLASS & MENTORSHIP PROGRAMME 2021.
The views and opinions expressed in this article are strictly the author's own and do not reflect those of CENDANA. CENDANA reserves the right to be excluded from any liabilities, losses, damages, defaults, and/or intellectual property infringements caused by the views and opinions expressed by the author in this article at all times, during or after publication, whether on this website or any other platforms hosted by CENDANA or if said opinions/views are republished on third party platforms.