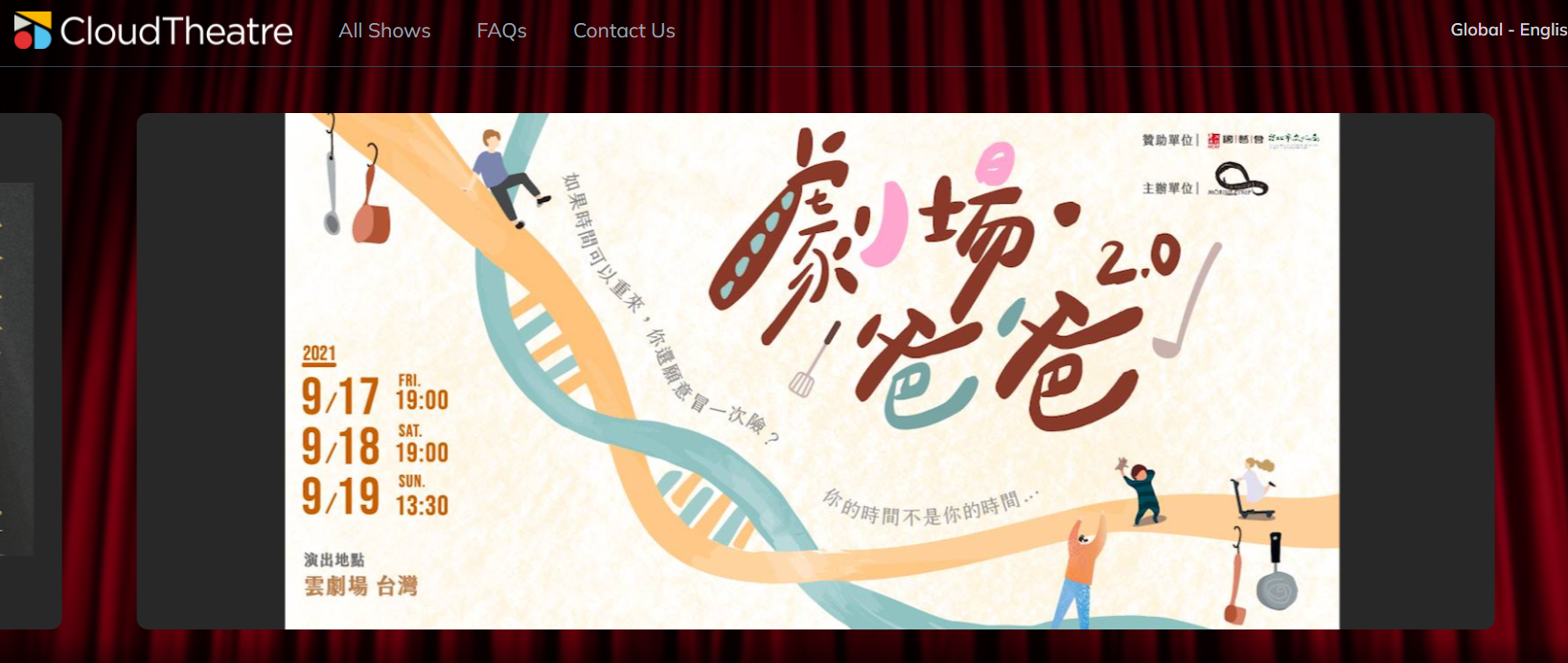 Over the last 17 months, CloudTheatre has provided performers and productions with an audience that has kept the industry alive and perhaps even changed the way we view the arts forever.
By LENNARD GUI
With the ongoing closure of performance spaces, exhibition venues and galleries, arts practitioners and theatre audiences have had to make the virtual world their survival ticket into the arts scene. That's where a company like CloudTheatre comes into play. Over the last 17 months, this online platform has provided performers and productions with an audience that has kept the industry alive and perhaps even changed the way we view the arts forever. 
So who is the mastermind behind this new stage and gallery? Surprisingly, its story began in 2018 when web designer and app developer Dennis Lee was approached by a couple who hired him to create an online site for their marriage. Their purpose was to broadcast the ceremony to family and friends around the world, and so Lee set up a project he named Cloud Wedding. The whole thing was a hit, but Lee didn't pursue the idea beyond that.
Two years later, Lee was approached by a visionary named William Yap who was impressed by what he saw and knew of the opportunities available to the project. Lee and Yap collaborated on expanding the platform to include streaming videos, and realised they had a box-office hit for the arts which was crippled by the pandemic. With lockdowns and travel restrictions prohibiting the industry from live audiences, they converted the platform to cater to virtual shows and online viewers willing to pay for a digital seat.
Working fast, Yap and Lee took a month to change Cloud Wedding into CloudTheatre to present, publicise and sell tickets for Yap's theatre production. "William produced and directed our pilot show," says Lee proudly, "and on May 30, 2020, over 230 people logged in to watch – and this one-hour live-streamed production blew everyone's expectations away. That's when we knew what we started as a quick-fix for an experimental event had taken a new path."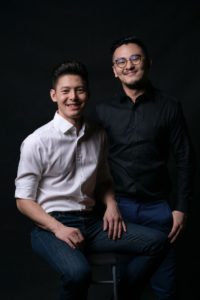 "After that, more and more directors and producers realised this possibility for themselves," Lee added. "Requests were pouring in but the platform was so new back then that we could only host one show at a time. So we knew we had to improve it quickly to meet their demands. But we took the challenge, and today CloudTheatre is a full-fledged automated ticketing solution for online productions with the ability to present multiple events concurrently and sell tickets in most currencies."
To date, Lee says CloudTheatre has hosted over 150 theatre shows, dance and musical productions, and film festivals. It's not just Malaysian companies that have turned to the platform in place of an actual space. Venues in Singapore, Hong Kong, Taiwan and the UK have also used CloudTheatre's services.
Collectively, the platform has reached an international audience and sold over 30,000 tickets worldwide. CloudTheatre hosted five arts festivals in the last 12 months, including KLoud Fest, FreedomFilmFest2020 and George Town Festival 2021 (all from Malaysia), as well as the Malaysian Student Film Festival (UK), Along The Edge Arts Festival (Hong Kong), and the Play-Reading Festival and Let's Get Together Arts Festival (Taiwan).
CloudTheatre is different from other on-demand streaming platforms because it doesn't just offer a virtual space, it also provides solutions as well, Lee adds. "CloudTheatre operates like a physical theatre except it's all online. It's a digital venue that comes with all the technical facilities and ticketing service of a real-life production. We even replicate experiences like the front of house seat checking, a lounge area, live chat, live audience reactions, live voting, photo booth sessions and after-show talks."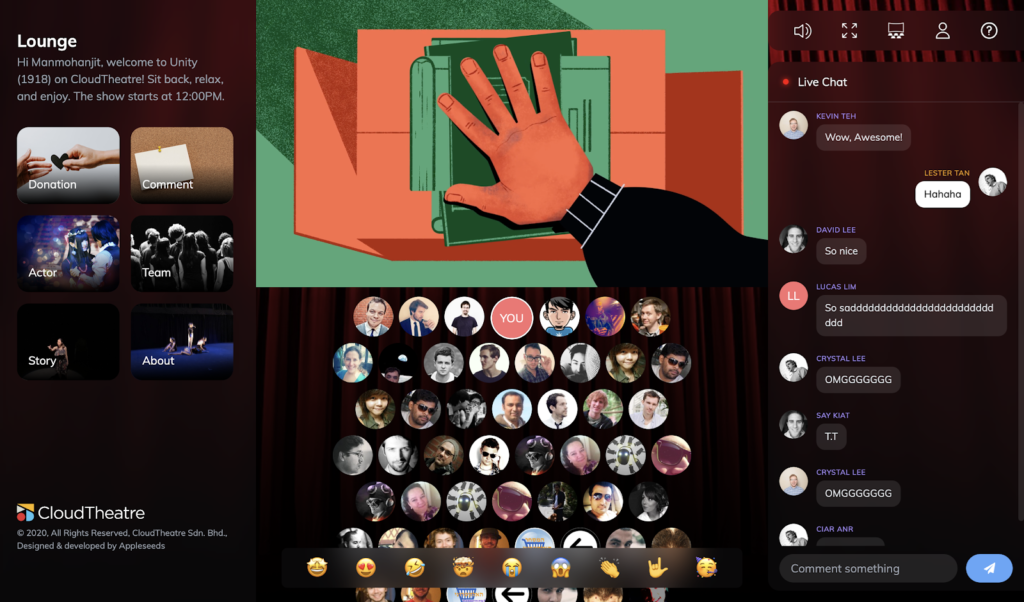 It also includes an interactive watch-party experience whereby viewers can enter the space to mingle like a real audience. The only difference is that while a production is running, you can go into full-screen mode to focus solely on the show or choose to express your feelings through the live chat and emojis, which enables you share your thoughts instead of sitting quietly or just applauding. "What makes it special is you're experiencing all this with people from all around the world," he says.
Though theatre companies may be intimidated by putting up a virtual show or performers uncertain how to feed off the energy from a digital audience, Lee says an online event shares the same concept as a physical production, which is to capture the viewer's attention and ensure that the story or messages in the play come across for the audience to understand and enjoy the experience.
That said, "It's important to make the right choices in terms of visual and sound for an online show," he adds. "My advice to theatre-makers is to work with professional videographers who know about streaming. If they have the right equipment, they don't need to have expensive technology. Even mobile phones can produce superb quality."
Secondly, Lee advises, "Be creative and trust your instincts. Let your imagination and observation become the eyes of the camera. Let it tell the story. After all, it is still about telling a story, just across a different medium."
Meanwhile, CloudTheatre is already planning ahead for a post-pandemic arts scene when venues and spaces are allowed to reopen. "To remain sustainable and relevant, we have to go international," Lee points out. "We made the platform flexible enough to work with various languages and different cultures. CloudTheatre Taiwan is the first in our expansion plan. Having a global network will allow us to cross-promote, exchange, expose and bridge audiences with shows from around the world."
Lee also adds that he foresees the arts scene will become more digitally savvy in the future. "Technology is rapidly improving. Devices are getting smarter. The Internet is getting faster. So having an immersive, multi-angle, live streaming experience of a performance in the environment of your choosing will no longer be a dream. Theatre-makers should be reaching audiences no matter where they are. In fact, it's already evident in countries that have a more mature performing arts industry."