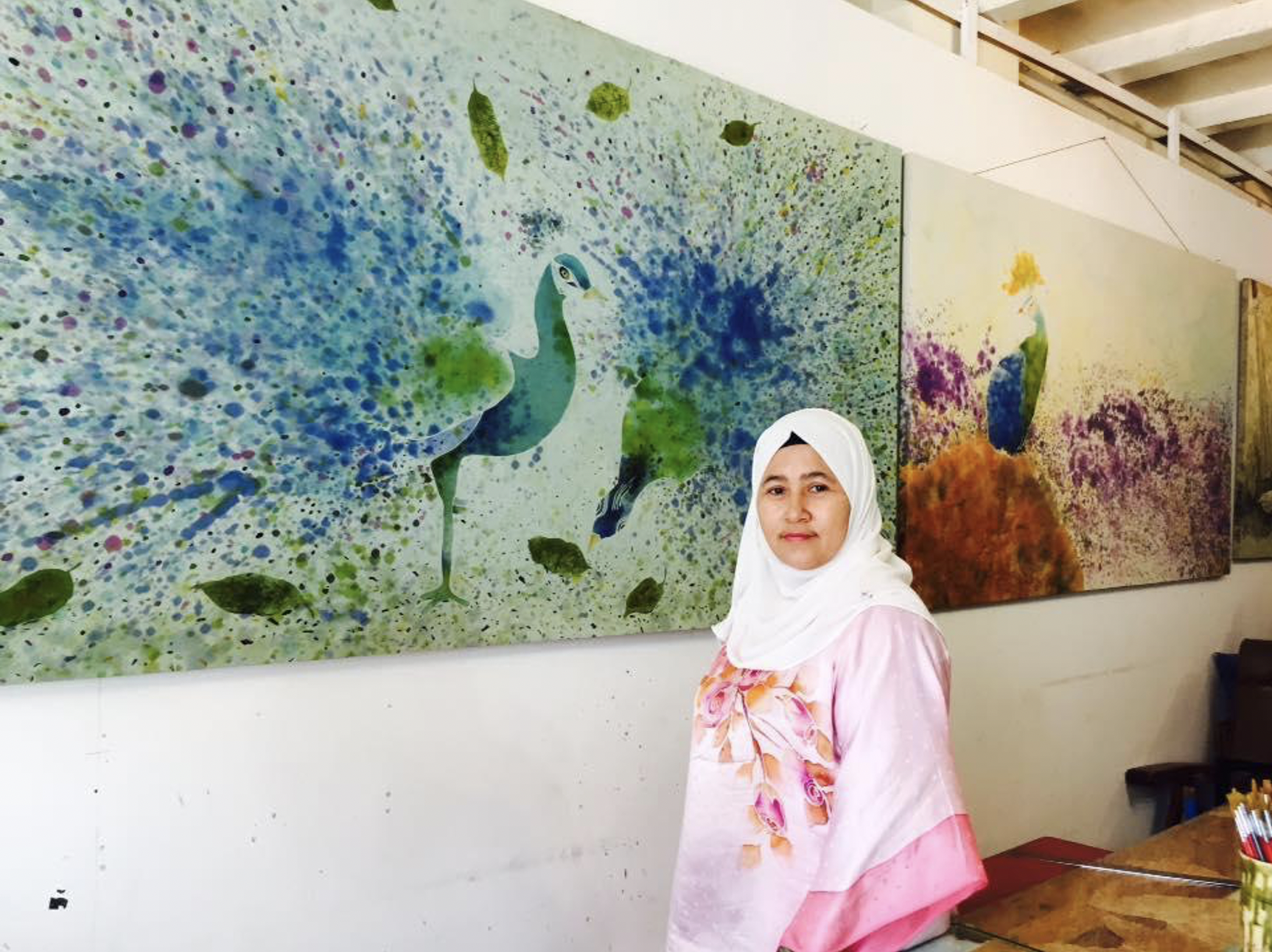 Welcome to Rozana's Refreshing Batik – a gallery where YOU are the artist.
By ATIKAH HANAFI for Lensa Seni
Amidst the buzz of Penang's Armenian Street and the many murals plastered on the walls of old buildings, a quaint little shop called Rozana's Refreshing Batik Fine Heart Gallery, beckons your attention on Lebuh Acheh.
As you walk along the pedestrian path towards the gallery, lush greenery greets you – an array of ferns, caladiums and dieffenbachias. On one side of the path is the boutique shop, displaying various forms of batik designs and handmade products from clothes and skirts to bags and pencil boxes. Adjacent to the boutique is the gallery, where all the magic unfolds.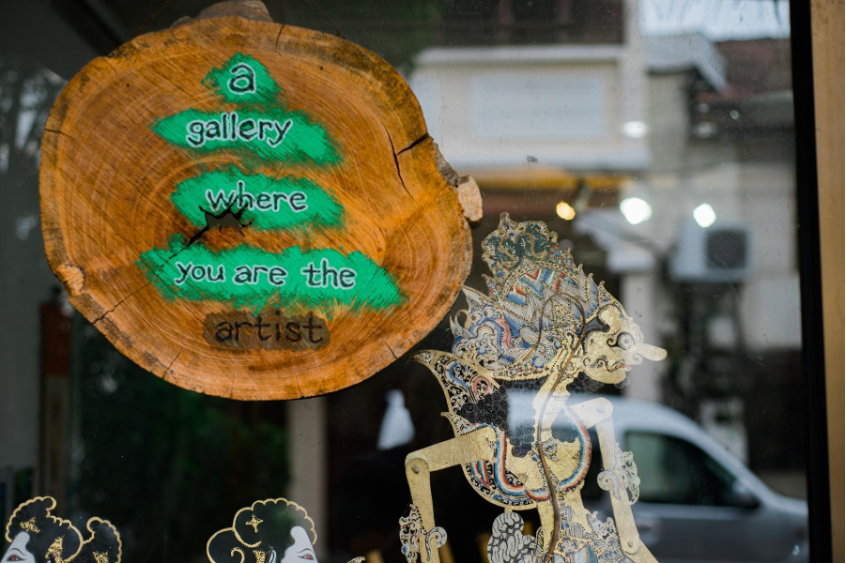 Greeting you as you enter the gallery is a wooden sign with the words, "a gallery where you are the artist".
As you enter, you feast your eyes on intricate batik paintings adorning the walls, long tables and benches, and rows of canvas with pre-sketched motifs. At the centre of it all is a small woman busy handling many jars filled with coloured liquids and a pot of melted wax.
The woman behind the batik
Rozana Mohamed, 55, is a Johor-born artist who received her formal education in Fine Art from UiTM in 1988 under the tutelage of Fauzan Omar, Amron Omar, Ponirin Amin, Choong Kam Kaw, Ariffin Ismail and Awang Damit. Her pursuit as an artist and batik designer began as soon as she graduated. She took a pause when she accompanied her husband, Hasnul J. Saidon to the United States, and resumed shortly after with fresh ideas.
Rozana's Refreshing Batik came about because of the artist's passion for batik as an art form and her relentless attempts to share its beauty and allure with the public. Although there are many methods of producing Malaysian batik – hand-drawn freestyle, silk-screening, block-printing, tie-dyeing – Rozana specialises in hand-drawing her pieces.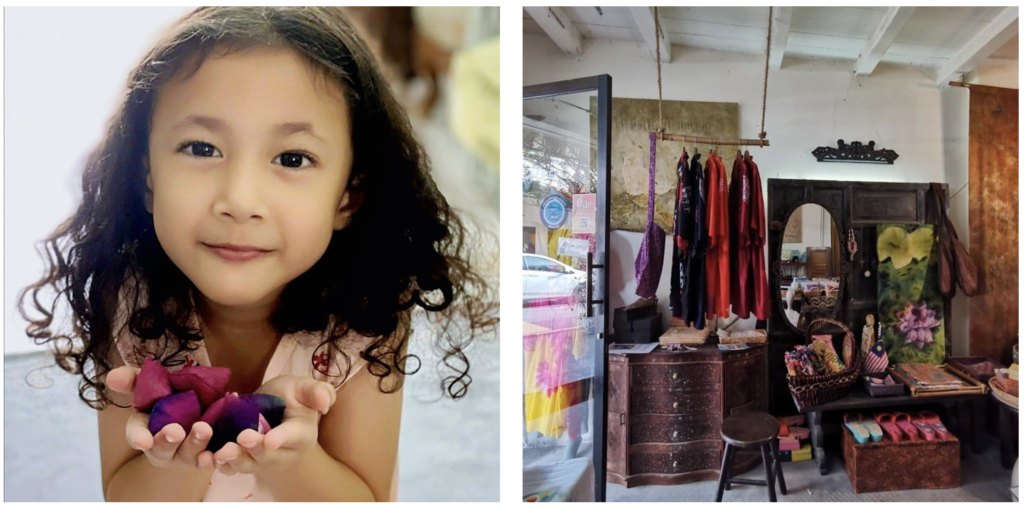 The motifs painted by Rozana are very close to her heart. "They are markings of my personal encounters, my own reflections and contemplations of events, people and things that touch my heart. They narrate simple stories that are very intimate and leave a trail of my own personal journey in life," she shares.
Batik is the traditional art of decorating cloth using wax-resist dyeing techniques. It essentially involves a repeated process of boiling, waxing and dyeing that is delicately done on fabric to create ornate patterns and shapes. Batik is a versatile artform for both amateur and professional artists to explore. This makes it ideal to connect with the masses even if they are not artistically inclined.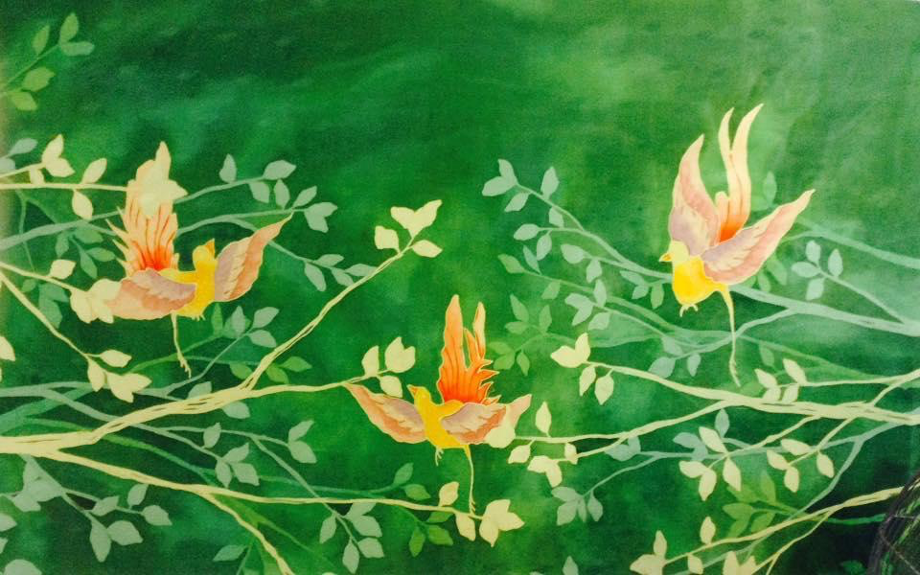 Breaking down walls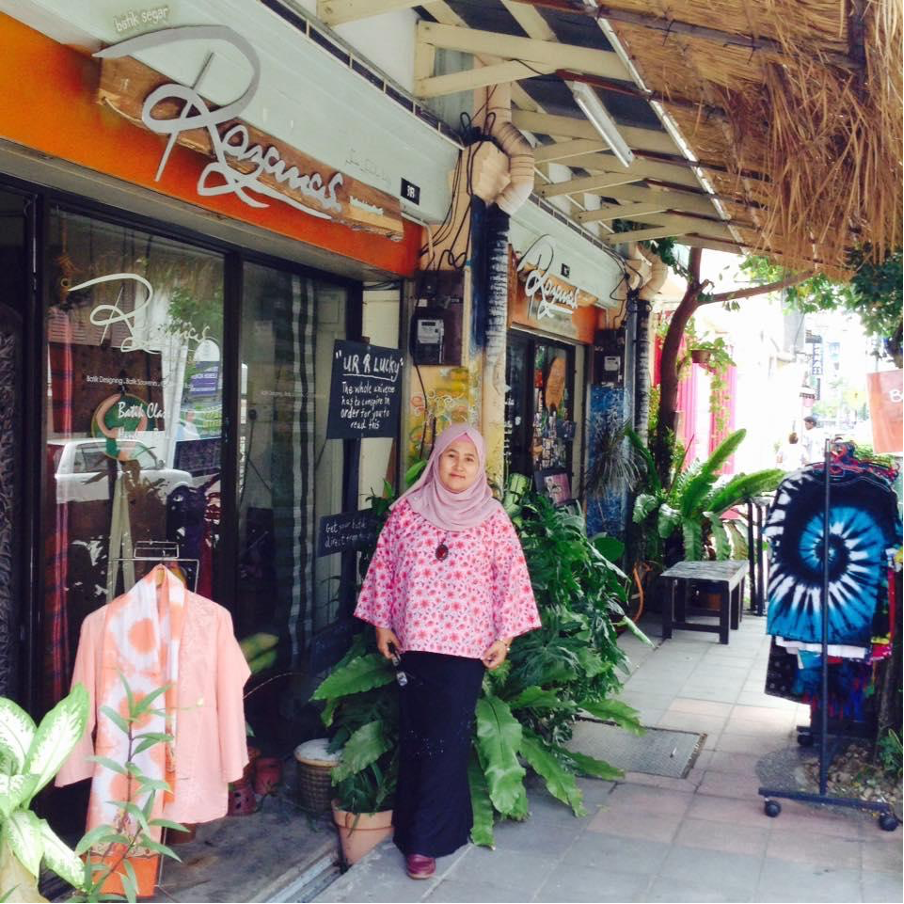 Rozana is also keen to share what goes on in the making of batik with her clients. Rather than merely showing off her batik pieces, her gallery also serves as a workshop for curious visitors to get a more hands-on experience of this art form. Rozana's dedication to sharing her passion will charm anyone willing to give her the chance.
She demonstrates the process of making a batik painting right from the start – creating a design – to dipping the canting (a traditional hand tool used to apply wax) then painting the fabric with vibrant dyes. As you look at her hands dancing effortlessly as she "draws" on the fabric with hot wax, you begin to understand the complexity of this art form when you try it yourself.
In a world filled with noises and distractions, getting absorbed by the whole process and swimming in the pools of lines and colours can be meditative. Once you are done with your piece, you realise that the whole process echoes the string of words that greeted you at the start and that the gallery has truly unleashed the little artist in you.
A space for the family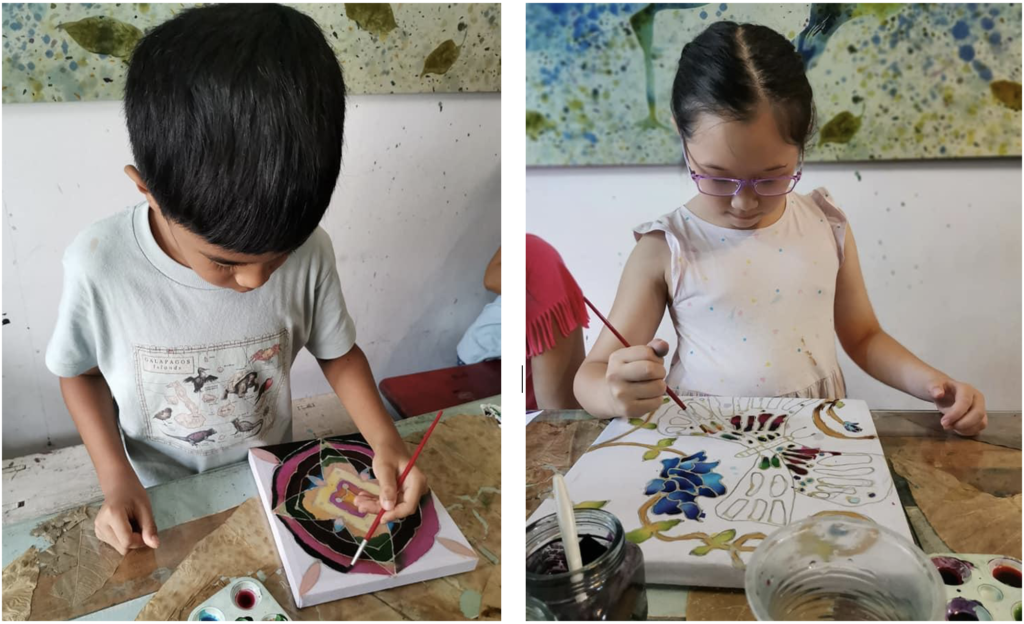 Visitors usually find Rozana's place by chance. Whether they are just exploring the streets of George Town while enjoying their ais kepal or visiting the nearby Areca bookstore, Rozana's shop captures the eyes of curious visitors, especially children and foreigners.
The store owner usually beckons visitors to come in and try batik painting for themselves. Since her classes are family-friendly and suitable for people of all ages, this is a safe space for families and children to explore batik painting in a relaxed setting. Her class teaches children to be more focused, careful and patient in learning about the art process. 
Rozana says her classes act as colour therapy for parents to destress while children use the experience to recharge their energy, particularly as a way to cope with virtual challenges of online schooling.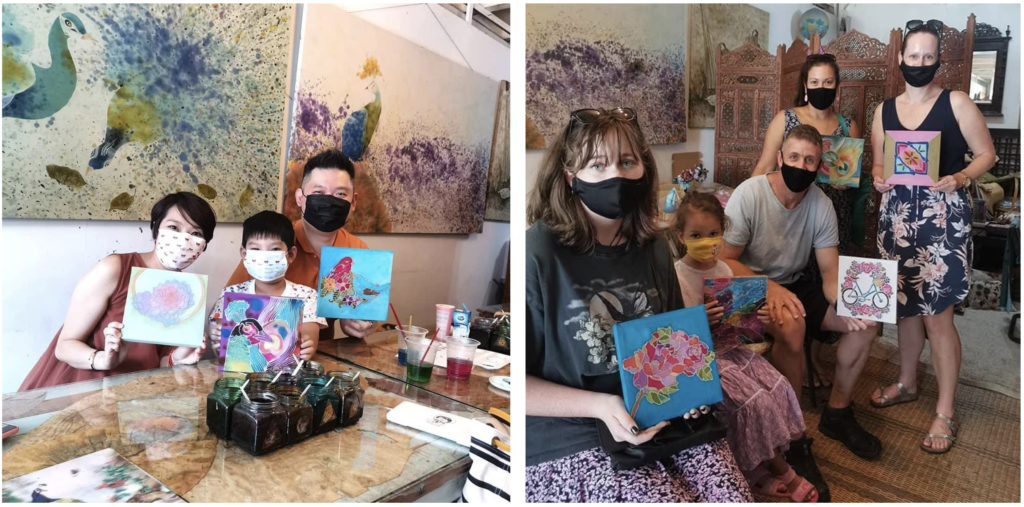 Rozana's classes are a place for families to engage in an activity together and thus, creating wonderful memories that are forever etched in their hearts.  Her repeat visitors turn into friends, as some visitors, all grown up, come back to her gallery to relive their childhood memories.
Rozana's Refreshing Batik prides itself as a unique outlet that offers a chance for the younger generation to get acquainted with and dabble in this Malaysian heritage. Rozana's art flourishes not through exhibitions and galleries that display her work but rather through the people whose hearts she touches. Instead of bringing her work all over the world, the world comes to her to take a little dip into the enchanting world of batik.
Visit Rozana at 81B, Lebuh Acheh, 10200 George Town, Pulau Pinang or call 014-2475347 for more info. You can also check out Rozana's Facebook Page and Instagram.
Atikah Hanafi is a participant in the CENDANA ARTS WRITING MASTERCLASS & MENTORSHIP PROGRAMME 2021
The views and opinions expressed in this article are strictly the author's own and do not reflect those of CENDANA. CENDANA reserves the right to be excluded from any liabilities, losses, damages, defaults, and/or intellectual property infringements caused by the views and opinions expressed by the author in this article at all times, during or after publication, whether on this website or any other platforms hosted by CENDANA or if said opinions/views are republished on third-party platforms.