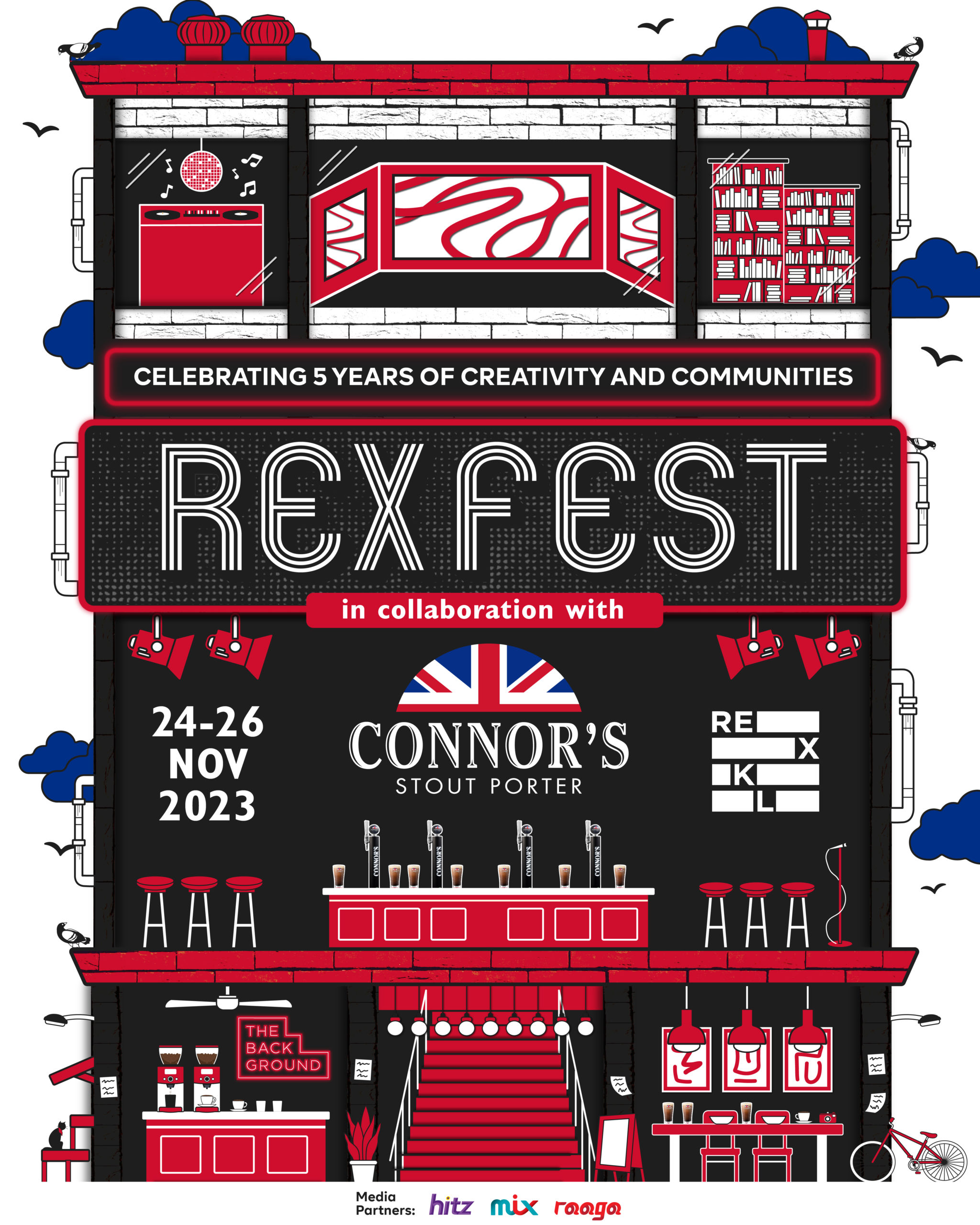 REXKL, the art and culture hub occupying the former Rex Cinema, is commemorating its 5th anniversary by launching REXFEST, a vibrant festival celebrating the city's rich history, arts, and community spirit.
The excitement kicks off with AFTERLIFE x GOEN – DIVERGENCE, an event that transcends traditional notions of freedom. This fully immersive party combines music with 270-degree projection mapping to create a unique audio-visual experience unlike anywhere else.
This ticketed affair boasts a line-up of skilled DJs, including Suhsi and Hazel, experts in captivating genres like Psytrance and Techno music, Raven, celebrated for her mastery of Melodic and Hard Techno, and WCKD, who's adept at seamlessly crossing various musical realms including Techno, Industrial Techno, Psytrance, House, and more. Additionally, the event will feature a showcase by Azarikh, a digital immersive artist with a notable portfolio, including collaborations with international sensation Joji and local star Yuna.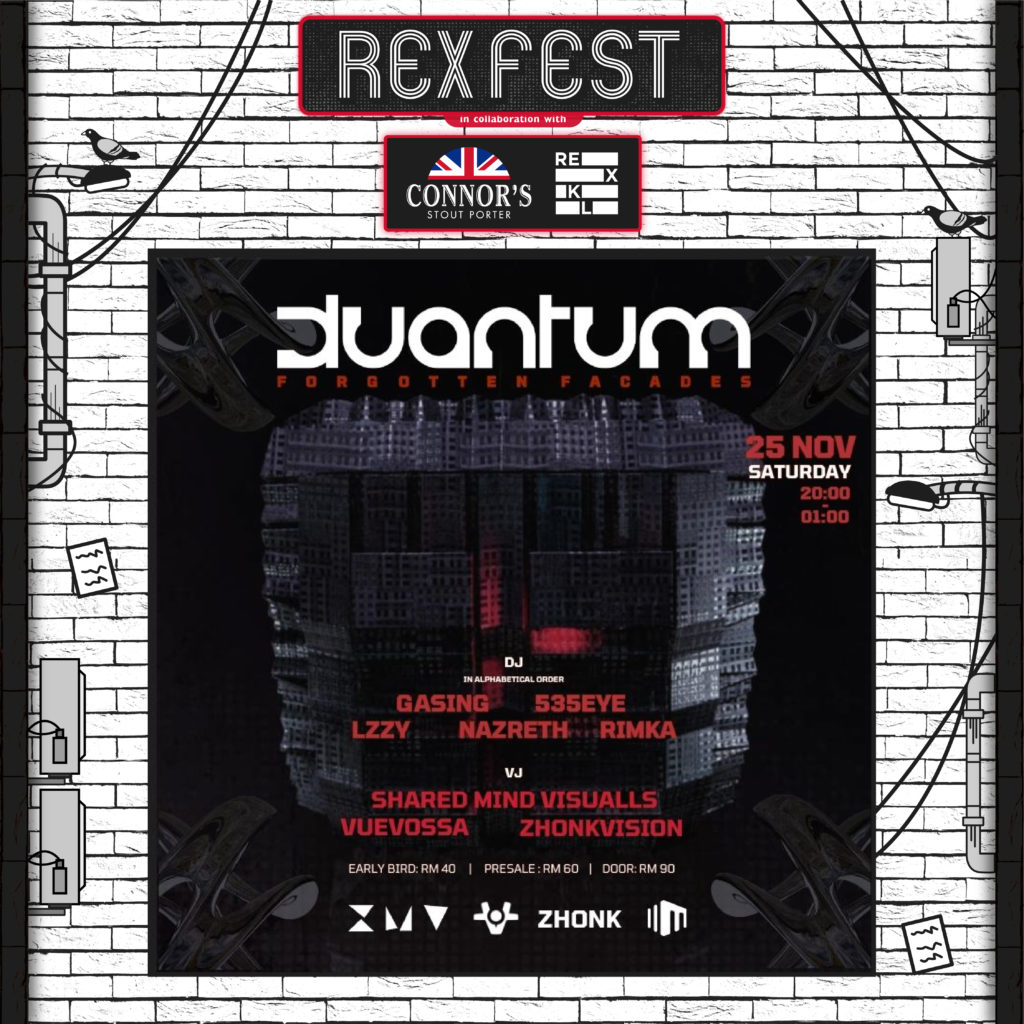 REXFEST's exclusive ticketed event lineup continues with KUANTUM: FORGOTTEN FACADES, an immersive blend of electronic music and visual arts crafted by Kuantum, a collective of artists from diverse multi-disciplinary backgrounds who expertly fuse visual art and electronic music to deliver a fully immersive, concept-driven audio-visual experience. The DJ lineup features talents like Rimka, who's rocked the decks at renowned venues like Savaya Bali and It's The Ship. Lzzy is a Malaysian-based self-taught DJ, who has gone from teenage bedroom selector, to regional club regular, and has graced the decks from Bali, Tokyo to Amsterdam. Gasing, a resident DJ at Saturday Selects, has graced stages such as Love Saves the Day Festival. Adding to this eclectic mix, we have Nazreth, affiliated with collectives like Voidrealm and Modulus.KL and Intermissions' 535 EYE, a resident DJ at fono kl, who has played at Under9, Small Shifting Space, and beyond.
The evening promises immersive creativity and diverse sounds, with REXPERIENCE's fully immersive projection and sound system providing a one-of-a-kind experience. Effortlessly blending futuristic electronic music, reimagined architectural designs inspired by REXKL, and emotionally evocative visuals, this showcase promises visitors an unforgettable journey through time and artistic expression. The experience includes the creative talents of immersive visual artists such as Vuevossa, renowned for his work with KongsiKL, Aman Fest, Small Shifting Space, and more, alongside Zhonkvision and Shared Mind Visuals.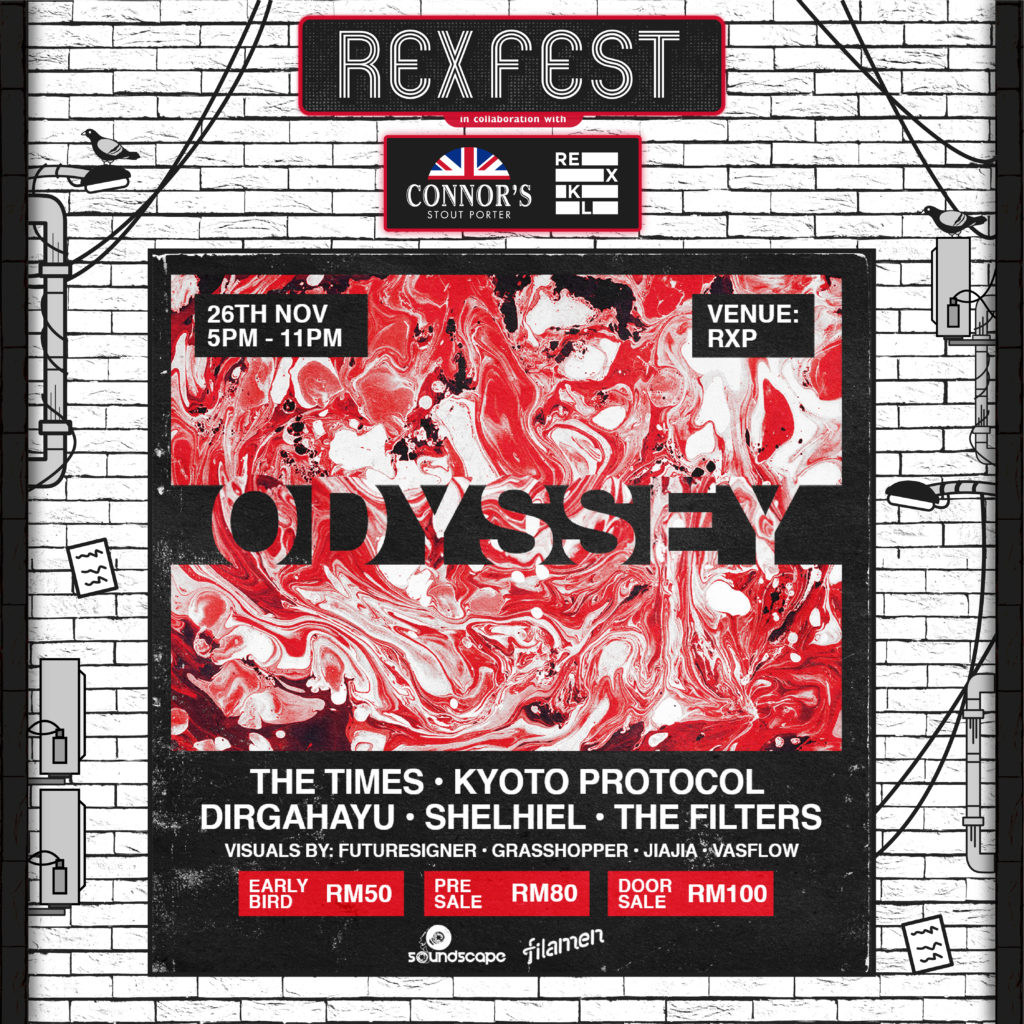 Get ready for SOUNDSCAPE RECORDS x FILAMEN: ODYSSEY, curated by Soundscape Records, an independent label renowned for its extensive music curation, and Filamen, the leading local collective in multimedia art. Experience something truly unique with REXPERIENCE's state-of-the-art fully immersive projection and sound system. This ticketed event will feature exhilarating performances by notable artists, including indie rockers The Times (Gadisku Dalam Koma, Pesona Algebra) celebrated for their anthemic Britpop-influenced sing-alongs, high energy rockers Kyoto Protocol (Pussycat, Jelita) whose entertaining live performances made them a crowd favorite, Shelhiel (AAA, Sayang), who has graced stages such as the ASEAN Music Showcase Festival and Good Vibes Festival as well as opened for international acts such as Sunset Rollercoaster, and FKJ, math/post-rockers Dirgahayu (Istinggar, Kyu/Ju Roku) well known for their intense live shows and alternative math rockers The Filters (BZD, John Pine) with their signature stomping tunes that gave them a cult following.
The performances will be accompanied by mesmerizing visuals by Grasshopper, known for projects like ATMA KIRANA, BENTALA, and CENDAYAM, currently showcased at various prestigious galleries, Futuresigner, who specializes in interactive installations that are designed to deliver narratives, Jiajia, who has been involved in projects such as the Klang River Festival (KRF) and Kuala Lumpur Design Festival (KLDF), and Vasflow, who consistently engineers exclusive, avant-garde visual experiences through the medium of immersive projection.
Throughout REXFEST, attendees have free access to a line-up of events and activations, commencing with Homeground—a showcase orchestrated alongside Tong Tong Asia and Breaking Music, two Kuala Lumpur-based music labels nurturing budding songwriters and artists.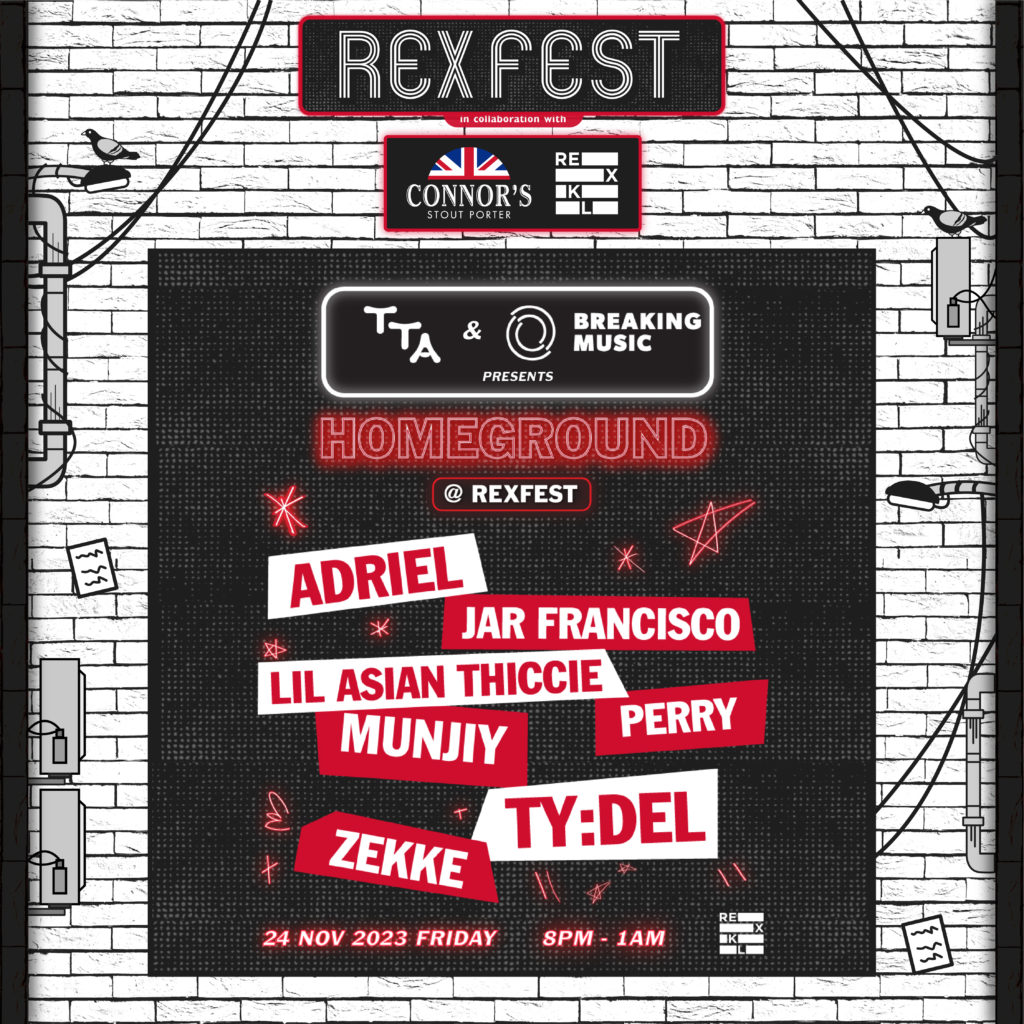 Spotlighting rising Malaysian pop stars like Lil Asian Thiccie (Get Munni, Hurts So Good), TY:DEL (so in love (tonight), bad together), Adriel (Rocketship, Potential For Love), Zekke (éros, hypocrite), Munjiy, Perry (Delorean, idkwtfigo?), and Jar Francisco (Fomo, Switch Up), Pop Rising is poised to electrify the stage and animate the dance floor at REXFEST.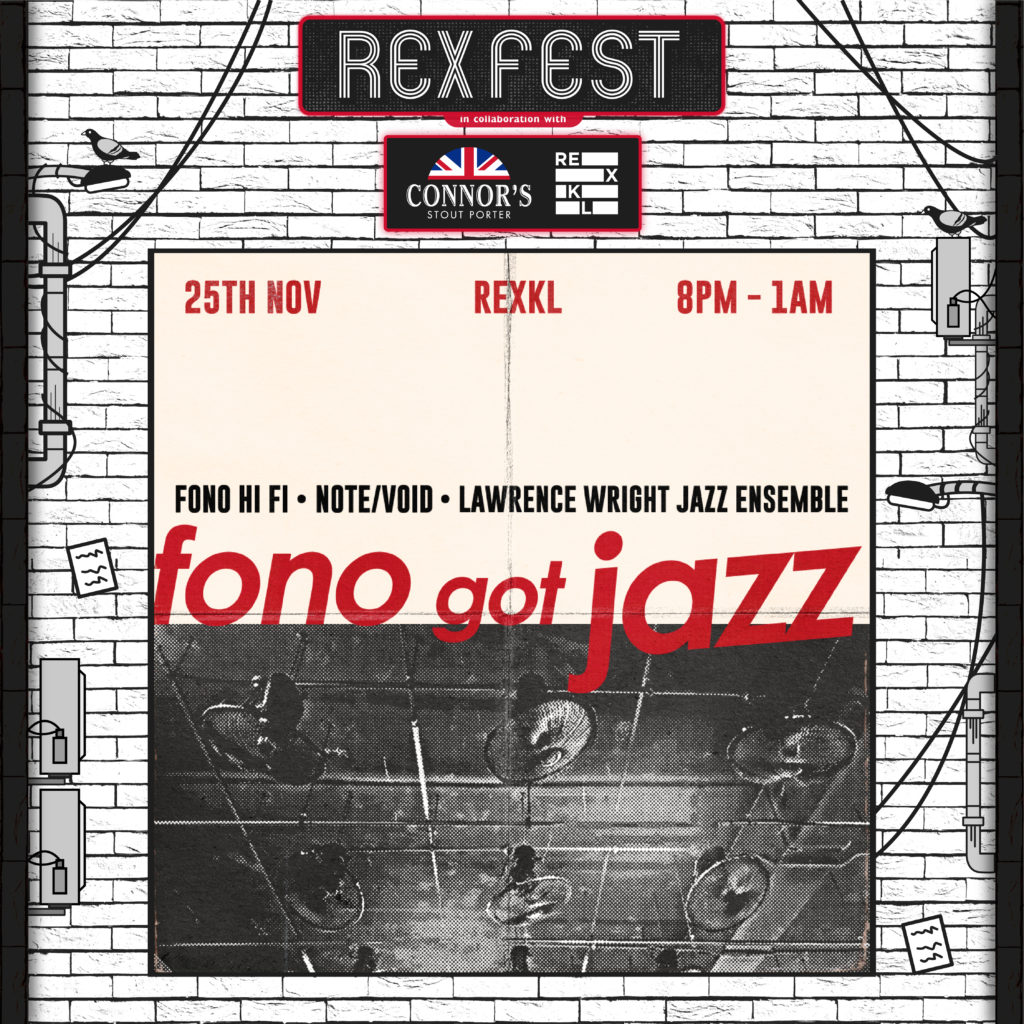 Visitors can also indulge in an evening of jazz as fono kl makes a one-night return to REXKL with fono Got Jazz, featuring two leading bands, note/void and Lawrence Wright Jazz Ensemble (LWJE). note/void, a blend of jazz and avant-garde, features ASWARA graduates and current students defying traditional jazz with a punk-inspired twist, offering a unique take on the city's jazz scene. Lawrence Wright Jazz Ensemble (LWJE), led by Marques Young, the Malaysian Philharmonic Orchestra's trombone principal, showcases his versatility outside classical performances at Dewan Filharmonik Petronas where he will be joined by the highly sought-after Malaysian drum prodigy, John Thomas. The evening will include support from fono Hi Fi's special vinyl set, which will be supervised by Uzair Sawal and Kingston.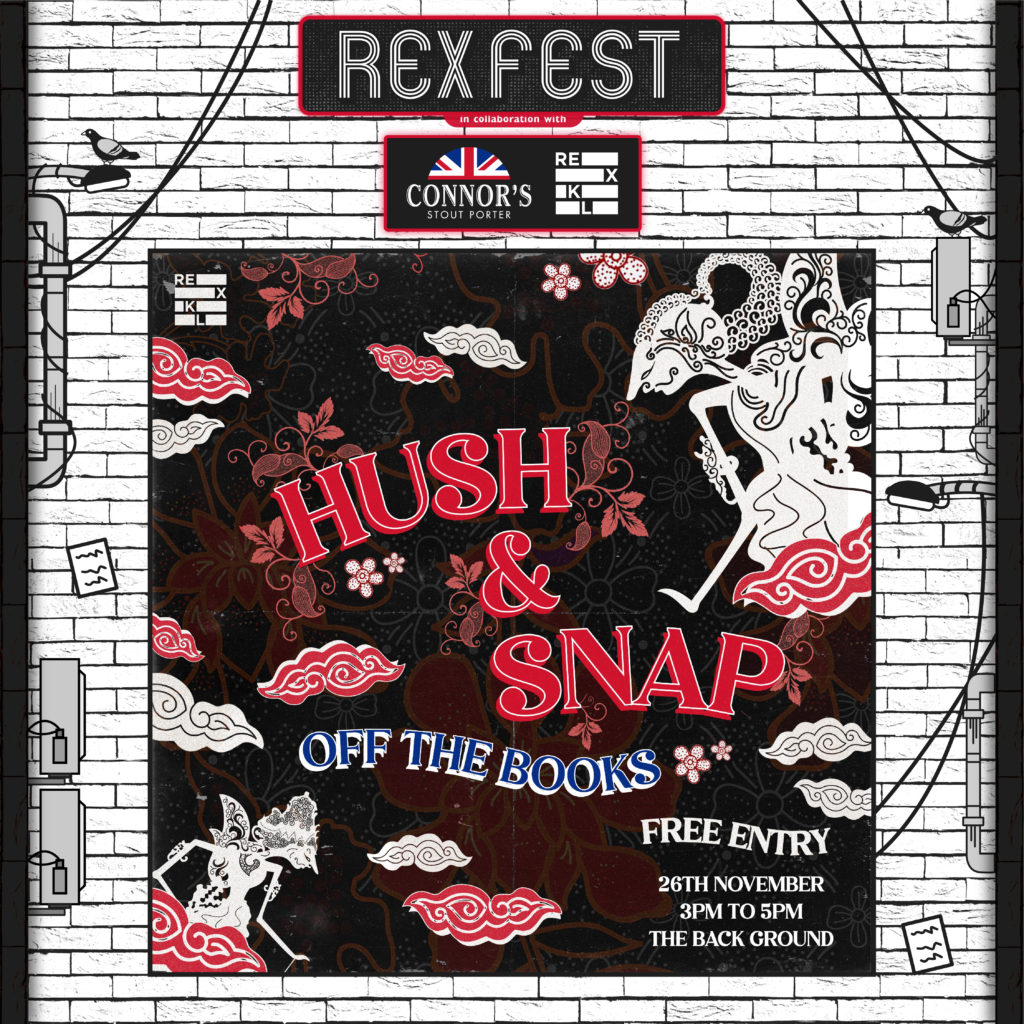 Hush & Snap: Off The Books, REXKL's monthly open mic night, redefines poetry and spoken word by shattering its 'boring and pretentious' image, welcoming newcomers and seasoned performers alike. It's a nexus for diverse creative streams— from theater to music—enhanced by the introduction of a poetry slam, injecting competitive fervor into the event. Get ready for a charged atmosphere where passionate poets ignite the stage with their talents.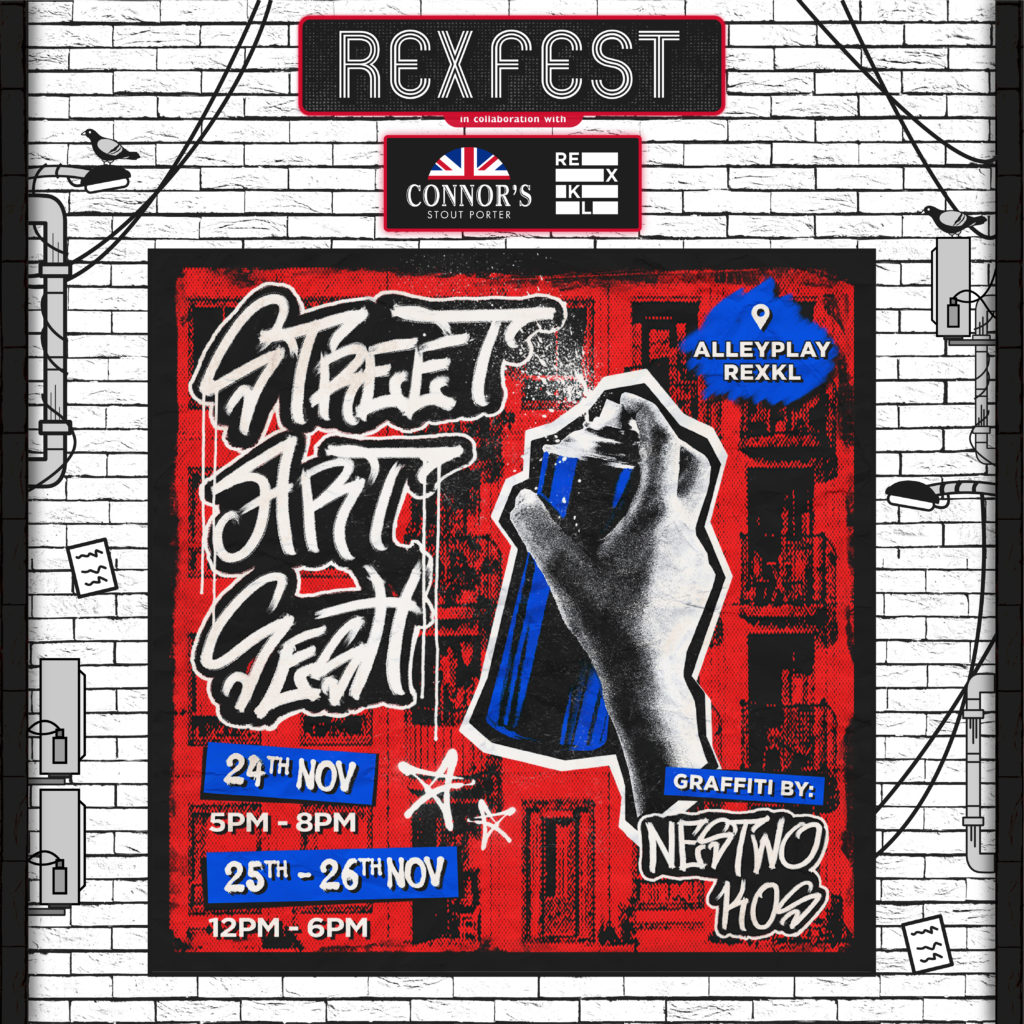 Participate for free in the Street Art Sesh, a Live Graffiti Session with renowned local graffiti and street artists, Nestwo and KOS from 5pm to 8pm on 24 Nov and 12pm to 6pm on 25 and 26 Nov. Learn the art of graffiti and gain tips and pointers from both artists to create a graffiti piece inspired by Connor's Stout.
Dare to put your tongue to the test? Join the Biang-Biang 911 Challenge and see how far your taste buds can handle spice! Visitors could also register and participate in the Old Trades of Petaling Street Walk, in which participants will explore the businesses or vendors with long histories in Petaling Street with our trusted guides or our Petaling Street Gourmet Food Hunt walk, in which participants will get to sample some popular local delicacies and interact with the food vendors.
Get your spot and get creative! Register to join Mr. Long Thien Shih's Paint the Bloom in Love Watercolor Workshop on 24 and 25 Nov from 11am to 1pm, where you will learn how to depict intricate details of various blooms, or make decorative bowls with KANOE who will be hosting an upcycling workshop called Upcycling Batik Scraps into Bowls by KANOE on 25 Nov at 12 PM – 6 PM.
Get your loved ones, your best friends or yourself some flowers at Stellar Flower Stand that will be available at REXFEST from 24 Nov to 26 Nov at 10am to 8pm. Or shop and stroll at Friends Club Mini Flea Market on all three days of the event from 12pm to 8pm where you will be able to find a delightful variety of treasures, including Film Cameras, Photo Books, Handmade Crafts, Art and Stationeries, and Fashion Accessories.
Experience the lively festivities and celebration at REXFEST! With most events offering free entry unless specified, it's a celebration not to be missed. Secure your tickets today at www.ticket2u.com.