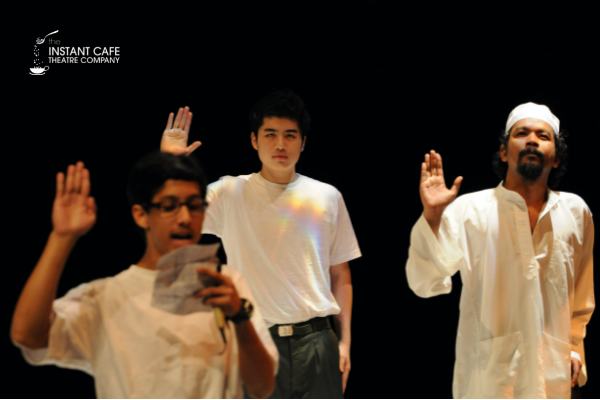 The rescreening of stage play 'Air Con' arrives at a vital time and is a reminder of how far we've come, and yet how long the road ahead is, in the struggle against the persecution of marginalised communities.
By SHAMEERA NAIR LIN
Content Notice: mentions of sexual violence and murder, particularly rape.
Playwright Shanon Shah's acclaimed theatre show, Air Con, attempts to traverse gender identity and sexual orientation in ways that makes it challenging to stage, be it in 2008 – during its first run – or now, 13 years down the line. Last weekend, Instant Cafe Theatre revived Air Con in a series of screenings via CloudTheatre.
Air Con begins with a school assembly session, where we are introduced to the main characters with a humour that will mark a substantial portion of the show. The tone shifts from humorous to solemn in a flash: a sex worker, Aishwarya Roberts, is found murdered near SM Sultan Ahmad Tajuddin Mukarram Shah, a prestigious boys' school in Kedah.
To intensify matters, it is quickly noted that students from the school sought the services of the sex workers near their school, who are part of the transgender community. Over the next two hours and 40 minutes, the audience is taken on an intense journey to find out what really happened.
While the subject remains urgent and resonant today, audiences might acknowledge that perhaps it is time for an updated version of the play. Body language tropes such as walking a specific way or hand gestures meant to signify stereotyped sexualities (which is addressed in the course of the play) and jokes made with the "Malay/Chinese/Indian" format should frankly be retired in our current landscape.
Meanwhile, the "redemption narrative" that follows the moral failings witnessed in the show must be pushed further. These are crucial questions to be asked and answered, although they are ultimately part of what this revival seeks to do.
As the narrative progresses, it becomes apparent that the revival struggles with being somewhat dated in its exploration of sensitive topics. Scenes depicting sexual violence and portrayal of consent necessitate interrogation in ways that would require scenes of sexual assault – including an enactment of rape – to be reconsidered and rewritten.
Notably, the production also did not come with adequate content notices, which is important when exploring potentially triggering topics. And much of the physical comedy – particularly those involving William (Nicholas David Liew), Mona (Hazarul Hasnain) and Mimi (Ferdaus Che Yahaya) – bear cliched connotations that are perhaps best left in the past.
Air Con does contain moments when it lands solidly on topics like sexuality. One of the protagonists, Burn (Zahiril Adzim), a bastion of moral conservatism at the start, is at one point comfortable with a sexual preference that transcends heteronormative assumptions surrounding gender. The rest of the characters, in turn, are amplified by strong performances. The casting of Chep (Mohd Amerul Affendi) and Burn makes for compelling viewing. The Ustaz (Nam Ron) is particularly comical during his brief appearances, and Ryan Lee Bhaskaran offers a sharp performance in the latter half of the play.
With that said, the return of Air Con arrives at a vital time. It's a reminder of how far we've come, and yet, how long the road ahead is, in the battle against the persecution of marginalised communities.