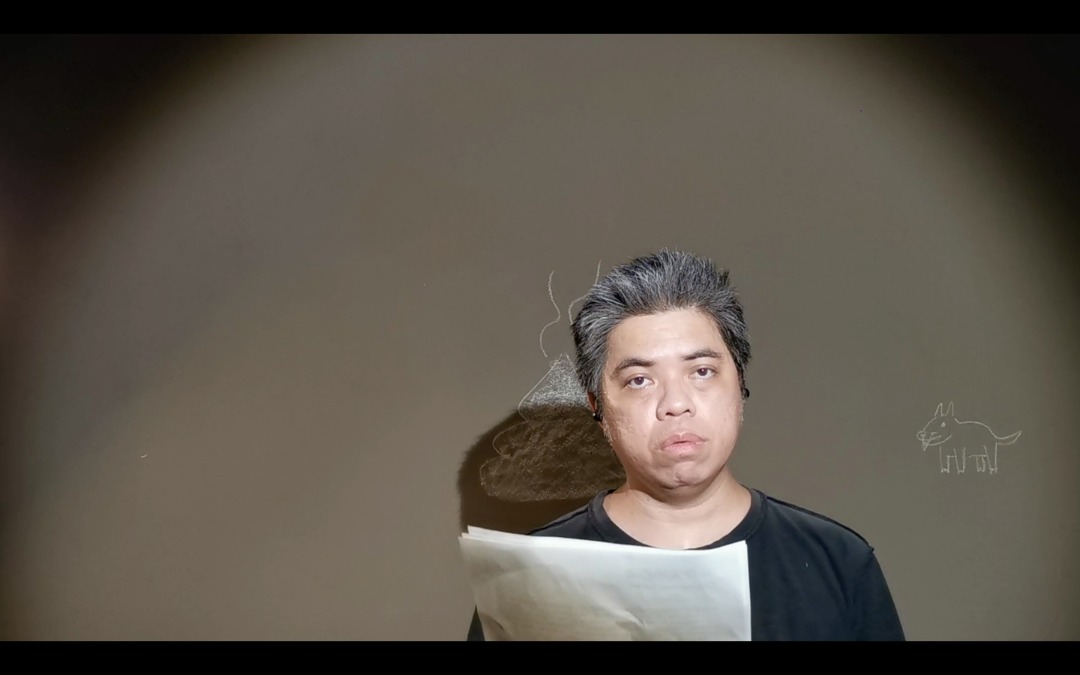 By SETO KIT YAN
New world, new life, and a new way to present a new play, that is how the Covid-19 pandemic has inspired Pitapat Theatre founder-actor-director Seng Soo Ming to revisit One Hundred Days Of Solitude – an online play-reading performance.
Written, directed, and performed by Seng as a multilingual show with English and Chinese subtitles, the play was scripted early this year and premiered in April 2021 via online streaming.
Seng says his play One Hundred Days of Solitude (Chinese title: 一百天的孤獨, Yi Bai Tian De Gu Du in Mandarin) is inspired by the new world, and describes it as being a new way of living brought about by various measures to contain the spread of the Covid-19 pandemic, "where we spend most of our time staying at home, and end up being forced to confront our inner solitude, which we have ignored for far too long a time due to our busy lives in the 'old norm'."
Defining solitude as a "symptom" collectively shared by those who are living under the constraints of the MCO (Movement Control Order), Seng feels that it is a good time to do the reshow of One Hundred Days of Solitude, in order "to reach out to more people, to share the contemplation about this 'symptom' together (though we are not together physically), so as to let people know that they are not alone."
"Under the normal living conditions, we are actually experiencing a huge pressure and fear inside. Though it feels like everyone understands each other's hardship, in fact no one really empathises with each other. So we hide in our own darkness, and we are all infected in a different way, without a virus, but sharing the same 'symptom' – solitude – which for me, is far more dreadful than the virus. Because we cannot predict what the side effects of it could be," he expresses in an extract from his director's note.
The play contemplates the distance between life and death through the unconscious mind of a car accident victim who has been rendered comatose for a prolonged period of time. As the man hovers between living and dying, his consciousness begins to wander and drift amongst a maze of random memories: his father's death, his neighbour's dog, and the memories of things that happened during the 100 days of the Covid-19 pandemic.
According to Seng, producing the show under current circumstances was a challenging experience, as he had to do everything by himself, not only because of the MCO (Movement Control Order) reimposed by the Malaysian government to curb the Covid-19 pandemic, but also due to having very limited resources to hire a production team.
Additionally, Seng says there is an added challenge of having to convince theatre enthusiasts to watch a theatre production on a screen.
Performing for an online show, Seng confesses, is admittedly very different from performing it in front of a live audience.
"Regardless of whether the show is live-streamed or pre-recorded, I am basically performing in front of a camera (and especially for this play) in an empty room. Without the incentive of live responses such as laughter or even the sound of breathing from the audience as active encouragement for the performance, I'll have to focus much harder on how to deliver the lines, and present the character in the best way according to my own personal judgment, which somehow makes the performance even more raw."
Prior to this, Pitapat Theatre produced two other online shows in 2021. First was the premiere of One Hundred Days Of Solitude in April. The second was a show titled The Room (Chinese title 記忘錄, Ji Wang Lu in Mandarin), a tale about two people in two different rooms, which premiered in May. That is followed by this current reshow of One Hundred Days Of Solitude which will be the third online show by Pitapat Theatre this year.
"I started doing online shows around the CMCO (Conditional Movement Control Order) period last year, during which I created an experimental piece with two other artists from Sabah," said Seng, who is currently based in Seremban.
After completing the current show, Seng shares that Pitapat Theatre will move on to convert other projects to cater for its online audience. "We are planning to digitise our previous stage performance videos to be streamed online."
While exploring new ways to present his performance art, Seng discloses that Pitapat Theatre aims to take on a more progressive approach. "Our future plan is to venture more into hybrid theatre, where we are trying to develop a new form that combines live theatre and online theatre elements."
Pitapat Theatre will celebrate its 10th anniversary in 2022; the reshowing of the online play is intended as a fundraiser for its 2022 programmes besides providing another avenue for the theatre company to reach out to its audience.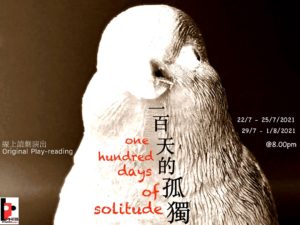 One Hundred Days Of Solitude will be presented online in the form of a play-reading performance. The multilingual play features Seng performing in English, Mandarin and Cantonese, with English and Chinese subtitles. Showtime is at 8pm on the following dates: July 29 (Thursday), July 30 (Friday), July 31 (Saturday), and Aug 1 (Sunday). The show is approximately 60-minutes long. There will be a 30-minute post-show discussion via Zoom.
For the admission to the show, register using this form. For more information about the show, visit Pitapat Theatre's official Facebook, Instagram or Youtube.