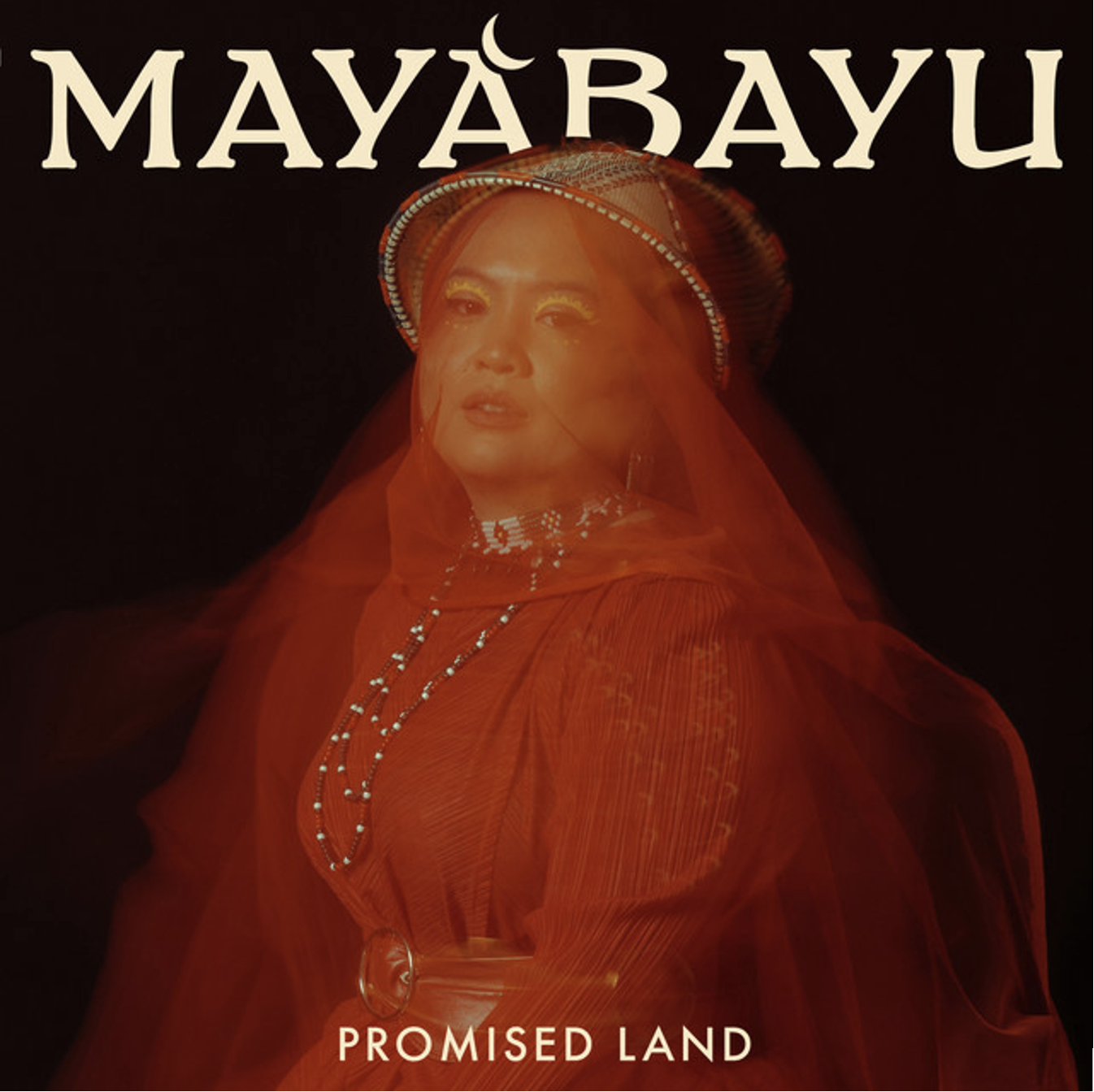 Infusing synth-pop with traditional Kadazan musical elements, Mayabayu's 'Promised Land' encompasses the past and present; the personal and the universal.
By SAMANTHA CHANG for Lensa Seni
No stranger to the live music scene, Beverly Matujal was often seen under the dim lights of bar stages, crooning soulfully while gently strumming away on her guitar. The Sabahan singer-songwriter made a name for herself as a solo artiste with her strong, yet soothing vocals. In 2018, she became the frontwoman of eight-piece band, Nadir, a multicultural explosion of traditional music and modern pop, rock and jazz. That experience sparked a newfound mission in her to represent East Malaysian culture through her music.
This calling gave rise to Promised Land, an adventurous debut album produced by a producer who goes by the monicker Simmy. The album blends modern synth-pop and traditional Kadazan music, a marked departure from Matujal's usual introspective folk ballads that captured shy feelings and minute observations. With Promised Land, her perspective has grown – and so has her love. No longer just singing about romantic love, she discusses what it means to love her heritage, her land and her community. She now goes by Mayabayu to mark this bold new chapter of her career.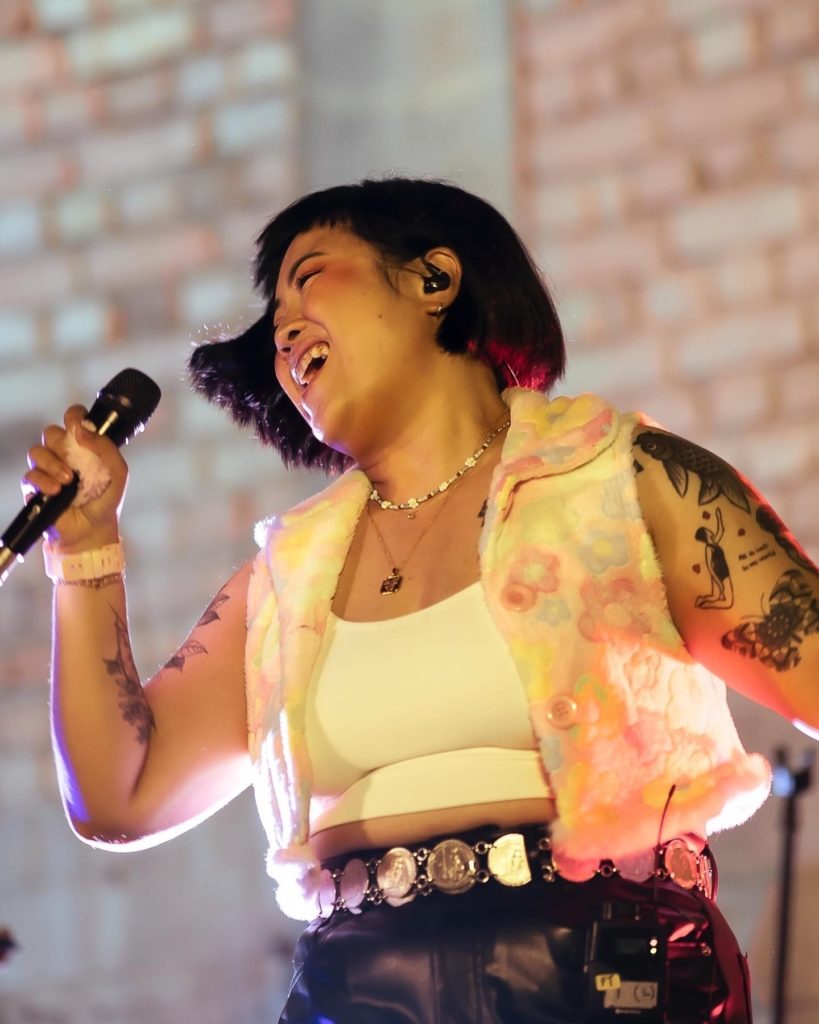 The album's opening song, Predator, thrums with raw, crackling energy. The first word sung in Kadazan is Kopivosian, a whispered greeting. She approaches us quietly, like a lion stalking a deer. Then, the beat drops. Her vocals run free atop a wild cacophony of rhythmic sape plucking, snarling bass and primal howling. She announces her rebirth: "I am a predator, no more prey."
This is where you might expect it to fall into typical empowering pop-song territory about being the best and making people heed to your power – but Predator, along with the rest of the album, doesn't follow this route. Instead, Mayabayu extends a hand and welcomes us to share in her newfound abundance.
The key to understanding this direction is found in Huminodun. The song retells the Kadazandusun legend of goddess Huminodun, who witnesses her people suffer under famines and droughts. The only way to overcome the famine is by sacrificing her own life, which brings an abundant harvest to the land.
Promised Land was made and released during the Covid-19 pandemic. Although it never overtly references the event, shadows of its influence are found throughout the album. Through Huminodun's eyes, she laments: "I see my people/ I see them toil on this barren land/ Gathering tears in their hands" – echoing the financial desperation that many were plunged into over the pandemic. She sings about Huminodun's sacrifice: "Take my blood/ I offer my life to save you" – mirroring the countless individuals and organisations that have stepped up to help people at great personal costs.
Huminodun is an ancient symbol of compassion and sacrifice, but the values she exemplifies are still relevant today. Her leadership is not founded upon power or force, but humility, gentleness and servitude. This lyrical theme is mirrored in the music: no matter how sharp and dark the instrumentation becomes, Mayabayu's voice keeps its light, soothing lilt.
Mayabayu channels the spirit of Huminodun in Promised Land. These are her offerings to us: songs that remind us of love and connection in the depths of isolation, lyrics that describe oceans and mountains when many of us found ourselves staring at the same four walls for months.
Kolibambang is the best example of this. The sweet, Disney-eque song was inspired by a Kadazan cultural belief that the spirits of the deceased reside in butterflies. In it, she describes the rich natural beauty of her home. She reflects on our interconnectedness, on the river of life that connects strangers to strangers, and generations to generations.
Kolibambang, like many songs on the album, is unabashedly positive and empowering without a hint of cynicism – so much so that it teeters on the edge of cloying. Their lyrics shy away from confronting darker subjects, preferring to refer to adversity in vague, broad strokes. On Milk & Honey, she calls on us to march towards a new world without hatred, pride or greed – but the answers come too easily; the story arc is too neat.
The theme of everlasting love continues in Hundred Years, featuring Santosh Logandran who beautifully performs a few verses of Konnakol (vocal percussion in Carnatic music) which imbues the song with a sense of history and longevity. With its many disparate elements, the song is exciting – but also distracting. Mayabayu's clear voice is drowned under the embellishments of the instrumentation.
When the music is stripped down is when she truly shines. This is made clear by O, Sayang, a sincere, classic serenade, with elegantly layered harmonies and romantic trills that crescendo into a grand declaration of an evergreen love. The song is so personal that it is universal, as she explains: initially written as an ode to her husband, the song eventually reminded her of everyone she met along the way, people who taught her love and kindness, but also hurt, pain and joy.
In O, Sayang, she seamlessly blends her three languages – English, Malay and Kadazan. Infusing all of her influences and heritage into the song, she's no longer confined to a single cultural identity, no longer bound by tradition or modernity.
And she's inviting us to embrace all of our complexities with her. She marches on with compassion in Battle Cry, offering a safe space to the downtrodden. Beginning with a comforting whisper in the verses, her vocals swing in confidently in the chorus, declaring: "We'll build a different tribe for us/ Where we belong together." We're left with her hopeful vision of a colourful, welcoming Promised Land.
Samantha Chang is a participant in the CENDANA ARTS WRITING MASTERCLASS & MENTORSHIP PROGRAMME 2021.
The views and opinions expressed in this article are strictly the author's own and do not reflect those of CENDANA. CENDANA reserves the right to be excluded from any liabilities, losses, damages, defaults, and/or intellectual property infringements caused by the views and opinions expressed by the author in this article at all times, during or after publication, whether on this website or any other platforms hosted by CENDANA or if said opinions/views are republished on third party platforms.