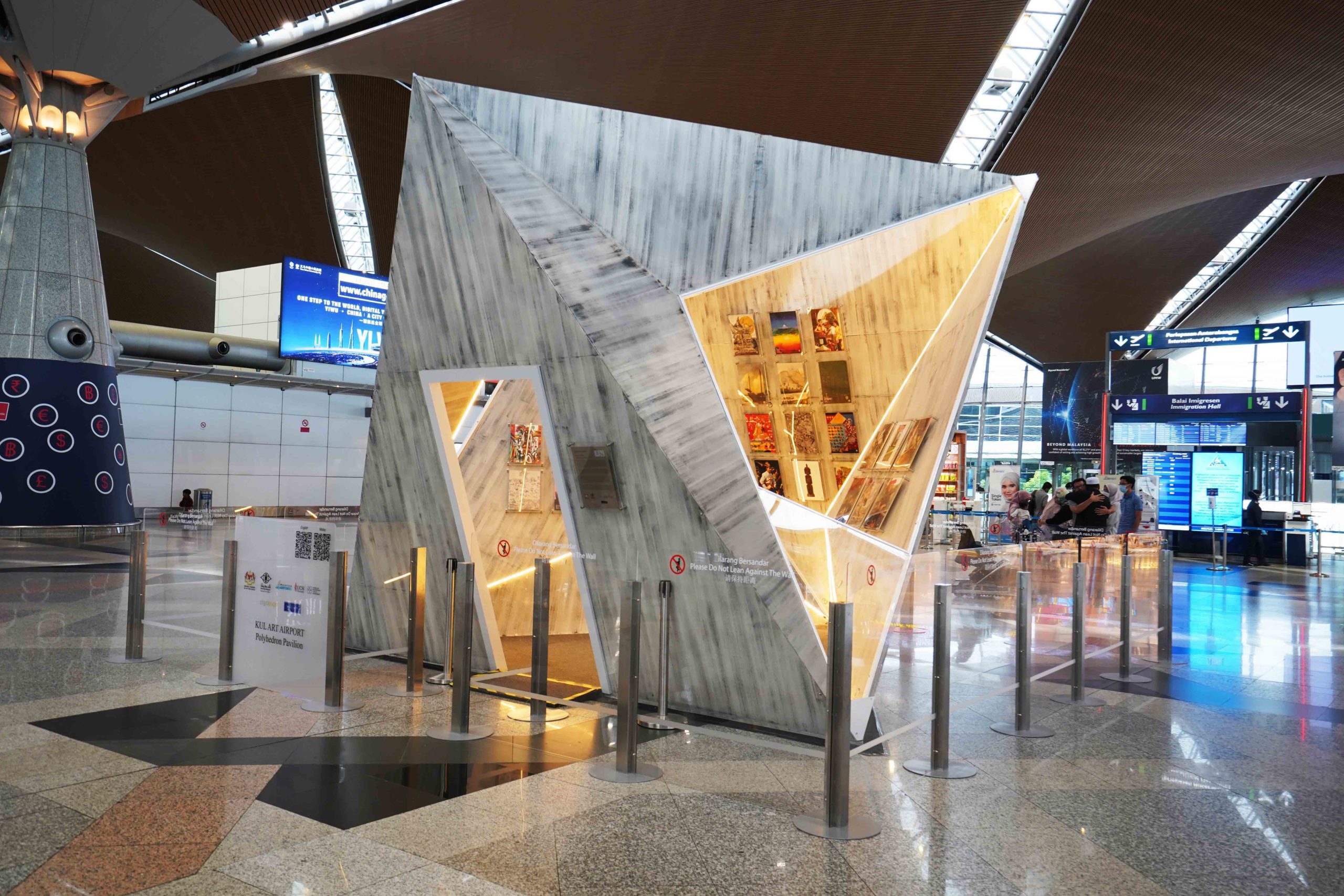 Polyhedron Pavilion is a collective effort that involved creative engagement between students, educators, consultants, fabricators, and local institutions; and lives on as a legacy of its designer, the late Noah Fuad.
By YUSRA ZULKIFLI for Lensa Seni
A stunning triangulated panelled structure glowing with strip lighting has taken everyone's attention at the Kuala Lumpur International Airport (KLIA) Departure Hall. The overall form complements its surroundings, blending in with the curved, slanted roofs with natural lighting piercing through the airport's roof.
This triangulated structure is the Polyhedron Pavilion, designed by the late Noah Iskandar Fuad, a former architectural design student from the School of Architecture and Built environment (SABE), UCSI University. It is on display at KLIA International Departure Hall until June 30, 2022.  
The project stems from the 2nd year design studio brief to design an "Exhibition Display Pavilion" for the National Art Gallery (NAG) in 2021 by the SABE, UCSI University. The initial proposal was to build a pavilion within the compound of the NAG's premise in Kuala Lumpur. The intention was to design an outdoor exhibition display that reflects local arts and culture which will redefine and transform visitors' experience and engagement. 
SABE approached the NAG in January 2021. Following several presentations involving students, fabricators and SABE's industrial partner ZLG Design, in May 2021, NAG awarded the grant to Noah's Polyhedron Pavilion project. NAG had chosen the Polyhedron Pavilion design from three students' shortlisted work.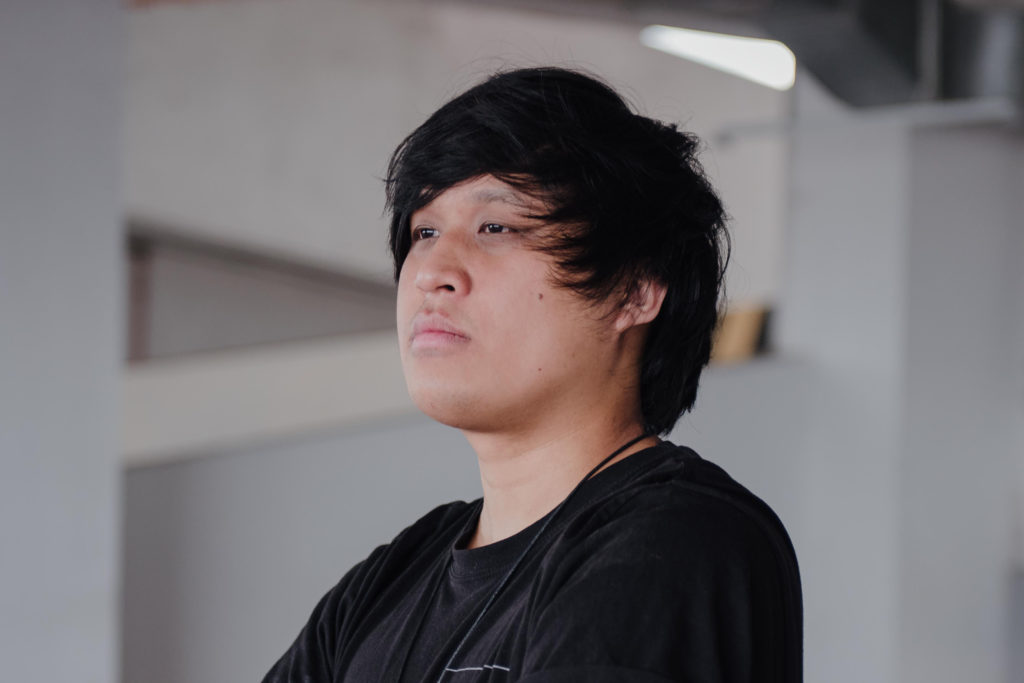 Instead of NAG's premises, KLIA International Departure Hall was chosen as the location for the Pavilion for four months. The whole team involved was delighted. It allowed Noah, the designer of the Pavilion, to celebrate and express his work on an international platform. 
NAG has a Memorandum of Understanding (MOU) with Malaysia Airports Holdings Berhad (MAHB) to provide art projects at MAHB's International airports. As a result, artworks will be displayed at airports in Kuala Lumpur, Penang, Kuching, and Kota Kinabalu. SABE was fortunate as its "Exhibition Display Pavilion" design brief fit NAG's vision of installing artworks that reflect local art and cultural heritage.
The Polyhedron Pavilion design was inspired by the study of sacred geometry originating from East Malaysian tribal tattoos. The tattoo art is considered an ancient science in exploring and explaining energy patterns that unify all things in the universe.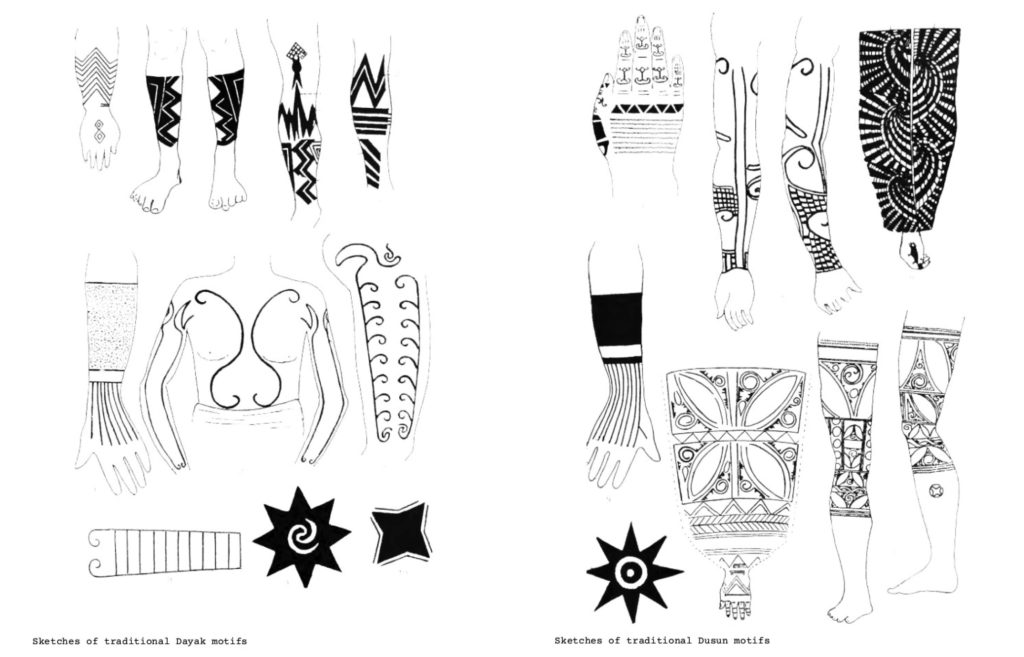 In Noah's essay titled Etching Memories onto Skin he said: "I have always been captivated by the art of tattooing. Long has it been forgotten that body tattoos are, in fact, part and parcel of the indigenous East Malaysian tradition and plays a significant role in the culture there. Especially when it comes to the Iban, Kadazan, Kayan, Kenyah and Ulu tribes, as they are interwoven with the stories of these ethnic tribes."
Currently, the Pavilion displays posters and postcards showcasing the National Art Gallery's collection. It allows a certain level of interaction between visitors and the exhibit, allowing them to take the postcards home as souvenirs.  
Somehow, because of the Pavilion's unique form and display of posters on slanted walls with LED strip lighting that further accentuates the overall structure, visitors are taking videos and selfies and uploading them to their social media sites such as TikTok and Instagram.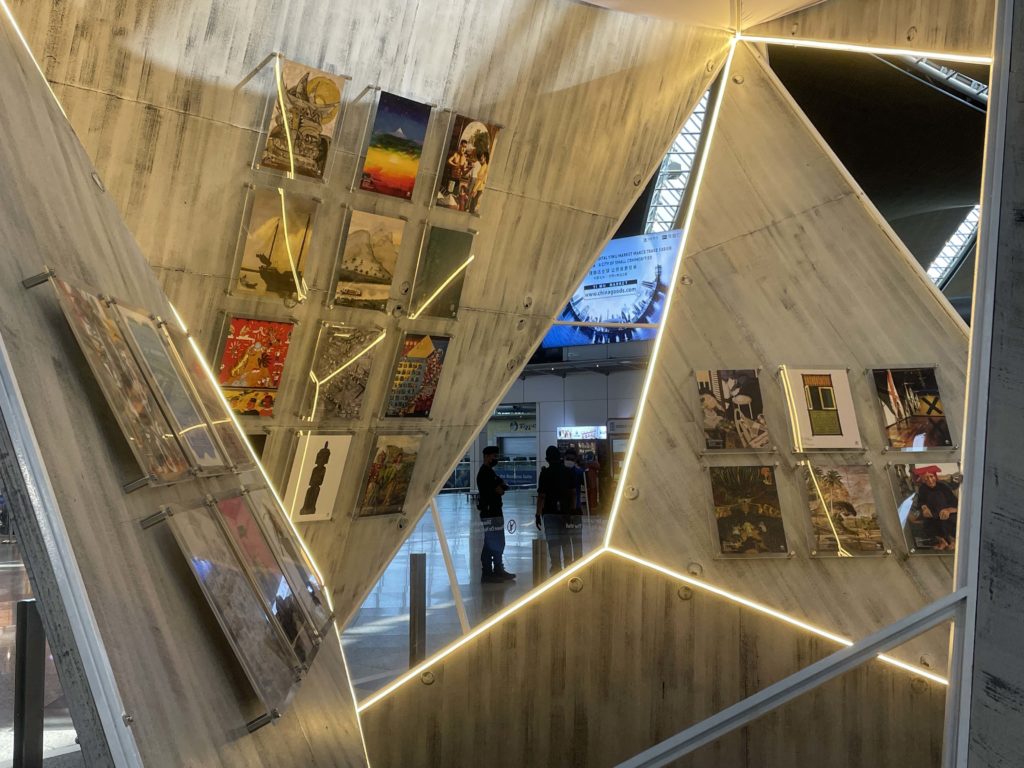 Although this was not the initial intention, it is hoped that the Pavilion serves as a place that enables dialogue to foster awareness of the local artwork that inspires local and international visitors at KLIA.
The Pavilion creates a visual display beyond the conventional settings and provides easier access and engagement with the visitors. It is an added value that the Pavilion is not just for display modes but serves as an informal gathering space reflecting our local artwork.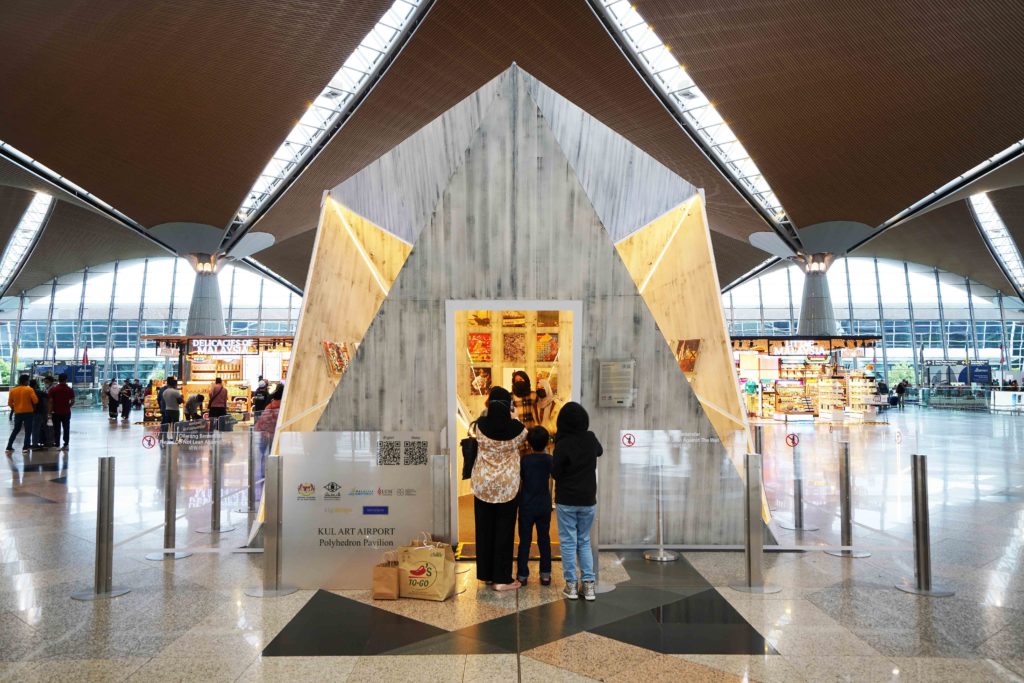 The Pavilion's moveable prefabricated structure allows it to be used again and again, minimising wastage.
The Pavilion was designed and realised through creative engagement with students, educators, various consultants, fabricators, and local institutional bodies. Noah worked alongside SABE lecturers, architectural consultant ZLG Design, Media Signs the contractor, NAG the grant provider under Tabung Bantuan Seni (TBS) and MAHB as NAG's client.
"It is also important for students to engage working in full-scale with the materials, rather than a scaled model to grasp their design fully working alongside with different parties. Projects like the Pavilion allow that exposure to students," said a SABE lecturer.
SABE hopes that this project will empower students by getting them engaged with various stakeholders. "We believe that education is not just about transferring knowledge, but it is shared through the network of multiple stakeholders," said Ar. Chia Lin Lin, the Head of SABE.
Sadly, Noah did not live to witness the installation of his Pavilion design. He passed away in August 2021 after all the challenging work of securing the grant from Tabung Bantuan Seni (TBS), working alongside the contractor, architectural consultant and lecturers for the working details and execution of the Pavilion at KLIA.
The team from SABE carried on the work on behalf of Noah. They continued and realised the work as a tribute.
Noah's father Fuad Abdullah said: "Noah during his childhood loved to build Legos and assemble Bionicles, and he was very creative and talented from a very young age."
"Noah was not just creative and talented; he was also a trustworthy and accountable person. Although the pandemic had taken a heavy toll on his mental well-being, he continued to be committed to the project," his mother, Louise Manjaji, shared. 
Noah's last request was that the project (Pavilion) would continue and "if not the funding returned or be used to bring any kind of goodness into this world."
During the installation of the Polyhedron Pavilion, Noah's proud father wrote on his Twitter, "The final masterpiece of a talented artist (late Noah) is soon to be displayed at KLIA. Alhamdulillah – may it bring goodness to all." 
SABE hopes the Pavilion will inspire younger generations and could be a catalyst that provides further networking between creative individuals and institutional bodies such as National Art Gallery.
Yusra Zulkifli is a participant in the CENDANA ARTS WRITING MASTERCLASS & MENTORSHIP PROGRAMME 2021
The views and opinions expressed in this article are strictly the author's own and do not reflect those of CENDANA. CENDANA reserves the right to be excluded from any liabilities, losses, damages, defaults, and/or intellectual property infringements caused by the views and opinions expressed by the author in this article at all times, during or after publication, whether on this website or any other platforms hosted by CENDANA or if said opinions/views are republished on third party platforms.