Steeped in both old and new, Jalan Panggong is a must visit when you're in KL.
By DANIAL FUAD
According to Kuala Lumpur Street Names: A Guide to Their Meanings and Histories book by Maganjeet Kaur and Mariana Isa, Jalan Panggong's history can be traced as far back as to 1889. It is one of the oldest roads and was called Theatre Street before it was changed to the current name in the early 1960s. The road got its name due to the close proximity of a Chinese theatre built by wealthy Chinese merchant Cheow Ah Yeok.
The buildings surrounding this area are pre-war shop houses, some of which have been revamped. Others have stayed true to their original look and feel. With their rich history, many of the shop houses here hold an abundance of nostalgia, especially since there has been string of tenants passing through their doors.
Jalan Panggong is a must for tourists (and locals!). Getting here is easy – hop onto the MRT, stop at the Pasar Seni station and exit via Gate A.
There are various activities that one can do while you're passing through this street, including visiting Kwai Chai Hong, eating at the various cafes surrounding the area and also sightseeing. Here is a list of places that you might want to check out if you find yourself in the neighbourhood.
Lostgens
8c, Jalan Panggong

In 2004, a group of artists came together to create the Lostgens collective in the spirit of having an alternative art space for their projects. Since its inception, the artists have done various projects and exhibitions collaborating with people not only locally but internationally as well such as Goethe-Institut with which they have been working since 2010.
Lostgens has been holding exhibitions and workshops on a regular basis so there is always something to see or do at the gallery. Their most recent offering was the hand pan workshop yesterday (May 14) by Thong Yoong How, a drummer who trained with Bernard Goh (of Hands Percussion).
Lostgens is open from Tuesday to Sunday, but to visit on weekdays, an appointment must be made while walk-ins are welcome on the weekends. Should you want to make an appointment, you can contact Yeoh Lian Heng at +6019-6838397. Check for updates on Facebook as well as website.
FINDARS
4th Floor, 8, Jalan Panggong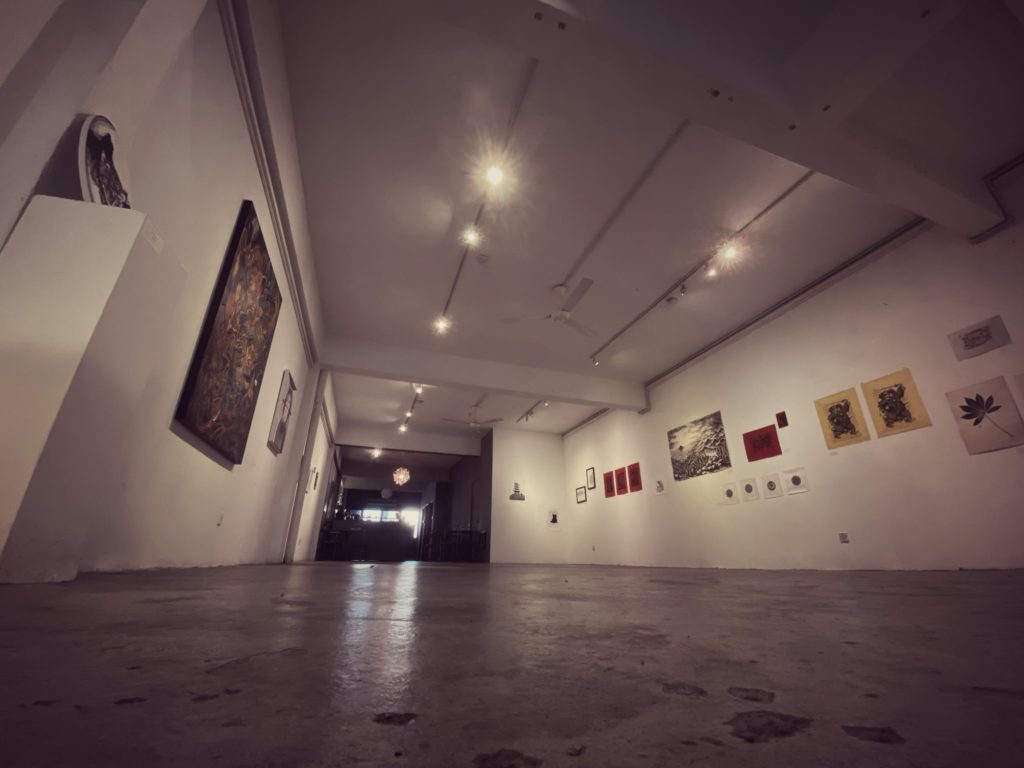 Located just above Lostgens is another experimental art space, Findars, which focuses more on the music community but occasionally hosts art exhibitions as well. There are three Findars locations – first in Central Market, then Wangsa Maju, and now a third location at Jalan Panggong. It first started out as a casual collective created to provide a platform for artists to express themselves without any bureaucracy getting in the way.
The pandemic slowed them down a little but this year, they returned hot as ever with events such as Panggong Lapan CNY Art Weekend: Ayam Berkokok, Hari Mau Siang in January exhibiting works of 15 artists. They even held a workshop on Building Collectives Workshop in February and more recently, they held a cross discipline exhibition mixing visual and audio arts entitled Drop Visual Disc [DVD] in March.
Findars usually opens from Tuesdays to Sundays from 5pm – 12am. Updates can be found on their Facebook page.
Lot18 Gallery
L1, Lot 18, Jalan Panggong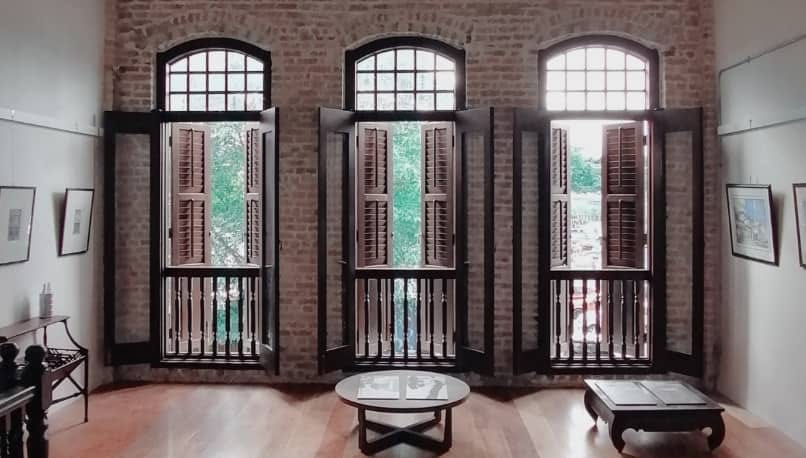 Situated above a chocolate shop, the LOT18 Gallery will make you feel like you've been transported through time with some of its original architecture including the windows that date to the early 20th Century. Available for rent, this hidden art gallery is perfect for exhibitions and workshops.
Although the physical space was closed during the pandemic, LOT18 Gallery was quite active during the lockdown with virtual exhibitions throughout last year with shows such as STORIES THROUGH ART #1: Stories from the Pandemic in July, as well as The Annual Malaysian Watercolour Society exhibition entitled Unlock in November. A more recent event was in March this year was the Exposure+ Photo Festival exhibiting two photographers' work at the gallery.
Aside from coming to visit, you can also rent the space here for your own activities such as photo and video shoots, product launches and even small scaled events; there are three halls which can fit a maximum of 50 persons per hall. LOT 18 is open every day from 11am – 6pm; Updates can be found on Facebook and Instagram.
Julia Volchkova's Goldsmith Mural
Lorong Panggong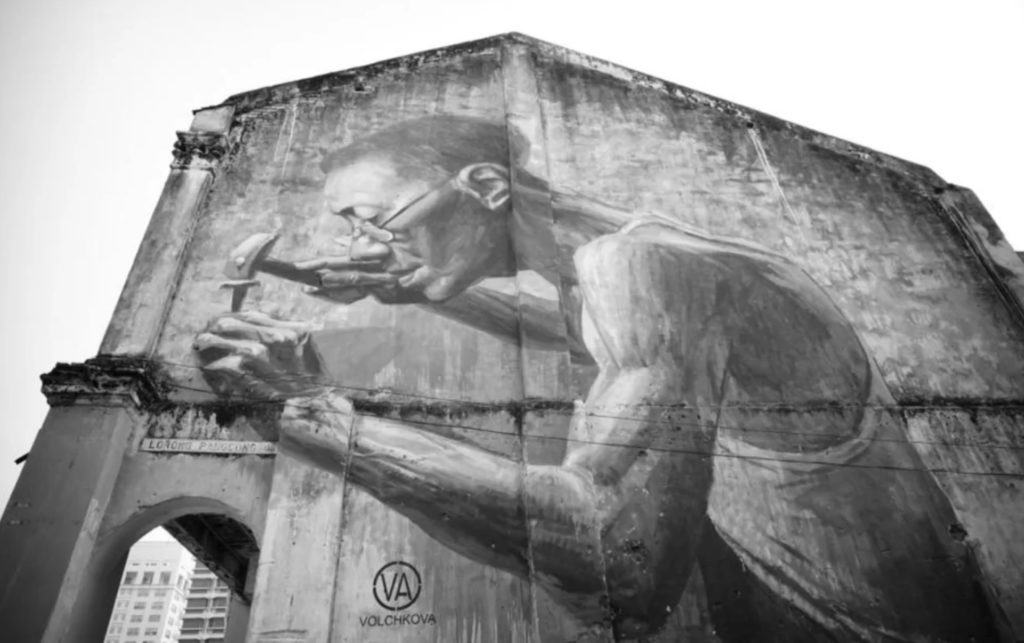 While you're in the area, be sure to look out for a giant mural featuring an old man with a hammer and chisel, created by Julia Volchkova in 2016 entitled Goldsmith. The Russian artist from Saint Petersburg, Russia, is a world-renowned mural artist who spent some time in Malaysia. She was commissioned by the Malaysian government to create multiple large scaled murals around the country. Her murals can be seen in Penang and Port Klang as well. One of her murals in Muar, Johor entitled Loving Sisters even made it into the Malaysian Book of Records for being "The Largest Portrait". It stands 11.8m tall and 9.45m wide.
The Goldsmith is hidden along Lorong Panggong. Get your cameras out!
Luckin Kopi
14, Jalan Panggong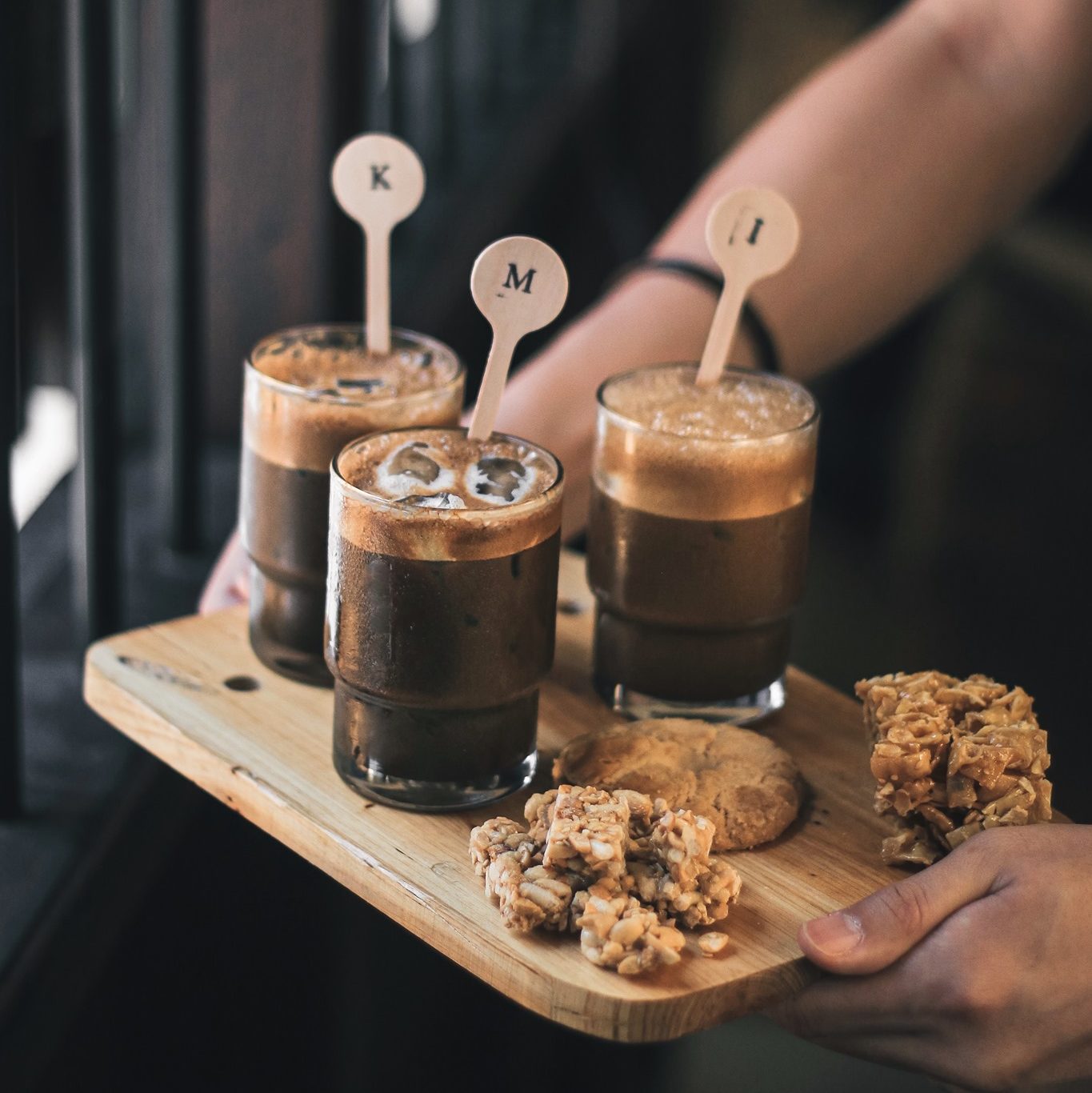 After all the walking around, you might need some refreshments. Luckin Kopi is one of the places to try out. Famous for its Five State Coffee, Luckin serves kopi from Melaka, Ipoh, Kuala Lumpur, Penang and Johor. It is a delight to try each of the state's specialty coffee while luxuriating in and spending some time taking pictures in the lovely cafe.
They serve a wide range of food – from local nasi lemak to Korean Fried Chicken and chicken chop. Food is Muslim friendly and the prices are affordable. Five States Coffee costs RM29.90 (that's for five cups of coffee!)
Luckin Kopi opens every week day from 9am – 9pm; while on weekends they are open from 8.30am – 9pm (last orders at 8pm). More information can be found on Facebook, Instagram and you can even order online via its website.