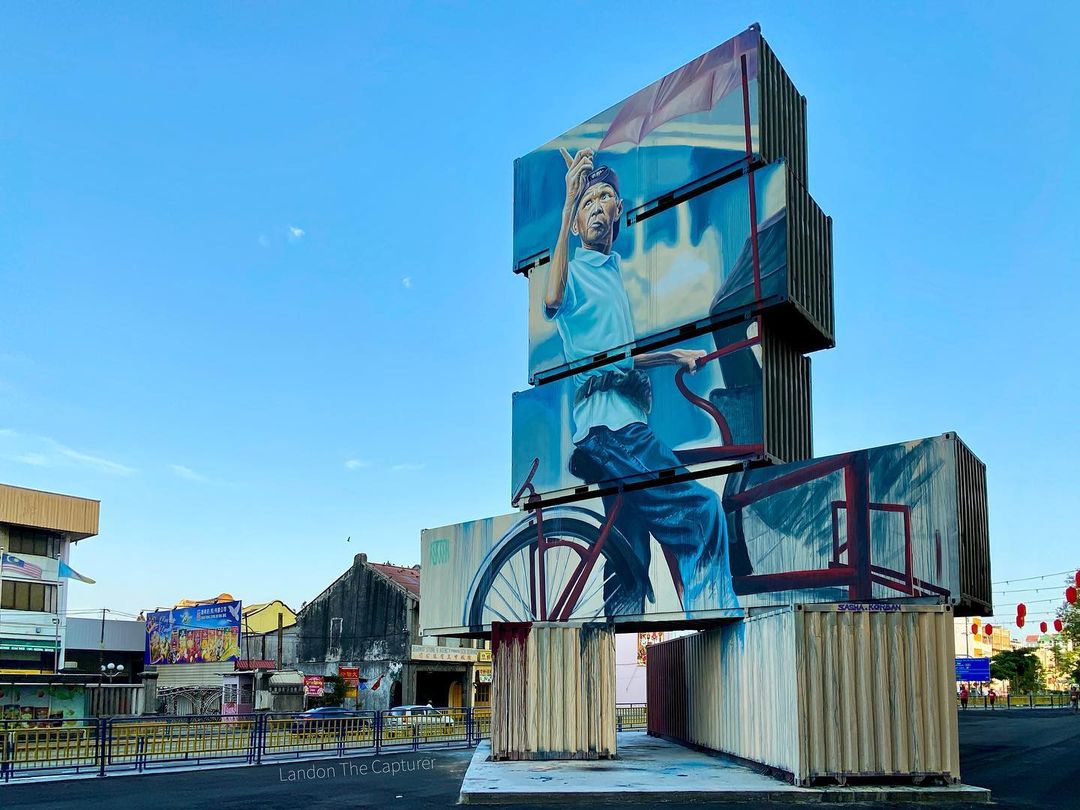 Thinking of where to go for the holidays? Think Penang! Here's a list of all the things you could be doing this December to tantalize your artistic taste-buds.
By MIRIAM DEVAPRASANA for Lensa Seni
Penang is known for a great many things like its large mural paintings, urban street art, tangible and intangible heritage, and of course, food. With Covid-19 restrictions (finally) being lifted, Penang has geared herself up to welcome people from far and wide for a celebration of life through art and culture!
Here are highlights of upcoming events throughout December with something for everyone.
ART – Penang International Art Container Festival (PICAF)
Think of a modern-day treasure map leading you across Penang Island and the Mainland to five locations that are home to the pop-up container art installations! In celebration of street and urban art, PICAF features 12 local and international artists whose works are reflective of Penang's local identity, culture and environment making the small, often subtle aspects of life, amplified to full view, bringing local representations to greater heights.
PICAF has been extended to Dec 31 so make sure you plan a day of explorations between the scenes of the city and across the sea to neighboring paddy fields while you bask in these impressive collaborations of art and creativity.
For information on current locations and the artists behind the works, check out PICAF's Facebook Page.
ARTS & CRAFTS – The Crafteteria
It is shopping galore for lovers of the finest arts and crafts Penang has to offer! The six-month pop-up store features Penang's homegrown artists, crafters, and creatives and boasts a unique and diverse collection of handmade gifts, ornaments and one-of-a-kind trinkets for kids, parents, friends, uncles, aunties, teachers, plant parents – you get the idea! The Crafteteria is located on the ground floor of Straits Quay and is open from 10am to 10pm every day.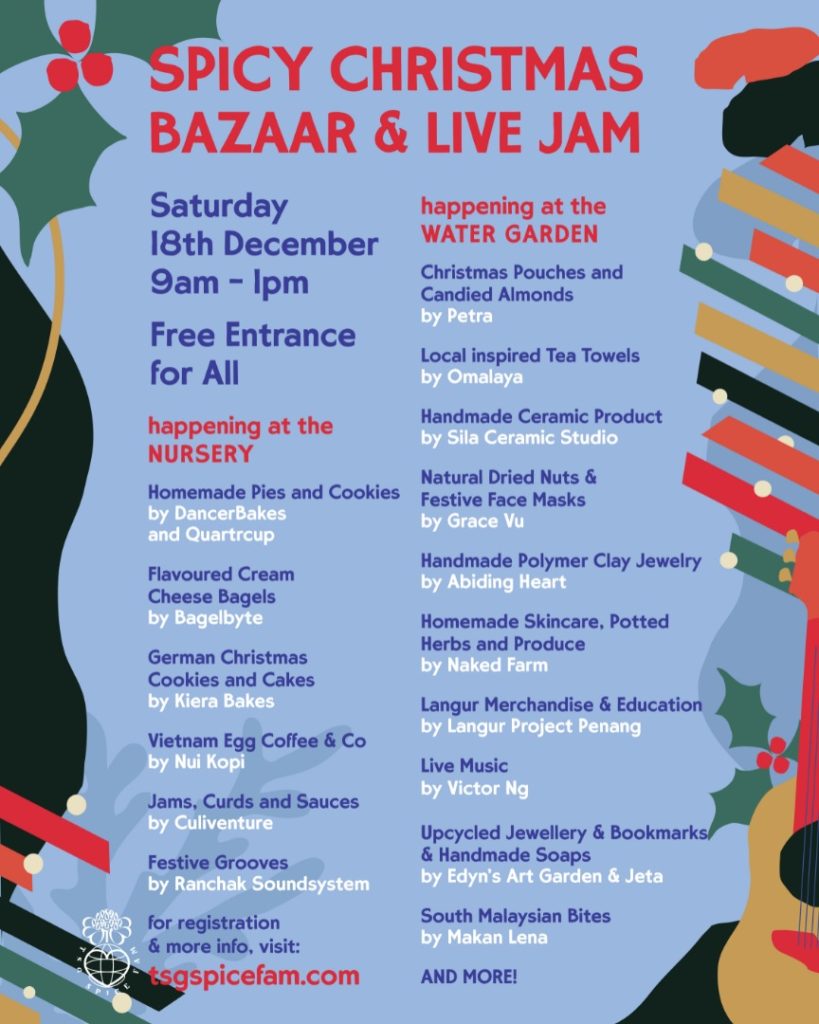 ART & NATURE – Tropical Spice Garden (TSG)
If the hustle and bustle of the city is not what you're looking for, then a visit to Tropical Spice Garden is just what you need. Between the serenity of nature and the stripped-down lifestyle of TSG, visitors are bound to reconnect with heart and soil within the surroundings of Paradise. Steal away into Eden with the many events and activities organized by TSG for families and individuals to indulge.
For the season, TSG is also organising their Spicy Christmas Bazaar and Live Jam with tons of deliciousness, homemade products, plants and produce on sale with the grooves of live music by Victor Ng, and local DJ Ranchak Soundsystem.
For all this and more, check out TSG's website, or better yet, join the Family for unlimited access to the garden, virtual workshops, and all other goodness for the soul.
TRADITIONAL FOLK MUSIC – A Musical Peranakan Tea at The Blue Mansion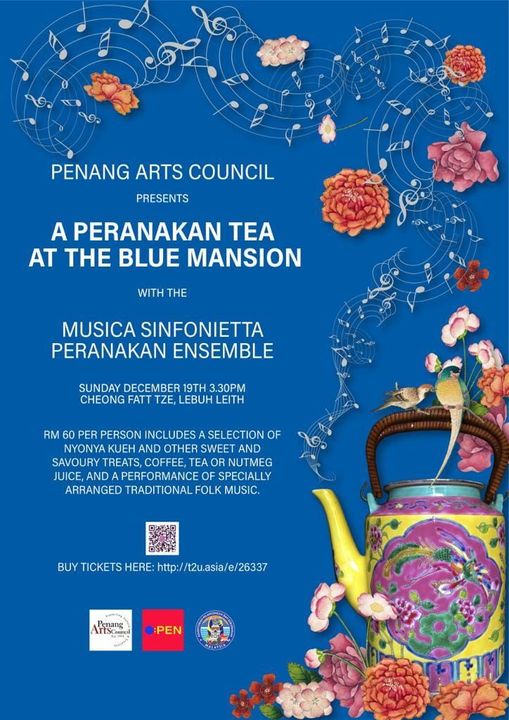 The Penang Arts Council presents an afternoon of treats brought to you by the Peranakan Ensemble of Musica Sinfonietta. The local orchestra will be performing a carefully curated repertoire of traditional folk music between delectable servings of Nyonya kueh and other sweet and savory flavours for a truly amazing Peranakan experience hosted in Penang's iconic Blue Mansion.
This happens on Dec 19, at 3.30pm. Tickets are available here.
COMEDY – Make Penang Laugh Again & Penang Comedy Events
Join three of Malaysia's comedy royalties for a night of hilarity with the comedic stylings of Kuah Jenhan, Kavin Jay and Rizal Van Geyzel. No strangers to the local and international stand-up comedy scene, fans will be blessed with two hours of quick-wit, grumpy rapid-fire jokes with tons of politically incorrect observations and humour that you can't help but be in hysterics! Make your bookings now to avoid being disappointed.
Fans of comedy looking for a twist of local diversity can also check out the open mic nights at 54JCT which feature Penang's local stand-up scene. The next one is scheduled for Dec 14, and for more information, check out Penang Comedy Events.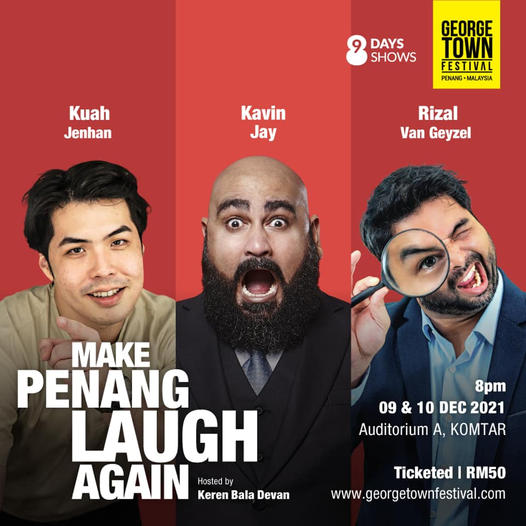 FESTIVE SPIRIT – Celebrating Christmas in Penang
It's that time of the year again, and what's Christmas without carols and a good singalong to get us into the festive spirit (who needs snow to sing Let It Snow anyway?!). With popular traditional Christmas Carols and music recitals, here is some Christmas-themed merriment for you!
The Actor's Studio Chorus and Orchestra transports us to Christmas wonderland with its 12th installment of the Family Christmas Concert. Audiences will find themselves surrounded by festivity with familiar favorites like Hark the Herald Angels Sing and O Come All Ye Faithful, and some new carols including Christmas Day and the popular medieval carol, Angelus ad Virginem, under the baton of conductor Martin Rutherford, SATB chorus and skilled orchestra.
Mark your calendars for Dec 17 and 18 at stage1 penangpac. For more information (including other shows) and ticketing, check out penangpac's website.
FESTIVALS – Nine Days Eight Shows, George Town Festival (Dec 4-12)
If you thought you missed George Town Festival this year, think again! GTF is BACK with its year-end campaigns, providing audiences the time and space to celebrate art and culture – physically. The Nine Days Eight Shows features an eclectic range of shows and from jazz, contemporary and cultural dance performances to 'Ciné France' with a selection of contemporary French cinema screenings.
Fans of Japanese music and culture will love Ibuki Hati, the perfect collision of the serene, melodic tones of the shakuhachi (Bamboo flute) by Andrew MacGregor, and the completely immersive experience Aida Redza brings to her contemporary dance performances. 
Coming closer to home, The Senses presents a multidimensional sensorial journey between art, nature, culture and music – an experience surrounded by the expanse of our 130-million-year-old rainforest. The  concert is brought to you by Buddha Beat, Kicau-Bilau and Darmas who are sure to captivate you with live soundscapes and their transcendental artistic giftings for all to linger in. 
Coming closer to home, this year's line-up also features the artistry and craftsmanship of Pak Dain – master puppeteer and storyteller behind Wayang Pak Dain. To reacquaint contemporary society with the traditional and historical values of the Wayang Kulit, and to preserve this cultural heritage, GTF presents Kehebatan Hanuman with the mesmerizing art of the Malay traditional theatre. Pak Dain is also conducting a Wayang Kulit workshop on Dec 6.
Tickets are available for purchase but hurry. For a full list of shows, check out George Town Festival 2021.
Miriam Devaprasana is a participant in the CENDANA ARTS WRITING MASTERCLASS & MENTORSHIP PROGRAMME 2021. (All articles under this programme can be found under the LENSA SENI tab)
The views and opinions expressed in this article are strictly the author's own and do not reflect those of CENDANA. CENDANA reserves the right to be excluded from any liabilities, losses, damages, defaults, and/or intellectual property infringements caused by the views and opinions expressed by the author in this article at all times, during or after publication, whether on this website or any other platforms hosted by CENDANA or if said opinions/views are republished on third party platforms.