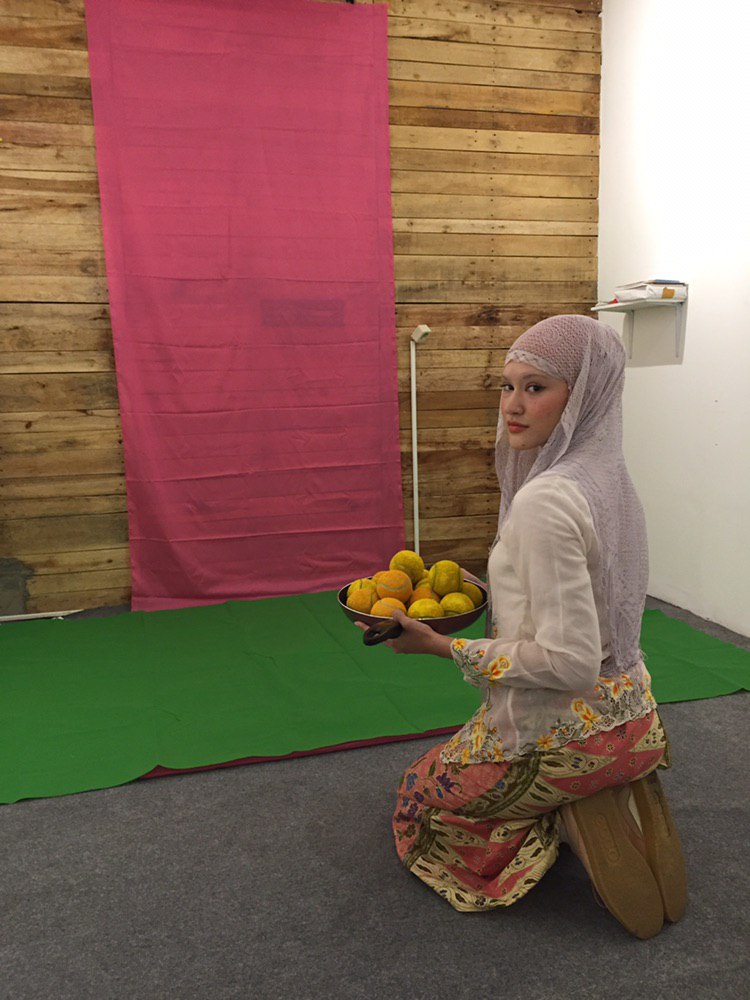 By NATASHA P.
Daring enough to exit the confines of propriety, artist Dhani Illiani Yusof, in her Jakarta art show Arus Binti: Kobis Merah takes the opportunity to explore the unique coming-of-age experience as a young woman in Malaysia. Her unique – and eccentric – approach to the different mediums of art displayed in this show offers the viewer a glimpse into her mind, taking them on quite the literal ride into her grapplings with identity and growth into womanhood, shaped by the cultural and societal pressures that surround her and other Malay-Muslim women.
The show is made up of an experimental art film, a fabric installation and performance art – all of which have qualities that are undeniably unique and distinguishable as her own kitschy and quirky style.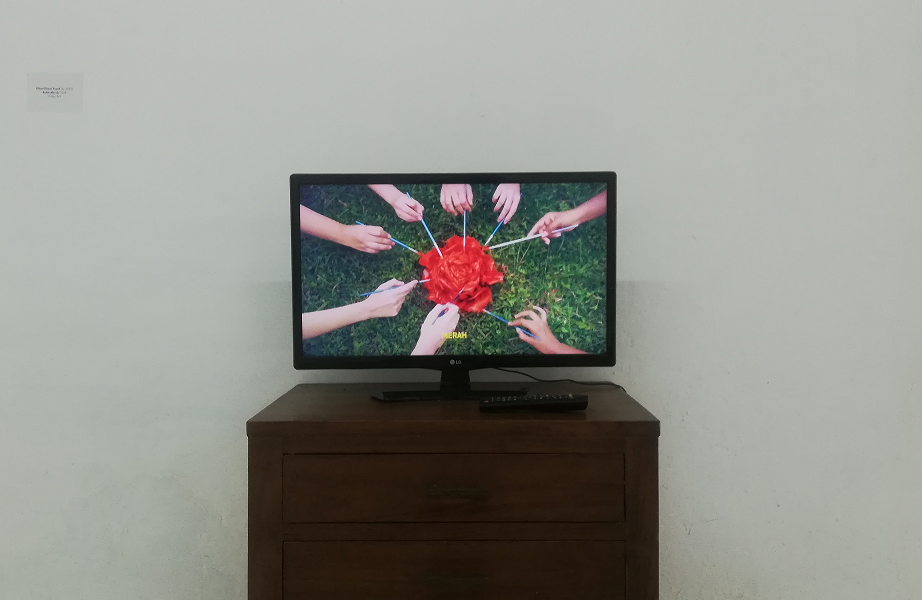 The experimental art film, "Kobis Merah", which gives the show part of its name, is a short visual poetry film featuring relatable moments in a girl's schooling experience, centred around female alliances and puberty. It is paired with a short poem from the perspective of a girl going through these moments. The first scene features a girl in her school baju kurung uniform, fixing a wedgie, while her friend stands behind her to help her hide the sneaky little deed, while holding her hand. It's undeniably funny, quirky and cute, reminding me of my own experiences at school. The other scenes range from school girls gossiping with one another to scribbling on paper in red marker. In between these are close-up shots of a head of cabbage that gets progressively redder and redder, representing menstruation.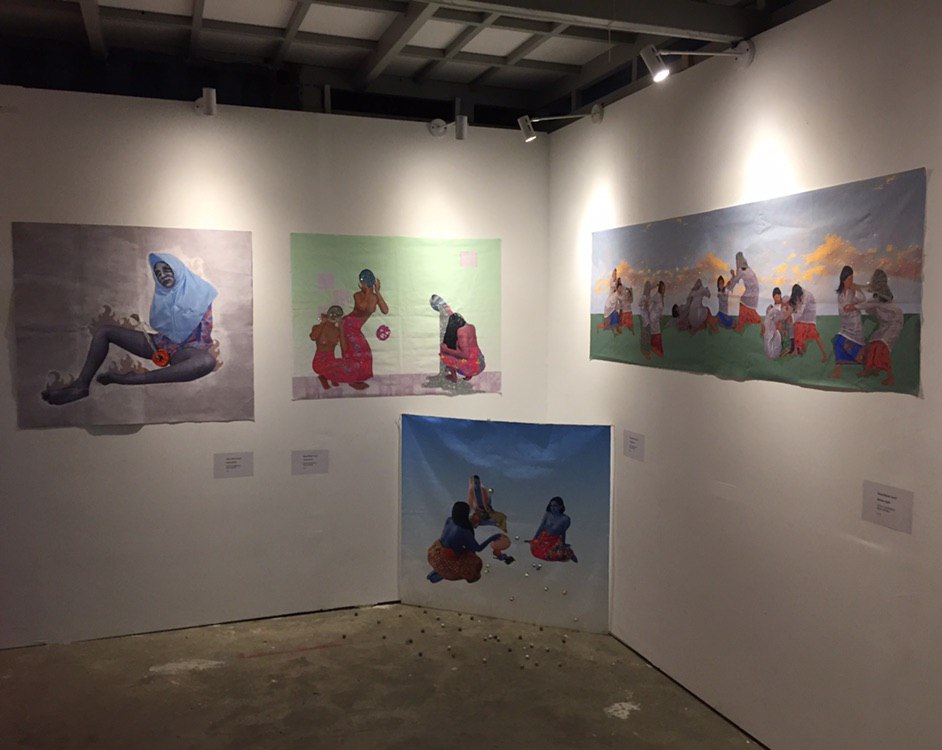 There was one scene in particular that struck me – eight girls with their hands painted red running around frantically, directionless, while the camera zooms in and out. It reminds me of the very Malaysian public school experience of girls going into hysterics at random (at most times, during menstruation). The lines of poetry here also feel a little bit ominous and eerie: "lari gadis lari, merah akan menodai, merah itu dikuasai" ("run girls run, the red will tarnish you, the red will overpower you") as if menstruation were an inescapable omen. The film ends with a girl holding the fully reddened cabbage over her uterus, as the poem ends with the word "alam", indicating that the female cycle is what connects us with earth and nature through a monthly cleanse.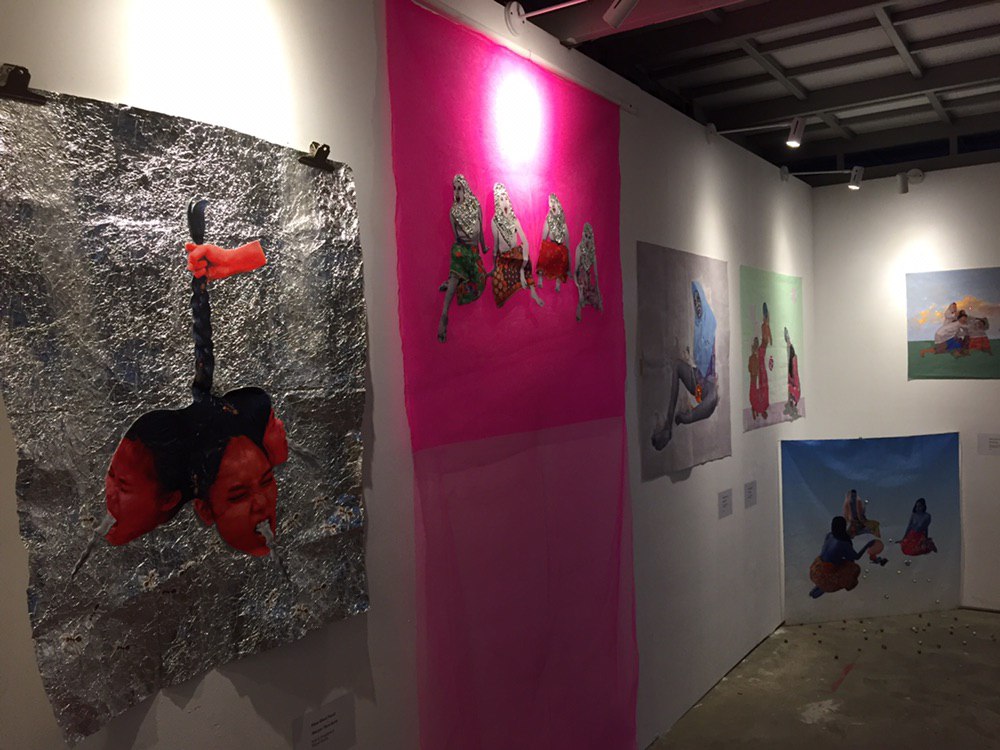 The fabric installation is a mixed media piece consisting of visuals made into digital collages printed onto fabric and embellished. Her printed work features women photographed in both eccentric and lax poses. She focuses on a few main themes on two ends of a spectrum – female divinity and sisterhood vs. female rivalry and objectification. Her play on women in traditional kebaya in lax poses rebels against the notion that Malay women should have to exist within the very strict and confined axis of femininity within the Islamic point of view. As a hijabi challenging norms and expectations, her work screams out a reclamation of her identity, ancestry and culture.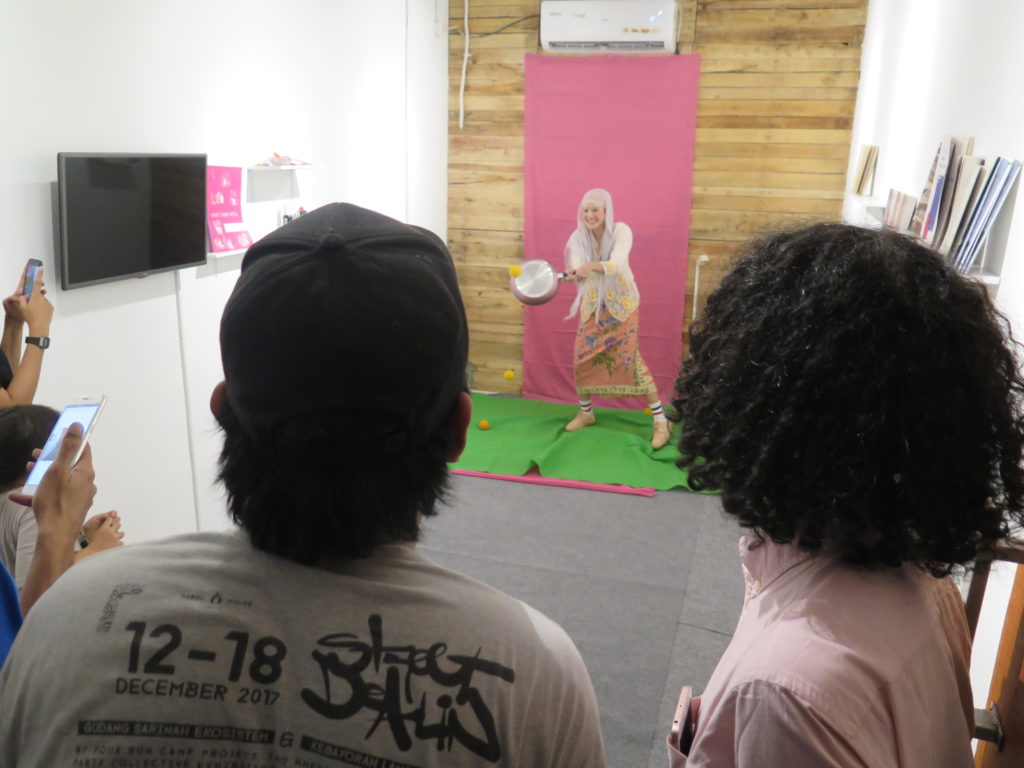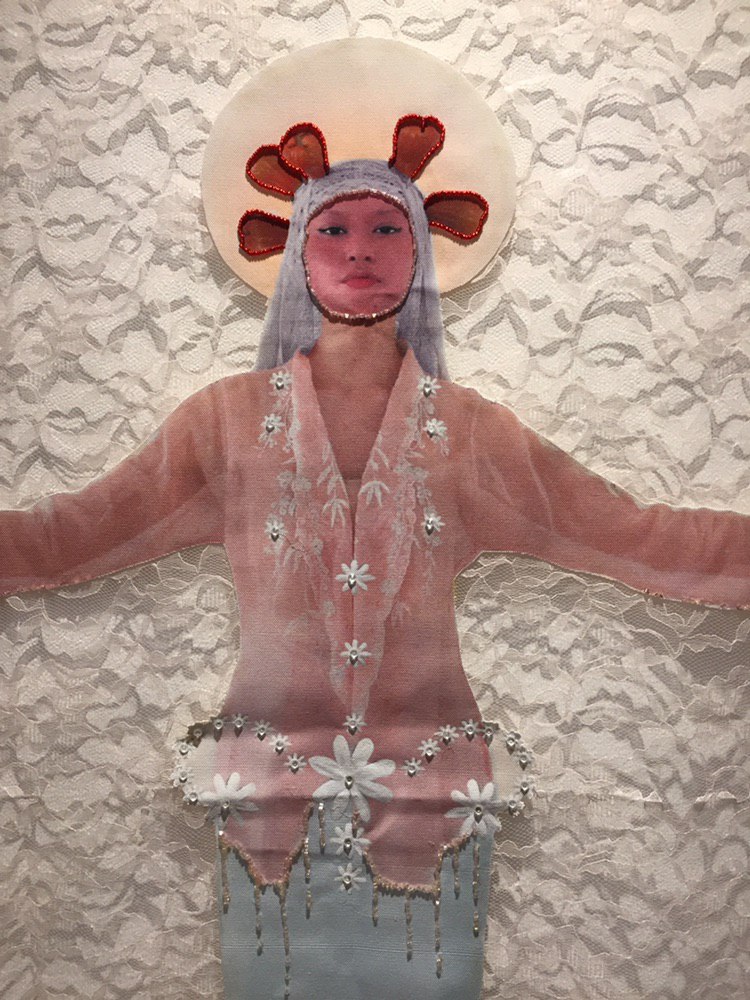 In the performance art piece "Bunga Garang", Dhani presents herself as an angry female entity, using a frying pan as a racket to smash tennis balls into the audience. The tennis balls are first given to the audience to scribble down commonly heard misogynistic and sexist remarks which they then throw at the entity. The frying pan is used in place of a racket as satirical comedy to combat the stereotype that women belong in the kitchen. She flips the narrative, using the pan as a weapon of both offence and defence.
It's important that we have artists like Dhani who are willing to challenge the narratives surrounding the Malay-Muslim female identity – from sisterhood to female rivalry – and question why these norms exist in the first place, created both by and against women. She takes the liberty to explore taboo elements like menstrual blood, even though it is considered taboo in Islam, and pursues breaking away from the patriarchy – as the "binti" in the title hints at. Through her work, we get to see how Dhani navigates her multiple identities: Malay-Muslim woman, fashion-lover, athlete, artist, independent thinker and someone who is willing to go against the grain.
"Arus Binti: Kobis Merah" was held at Gudskul, Jakarta in November 2019.
Natasha P. is a participant of the CENDANA – ASWARA Arts Writing Mentorship Programme 2020-2021.