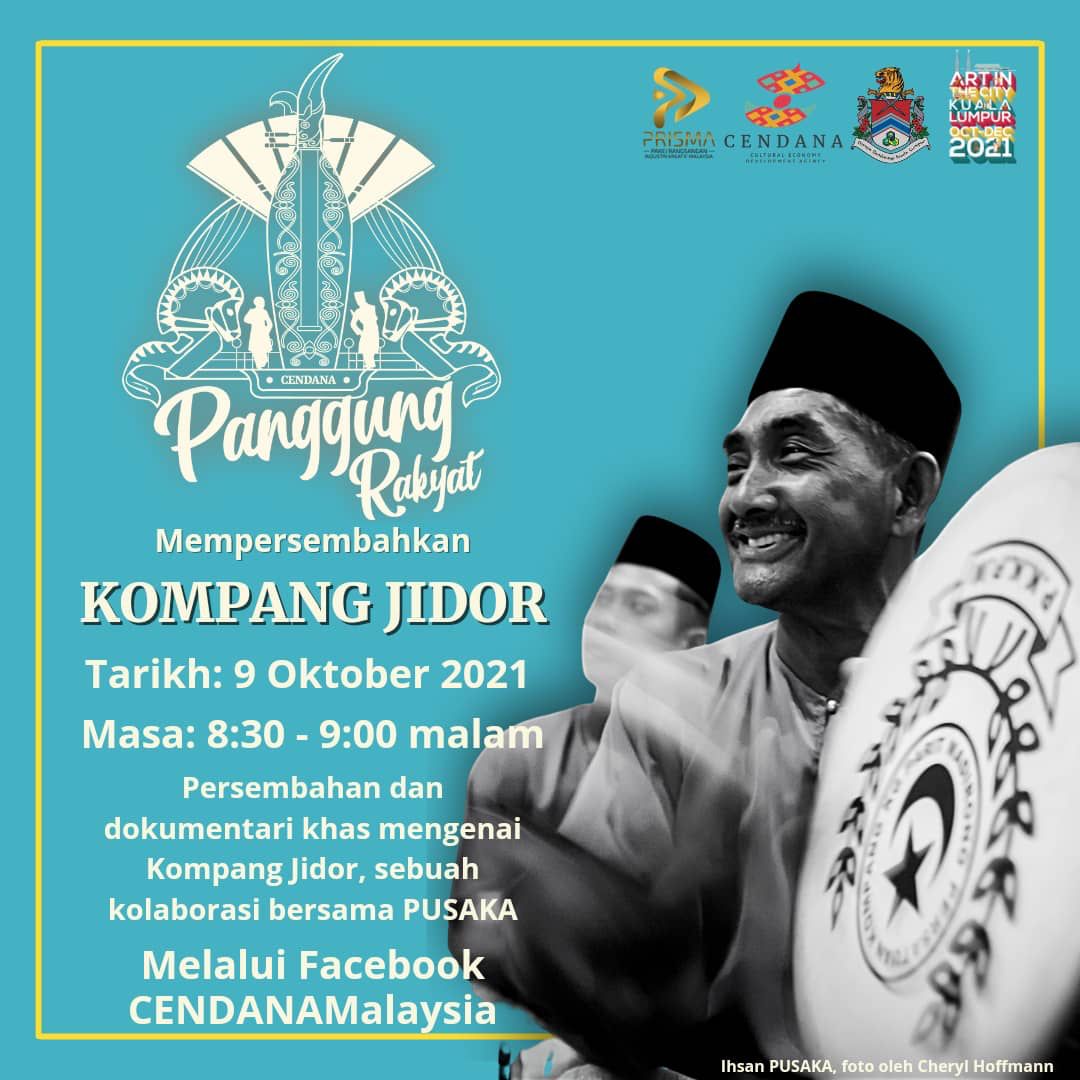 Rustled up by ANN MARIE CHANDY
As we slowly start assimilating back into society, it's good to know that there are both physical and online shows and activities to keep people happy. If you're erring on the safe side then we've got some suggestions for you to watch from home. But for those who have been fully vaccinated and are raring to embrace the live scene once again, we'll serve up some offerings for you too. Stay safe folks, and enjoy the arts, wherever you are.
Coming up next on CENDANA's Panggung Rakyat series is the Traditional Art Form of Kompang Jidor, presented in collaboration with PUSAKA. Once a tradition that flourished throughout Johor, this older form of kompang is becoming increasingly rare. Because of its complex rhythms, the art of the 12-beat Kompang Jidor takes more time to learn and master than the more common four-beat Kompang Melayu. Panggung Rakyat this Saturday will feature PUSAKA's partner-performers of the Kompang Jidor tradition, Persatuan Kompang Kg. Parit Madirono. From Pontian, Johor, they are a community of kompang jidor performers founded by the late Selamat bin Ahmad, tracing their lineage back five generations. Catch Panggung Rakyat's 4th Episode, Traditional Art Form of Kompang Jidor, and find out more about these traditional masters and their artistry, on Oct 9 at 8.30pm on CENDANA MALAYSIA's Faceboook.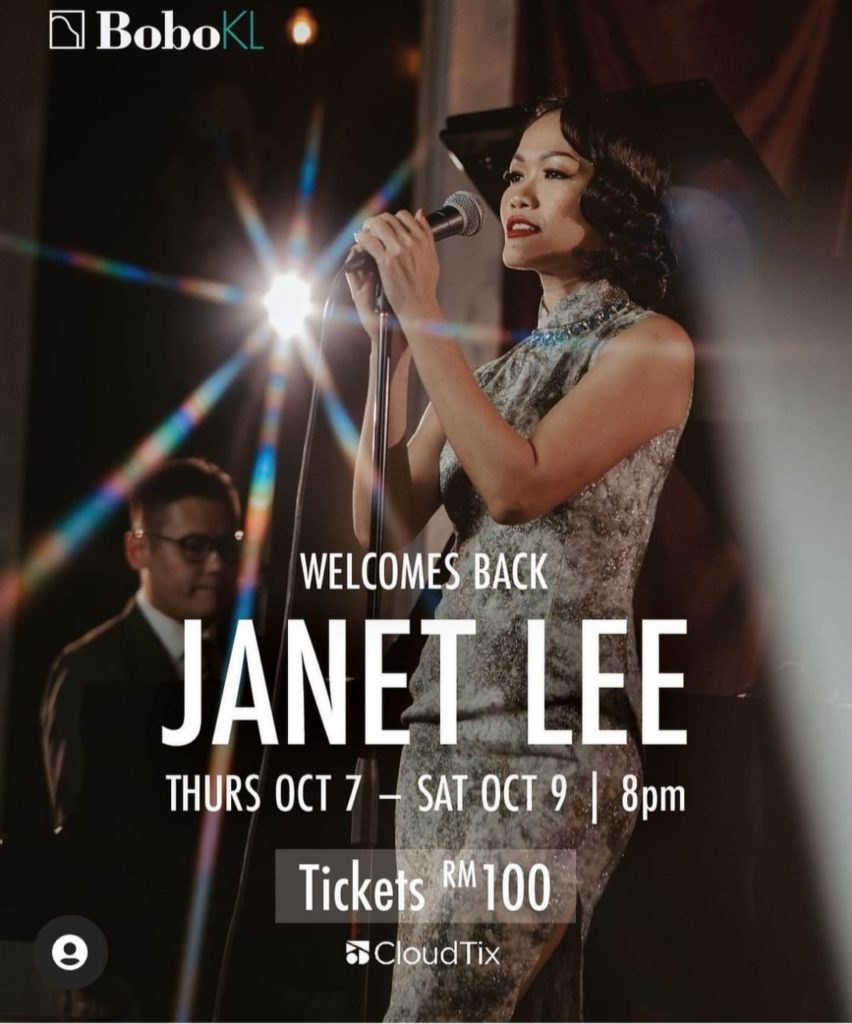 Fancy some live music after all this time? Janet Lee sings vintage Mandarin, Bahasa Malaysia and English standards, while Tay Cher Siang tickles the ivories at Bobo on Oct 7,8&9. Upcoming weekends will feature Sean Ghazi, Evelyn Feroza and Elvira Arul. Tickets are on sale now. The two-hour long shows are priced at RM100. Meanwhile, 'Bobo Belanja' continues right through the month of October, from 5-7 pm daily. You'll get a free plate of tapas with every drink ordered just cos Bobo's so glad to see you.
In 2021, Seni Tiga Lab shifted its focus from the "end product" to the "process" of coming together, making something and of making sense of what was going on globally on a personal level. Starting from June, Seni Tiga Lab's Unit B has had weekly sessions to express in their own ways while exploring sounds, movements and images together along the way. The four-month virtual friendship (yes they have not met each other physically!) will reach a milestone with a virtual experience to be presented next week. KongsiKL is happy to be a part of the journey in the exploration of an alternative method to collaborate, and presents Pause || Play on Oct 8&9 at 8.30pm and 9.30pm. The experience last 30 minutes each and will be presented on Zoom. For tickets, go here.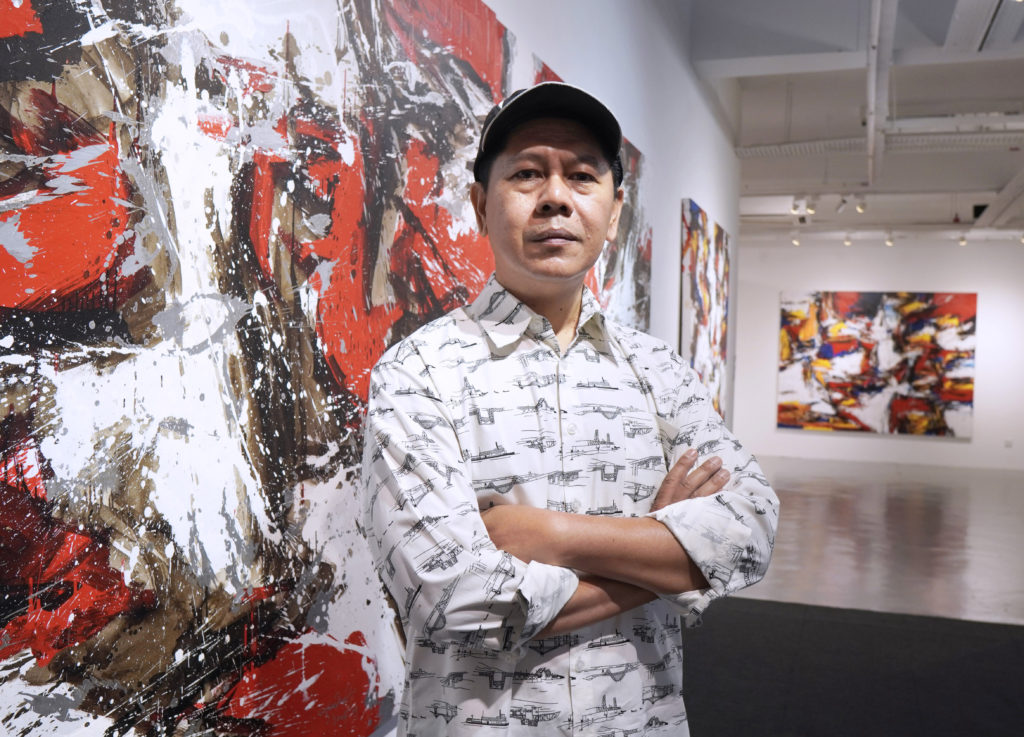 Suzlee Ibrahim: Selected Series 2005 – 2017 is the 42nd solo exhibition in Suzlee Ibrahim's 34-year career as an artist. Showcasing at G13 Gallery, the exhibition celebrates the best of Suzlee Ibrahim's oeuvre, featuring 14 large-scale paintings. Suzlee (pic above) carefully chooses the artworks from different series based on his personal preference. Since 1987, he has produced 20 series with various sizes of works. The paintings of Suzlee Ibrahim are the manifestations of his innermost feelings about his travels throughout his career as an artist. The Sakura Series, for example, is based on Suzlee's experiences attending the Sakura Festival at Ueno Park, Tokyo, in 2008. The Batik Series recalls his return to his hometown in Terengganu and his observation of the development of the 'small industry' of batik making in Terengganu. Similarly, the Waterfall and Ombak Merah series depict experiences in Terengganu as well. The exhibition runs until Oct 23 at G13 Gallery. For more information visit the G13 website.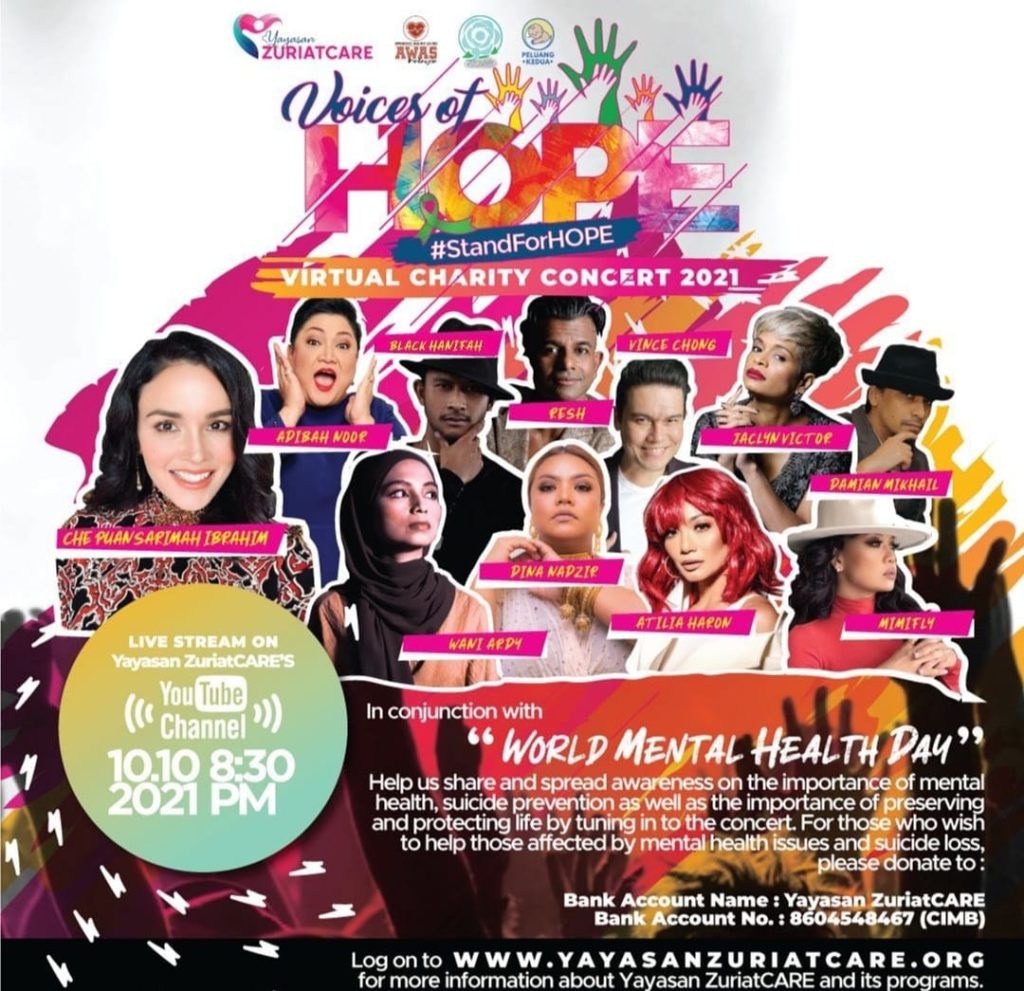 Catch many amazing performers – including Sarimah Ibrahim, Atilia Haron, Jaclyn Victor, Adibah Noor, Reshmonu and more – who are coming together in solidarity to help spread the awareness on the importance of mental health and suicide prevention at the Voices of Hope Virtual Charity Concert 2021. The free for all concert will be live-streamed on Zuriatcare's #YoutubeChannel on Oct 10 at 8.30 pm in conjunction with World Mental Health Day. #VoicesofHope virtual charity concert is one of the initiatives under the #StandforHope campaign that was launched on 10 Sept 2021 in conjunction with World Suicide Prevention Day. All proceeds will be channeled to those in need via @zuriatcare 's programs. For more info on the programs please visit www.yayasasanzuriatcare.org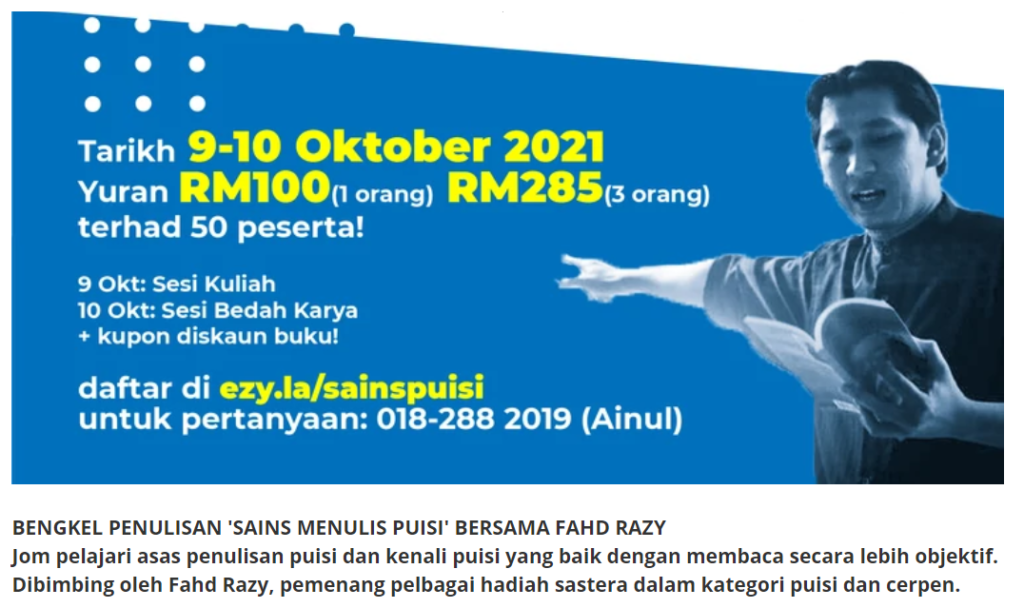 Katapilarbooks presents Bengkel Sains Menulis Puisi Dalam Talian with Fahd Razy. Now presented digitally, the workshop can be attended remotely, will feature experienced facilitators, has over 150 participants from Malaysia and Singapore, and allow you to build your network of local poetry lovers. For more inquiries, call 018-2882019. Fees are RM100. Register here. 
Sip & Paint at Le Masterpiece is back in action for fully-vaccinated budding artists. No painting skills are required. There'll be a professional to guide you through the whole process. This Saturday, Oct 9, there will be two sessions (2-5pm and 8 to 11pm) taking you through the "Whale in the Sky" painting. RM150 per pax; there will be free flow of coffee, tea, soft drinks and snacks. All art tools – including canvas, acrylic paints, palette, brushes, easel and apron will be provided. Payment made is non-refundable. For more information go to the Le Masterpieces's website.