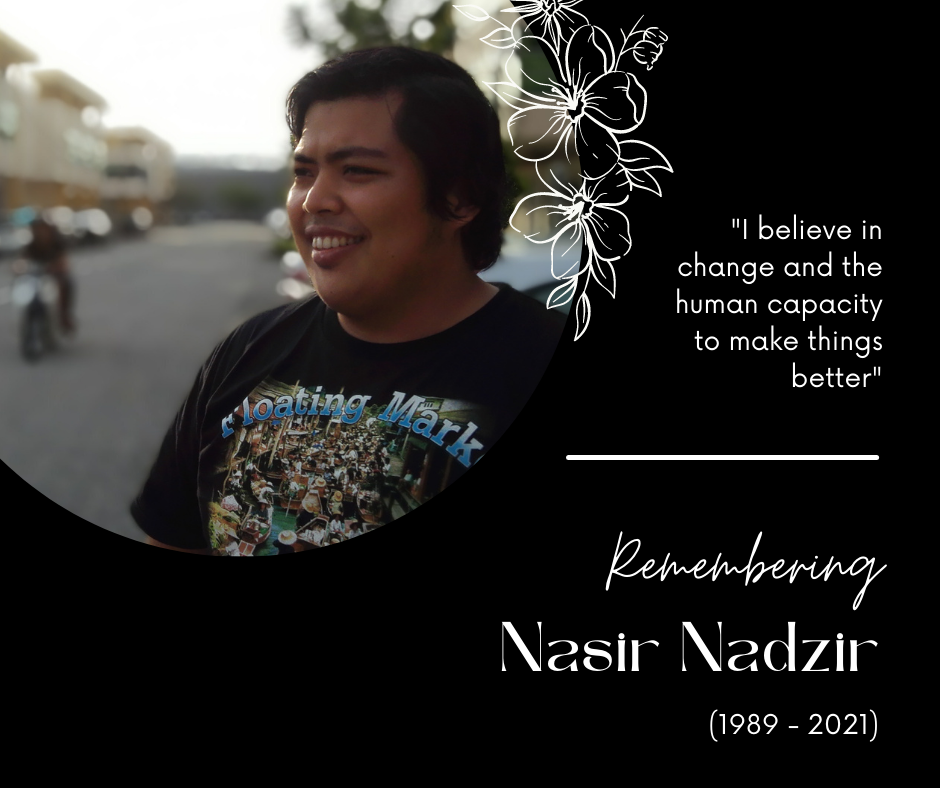 Artists are generally remembered for their works after their passing. It could be for that one masterpiece, or even a series of master works. But for one young artist based in Penang, his works were just part of the narrative. The memories left behind by Nasir Nadzir hold the other half of the story.
By KOAY CHOON SEAN for LENSA SENI
"When you do your artwork – you paint, or you draw – you feel kind of isolated. But when you have an impact on the community, it always feels good. It always feels worth it." – Nasir Nadzir (1989 – 2021)
A man whose heart was bigger than his smiles. An artist whose talent was rivalled only by his passion. A human whose love for nature ran deep, and who was equally loved by the people who knew him.
Nasir Nadzir was all of that and more. Unfortunately, the curtain came down too soon on his story. He passed away on Jan 24, 2021, at the age of 31, due to complications from COVID-19. He never had the chance to realise his dream of a solo exhibition. Penang lost one of its brightest, who was often described as "the baby of the art community", and a chap with an insatiable curiosity about everything under the sun. But was death the end of his story? Perhaps not entirely.
Despite his short career in the art world (2015 – 2021), Nasir left vivid impressions. His photorealistic works on wildlife and nature were admired by both peers and critics alike. Tam in Remembrance (2019), a tribute by Nasir to the last known male Sumatran rhinoceros in Malaysia, was among his most notable pieces. A friend and an art curator, Ivan Alexander Francis Gabriel, described it as Nasir's "very own Mona Lisa".
In May 2021 – four months after his passing – a posthumous solo exhibition of Nasir was put up in The Art Gallery Penang. Most of the 20 artworks on display were sold during the opening weekend of "Nasir Nadzir In Remembrance: A Celebration of His Life and Artistic Journey". Nasir would have been very delighted to know of it, according to his brother Nizom. He once shared with Nizom the satisfaction he felt when his art touched people. There was a story of two kids pushing one another and squirming when they saw his work Ulaq Ijau (2018) in Open Studios Penang 2019. Even you would do a double-take and ask: "Is this a photograph or a painting?"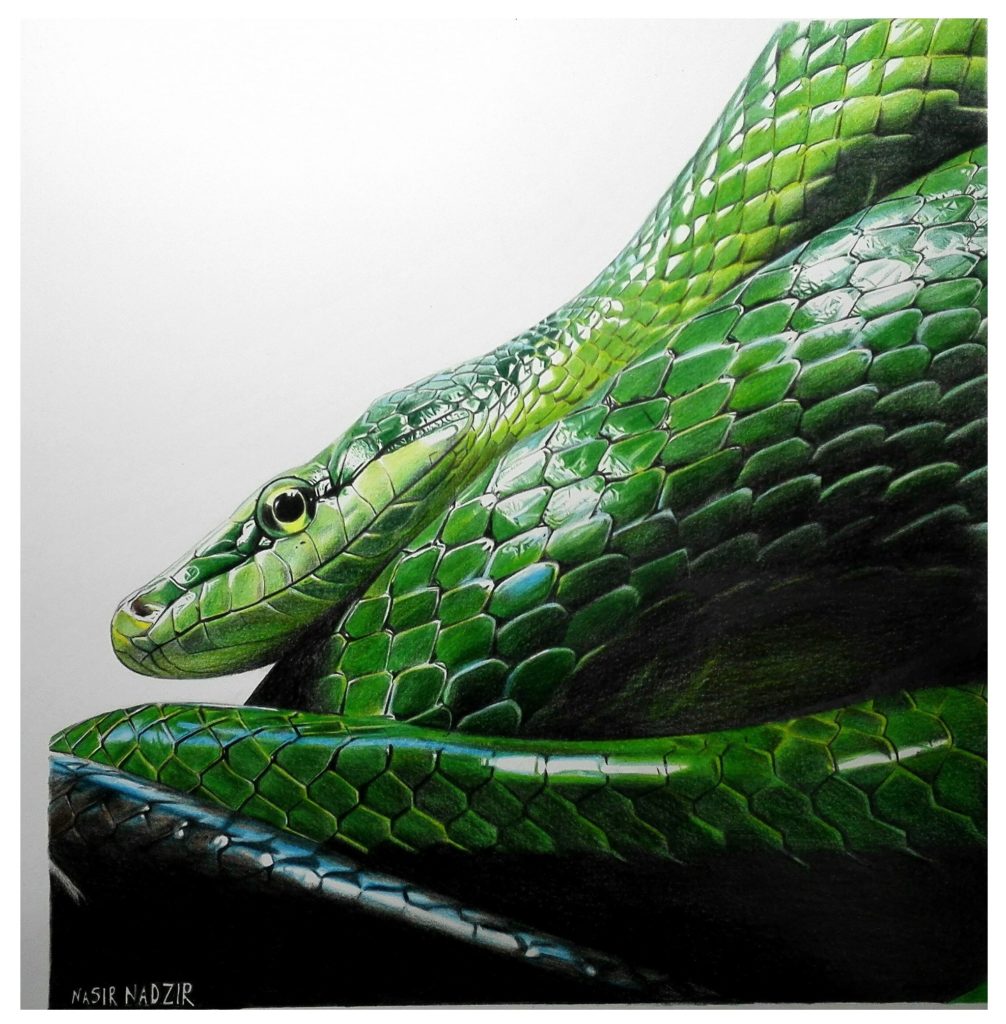 It made me happy that his artworks were going places and would continue to touch people and evoke thoughts, feelings, sensations and more," Nizom said. Honouring Nazir's artistic achievements, the Penang State Art Gallery acquired some of his works as part of their permanent collection.
Remembering his legacy
Beneath that big, warm personality of his, there were personal anecdotes shared with close friends that would be encoded as part of their memories of him. What was the one thing about Nasir they could immediately relate to? "His willingness to experiment and learn from each experience," said Tina of Tina Lee Degreef Studio. "He loved his coffee. He wouldn't start the day without it. One day out of the blue, he decided to experiment with painting with coffee!"
Ivan, who curated Nasir's first posthumous solo exhibition, also shared Lee's sentiment. "With his art, Nasir wasn't afraid of trying new things – approach, mediums, and more. I would always remember his excitement when he discovered new ways or techniques through explorations of the many different mediums that he was so unafraid of trying out."
People were often very surprised to know that Nasir started his artistic career without any prior formal art training. He spent four years as an oil and gas technician. An unfortunate brush with death led Nasir to reconsider his life, and that was when he leaped into the art world. "He was the first artist that I knew of who ventured into colour pencil paintings and Indian ink, and later experimented with other mediums such as acrylic and mixed media," said Tan Ee Lene, the director of The Art Gallery Penang.
Despite his inquisitive nature, Nasir never wandered from one common theme: his love for wildlife and nature. "When I became interested in art, I decided to focus on wildlife mainly as a reaction to my previous working life, where I was surrounded by endless manmade structures, machinery and refineries. "Painting wildlife was a distraction from my mechanical surroundings which were not concerned with environmental issues at all. I hope my artworks can help improve people's awareness on the severity of this pressing issue of preserving our environment and Mother Nature," Nasir once shared with Tan.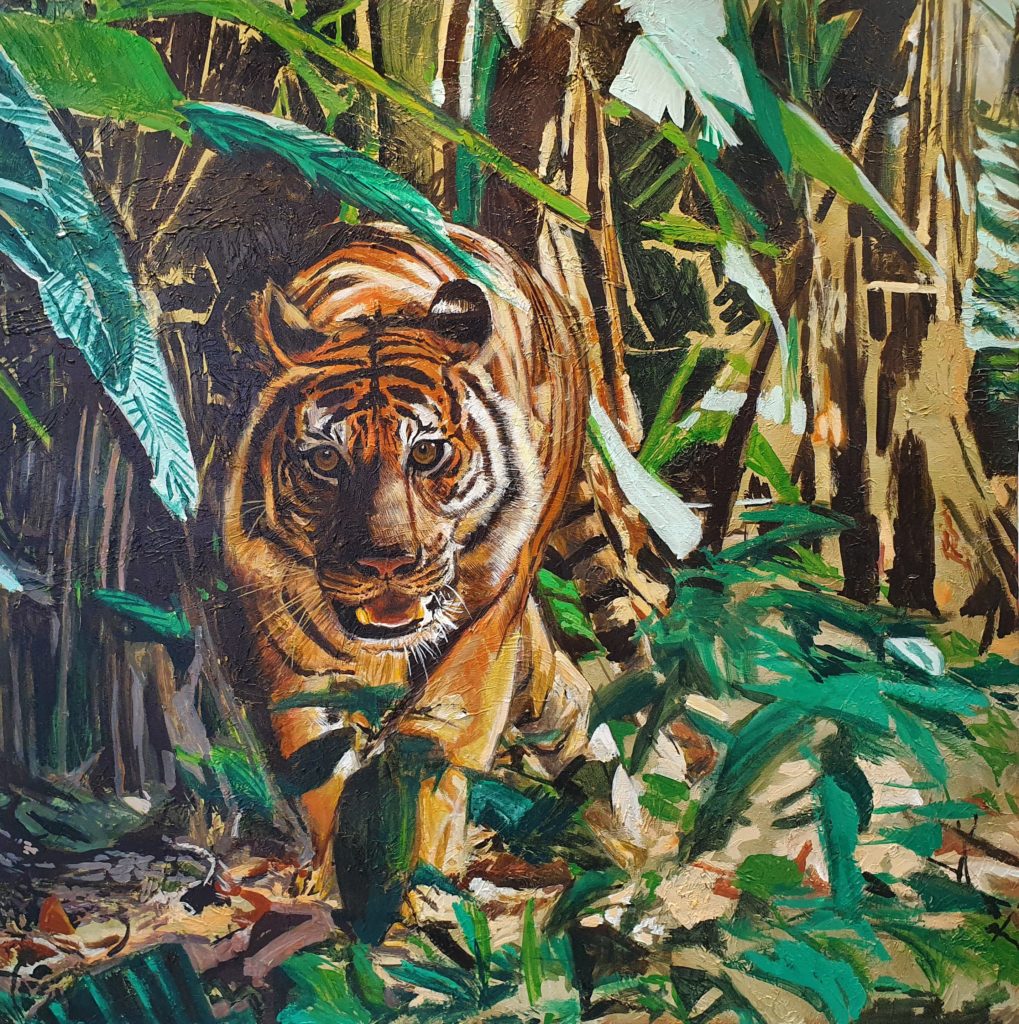 Nizom shared that two days after Nazir's passing, an art patron who was acquainted with one of his works donated to the Langur Project Penang (LPP). Three of his works on the langurs were also seen at the "LangUR: Building Bridge Between Our Worlds" exhibition.
The curator, Ivan, said: "I met Nasir's artwork before I met him. The piece that blew me away was a colour pencil work depicting a realistic painting of a jungle fowl, or Ayam Hutan, as it was titled. His works always triggered questions, and I had always mentioned that to him. Is that a photograph? How did you do that, and why? It also made me question the impact of development in a beautiful landscape, captured by Nasir visually".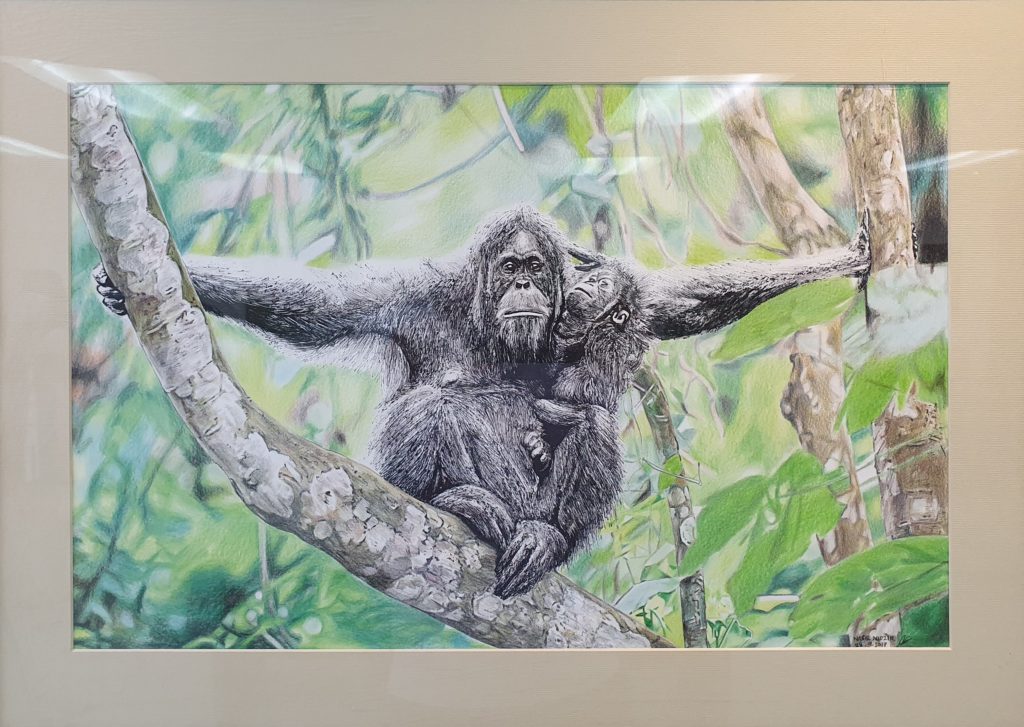 Lasting impression
People often remember artists by their artworks. It could be the technique that they used, the story behind the piece, or the personal connection they felt when they saw the artwork for the first time. For Lee, her favourite piece of Nasir's was Earth's Natural Gardeners. It was the piece she helped Nasir name. "He was trying out a new paint technique with that piece. Looking at it, it almost felt like you were on a safari. He had a way of capturing emotion with his paintings."
Ivan picked Tam In Remembrance as the piece that would always be dear to him. "When he sold Tam, he called to inform me about it. I couldn't help but do a happy dance! His impressive skills and attention to detail towards his subject matters were clearly visible," he said. However, Nasir's impressions on his family and friends went beyond his artistic talent.
For Tan, it was Nazir's dedication to his craft and his kindness. Lee mentioned humility as a virtue that she would always remember Nazir by, and one we can all learn from, even if we were blessed with talent like his. Ivan concurred with both. "He said YES to just about anything. "Yes" first, ask the questions later!" he said.
Beyond the artwork
Many might have seen Nasir as someone with a calm and unassuming demeanour. There was also no denying that he was deeply loved by the people around him, but beneath that, there was an intensity in his motivation. "I believe in change and the human capacity to make things better," said Nasir once in exhibition literature.
The narrative of Nasir's journey still feels incomplete. Then again, it is a story with no end yet, because saving Mother Nature is an ongoing battle. His realistic artworks will be constant reminders of "what was lost" because we stood idle.
Rest in peace, Nasir.
KOAY CHOON SEAN is a participant in the CENDANA ARTS WRITING MASTERCLASS & MENTORSHIP PROGRAMME 2021.
The views and opinions expressed in this article are strictly the author's own and do not reflect those of CENDANA. CENDANA reserves the right to be excluded from any liabilities, losses, damages, defaults, and/or intellectual property infringements caused by the views and opinions expressed by the author in this article at all times, during or after publication, whether on this website or any other platforms hosted by CENDANA or if said opinions/views are republished on third-party platforms.