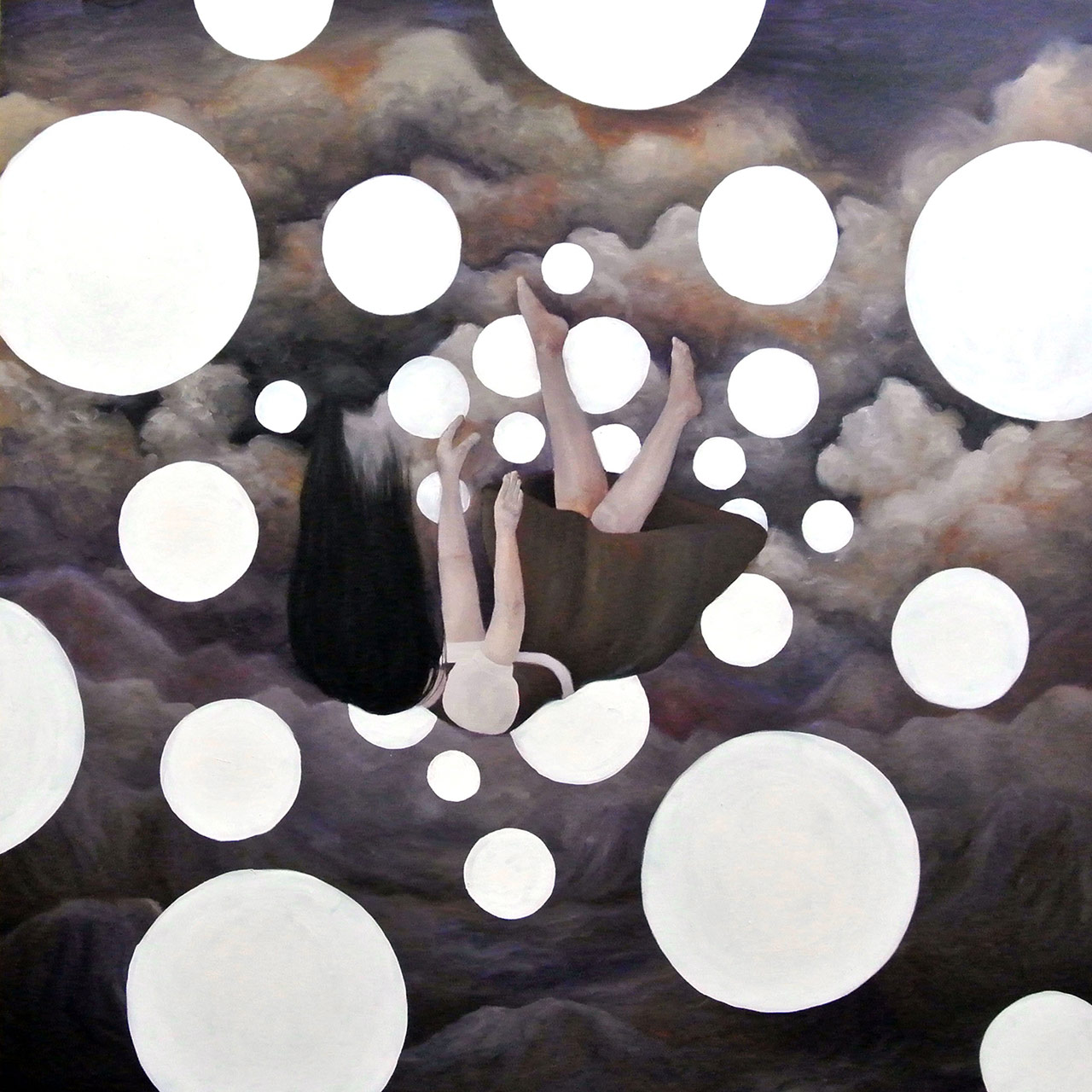 By ADRIANA NORDIN MANAN for Lensa Seni
Kimberley Boudville's debut solo exhibition comes from a very personal place. All of 21 years old, the artist commemorates the first anniversary of her father's passing from cancer in My Journey. The end result is an exhibition that effectively melds vulnerability with whimsy to create an endearing experience.
My Journey is a small exhibition, taking up two storefront-sized halls at Artemis Art at the Publika Shopping Gallery in Solaris Dutamas, Kuala Lumpur. The space looks and feels lived in, because there are no barriers between the gallery office and Boudville's artworks. For example, "The First Year," a woodcut piece by Boudville, hangs behind a large office desk with the customary clutter spread about. When visiting virtually as is the case here, one would be forgiven for doing a double take when locating the exhibition's starting point.
Because the experience of personal loss is presented clearly as the exhibition's main theme, there is a notion of entering the space from a respectful distance. In contrast to an exhibition where, for example, the artist is responding to global or national issues that are riper for public commentary, an exhibition where a young artist is processing the death of a parent hits differently. It feels more appropriate if engaged emotively than analytically. The smaller exhibition space feels a right fit for the works, conveying something more intimate.
Coming to terms with loss is one of a few evident narratives in My Journey. The larger paintings in the collection do especially well in conveying this. For example, "Nothing Feels Right" depicts a young girl free falling among purple-peach clouds. "Will I See You Again?" is another painting of oil on canvas with a similar style to "Nothing Feels Right," only this time we see a figure of a man, resembling a hologram, with his back to us and walking away into a barren, mountainous distance. An intriguing element is a series of solid white circles of different sizes occupying the canvas, competing for attention alongside the human figures. Maybe they are silent witnesses to what is happening, or encased emotions surrounding the humans along the trodden paths.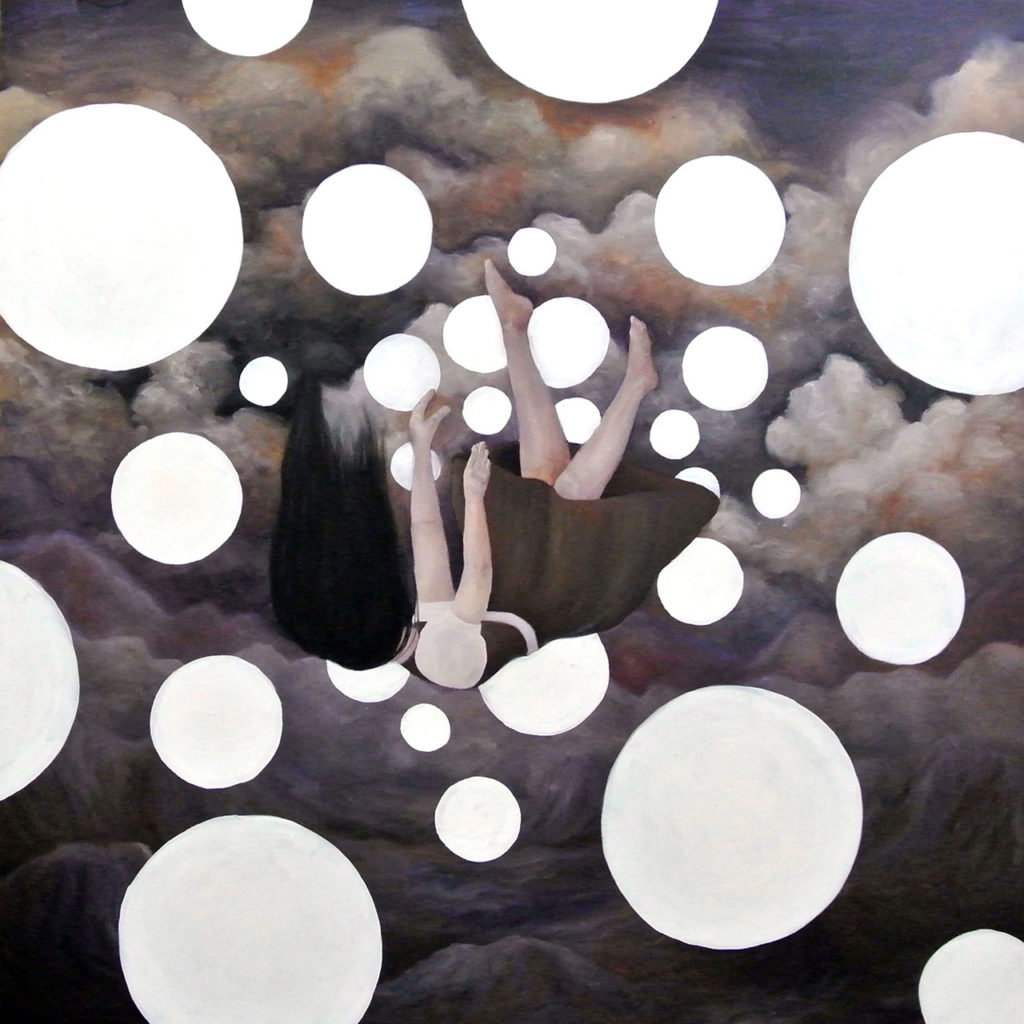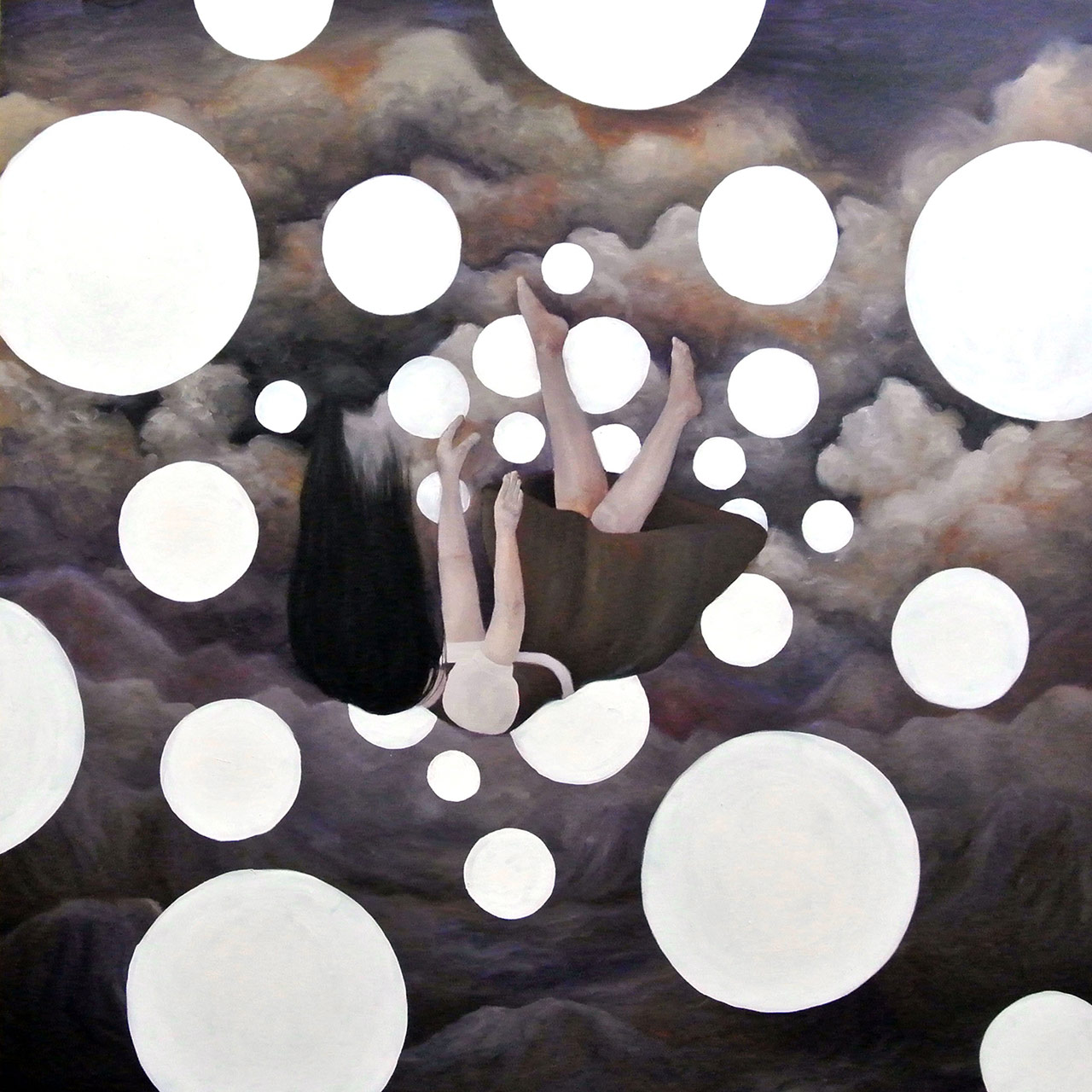 Another narrative is that of a story which hasn't concluded, particularly that seldom linear process of mourning and grieving. Emotions in flux in a journey that has not yet ended come to the fore in Boudville's use of repetition. The image of a girl, wearing a dress that looks like the one Judy Garland wore as Dorothy in the 1939 Wizard of Oz movie, appears in a majority of the works. It is likely that the girl is the personification of the artist, although Boudville never tells us so. Nevertheless, the girl is placed in many different settings and becomes an image to cast our gaze on, tracking how she is faring in each scene.

"Close To You" is a piece where the girl's journey is transfixing. A 160x65cm work of ink on paper, it has a lot going on in terms of number of images and their proximity to one another but also the range, from a pleasing bouquet of flowers at the bottom of the panel to the far-reaching tentacles of an unidentifiable monster in the middle, and even a blob with many eyeballs and a crown on its head, closer to the top. The girl appears a few times, for example in a boat moving upstream and in another part, enclosed in a glass bell jar. In one she seems enthusiastic, in the other she appears fragile. She may be Boudville, but she could also be any of us unmoored by a journey forced upon us, unleashing a tangle of emotions in its wake.
The girl also appears in other works such as "Goodbye Daddy," a series of 10 drawings of graphite on paper surrounded by the words from a poem Boudville wrote in memory of her father. Mid-air in many of the drawings, she flies across mountains and journeys across a starry sky. On her mission into space to look for her father, we see the solar system, a shooting star, the surface of Mars and the gleaming sun, outlining the girl's journey and the act of childlike release and acceptance of loss.
Boudville's inclusion of a crab in a few works presents a veneer of cuteness which ultimately reveals the tenderness of her sorrow. In "The Intruder," a five-panel drawing shows the girl witnessing a crab climb onto a tree, causing the tree trunk to become gradually engulfed in a pattern resembling a dark starry night.

The crab comes to the fore again in a series of intricate ink drawings on crab shells, depicting separation, torment and fellowship. What this writer takes away from it is that the crab as a symbol of the cancer zodiac sign, also represents the disease that claimed Boudville's father's life.
My Journey is an invitation to come along on an enchanting and open-ended outing. There is a steadiness to the exhibition, both in terms of Boudville's command of her art but also the story she wants to tell. The artist is seen, her journey is affirmed and her art strikes close to the heart.
My Journey runs until Dec 10,2020. Click here for more information.
Adriana Nordin Manan is a writer under the CENDANA-ASWARA Arts Writing Mentorship Programme 2020-2021