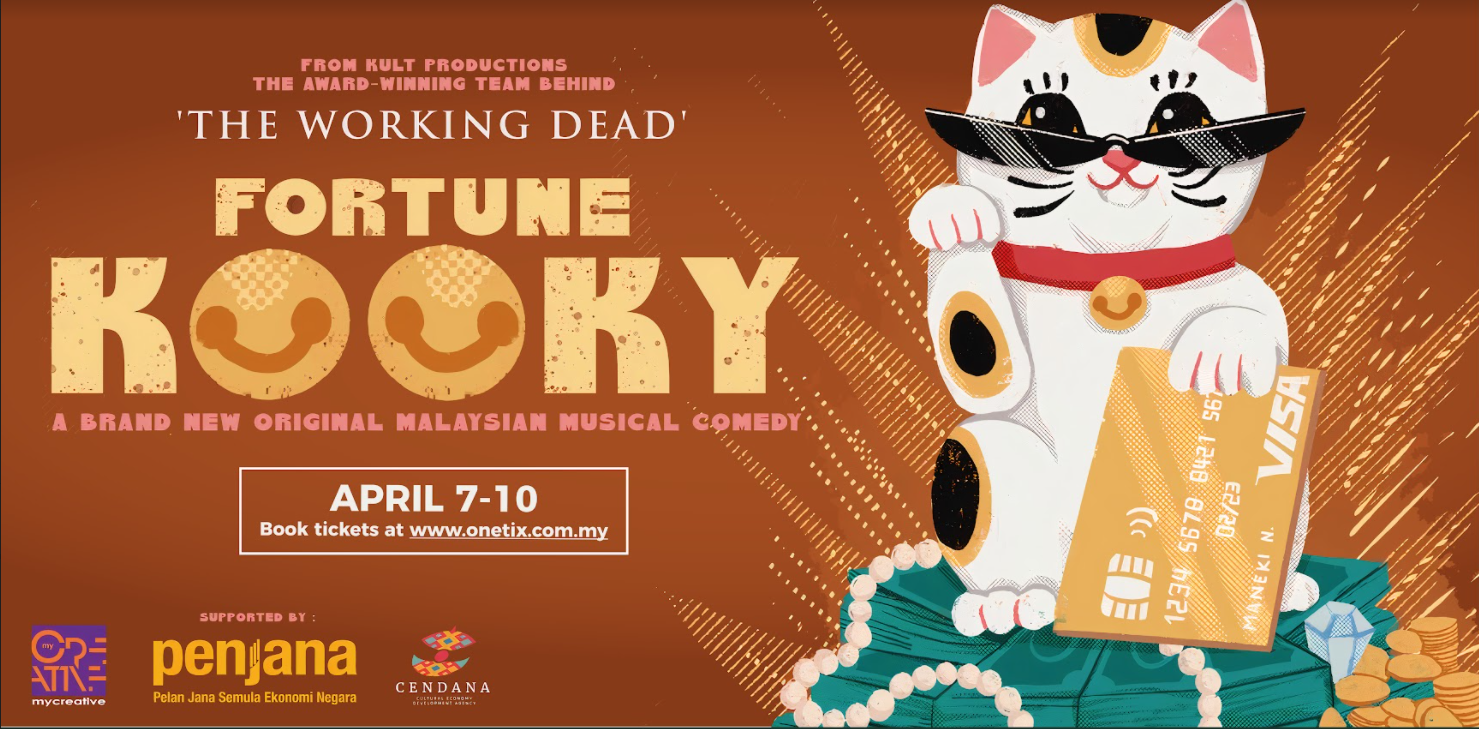 Why do people go to absurd lengths to feel successful, and then spend the money on frivolous things? This is the central question behind the new musical comedy from KULT Productions.
By CHIN JIAN WEI
One of the most universal problems one faces in life is money trouble. No matter who you are, rich or poor, you worry about money to some degree. And because of that, some resort to all kinds of dubious methods to try and get rich. And when they come into some money, especially if it's for the first time, they may end up spending it on ill-advised or useless things. The upcoming musical comedy Fortune Kooky explores these universal themes with a humorous approach.
Fortune Kooky is the story of Jared, the son of a Kuala Lumpur hawker who aspires to become rich off the development of a fitness app. He dreams of providing a better life for his mother and his girlfriend. When he is blessed by the God of Wealth, he finds himself living the life he has always dreamed of. However, money does not always equate to happiness, and it's not long before things go wrong for him and his loved ones. As he struggles to fix everything, will he end up losing what matters the most to him?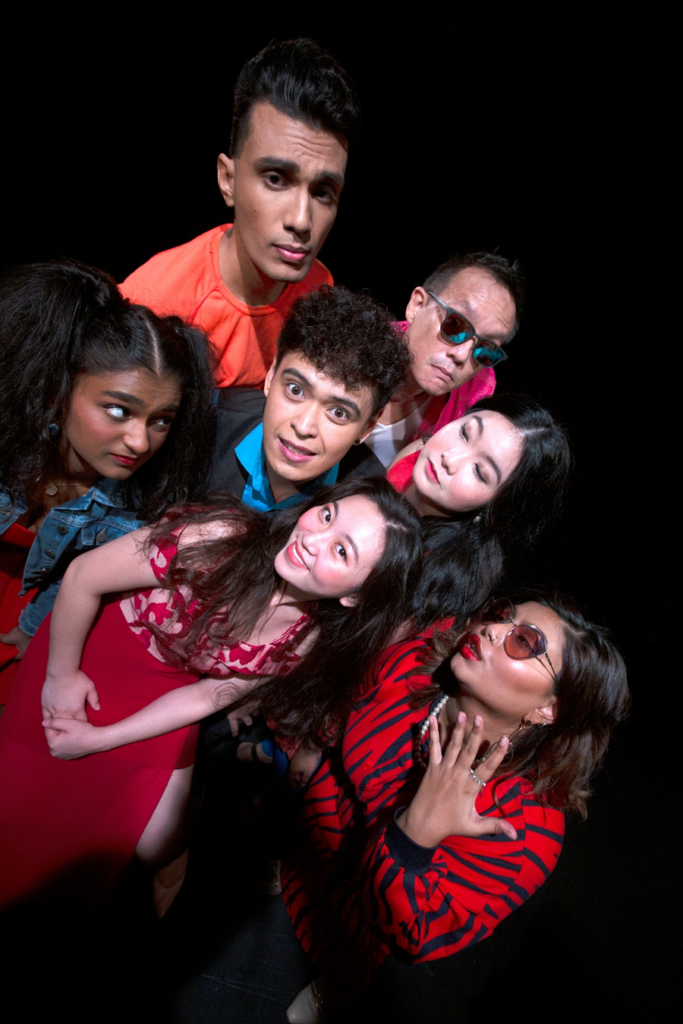 "My partners Lydia Tong, Kelvin Loh, and I at KULT Productions had already done a musical before, The Working Dead, and we wanted to make a follow-up project. We explored a lot of ideas, and it was very different in the beginning," writer Terence Toh told BASKL. "It was going to sort of be a parody of Crazy Rich Asians. As time went on, however, we realised there was more to this story than just a comedy."
"The theme of Fortune Kooky is that people act kooky, they act irrationally when it comes to money," he elaborated. "There's a lot of that in everyday life, so we were thinking maybe there's material there for a musical. And it sort of took shape from there."
Toh has confidence in the relatability of Fortune Kooky to all audiences. "I think no matter who you are, money is probably a very important part of your life, even if you are super-rich. We used some of our own experiences when writing, we made mistakes in the past too. When you go to work for the first time, you get money, and then you blow it on ridiculous things," Toh laughed, perhaps reminiscing on his own financial mistakes earlier in life. "There's also a lot of scams, loan sharks, MLM schemes, and those sorts of things which we could use as material. So we took all those experiences and put them together into writing this. The letter U in KULT actually stands for universality, so we try to be as universal as possible with our stories. If you have some experience with money, you'll probably find something there to enjoy."
Toh is quick to reassure us of the tone of the story, saying, "It's not going to be a financial talk or a lecture, the important thing is to tell a good story and get people entertained. We'd like to get people to think about the theme of financial knowledge, what you do with your money. Money can be used in so many ways, but think about it properly, because if you make a mistake; and it's very easy to make financial mistakes, the consequences of it can be huge. A lot of us like to think about what we'd do if we had a lot of money, but we really don't know how to manage it properly. I myself am guilty of that."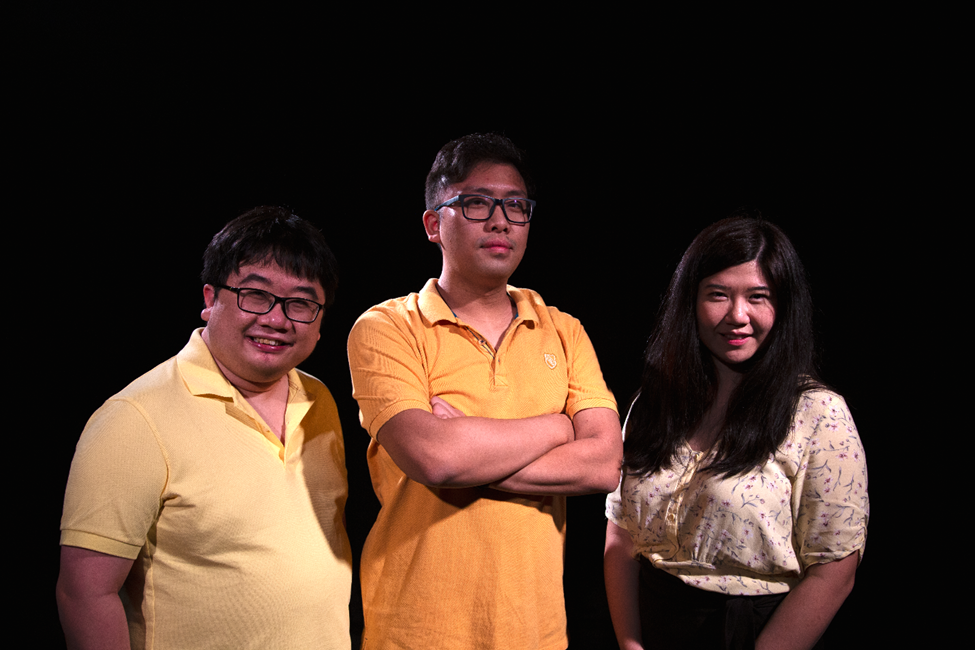 Toh speaks of the works that inspired him when writing Fortune Kooky's story, saying, "We love Disney movies, we grew up watching them, there's something magical about them. I'm sure some of that has crept into everything we've done. We hope to capture that magical feeling. And parts of the story were also based on Crazy Rich Asians."
Over 12 original songs written specially for this musical will be performed live by a five-piece band. "I would say, with this being a musical, I'm especially happy with the music. I think there are some great songs in this, I think Kelvin and Lydia were really creative in pulling influences from other genres," Toh says. He wrote some of the song lyrics, but Tong and Loh handled the vast majority of the music creation. "They always work wonders. I hear it in my head a certain way, and they always manage to produce something really close to what I imagined."
An ensemble cast comprising Ronnie, Alvin Looi, Angie Cheah, Kirthana Kuhendran, Lakshmi Ahrunagiry, NikkhiL, and Rachel Liu were chosen for this musical. "We had a lot of very talented people turn up for auditions, so it was hard to choose, but I'm very impressed with them, I think our director Nicole-Ann Thomas did a fantastic job of choosing them, and I'm looking forward to seeing their actual performances," Toh remarks.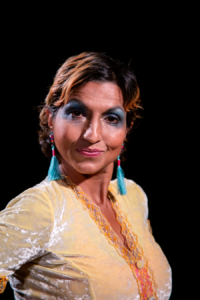 Toh expresses a lot of gratitude for being able to get the production off the ground. "There was a time during the MCO where it felt like there was never going to be theater forever with how things were going. This was made possible thanks to a grant from CENDANA, PENJANA, and MY CREATIVE, as well as our sponsors SYLK Music Development, Lot'Ng, theatrethreesixty, and Richie's Nut Butters, so thanks so much to them for helping us."
Toh encourages aspiring Malaysian writers to just go for it, just write and share the stories they want to. "I think there are a lot of fantastic stories and voices around us, but they're not being heard, because to sit down and write something takes time and effort. It's tough to do something well, but it's very well worth it. Malaysian writers are brave and honest, just work on your craft, be brave enough to tell your stories without fear of censorship or fear of how they will be received. Just put it out there."
Fortune Kooky will be shown at Petaling Jaya Performing Arts Centre (PJPAC), 1 Utama, Petaling Jaya, Selangor from April 7-10 at 8.30pm, with ticket prices starting from RM70. You can buy tickets here.