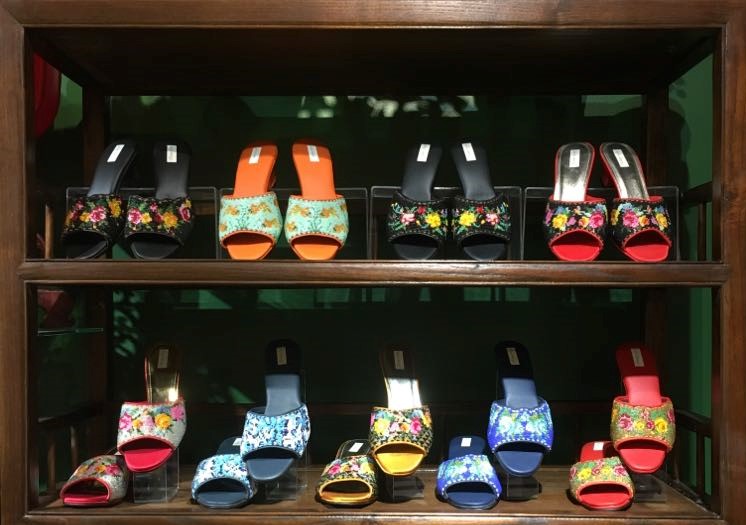 Instead of going for branded goods, why not turn to an exquisite, elegant pair of hand-crafted beaded shoes to match with anything in your wardrobe!
Story and photos by MIRIAM DEVAPRASANA
It started with a childhood memory of their grandmother, Patricia Choo, crouched in the living room surrounded by beads of all colours, patiently sewing one bead after another to create the delicate "face" of a Nyonya beaded shoe. The memory turned into a hobby, which would later become a life's work.
Today, Jocelyn and Joel Teh are very likely the youngest Nyonya beaded shoemakers in Penang, having dedicated their lives to continuing their grandmother's legacy, and to preserving the dying art.
Twenty-four-year-old Jocelyn remarks: "We started because we recognised that there is a market for the shoes here in Penang. Previously those from the Peranakan community would need to travel to Melaka to purchase their beaded shoes. Now they can just come here!"
A bit of history
The Peranakan, or Baba-Nyonya, community began with immigrants from southern China who made their abode in Melaka, Singapore and Penang. Intermarriage gave birth to a complex and ever-evolving lifestyle inspired by oriental China and the spirit of Nusantara, later influenced by Britain and Continental Europe through colonisation.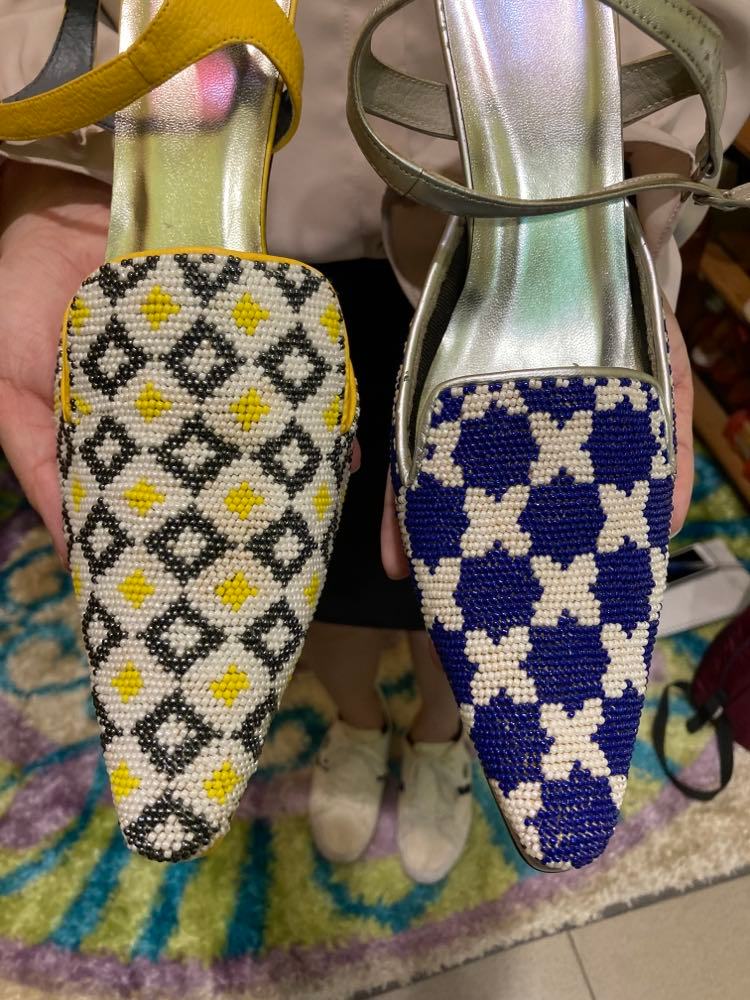 Somehow, the term Peranakan is often equated with either Melaka and Singapore while its peoples' deeply ingrained history and heritage in Penang is often overlooked. Hence, there is a growing number of advocates for Penang Peranakan heritage, including keeping the art of Nyonya beaded shoe-making alive.
The shoes themselves have a story of their own. Traditionally the multifaceted, miniscule glass beads (manek potong) were imported from Europe and strung together with the Peking knot, a common Chinese embroidery pattern. Another traditional feature is the kasut kodok style, where the whole foot rests on flats with upturned toes.
Historically, these shoes were a "must-have" item in any Peranakan woman's wardrobe, signifying both status and as a mark of finesse for a marriageable woman – her meticulous craftsmanship on her beaded shoes made her a suitable bride.
Today, beads are imported from Japan for their high quality and durability. Shoemakers have also expanded their collections with modern styles including heels, open toes, mules and straps. But the beauty of the art lies in the attention to creating the beaded muka, and it takes a true artist with aesthetic flair to bring together a myriad of coloured beads to create a unique pair of shoes.
Though the value of owning beaded shoes has shifted through the years, there remains a demand for it.
In the case of the Patricia Choo Collection, locals and tourists from all over the world are ushered into the capable hands of Jocelyn and Joel. The shoe-making process begins with a pattern and design of the customer's choice followed by shoe fittings. It takes the shoemakers roughly three weeks to sew the muka. A month later, the completed pair of beaded shoes is ready for collection or dispatched abroad.
In wanting to cater to contemporary demand, their mother Angeli suggested incorporating the patterns on George Town's colourful vintage Peranakan tiles into their designs. This unique approach to modernising designs uses heritage to inform the contemporary, making the Teh family pioneers of modern beaded shoes. (Angeli is also a champion for kah kiak, or wooden clogs, and is currently working towards gaining more recognition for them.)
From clogs to couture
Another name familiar to enthusiasts is Baba Kenny who started creating Nyonya-inspired souvenirs to sell at the weekend night market at Esplanade in 2016. In the past five years he has expanded his craftsmanship to elevate the status of Peranakan-inspired clothing to haute couture, Kenny Loh Couture. Today, Baba Kenny is possibly the only artisan in Malaysia who designs beaded shoes and kebayas as an entire ensemble for purchase.
Drawing from his love for his heritage coupled with close attention to international fashion trends, Baba Kenny takes a holistic approach to his craft with one goal – that people will look at the shoes with wonder for their boldness, elegance and simplicity. He takes every effort to ensure that what you receive is more than what you asked for.
So, what does it take to preserve the artform?
"The technique itself is rather easy – using a half-cross stitch together with beads. What you need is passion, patience, and time," Baba Kenny explains.
"For beginners, it usually takes three to four hours to complete one to two rows – most people give up at this stage because they can't see the design just yet. They'd rather purchase a pair than stick it out!"
For Baba Kenny this inspired his true calling: to raise the value of beaded shoes (and kebayas!) in an effort to encourage the younger generation to take up the art, or at least to sell them to ensure the sustainable preservation of this cultural heritage.
Challenges ahead
Art and affordability often exist in a rather turbulent relationship. Tan Kok Oo, a practitioner since 1973 says: "Even if the younger generation were interested, they may not be able to afford a pair of beaded shoes which on average costs RM2,000. But we cannot reduce the price because of how much workmanship is involved."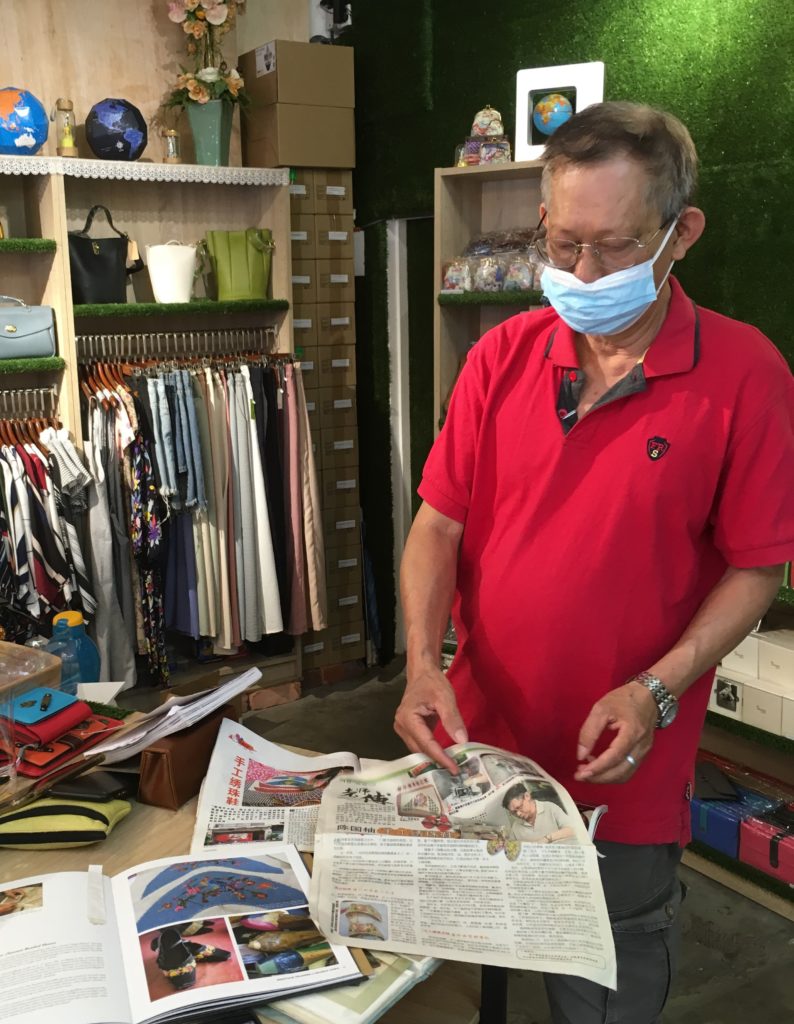 Despite his recognition as a Heritage Trader and being situated within the main tourism spaces of George Town, Tan has found it difficult to maintain his trade. Due to his failing eyesight – a constant peril for practitioners of the art – he has now stopped making beaded shoes to which he dedicated 48 years of his life.
All is not lost, however, as his passion for the art has enabled him to mentor others in the practice whilst maintaining his hand on design. His traditional shophouse is now home to his family business with its own contemporary clothing line and perfume, among other souvenirs. If you look hard enough, you might even find a pair of beaded shoes calling out to you!
Between a niche market, and the aftermath of the pandemic, things have not been easy for our beaded shoemakers, who are increasingly dependent on tourism to maintain sales. But ensuring the continuity of this heritage is not their sole responsibility. The art of beaded shoemaking will endure if we as a community learn to appreciate and acknowledge them as national treasures.
Check out: Patricia Choo Collection or contact them at 017 501 8889 / 011- 52 811 888; Kenny Loh Couture  for online store and updates on upcoming exhibitions; SMODE COLLECTIONS for unique gifts and beaded shoes by Mr Tan Kok Oo
Miriam Devaprasana is a participant in the CENDANA ARTS WRITING MASTERCLASS & MENTORSHIP PROGRAMME 2021
The views and opinions expressed in this article are strictly the author's own and do not reflect those of CENDANA. CENDANA reserves the right to be excluded from any liabilities, losses, damages, defaults, and/or intellectual property infringements caused by the views and opinions expressed by the author in this article at all times, during or after publication, whether on this website or any other platforms hosted by CENDANA or if said opinions/views are republished on third party platforms.