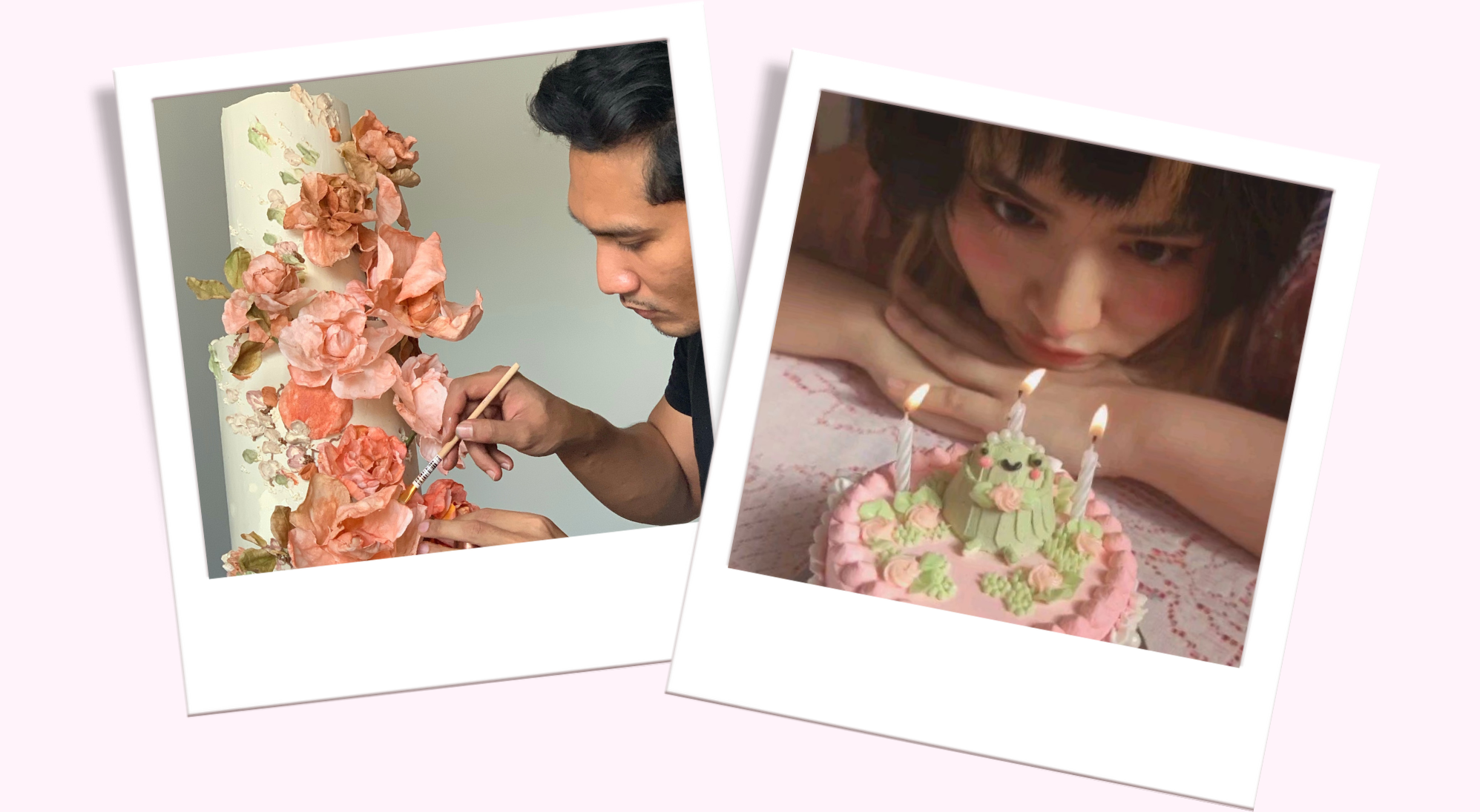 Craving for some cake? In this delicious feature, BASKL takes a closer look at what keeps Zuhair Shaid and Charmaine Wong Szu Lin whipping up wonders.
By NABILA AZLAN
You don't necessarily need sweets to make it a celebration but certainly, a box – or slice – of cake would spice up any occasion. Call it whatever – a surprise event, an annual endeavour (birthdays, anniversaries), that's when these bakers come in and do their magic.
While there's definitely a cake for everyone (and every occasion), we're in awe of how Muhamad Zuhair Mohd Shaid of Reka Baka, 30, and Charmaine Wong Szu Lin, 26, of LinLin Cake have managed to steal hearts with their uniquely edible crafts. Their artisanal cakes are the cherries on top not only for flavour but also how they look! FYI, Zuhair, based in Subang Jaya and Wong in Shah Alam have never received any special training in baking prior to setting up shop.
How long has your cake shop been around?
Zuhair: I have been seriously baking as Reka Baka for four years now.
Wong: LinLin Cake officially launched on Nov 11, 2020.
Have you always wanted to do this for a living?
Zuhair: I am currently an architect in an architectural firm! It's tough juggling office work with night time baking – sleepless nights, restless weekends. But cakes are my blank canvases, they keep me sane and sometimes make me scream happily at night. In the days during foundation studies up to my Master's degree programme in Universiti Malaya, I would occasionally bake for my friends and lecturers. It was all for fun, although things got a little bit serious when a friend approached me for her wedding cake. Orders began coming in back then and I had to juggle cake making with my design theses and studio time.
Wong: I'm a fashion graduate with over four years of experience in the fashion, media and marketing industry. I was a freelance stylist and video producer with a customised clothing shop. Like many others when the pandemic hit, I was badly affected and this gave rise to so much forced free time that I began making bread, kuih and cakes in between my other work. On my birthday in September, I wanted to celebrate with my friends and decided to make my own cake. Honestly, that was not the best looking cake (it was ugly to me) but my social media friends thought I could make and sell more of that. Then and there, I decided, I would start baking cakes!
How did you manage approach the cake designs we've seen on Instagram?
Zuhair: My designs are experimental. Sometimes I'm not a hundred percent sure how to carry out my own risky suggestions. Over time, everything just started to make sense. I was able to use my critical thinking for building … on a cake!
Wong: It was all trial, error and repeat! I self-taught myself and the whole business actually started pretty out of the blue.
What's your relationship with homemade cakes?
Zuhair: I used to help my grandmom make curry puffs and other traditional cakes when I was a kid. Come Ramadhan and Raya, I would be the most excited – I'd beg my mom to buy me baking ingredients!
Wong: I used to bake for fun, whenever I felt like it in high school. I made cookies with colourful icing, fondant cupcakes but never did I ever think this would be my source of living as it was a mode for playtime back then.
Who are your cakes for?
Zuhair: My clients who are always open to exploration. My cakes are sculpture projects on their own! My favourite thing about being a baker is the social connection I make, which I often think is kinda cool.
Wong: Anyone and everyone who likes my creation style, for any sort of occasion. In a way, this is me creating art in a form I like. As someone who constantly wants to try out new things, I appreciate how this cake making journey is a channel that has grown to allow just that!
How would you describe your cake styling preferences?
Zuhair: I mostly sculpt with fondant, gum paste and rice paper. While the theme or subject of my clients' cakes depend on their briefs, I would say my overall styling is influenced by nature and architecture. I'm into all things art nouveau, art deco and eclectic. The ornamental aspects like form and texture go in parallel with modern architecture values like the clarity of the structure, straight lines and geometric elements.
Wong: This is always hard to explain. May I say "LinLin style"? While there's no exact definition of my preferences, the closest is a cross between retro, cottagecore, fairycore, Harajuku and Lolita all of which heavily influence my work.
And where do you go for inspiration?
Zuhair: It often comes minutes before I sleep, when I'm driving… or during AutoCAD drawings. You may find me sketching in a coffee shop somewhere – where people live, ideas flow.
Wong: None other than the Internet! Pinterest, sometimes even the clothes I wear. My frilled Lolita cakes are inspired by many dresses.
What would be the average timeline to complete your creations?
Zuhair: Since I only have time during the nights to make my cakes, it takes me 4 to 5 days to customise a 1 to 3-tiered cake. I normally spend 4 to 5 hours a night. The normal processes are: baking, assembling, frosting, creating decorative elements and sugar paste flowers, carving and painting. Depending on the scale of the project, some cakes may take longer. A cake with fresh flowers and buttercream would often take about 1 to 2 days from baking until flower arrangement.
Wong: Three days. I'd break it into three sections: baking, creaming the flavour and designing. The final part usually takes the longest especially when it comes to custom designs. Cakes that require elaborate painting or sculpting of 3D characters take the longest, at times up to 6 hours just for one cake design.
How do the challenges look like in your book?
Zuhair: Although elegant and would easily stand out, super tall and structured cakes are unstable and heavy. There have been accidents where the cakes would slide in transport due to inertia. An architect friend of mine brainstormed with me to solve this issue, thus the customised wood cake drum to tackle "sliding during delivery" was born. Six years of architectural training really paid off – you learn how to focus and be creative under a time constraint as well as how to handle stress and anxiety.
Wong: As a new baker, the design requests that are not of my usual aesthetics often give me a hard time. I'd be cracking my head to figure out the designing process. My first anime and landscape cakes were challenging because I had never before attempted them. The processes were super stressful as I am a perfectionist when it comes to my creations … but there's always that voice at the back of my mind telling me I can pull them all off!
What would you like to say to aspiring bakers who may be reading this?
Zuhair: When you do something, go full blast. It's OK to make mistakes along the way.
Wong: No one is born perfect anyway so just do what you do best. Keep trying and you'll be better than how you were yesterday!
What are you striving for in 2022?
Zuhair: To finally pursue this full-time. It's risky, but you got to do what you got to do. I think it's time.
Wong: I hope to find a proper baking studio for LinLin Cake as I'm currently baking from home. It's becoming a family business now that my parents are on board, so I'm also looking forward to expanding! Aside from that, I also hope the launch of my personal merch takes off this April.
Do you have a favourite cake flavour?
Zuhair: Chocolate-based with non-sweet foamy whip and cherries – I love black forest cakes.
Wong: Strawberry fresh cream is a crowd favourite… but I'll go with chocolate banana!