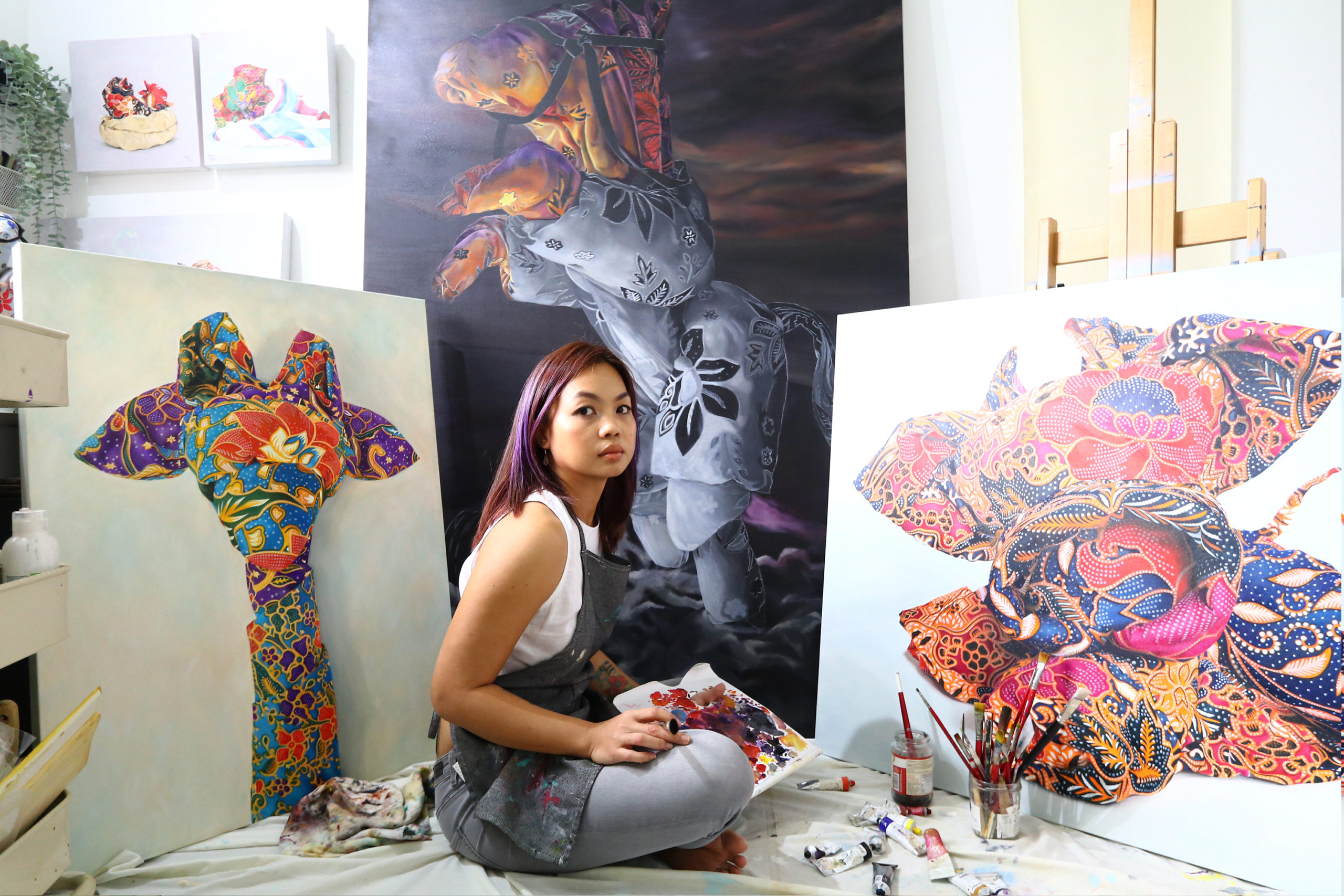 BASKL talks to the Penang-based artist about her upcoming solo exhibition which showcases animals in the form of batik.
By WILLIAM K.C. KEE
Batik is an art form that represents Malaysia as a whole, regardless of economic status, social class or ethnicity. For Penang-based artist Mandy Maung, it represents a sense of uniqueness that comes from a melting pot of culture and heritage and a direct reflection of her mixed Burmese-Chinese parentage.
Also known as MāMa, the 37-year-0ld is a self-taught artist. After completing her studies in graphics and multimedia design at Equator College in Penang, she diverted her career by pursuing her passion for fine art and mural paintings.
In 2020, she produced 12 paintings and 13 monochrome illustrations she called the "Orikata" series, focusing on origami animals. Orikata is a portmanteau made up of Origami and Kata (the Japanese word for form).
Of the positive feedback she got back then, Mandy says: "Truth be told, I was actually quite surprised. It started out as a fun experiment and slowly expanded from one thing to another. I just kept going and making new animals because what else was there to do during the never-ending lockdown? I also managed to sell four of my pieces to personal contacts from Singapore, Costa Rica and Penang."
In the following Q&A, Maung talks about her upcoming solo exhibition as well as other subjects close to her heart.
Congratulations on your upcoming solo exhibition. What is it about?
The exhibition is called Orikata Tales and its theme is batik animals. It's a spin on our local batik with a modern and contemporary appeal. The show is curated by Ivan Gabriel. It's going to be exhibited from March 11 to April 3 at an old shophouse in the heart of George Town, Penang. There is no signage outside the property as it is a private space which the owner has turned into a gallery for his own art collection. 
What is the main inspiration behind the exhibition?
It's a marriage of different types of art and culture. The first is from my time spent in Florence, Italy when I spent a term studying fine art. I was exposed to so many great art masterpieces especially the impeccable lifesized marble sculptures of figurines in flowy draperies. Realism in paintings has always been a favourite of mine too so I am naturally drawn to it. Then, there was a memory of my late grandmother who was always in her sarong, and also the cool factor and simplicity about the art of folding.
The separate elements behind this series all played important roles. Combined, Orikata Tales became something new that is truly unique. I hope that my show will encourage, instil and help the general public to appreciate realism in art because it has become such a niche in itself.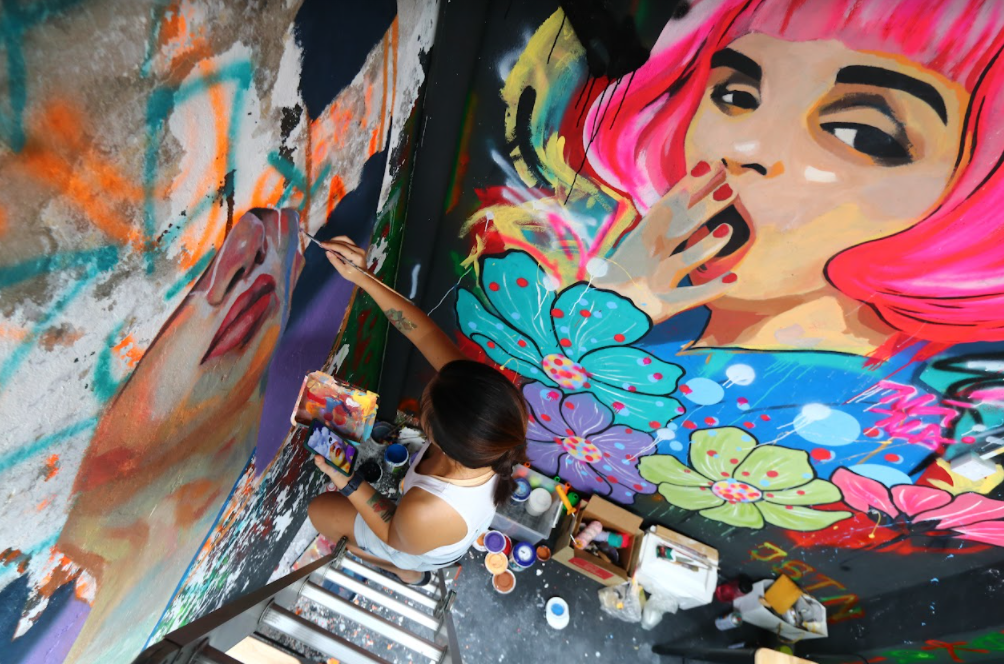 In past interviews, you describe yourself as an artist first and muralist second. Please elaborate.
I use mural paintings as a way to break the monotony in my art practice. It helps me learn, think differently and find new creative ways in problem solving. It forces me outside of my comfort zone and provides me a good challenge in creating new different content that I may or may not paint in my own studio. Not to mention that it can be physically testing at the same time especially if it is an outdoor or tall mural.
What were the most difficult challenges you faced as an artist over the past two years due to the pandemic? What was the biggest lesson learnt?
I'm lucky that I got this project to kept me super focused throughout the lockdown and since I always prefer to stay home (and paint), it wasn't that much of a difference for me. It was very nice actually because I was able to just stay home and work on my paintings. I was more productive and able to create most of the collection during the lockdown. The challenging part was getting my batik and art materials, but that was easily solved and sorted with various online shopping platforms.

The biggest lesson for me was to have a mission to achieve for that particular day, so I always have a general idea of what needed to done. But at the same time, I would try not to beat myself up too much if I did not show up at the studio that day because I got caught in Netflix's web. Hey, I deserve a break too! I learnt to keep my expectations in check accordingly.
What is your advice to aspiring artists?
My advice would be to ask yourselves the hard questions about why you want to be an artist. You need to stay true to yourself and always stay in check because it can get tough financially. Listen to podcasts about art, read and gain as much knowledge as you can about the particular art and techniques that you like.
If you have an opportunity to travel and attend courses and get tutelage under an artist whose work you admire – take it. The experience alone is worth it. Accept the fact that an artist's life is not glamourous, although it can be seen or portrayed as such. Use social media with purpose. We are our worst critics and that will never change. But acknowledging your own strengths and weaknesses is always a good starting point to strive for improvement. Stay curious and be willing to experiment. It's always good to have a few skills up your sleeve that you can just whip out and use in your own work.

Last but not least, keep one or two of your least favourite works as a reminder of how far you've come. You don't have to look at it every day, but don't throw it away either.  Being an artist, you really need to work your butt off to make any type of mark that is significant enough to be taken seriously, especially if you're a woman. You just need to want it enough.
What is your proudest accomplishment to date?
That's hard to say because every little achievement already feels like an accomplishment in my book, be it an article or interest for a painting from someone that I've never met. I still get taken aback when strangers know of me because of what I do, but I try to brush it off and not let that get to my head, although there is a quick silent party inside my heart whenever that happens.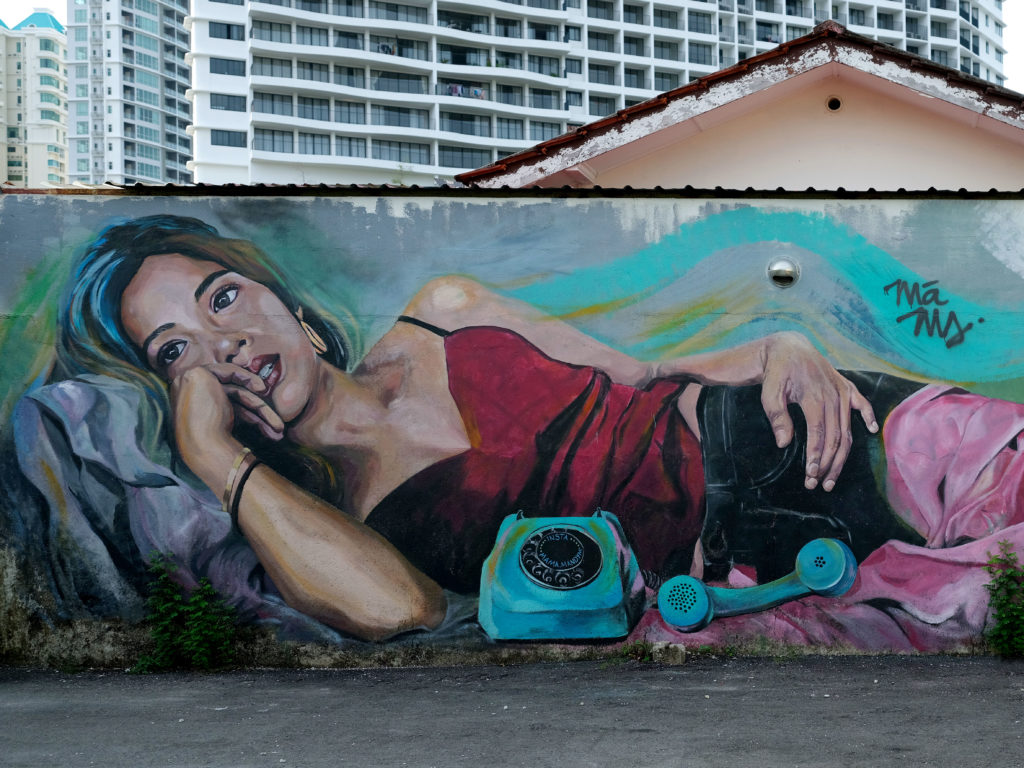 Who or what inspires you in your daily life and work?
Inspirations are constant, they come and go like songs on the radio. Photography, books, fashion, memories, current events, observing life around me, people watching or any kind imagery format that evokes my emotion can trigger an idea. I will add it to my "Inspiration List" in my phone that I can refer to whenever I need additional creative juice. Going to exhibitions, visiting museums and seeing loads of old and new art pieces, meeting other like-minded people and bouncing ideas with them are a great tool to help solidify or spark ideas.
What are your goals and hope for the rest of 2022?
For now, I have a mission to accomplish in Malaysia which is Orikata Tales. In the middle of the year, I'll be migrating to Croatia to start a new life chapter with my family (Maung is married to a Croation).
As for my art, it goes wherever I go, like my own shadow. It is not something that can leave my being so easily. It will be a new and exciting adventure for me and my art, and I want to use this opportunity to take it as far as I can in Europe. I would love to paint portraitures, figures and all the things that are in my "Inspiration List". And perhaps a mural commission in Croatia would be super dope as well.

I hope some of my friends from Penang or Kuala Lumpur will come and visit me in Croatia. But with one condition, they have to bring some local snacks for me!
Orikata Tales will be held from March 11 till April 3 at 26, Lorong Carnarvon, George Town, Penang. For more on Mandy Maung, visit her website www.mandymaung.com.