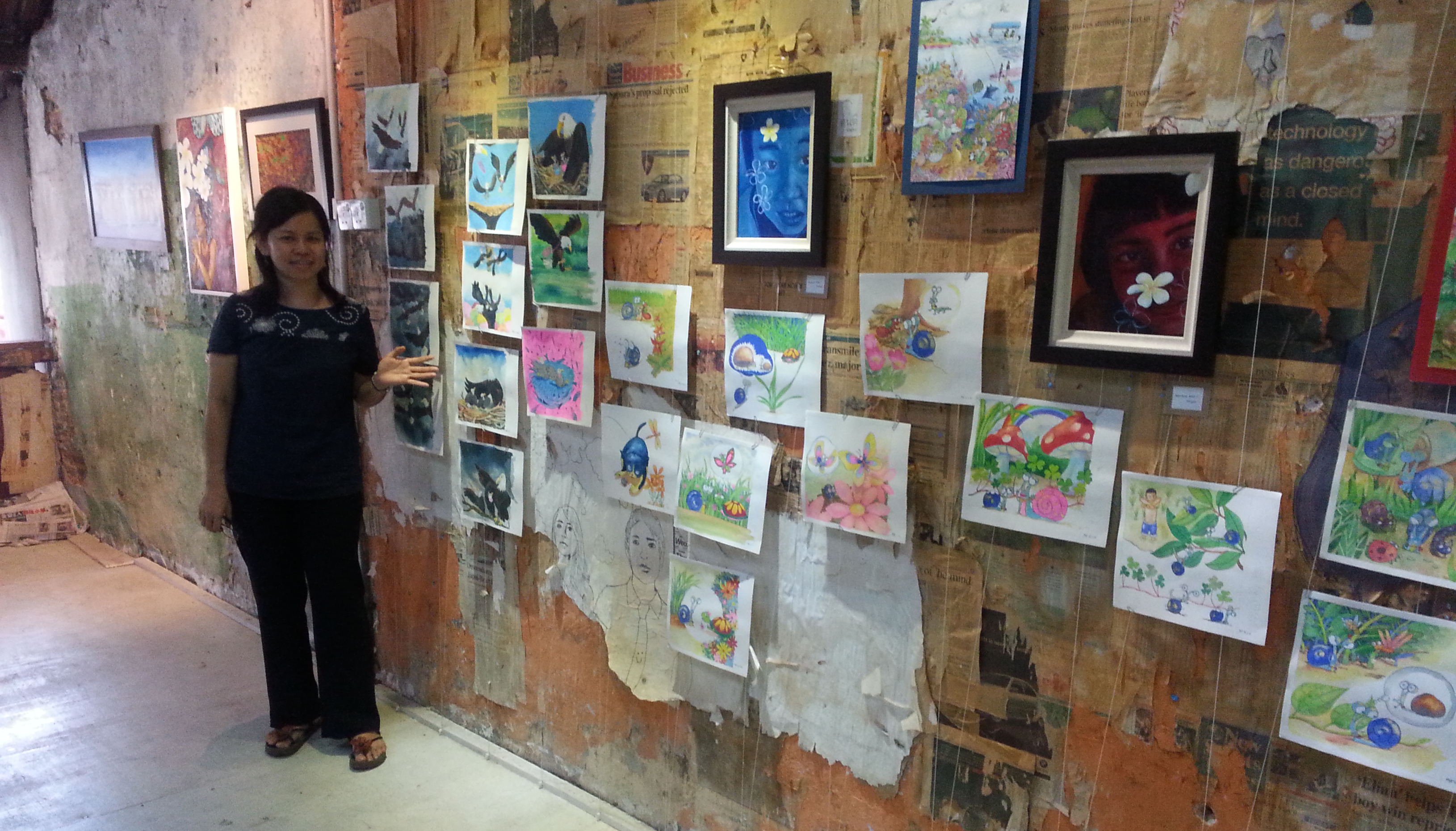 Celebrating her second exhibition in Kuala Lumpur this month, Ammi Leong walks us through a field trip of how her illustrations and publications have come about over the years.
By NABILA AZLAN
Picture book artist and art educator, Leong Yoke Mee aka Ammi Leong celebrates her 50th year (and her 17th as an artist) with a heartfelt exhibition at GMBB this month. The showcase, titled The Beauty of Malaysia's Stories is a tale within a tale of Leong's journey as a picture book enthusiast and illustrator since the beginning of her career.
Hailing from Bukit Mertajam, Penang, Leong has always been interested in nature. As an introvert, she feels that she is mostly herself during hikes and trails exploring the country's lush, green spaces. Her inclination towards unique flora and fauna – and also putting them on paper and canvas – set her up for this adventure of a lifetime. Even so, she considers herself as someone late to the scene. "I graduated from Tunku Abdul Rahman College as Building Technology diploma grad in 1996," she says. "My family was not supportive of my dream to study art."
At 27, Leong was working as a quantity surveyor and was in and out of Manila and Bangkok. All the while, the idea of going back to school to pursue art lingered at the back of her mind but never really pushed through, until an industry senior and cartoonist friend of hers suggested she enrol into art school. Come 2001, she held a Fine Arts diploma from the Kuala Lumpur College of Art and her gears were forever shifted.
The artist recalls a time at age 13 when she was briefly allowed to dip her toes in art. "My mom said I could go to Chinese paintbrush classes," says Leong, which she is grateful to this day. "The fees were cheap – which I think was why!" she says. "But from it I learned a lot about navigation and tone control. Indirectly, my earlier practices with ink affected my sketching, which heavily relies on 'fine-tuning' watercolours. This is something I was not aware of, until a close friend remarked on my clear toning style even though my work is produced purely in black and white."
Leong admits her change and growth in illustration styles, from ultra-colourful and kidlike when she first started to her current, thorough and mature drawings. She cites French painter Paul Gaugain's earthy palette as one of her earliest inspirations during college days.
In 2005, she joined an art camp co-organized by her local Sunday School and a publishing company where she was first physically introduced to the concept of picture books. "Picture books have been great educational tools used by parents and teachers in certain countries like Taiwan," says Leong. In contrast to usual children's story books, picture books place more focus on detailed illustrations, occasionally devoid of text. She instantly fell in love with the storyboard-like format and illustrated her first picture book in 2006 called Am I Good Enough?.
To this day, Leong has produced close to 10 books with her publishing ally, The Bridge Communication. Always in for stories concerning flora, fauna and uncovering Malaysia's cultural stories, her latest picture book feats include 2018's Anak Murid yang Memakai Kain Cawat (written by Jong Pui San and translated by Liew Chooi Peng) and 2021's A Friend of Dusky Langur (written by Langur Project Penang founder, Jo Leen Yap).
"There are moments when I'm deep into painting that I would equate to having mindfulness. The flow of the watercolour against the medium is something I never get tired of."
The flow of creating picture books differs according to the storytelling style as well as the working modes of the title's editor and writer. Leong says, "At times, the storyboard sequence has been broken down before the editor relays it to me. But there are also times when I would have to arrange them on my own. When the latter happens, I would draw mock versions to the editor for style clarity before continuing to paint."
She is currently an art teacher under her namesake studio, Ammi Art Studio in Bukit Mertajam. Dedicated to her craft, she juggles both teaching and creating, with Fridays and Saturdays reserved for classes and the rest of the week spent drawing, planning future work and occasionally going on field trips.
Leong's field trips have been magical. According to her, she has never been out on such excursions for leisure, but research has opened up a whole new arena to learn and appreciate from. "I never knew or was interested in the names of plants and animals I encounter in my hikes. When I was working on my picture books, I was more aware as I educated myself on our ecosystem. I read about dusky langurs (Trachypithecus obscurus aka dusky leaf monkeys), sun bears, seahorses, even sea glass."
She adds, "Field work excites me; it opens up many new experiences." For Anak Murid yang Memakai Cawat, she flew out to Bario in Sarawak to learn about the daily life of the Kelabit community, while her first book took her to the Bornean Sun Bear Conservation Centre in Sandakan, Sabah.
Leong's work has evolved since her first exhibition – which was informally organized in a café in George Town, Penang and featured not only her illustrations but also works of acrylic and oil paints (pictured in the feature photo).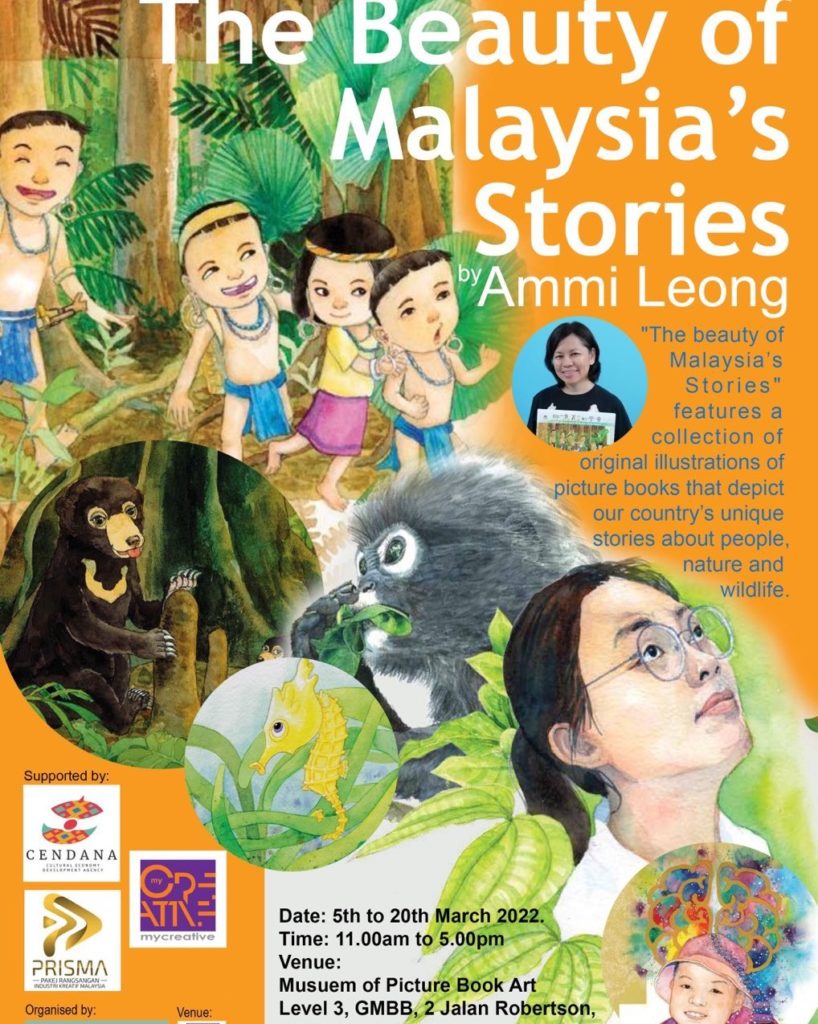 The Beauty of Malaysia's Stories showcase is to exhibit Leong's selected, original artworks from five of her published picture books. Visit and be amazed by the 33 fine, A2-sized testaments promoting Malaysia's unique natural and cultural compositions. "The exhibition is supposed to take off in July 2020, but due to the pandemic, it was pushed further. I'm happy to have it in March, when schoolchildren can also come to check it out with their parents," she says. "I hope some of them can inspire them to create more art."
Leong's favourite piece from this is one taken from Anak Murid yang Memakai Cawat, which displays a detailed forest transitioning from greens to browns. It takes her back to her younger days as an artist practicing her earliest scenery paintings, saying, "I thought painting trees would kill me!"
She hopes to share not only the beauty but the challenges of creating a picture book. With it, she also invites conversations with creators and artists alike to exchange ideas concerning art flows and styles.
Budding picture book artists, this is a must see! Her books are currently sold at the venue, The Museum of Picture Book Art for a limited time.
What's next for her? Leong says she is keen on going on more field trips and to expand her artistic horizons, and maybe strive for published works set for a different audience.