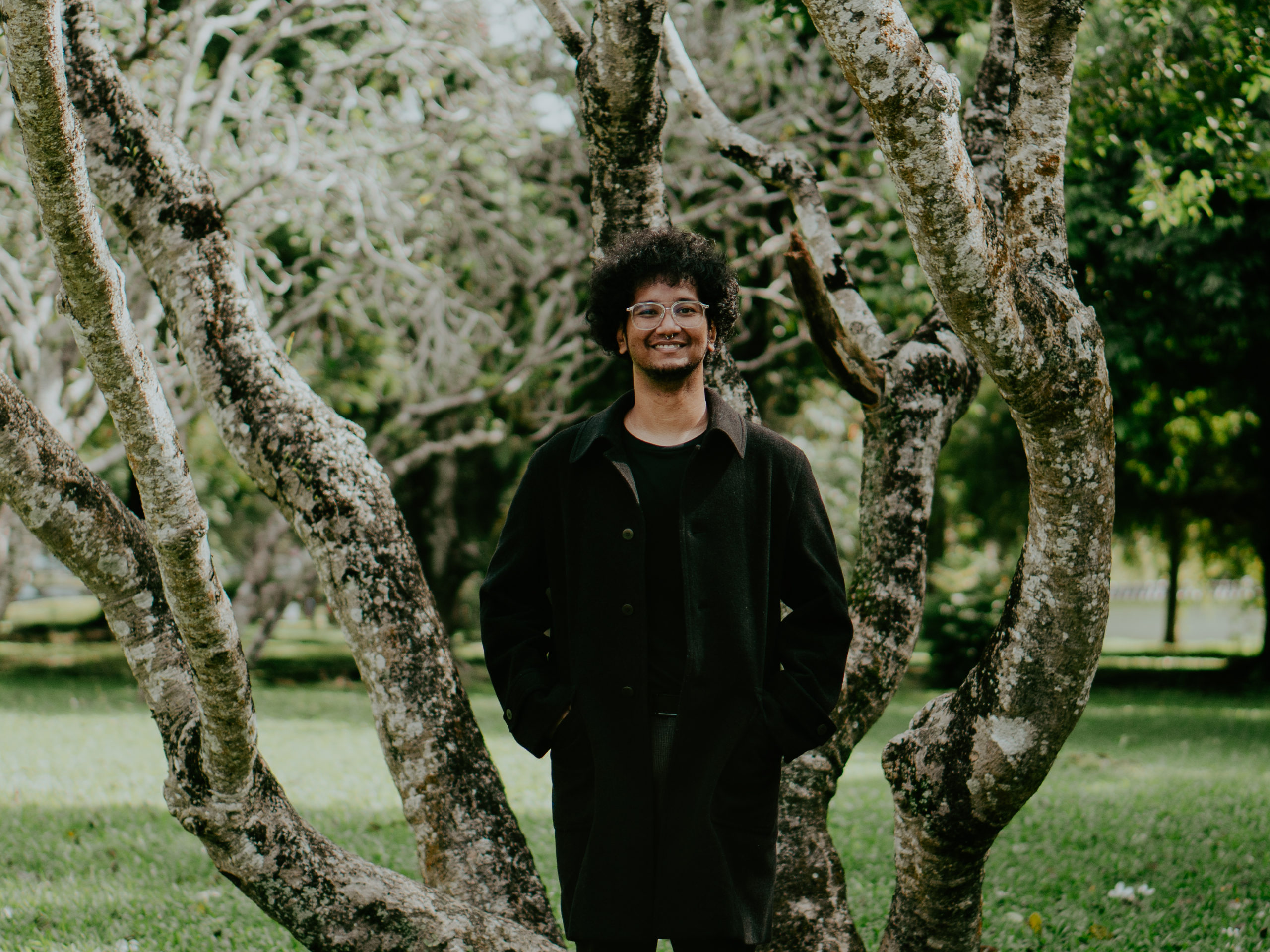 Take 5 with lost spaces! BASKL talks to the band's singer-songwriter, Sam Lopez, about song creation and what's currently on his playlist.
By NABILA AZLAN
Like its predecessor, 2021 has been a tough year for artists. The struggle to recalibrate did not skip KL-based indie synth-pop band, lost spaces, which explains its sudden hiatus amidst the pandemic.
But, lo and behold, lost spaces is back! The band kickstarted the year with indie live show, undercurrent at REXKL, on Jan 7 and 8. Taking a peek at some new-year offerings, this chill session also looks back on lost spaces' musical make-up with frontman and vocalist, Samuel Lopez (Sam), 28.
lost spaces has been the highlight of previous festivals and events since its inception, among them Urbanscapes (2018 and 2019) and Good Vibes Festival (2019). BASKL writer, Nabila's first live introduction to the band was when it opened for Korean indie rock band, HYUKOH in KL Live early 2018.
First off, we're curious and this info seems to be missing elsewhere. Why are you called lost spaces? Is it a place or a feeling?
"I've realised how I have never answered this before in past interviews! A lot of people must think that we came up with the name as a band, but no. I was in Singapore for my first ever music festival, St Jerome's Laneway Festival in 2016. It was also my first proper solo trip, even if it was just across Malaysian borders! I felt like I had entered a completely different world. As a mainstream listener, I was so mind blown by outfits like Battles, The Internet, Thundercat and Purity Ring because I was late to experiencing that corner of music then. Well, I got lost in space but in a good way. Returning home, I told my brother Lukas, who was our drummer at the time and my cousin-slash-bassist, Imran Marshall, 'Yo, we're going to be called lost spaces!' The band formed the same year but as I was finishing my undergraduate studies, we officially started playing in late 2017 and released our first song in May 2018."
How was the band during the earlier phase of the pandemic?
"The members were disconnected as we couldn't meet up. Behind the scenes, things have been constantly changing, but with me as a constant. Initially, I was really reluctant to embrace lost spaces as a solo project but as the years have gone by, different priorities have taken precedence. It was time to do lost spaces as Sam Lopez. Understandably, it's easier to creatively execute one person's vision instead of five. But when we play live, you're going to see the same people! We have Lim Yi Shien on guitars, Hong Koon aka Kuszanagi on keyboard and synths, Imran on bass and either JJ Michaels or Kyle Emmanuel on drums."
What would be your way of describing the band's signature sound?
"Eclectic indie pop. It has always been fun, bright sounds with sad lyrics. Emotions were dressed-up, with clean visual aesthetics to match. The latter is all thanks to Kuszanagi, (Lim) Yi Shien and my ex-main producer, Afnan Rahman aka The Chief. The sounds are reminiscent of video game tracks although this was never intentional. We were referencing 80s' glory, so there was tonnes of synths. I loved sampling random parts like conversations too."
Direction-wise, where are you?
"Previously, lost spaces was managed by the record label Breaking Music. It has amazing people who literally helped to shape our career, working us around a system in writing, releasing and marketing music. Our releases were consistent, but they also led to my burnout. I told everyone (in the management team) I loved them but I needed this break to rediscover my love for songwriting. Since I'm no longer attached to a label, there has been a lot of free form. It isn't as concise and structured as it used to be, but I'll get there at some point! In mid-September 2020, I moved back to my parents' home in Ipoh, Perak. I worked around song mash-ups to train my own production skills, in prep for what's next."
Will we hear significant changes in the sound of lost spaces in the near future?
"Now is definitely a maturing phase for the things I like to do. I have been experimenting with and listening to a lot of electronic music, UK garage and deep house included. I'm trying to be more exposed (with my feelings) this time, so you'll hear sad sounds with sadder lyrics – heavier songs with lower chords. I'm genre-blending everything but my vocal style remains."
What helps you navigate through these ultra-challenging times when it comes to art creation?
"Anime. I tracked my binges on MyAnimeList.net – before the lockdown, I probably covered 35 titles. In the span of two years, it ballooned and now I'm sitting on close to 80! I have a big fascination with Japanese art and culture, like I do anything pop culture. I dedicate a day in a week to consume them to fuel my creativity throughout, be it reading or listening to a podcast. Most recently, I started to play games. Twitch streams are also great outlets to listen to stories and experiences that I have never been a part of, which would sometimes inspire my writing."
What kind of music do you listen to growing up?
"I grew up conservative, so I was exposed to a lot of Gospel – although I managed to sneak in some of my own era's punk rock! I listened to staples like Green Day and Avril Lavigne, also big names in rap music like Kendrick Lamar and J Cole before transitioning to Bombay Bicycle Club, Tame Impala and The 1975."
Who are your current musical influences?
"It's a mix of electronic and neo-soul sounds. I'd say BAYNK, MOSSS and Mk.gee – also KAYTRANADA and Mura Masa."
Name 3 songs in your current playlist from the top of your head!
"How Does It Feel? by BAYNK and Cosmo's Midnight, Duo by Sam Gellaitry and SWIM by Mild Minds."
If you could collaborate with anyone at all, it would be…
"Fleetwood Mac. I would love to be in the room where the members write their stuff!"
And now… it's time for a lost spaces song roll-out! (Press play on the playlist below or go here.)
kodak: "A retelling of my current state of mind, which is tired and worn out, also an apology for fans for going off track. Sorry but I am back now!"
instant.romance: "…Is me saying 'Nah, this isn't real!' to the idea of seeing someone and quickly falling in love."
discohaze: "Chelsea Chan aka JAIE is a genius. We wrote this about losing ourselves in the moment without worrying what's next and honestly, I feel like she did all the heavy lifting."
boxset.girlfriend: "A song I wrote for an Instagram crush who I think does not know about it to this day – I'm no longer crushing on her though!"
35.mm: "This cute release is originally written for TheMingThing's 2018 Christmas short film, The Delivery Boy but quickly came through as a fan favourite."