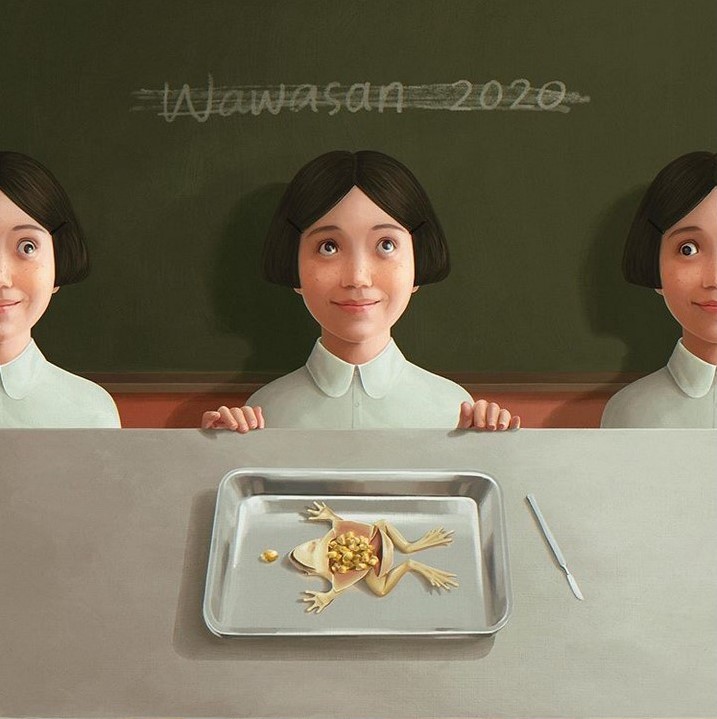 By FARAH DIANPUTRI 
I was on my Cuti-Cuti Malaysia weekend in Kuantan, Pahang, when I found a small gallery space nestled up a staircase at the 90 Degrees Café & Art on Jalan Air Putih. Being an ignorant, uncultured KLite this was the first time I had seen a contemporary art exhibition outside of the capital. Lock Yi's Is there No End? is probably going to send me on a mad dash for more.
Until a few months ago we were all confined to our homes. Relegated to our own spaces. Often alone. Though some of us may still be on Conditional Movement Control Orders, the rest are free to move about now, albeit with strict SOPs in place. Yet the prospect of lockdown still looms over our heads while the invisible conspirer Corona leaves our fate hanging in the balance. 
I was confronted with canvases populated with scenarios featuring disorientating takes on the mundane. A levitating three-eyed lucky cat, a school-room frog dissection (Wasawan 2020 written in chalk on the board then scratched out), and my personal favourite: a breast on an ice cream cone.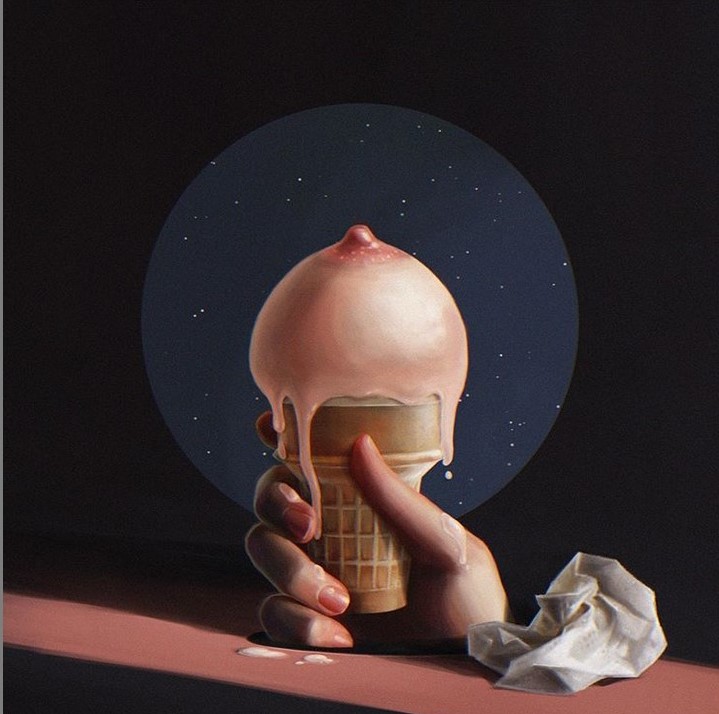 A running theme appeared to be our fraught relationship to bodies in all their frailty, vulnerable in health or isolation. The fact the artist herself appears as recurring avatars in a majority of the images is a testament to alienation – that she is deprived of the context of other bodies to situate herself next to. Furthermore, she explores our disassociation from our own bodies. In Lock Yi's multiverse, bodies are dismantled only to be reassembled into artificial beings.
One image that epitomises this feeling is of a head trapped in a space-ship. The only access the disembodied cerebrum has to the outside world beyond her overturned fishbowl is two pointed fingers which are pierced by thorns of a single rose. Protected on the one hand, and yet not free from pain and danger on the other.
Lock Yi was born and raised in Kuantan. She was living and working as a post-production video artist in Beijing, China prior to the pandemic. A graduate from One Academy, she had come home to Kuantan from Beijing following the outbreak of Covid-19, and was unable to return because of the lockdown. A break from her busy city life gave her the opportunity to self reflect and document her own conflicting emotions during this strange time.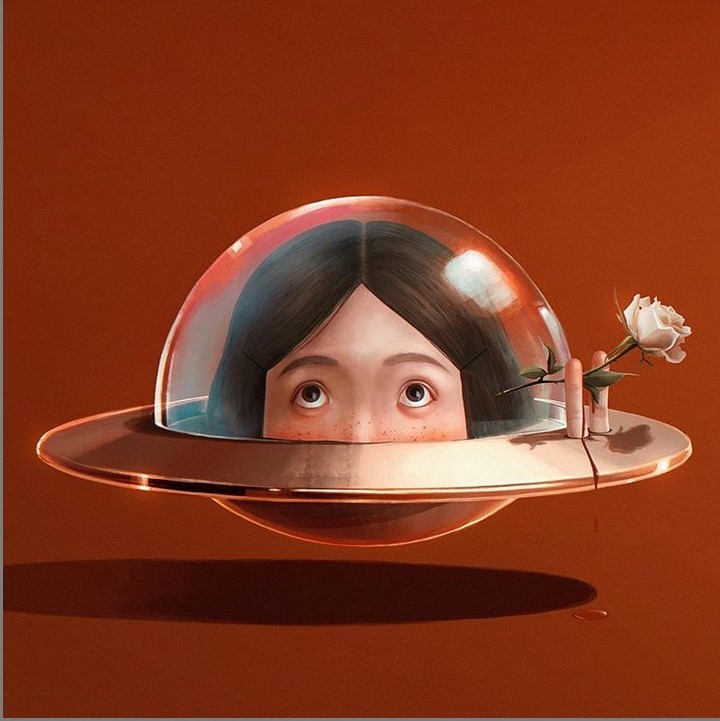 This shift in the ways of looking at the body during a pandemic has historical precedence. In a segment of a radio show entitled Dispatches from 1918, co-host of the award-winning WNYC Studios show Radiolab Latif Nasser explains how the Spanish Flu outbreak in Europe had an impact on European art history. It was a common narrative of art at the turn of the century. In the aftermath of the pandemic and war, where human bodies had been mutilated and diseased in the most brutal way possible, they began to incite fear and anxiety. And a way was paved for modern art, moving away from representation to the abstract.
However, Lock Yi does not look away from the body in this time of crisis. She forces us to look towards it, she tears apart bodies with the irreverence of an autopsy, but then reanimates them with the vitality of caricature. Her digital painting renders the characters teetering on a cliff-edge, cartoonish and creepy. The effect makes this reassessment of bodies more palpable for the viewer, and challenges them to interrogate their own.
Even with the waning and waxing of Covid-19 waves in coming months, another silent conspirer invites us to question what it means to be a body within a space. Digital acceleration continues to keep us plugged in, on Zoom and scrolling on screen, with the ambiguous promise of infinite spaces beyond our bodies and the physical realm.
Maybe the answer to "Is there No End?" is only the beginning.
Lock Yi: Is there No End? was on display at 90 Degrees Café & Art, Kuantan, Pahang from July 15 to Aug 31. You can find the artist's works on Instagram @lockyiii. The venue is showing The Millennials Show featuring 13 young Malaysian artists until Nov 22, 2020. 
Farah Dianputri is a writer under the CENDANA-ASWARA Arts Writing Mentorship Programme 2020-2021