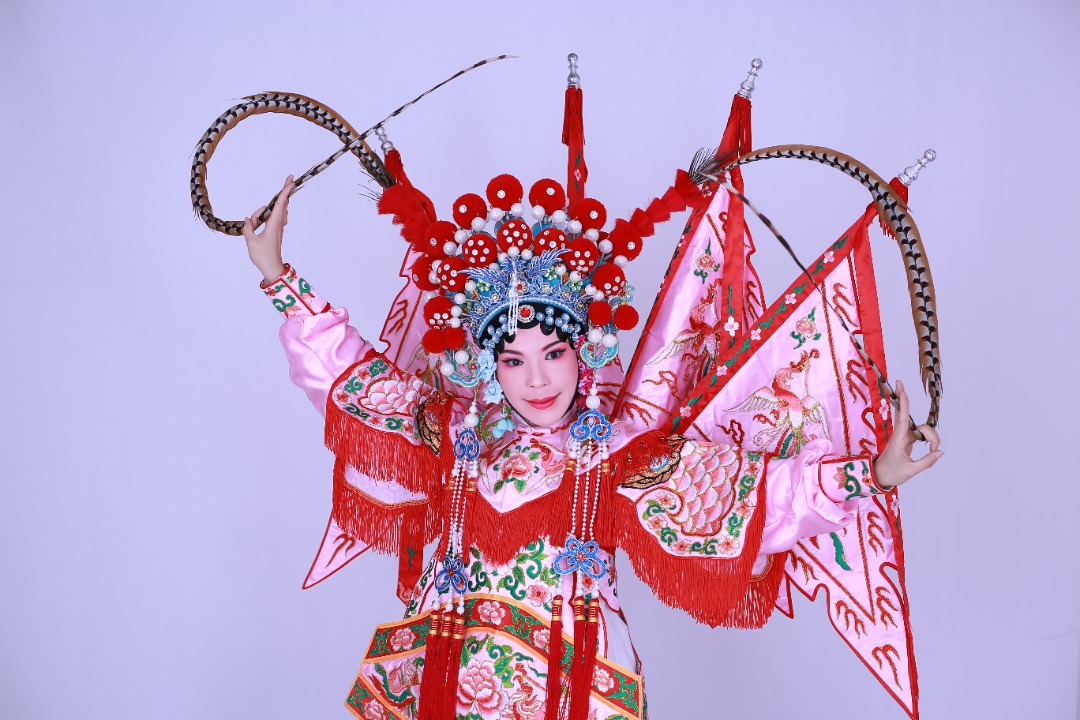 Meet Ling Goh, a fourth-gen Teochew Opera performer, who continues to preserve and share the traditional art form today.
By SETO KIT YAN
As a fourth-generation Teochew Opera practitioner, Goh Hooi Ling (吴慧玲) is often asked what drives her passion for her theatre craft as she keeps having to devise new ways to promote as well as preserve the art form that is her cultural heritage.
Better known in her professional capacity as Ling Goh, the 40-year-old inherited her performing genes from her mother Toh Ai Hwa, who has been honoured with the Living Heritage Treasure of Penang Award by the Penang Heritage Trust Group.
Xi Qu (戲曲) or traditional Chinese Opera is a form of musical theatre which originated in ancient China.
There are more than 360 regional genres of Chinese Opera, one of which is Teochew Opera, with subtle differences in costume and makeup as well as major differences in vocalisation and music.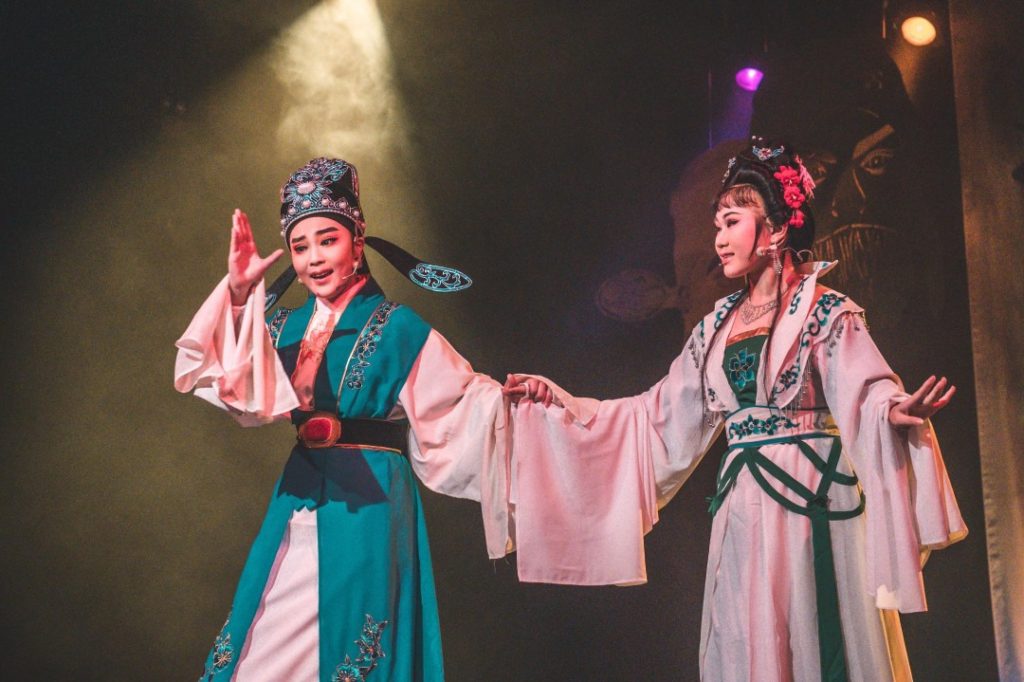 Goh shares: "What I like best about Chinese Opera is that it is a traditional art form that does more than entertain its audience, Chinese Opera actually serves a nobler purpose in that it aspires to educate its audience, by extolling traditional virtues and imparting positive values in its myriad stories."
"For professional practitioners of Chinese Opera, the added value of commitment to their craft is that it helps to cultivate resilience and develop perseverance in the face of adversity. Such qualities are not easy to come by in this technologically advanced era of instant gratification," says Goh, adding that it is what keeps her going, despite several setbacks over the years.
Currently based in Penang, the tenacious lady was born into a clan of professional Teochew Opera (潮剧 Chaoju in Mandarin) performers and puppeteers and naturally found her calling as a child of the arts.
Goh's colourful childhood was unlike that of others. Her formative years were spent immersed in the exuberant vibes of Teochew Opera. The backstage was her playground. The puppets were her playmates. Except, the traditional puppets she was playing with were not mere toys, but income-generating tools of their family's trade.
By the time she was seven years old, Goh had already become an integral member of her family's opera troupe. She kicked off her performing career by playing huadan (花旦) or young female roles.
At age 14, her voice changed and became deeper, so Goh switched to playing xiaosheng (小生) or young male roles, and qingyi (青衣) or middle-aged female roles.
When she was 28, Goh established her own opera troupe which was named Kim Giak Low Choon Teochew Puppetry Troupe. They mostly performed at temples, during festivals and ceremonial events.
However, the troupe was disbanded four years later, as it could barely sustain the livelihood of its 30 performers and musicians.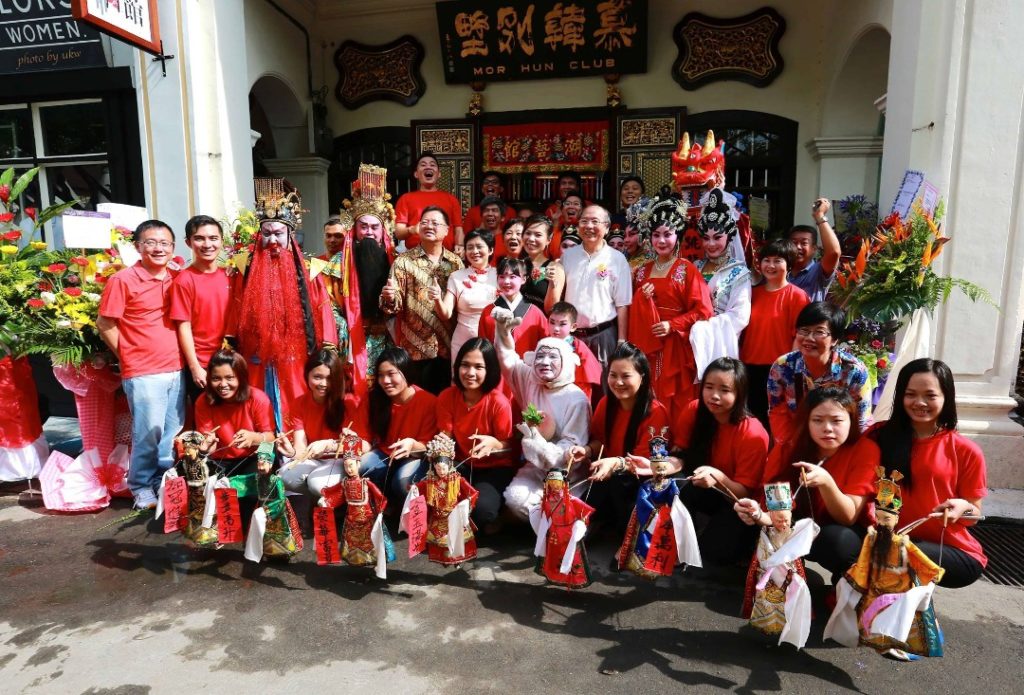 To better preserve her vibrant cultural legacy, Goh then established the Teochew Puppet and Opera House within a long and narrow shoplot in the touristy heritage enclave of George Town, Penang. The front part houses the Teochew Opera museum which is located on Armenian Street, while the back entrance leads to the Lai H'ng Cafe which is situated on Carnarvon Street.
The museum offers a cultural immersion experience to visitors so they can better appreciate the craft. Goh shared that most people, after they try on the glamorous costumes and makeup, say they are quite surprised that opera performers manage to sing and act in addition to performing acrobatics while wielding a weapon, all while garbed in the full opera regalia of elaborate costumes, heavy headgear, and thick makeup.
"After experiencing for themselves all the effort it takes for an opera practitioner to prepare for a show, visitors often tell me that they have newfound respect for such artisan performers."
Going online to reach out
"Because there aren't enough youngsters taking up the craft, many opera artistes who are getting advanced in age continue to perform even though they are way past their prime, just to preserve their beautiful cultural heritage," says Goh, adding that their team wishes to attract more young people to take up Teochew Opera.
While the movement control order imposed by the Malaysian government to stem the spread of Covid-19 had put a stop to their live performances, Goh started to offer online lessons and launched an opera-themed cafe which serves xipeng meishi (戲棚美食) or opera tent delicacies.
Goh currently teaches diverse classes of various Teochew Opera skills, from vocalisation and movement to drumming and puppetry.
She is elated to report that the pandemic has actually opened up new avenues for her to reach out to her audience and made her opera classes more accessible to the general public.
"Our students used to be locals who lived in the vicinity. Before the pandemic, distance was a major deterrent for many opera enthusiasts.
"But for some time now, due to the government-imposed movement control order to curb the spread of the Covid-19 pandemic, most people are confined to their homes anyway.
"It is an unexpected development, but the circumstances of the pandemic have made remote learning a more feasible concept, making it easier for people to consider studying opera via online classes.
"So, now, we have some students from out of state and even from other countries. One of my students is a mix of Russian and Malay ethnicities, and knows Mandarin."
Goh disclosed that their team is always in the process of developing new projects with traditional as well as contemporary directions.
"To cater for a local contemporary audience, we have been working on a modern script with dialogue written in Malay and English."
That was originally supposed to be launched this year. But with the on-going pandemic, Goh is already looking into producing an online version for public consumption instead.
For further details about Ling Goh's projects, visit Teochew Puppet And Opera House on Facebook or Instagram and Lai H'ng Cafe on Facebook or Instagram.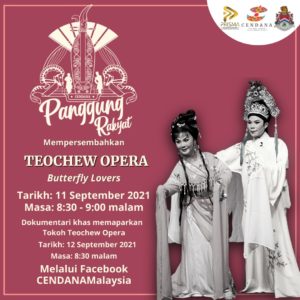 Don't miss the Teochew Opera episode of Panggung Rakyat at 8.30pm on CENDANA's FB page this Saturday, Sept 11; and a documentary on Teochew Opera on Sept 12. Panggung Rakyat, which kicked off last month, aims to encourage new audiences to participate in the arts, create greater conversations that unite Malaysians through culture, and build an immersive experience that will inspire the public. Previous episodes can be viewed here.