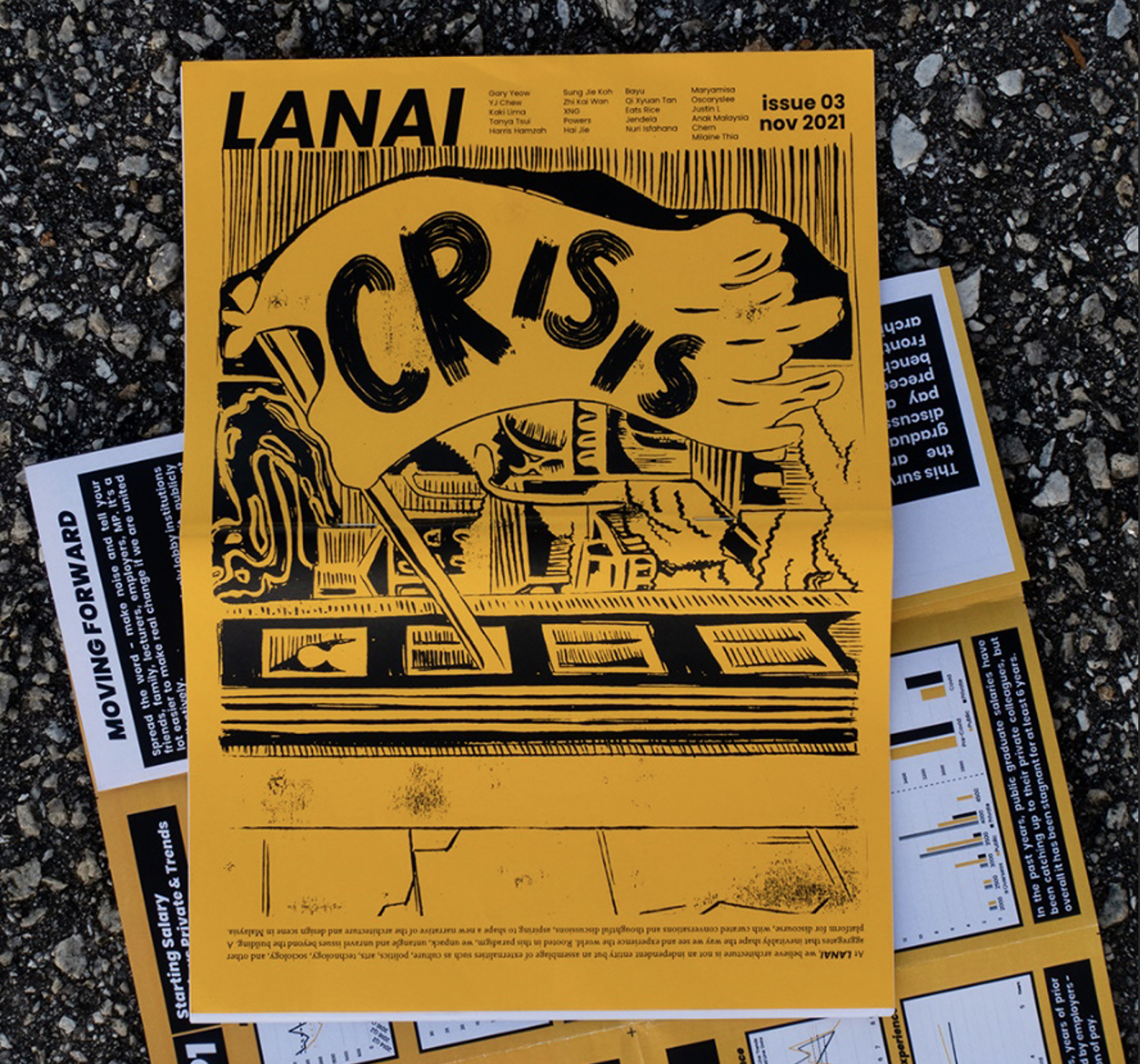 Put together last year during the Movement Control Order, Lanai zine's third issue, CRISIS, acknowledges the troubling times we live in, but also observes the sparks of opportunities within these dark times.
Story and photos by WILLIAM CHEW for Lensa Seni
The span of time between stepping out of school and landing a job can often be particularly daunting. Many fresh graduates, including myself, are torn by the societal expectations of having a stable job, and the personal loathing for the years of corporate grind ahead. As the time of being a student came closer to an end, I found myself in a dilemma, under lockdown no less.
Confined to my room and being isolated over an extended period of time, I stumbled upon an online community of young architects and students, whose digital presence gave me some semblance of comfort. Their rants and frustrations were partly towards the pandemic, but mostly at issues occurring within our society, stretching further back in time. After many restless nights, they decided to act upon their discussions. Last month, they released the third instalment of the architectural zine, Lanai.
Titled CRISIS, this issue features essays, poems, and illustrations that resonate with the spirit in which the Lanai team operates. One without hierarchy, that instead operates on a consensus-based method of decision making; one that is unafraid of accepting different, and sometimes even contradictory, ideas suggesting alternative career paths, or even abandoning the architectural profession altogether. But fundamentally with the belief that change is possible through direct action.
The cover design is a commissioned lino print by artist @Ooiwasthere that captures the difficult times in the recent past when flags hung out of windows either as a cry for help or a sign of disapproval. The striped carving alternates between black and yellow, giving us a sense of urgency and danger. The noise and imperfections within the print form splatters and blots lending the piece a punk aesthetic.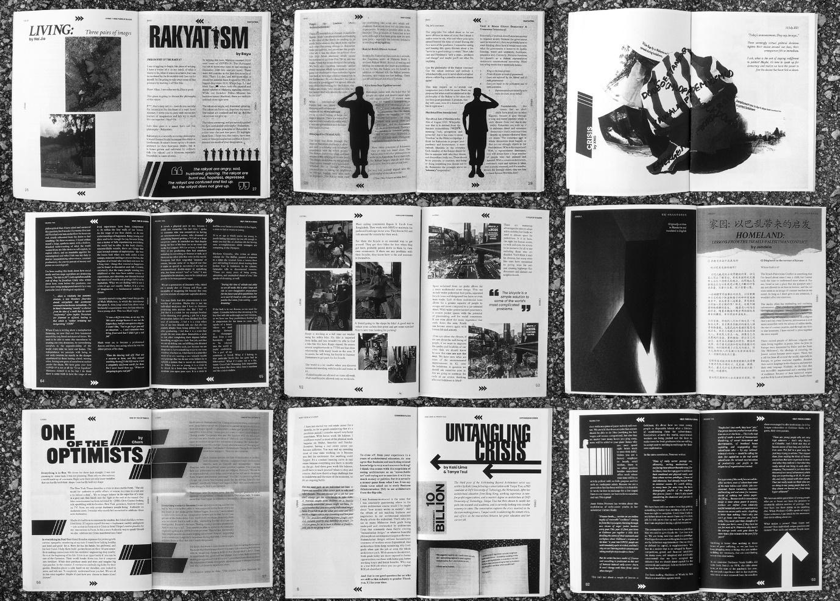 Hiding in the pages is a loose pamphlet that slides out as one flips through it. This is a wage survey of the Malaysian architectural workforce conducted in the middle of 2021. Its aim was to track the effects of the pandemic on architectural labour, and to form a benchmark for those in search of a new job to negotiate wages. Its result is a statistical measure of the questionable work ethics commonly found in this field, expressing the worries and angst of our generation in cold data.
The zine starts off with interviews of two architecture graduates who have taken alternative career paths. Their interviews reveal the struggles they had gone through in university, the painful decisions to make the switch, but also the possibility of utilising the skills they have to carve a niche for themselves within a different field. It reminded me of my own dilemma, having to choose between the rigidity of corporate work, and the madness of juggling a series of part-time positions.
Perhaps these are signs that the traditional path of architecture, and maybe even of other professions, is becoming increasingly unsustainable, financially and psychologically. They also, however, represent the unexplored avenues available through interdisciplinary practices.
Although mainly written for young architects, there are a number of pieces in this issue that would be relatable to a wider audience. Chern's One of the Optimists and Milaine Thia's Help, this is a Crisis, are two essays that shift between the individual scale of personal conflicts and the societal scale of political commentary through a mix of interior monologues, conversations with friends, and thoughts of other authors. Their writings explore the connection between the feeling of "doing so much, yet achieving so little; of so much happening, yet nothing has changed", within the capitalist conditioning that smoothens and levels out all of our differences.
Rakyatism is the essay that stood out the most to me. Here, the author under the pen name Bayu observes the various movements that Malaysians initiated under lockdown, such as #Lawan and #KitaJagaKita, and shows how they resemble some basic anarchist principles, namely, direct action, anti-authoritarianism and mutual aid.
They then begin to question whether this very brief moment – when Malaysians organised directly amongst ourselves, in spite of our differences – could be a more common occurrence, rather than simply reacting to a crisis. Some might say, rightfully, that this was a bitter time for us all and that we should move on with our lives. However, instead of choosing to forget, this essay wants us to remember that possibility: we have done it before, and we can do it again.
In just under 70 pages, this issue manages to capture a sense of the endless crisis as each piece is loaded with its own problems, and will possible leave a brooding weight on the reader's mind. But amongst these dark pages are faint sparks of hope, waiting for others to fan the flames.
For more info and to view past issues, go to lanaizine.com.
William Chew is a participant in the CENDANA ARTS WRITING MASTERCLASS & MENTORSHIP PROGRAMME 2021
The views and opinions expressed in this article are strictly the author's own and do not reflect those of CENDANA. CENDANA reserves the right to be excluded from any liabilities, losses, damages, defaults, and/or intellectual property infringements caused by the views and opinions expressed by the author in this article at all times, during or after publication, whether on this website or any other platforms hosted by CENDANA or if said opinions/views are republished on third party platforms.