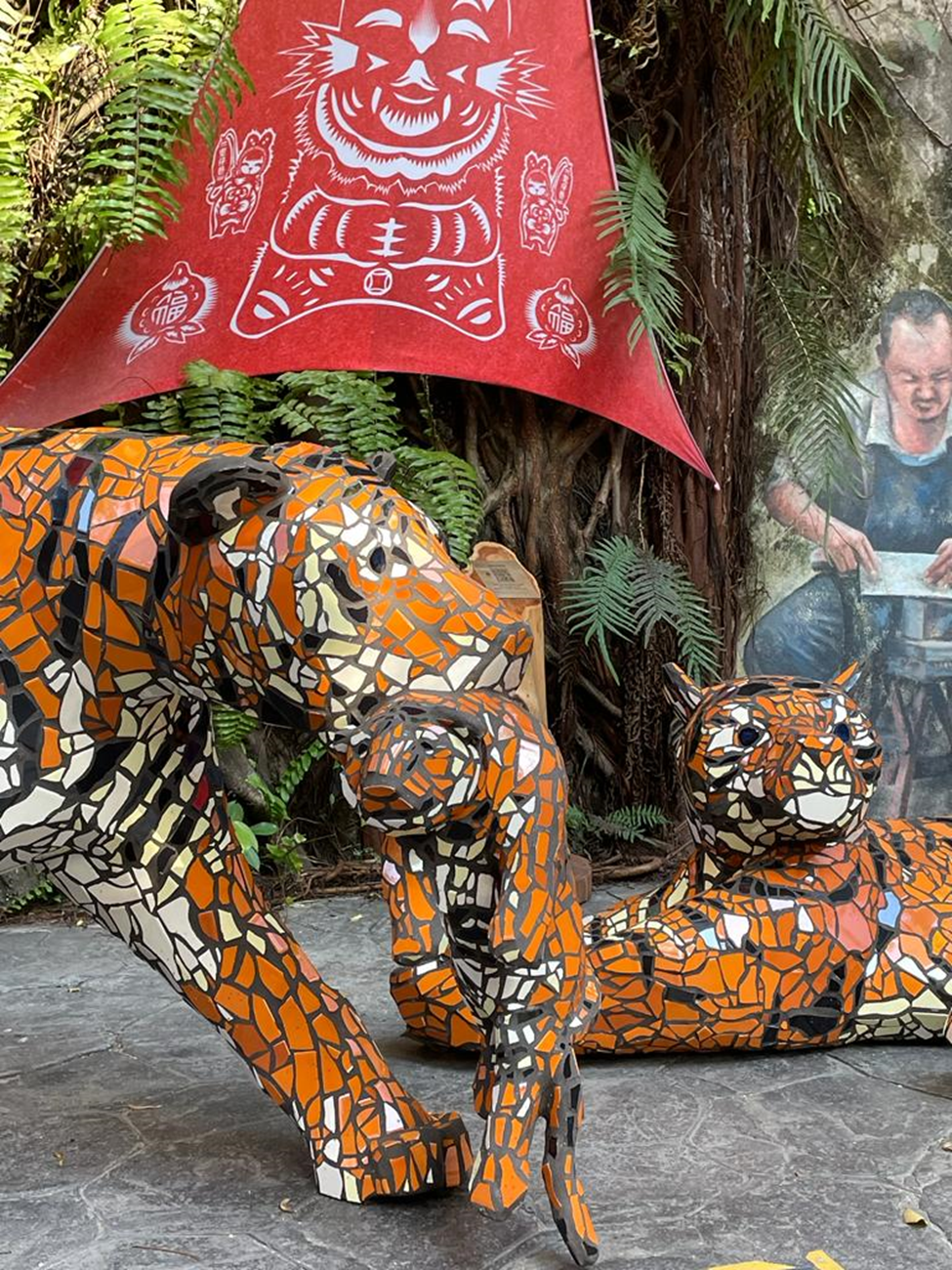 Live Wild and Prosper, the latest art installation at Kwai Chai Hong, raises awareness to help save the Malayan tiger.
By CHIN JIAN WEI
Red and white stretched fabric accompanied by paper lanterns bedeck the alleyway while a family of sculpted tigers occupies pride of place at Kwai Chai Hong. For this Chinese New Year, Kwai Chai Hong is more beautiful than ever, featuring art installations by two multidisciplinary local artists: Alice Chang and Odd. This latest project is a collaboration between Kwai Chai Hong and the artists to help save the endangered Malayan tiger.
"We were driven by two things: first, the Chinese culture of paper cutting," says Zeen Chang, managing director of Bai Chuan Management, the team behind Kwai Chai Hong. "UNESCO includes this culture in its Intangible Cultural Heritage Lists, that's how critical it is for us to continue sharing this culture. The next reason for this installation is the Malayan tiger. When we heard about what's happening to our Malayan tigers, we felt that we should do something more meaningful about it this Chinese New Year."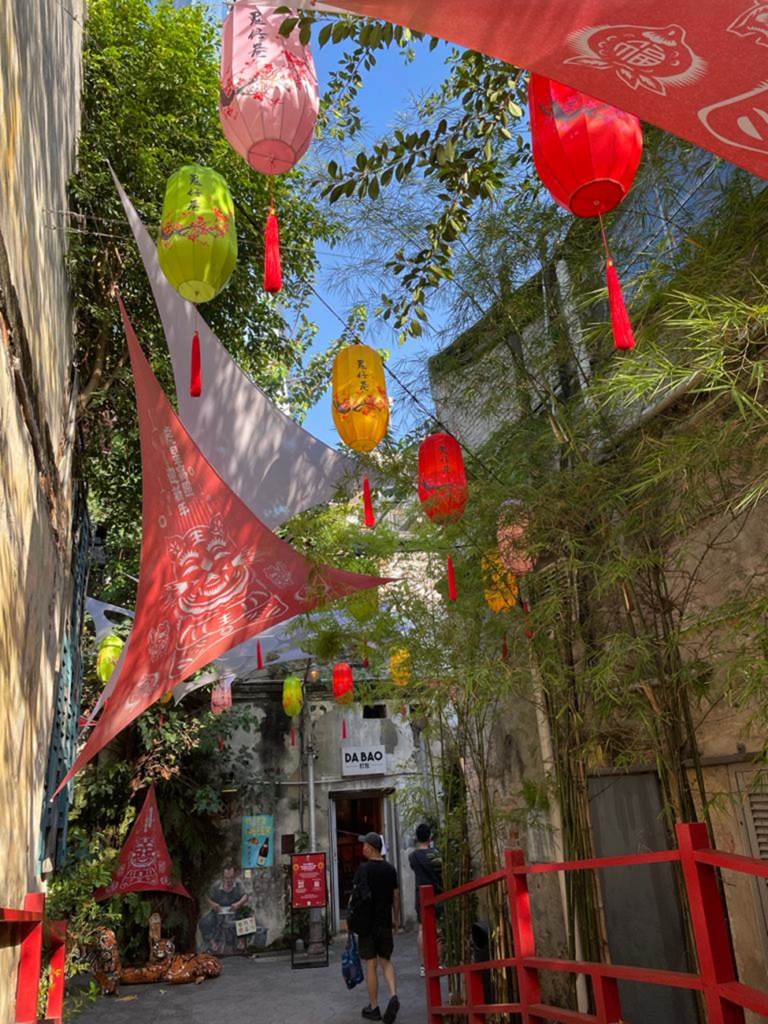 The new installation, titled Live Wild and Prosper, made its debut on Jan 14, and will remain up until Feb 20. Odd, 34, who has 17 years of experience as an artist and music DJ, has created a stunning series of stretched fabric artwork featuring Chinese paper cutting style tigers, titled Stretch Out. "It took about two months to plan it, but we only had about two and a half days time frame to actually create it," says Zeen, speaking about Odd's art. The fusion of the new with traditional art is intended to capture the essence of modern Chinese community, while the stretched fabric represents resilience. Lastly, each point anchoring the fabric represents the various connections between people from different races and walks of life, coming together to share and celebrate Chinese culture. As Odd is not of Chinese ethnicity, this message of inclusivity rings even more true. "When we saw his work, and I saw how passionate he was, we decided to work together," says Zeen. "That's the beauty of working together, I had to learn about his stretch fabric, and he had to learn about paper cutting. I really don't think that Chinese culture should only be kept to Chinese people. What I try to promote is inclusivity. We try to include people with different cultures and backgrounds."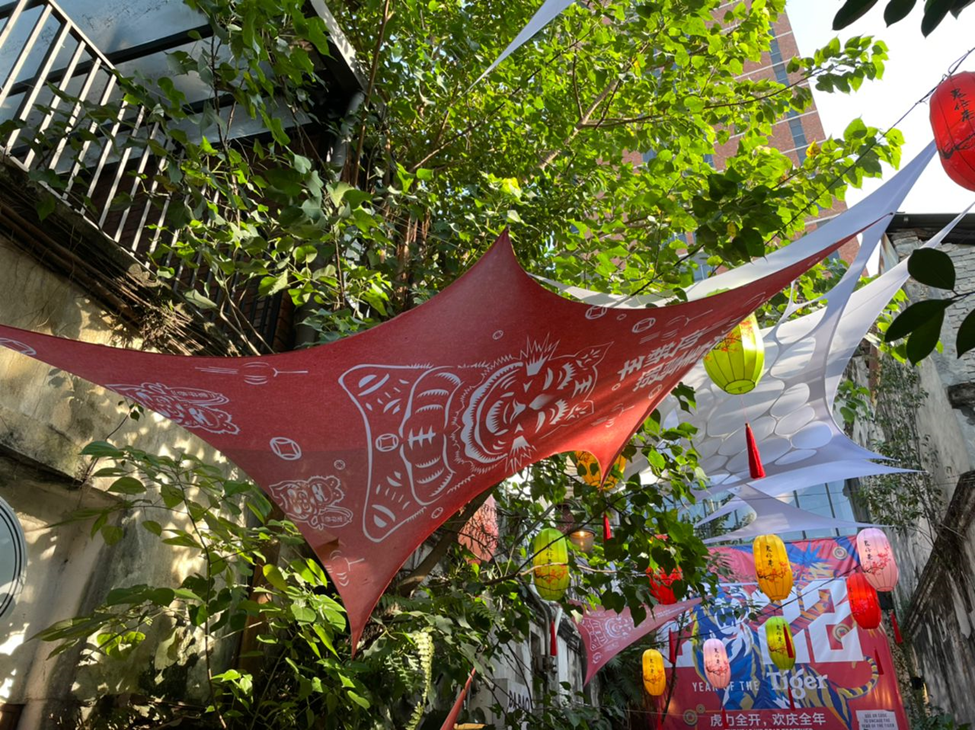 Alice Chang of Lai Lai Art Studio, an experienced artist who has already had her art featured in Kwai Chai Hong before, was the person who came up with the idea of doing something to help the tigers. "We were brainstorming on how to make this New Year installation more meaningful," says Zeen. "Instead of just building a sculpture for people to take pictures, we thought of helping WWF raise money and awareness for their conservation efforts, as they are always in need of more money to hire more rangers to protect the tigers from poaching. Even when finding a sponsor, we tried to make sure they relate to the theme of the project, so we found Tiger Beer," she says.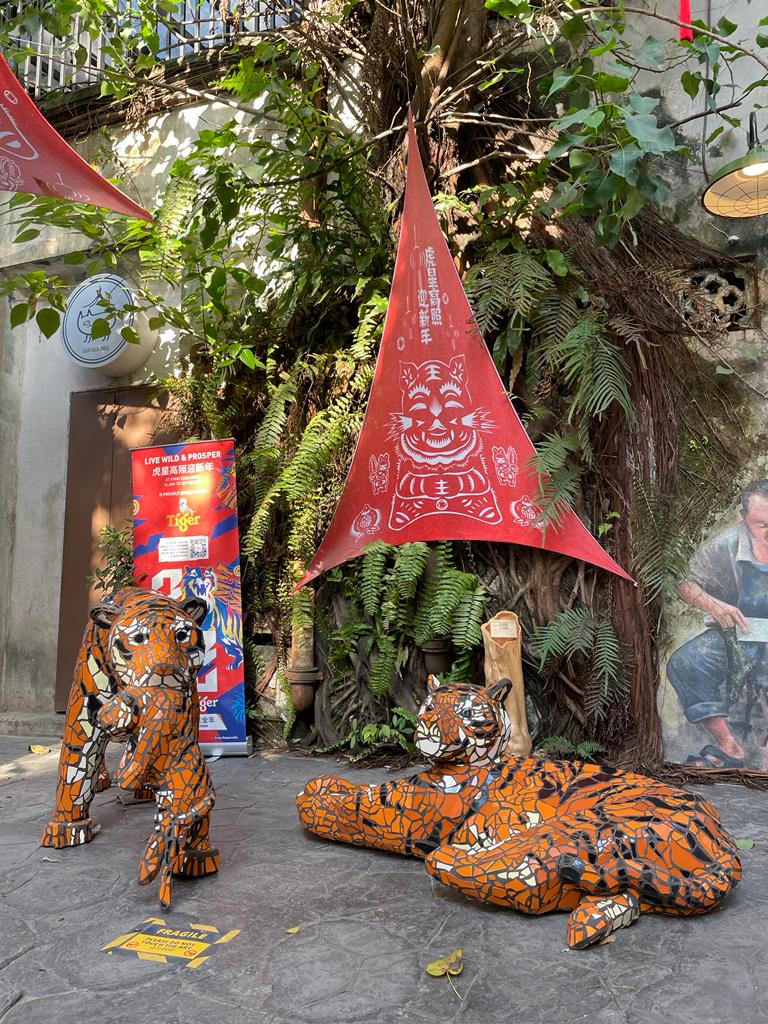 Alice's sculpture, titled Malayan Tiger Family, portrays a pair of parent tigers taking care of their cub. Created using cement over a metal wire framework, and then thoughtfully given colour and contouring using intricately placed tiles, the painstaking work took nearly five months to make, including Alice's careful research on the movement of tigers. "The most challenging part was having to turn the tiger sculpture. I needed the help of three or four people to move it, and I was worried the cement would crack!" Alice laughs.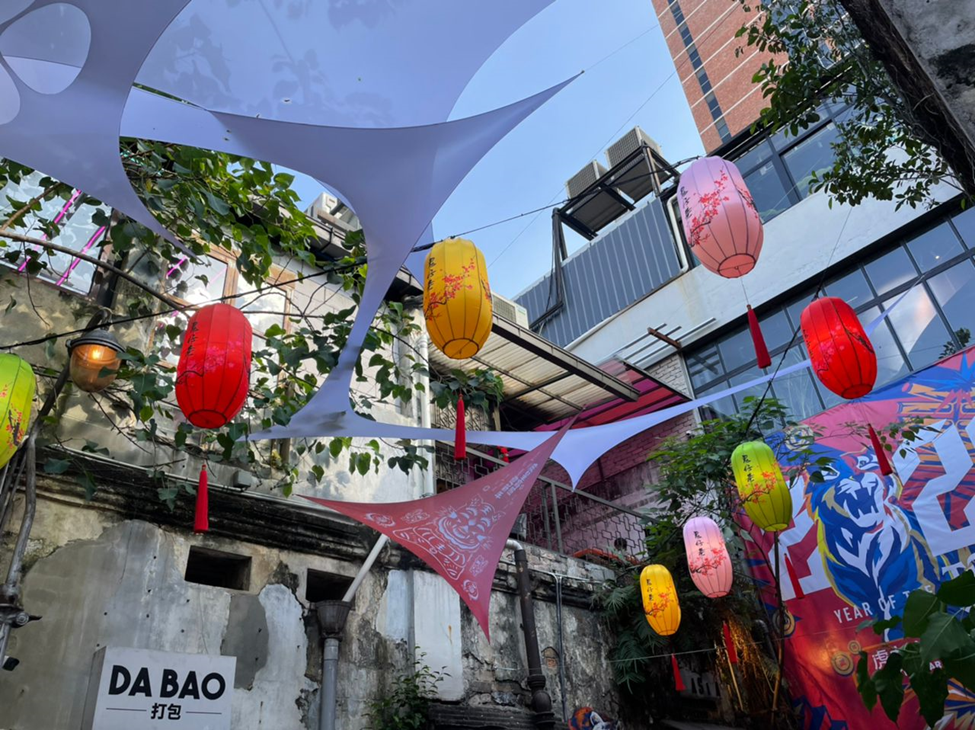 "The Malayan Tiger Family sculpture is now being priced at RM18,000," Zeen says. "In addition to that, all the proceeds, minus any cost incurred when we ran this show, all of that will get donated to WWF. In total, conservatively, we are estimating about RM38,000 … hopefully more."
Live Wild and Prosper at Kwai Chai Hong is now open for visitors. You can find the installation in between Lorong Panggung and Jalan Petaling, daily from 9am to 10pm, until Feb 20. As always, strict SOPs must be followed to view the artwork. Please visit Kwai Chai Hong's Facebook or Instagram to learn more.