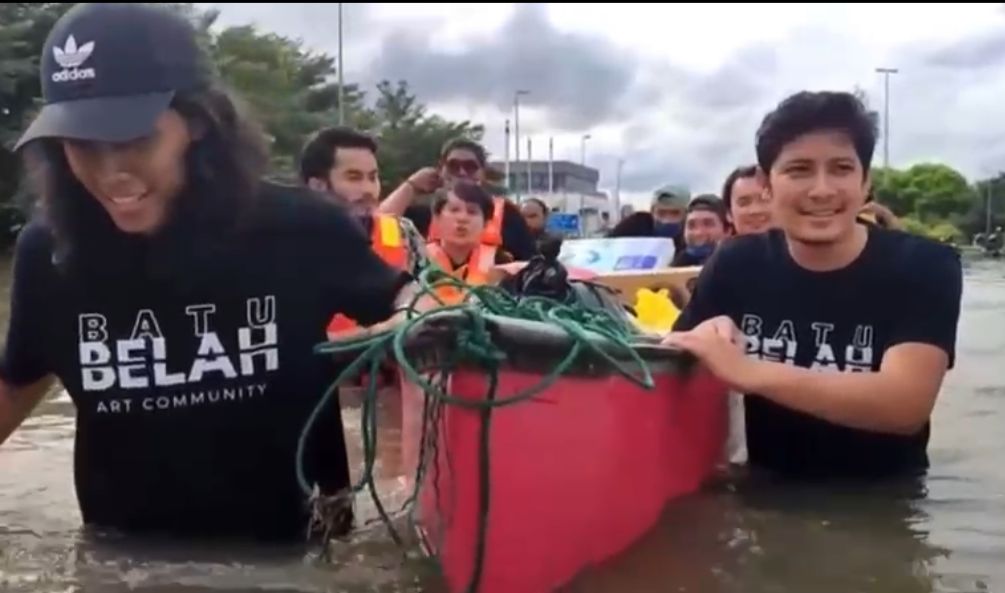 By SHAFIQUE DANIAL JOHARI
Komuniti Seni Batu Belah in Klang, Selangor, comprises a group of about 20 young artists and artisans ranging from 25 to 33 years old. It is a local art community with three art studios – Lakar Layang Studio, Empati Studio and Nafas Syahdu Art Studio located at Kampung Batu Belah, Klang. The three art studios are connected to each other on the first floor of a shophouse. All of artists are part of the alumni of the Fine Arts Department, Faculty of Art & Design, Universiti Teknologi MARA (UiTM).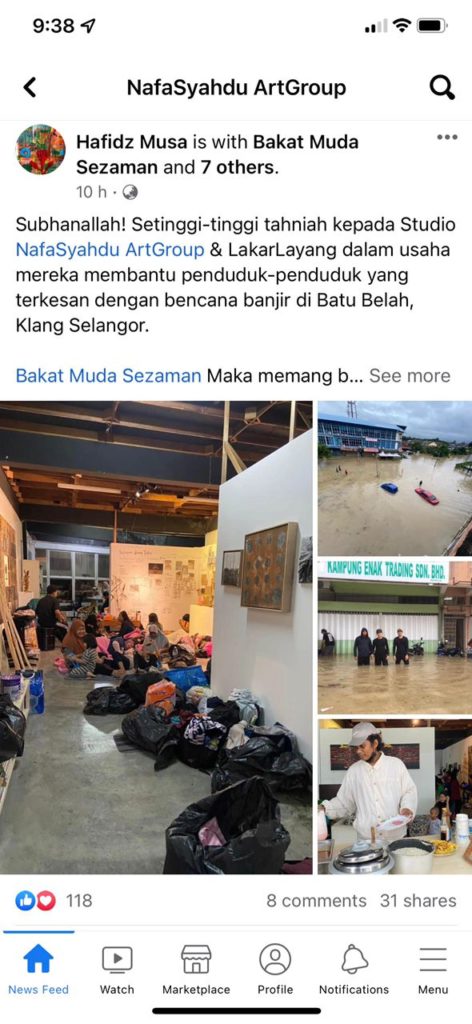 A post on social media alerted BASKL to the fact that these artists had opened their doors to the those who were displaced during the recent floods in the area.
BASKL took the opportunity to speak to two young gentlemen from the artist community.
Burhanuddin Bakri, 28, a spokesman for the group, shared with BASKL: "The intention initially was just to help out as we got to know water levels in the nearby areas of our studio were rising rapidly."
Later, they got to know that the nearby school that was used as a flood evacuation centre was already full and hence, they opened their doors for people to come to the studio as well.
"We saw people holding their babies, young kids and even elderly folk trying to cross the flooded roads to seek higher grounds. We asked if they had a place to go but they said they didn't. Then we just invited them to come up to our studio to stay. That was how it all started," explained Burhanuddin.
When Komuniti Seni Batu Belah started its "flood mission", the art community around Malaysia got to know about its efforts and many contributed began contributing, even the likes of contemporary Malaysian visual artist Jalaini Abu Hassan. People were sending in everything from towels, blankets, food, sanitary pads and other goods. Burhanuddin said that they even opened a temporary kitchen to cook for the flood victims at their studio.
They started to receive families and victims since last Friday (Dec 17). BASKL also spoke to Mohammad Azmi Bin Mohd Amran, 26.
"There were about 10 families seeking refuge at our studio at one time. As of today, all of the families have gone back to their respective houses to begin their clean-up process. However, we are still on standby in case the rain starts to pour again," added Azmi.
Azmi also shared, "I hope that the flood will subside very soon and families can go back to their homes safely. I also hope that the Batu Belah art community will be known to the people as it has always been our mission to be a part of this community and share the arts with everyone."
Interestingly, the Batu Belah Art Community is in the midst of the Bakat Muda Sezaman competition held by the National Art Gallery, and its bamboo art installation entitled "Sulapan Urung Taka" means "community hub".
Burhanuddin said: "We were supposed to launch our gallery and showcase this installation on Dec 31 but God has planned it differently for us. Nonetheless, it is a blessing that what we have done for the community goes hand in hand with the name of our project!"