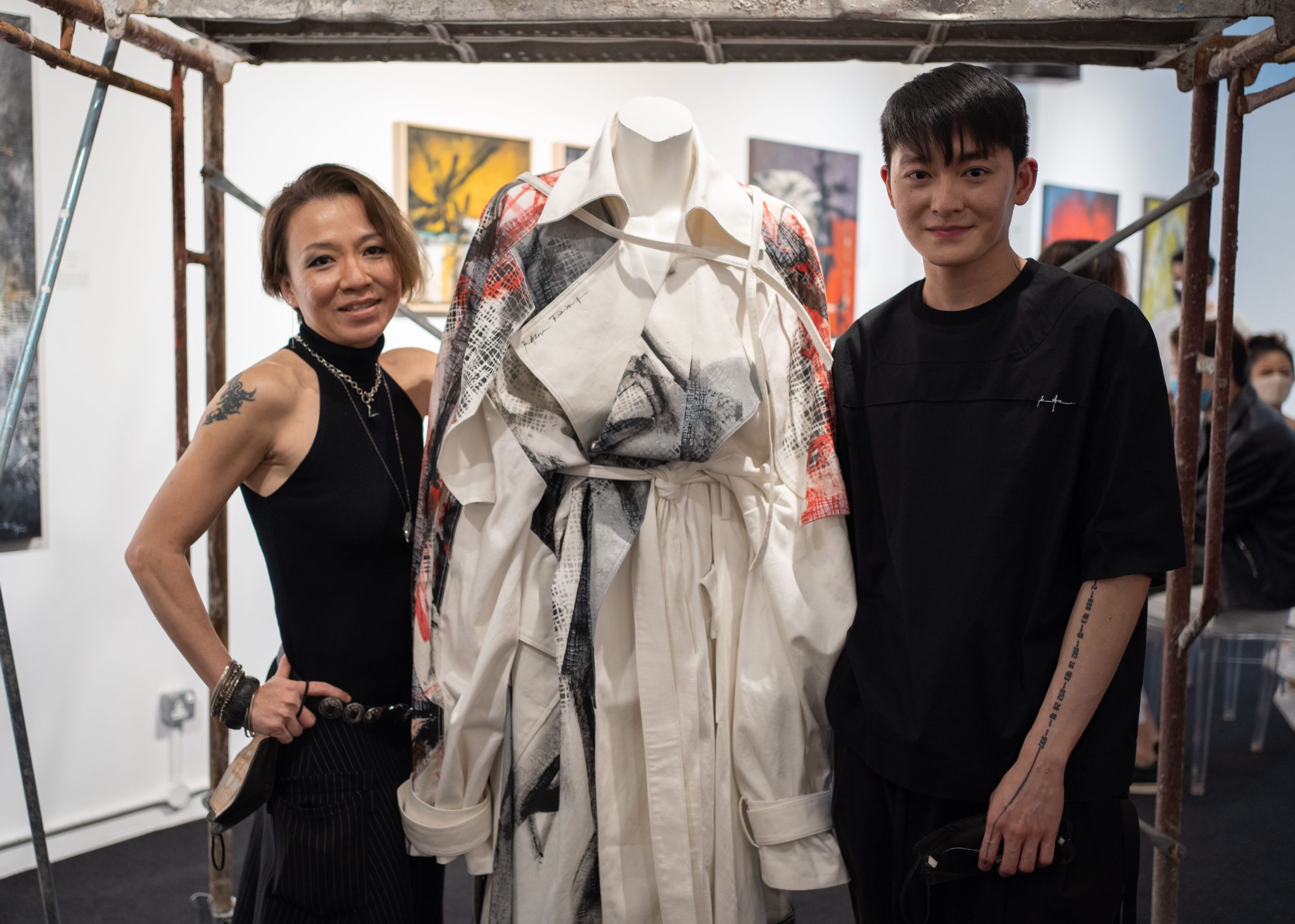 Experimental fashion designer Kit Woo collaborates with contemporary artist Peisy Ting in an ambitious showcase at ZHAN Art Space.
By NABILA AZLAN
A little trivia for taste! Before COLLISION – A Fashion Mashup by Kit Woo and Peisy Ting came to life, these two artists had never met nor heard of each other. The currently-exhibited project at The School by Jaya One is a courageous match by Zhan Art Space's founder and curator, Desmond Tong.
Two beginnings
No other vocation rules the mind of Kit Woo, 32, a fashion designer of six years. The ESMOD Kuala Lumpur guest lecturer and Pratt Institute graduate with a major in fashion design put his best foot forward with his namesake brand, Kit Woo – Not Just A Label in 2016, debuting in Kuala Lumpur Fashion Week (KLFW). Woo's sole focus was to establish his own designs, and he was looking for close-to-heart sartorial work fresh out of university. He took on personal projects before transitioning to becoming a full-time designer.
Peisy Ting, 45, has always been an artist albeit not in the traditional sense. This Birmingham City University grad in Visual Communication was an art director and creative consultant for 15 years before she took the leap into fine art. The advertising realm strained Ting over time. "I would get jaded and frustrated in many places," she says. Ting's debut show in late 2020, titled Transcendence: A Visual Exploration of Self, was an emotional dive into this new atmosphere.
"The conversations on the collab began before the pandemic," says Tong. A keen observer, Tong was familiar with their modes of creation – he wears Woo's designs and came across Ting's portfolio for the first time thanks to a mutual artist friend's suggestion. "When you have two very fluid artists, it's just a matter of time before something happens," he says.
Two styles converge
How do they describe each other's work in three words?
"Aggressive, engaging and dimensional." – Woo on Ting's artistic DNA
"Bold, expressive and multi-structural." – Ting on Woo's signature designs
Telling the story of his love for fashion design, Woo says: "I'm not a conventional designer. Instead of sketching my visions going into the 3D route, I rather work the other way round. I usually go from building 3D models to sketching and then only come up with a mood board." Woo is always cutting and working on probable pieces, reimagining their structures by paper folding and deconstructing multiple garments.
Ting, on the other hand, admits to diverging her art modes and refuses to stick to any one term. "It's my nature, I like to do things with my hands – be it doodling or designing," she says. "It is in my blood." Creating depth and conveying meaning to her work, the artist recognises the traits and constraints of different media and techniques through trial and error, currently calling canvas her comfort mode.
Woo's gender-bending silhouettes and Ting's soul-stirring artworks may belong to different worlds but there are forces that blend the two. For starters, their products are a combination of neutral and dark palettes. Woo and Ting are experimental in their ventures, not to mention more than agreeable to the idea of breaking cultural and historical norms with art. Both also look to travelling (physically and virtually) as a means to build their mood boards and projections.
Two takeaways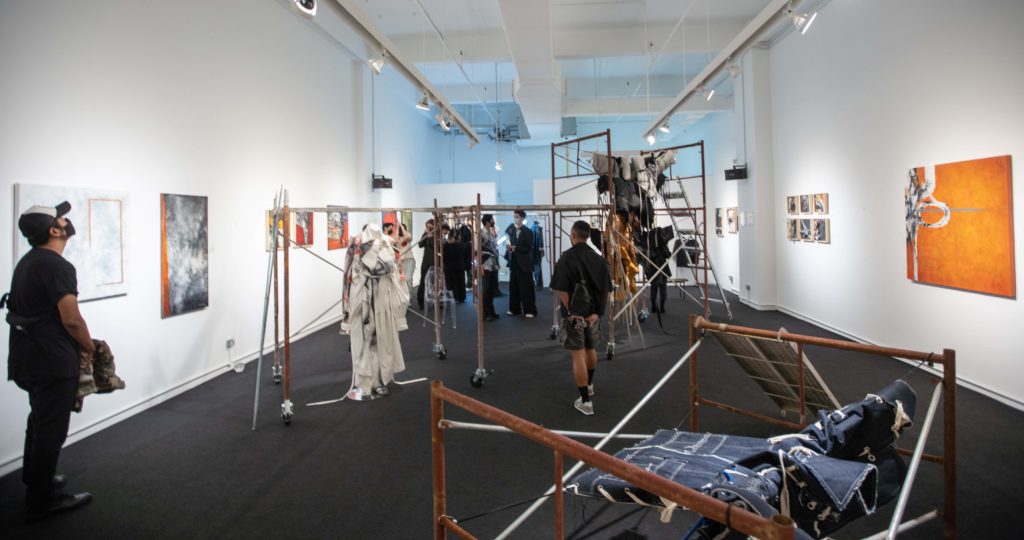 This showcase is Woo's first encounter with prints and Ting's first voyage into using fabric as her art medium.
Rooting for progression, Woo says, "I like to look back at my past collections and see what else I can add for a change. This has been a bigger step forward, as with print I would have to figure out the right placements, fabric and cutting methods."
To this, Ting adds, "Also… how it moves. As I am not working with (canvas) squares this time. I have to think about (garment) movement." She has also come up with several mixed media art to go with the showcase, most of them incorporating fabric and colours like gold and green which would not usually appear in her work.
Woo's interest in reinterpreting clothes, when combined with Ting's mission to play around with new hues and media, has given rise to COLLISION, a new territory that promises capricious, avant-garde silhouettes.
Two or more notes on collaboration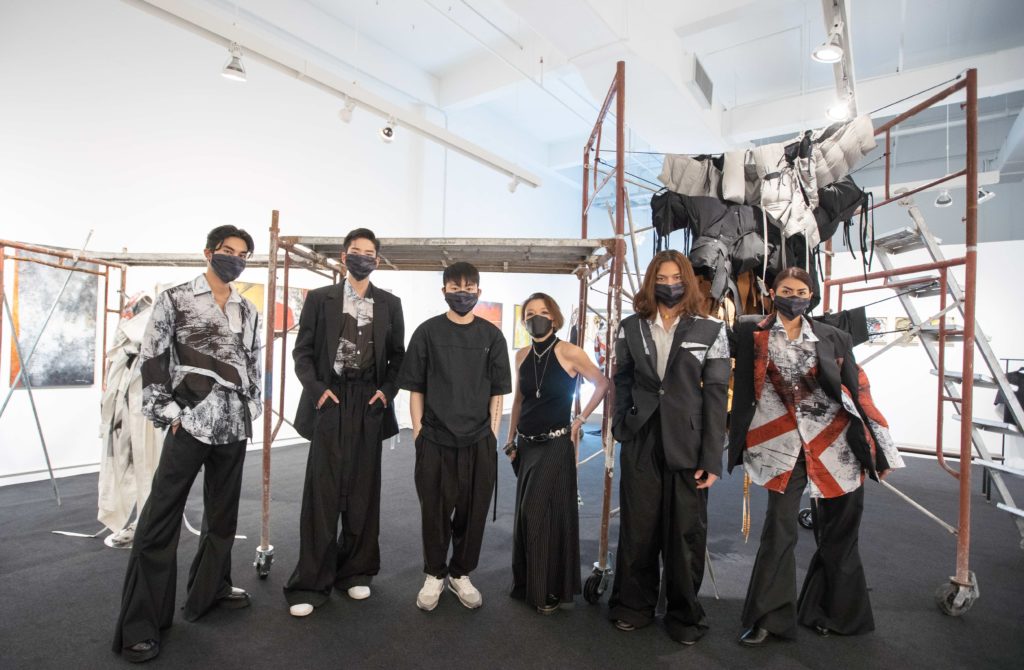 Art and fashion synergies are not new to the scene – just look at H&M and American artist Jeff Koons or even Tiffany and Co. and Jean-Michael Basquiat's recent feats.
However, we need more of these sort of collabs in Malaysia for further growth and expression. For genre-breaking projects to exist, it is crucial that artists possess the correct values and mindset towards a collaborative effort.
BASKL asked them what it took to develop this project hand in hand.
Ting says, "In my past career as an art director, I would always work with a copywriter. The former thinks in words while I in visuals, but we have to have the same vision to complement each other. If there is a problem, we would solve it together."
"Being able to adapt is crucial. With each step, we help each other to understand how things are done," says Woo.
"Artists should be open to opinions. More often than not, an original idea could manifest into something else. You're bound to get a nice surprise when you let things flow. Trust the process," concludes Tong.
See the creative results in real time. COLLISION – A Fashion Mashup by Kit Woo and Peisy Ting is live at ZHAN Art Space until March 13, 2022.