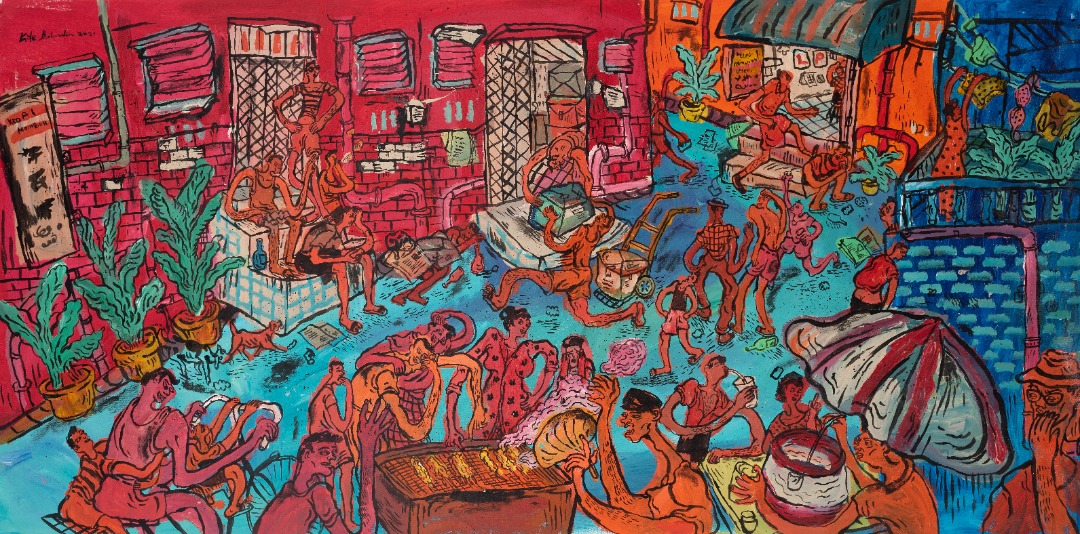 At 31, Kide Baharudin has earned a name for himself with his striking, colourful urban landscapes, inviting audiences to reflect on Malaysia's past and present.
By ANN MARIE CHANDY
"Dalam situasi lockdown ini memang memberikan impak yg sangat besar bagi saya yang suka keluar travel pergi melihat kehidupan dan budaya lokal harian masyarakat," says Kide Baharudin, via whatsapp.
Times they certainly are a changin', and the young artist from Kuala Pilah, Negri Sembilan, is feeling the ramifications of the numerous movement control orders in his creative expression. "It has had a huge impact on my ability to create, but it's not going to stop me from dreaming and imagining," he asserts, on the threshold of a new solo exhibition.
Kide's Sa-Hari-Hari is slated to begin today at Segaris Art Centre, cementing the 10-year-old gallery's commitment to fostering young Malaysian talent.
At 31, this UiTM grad has earned a name for himself with his striking, vibrant urban landscapes capturing contemporary Malaysian life, and inviting audiences to reflect on Malaysia's past and present, all with certain joie de vivre.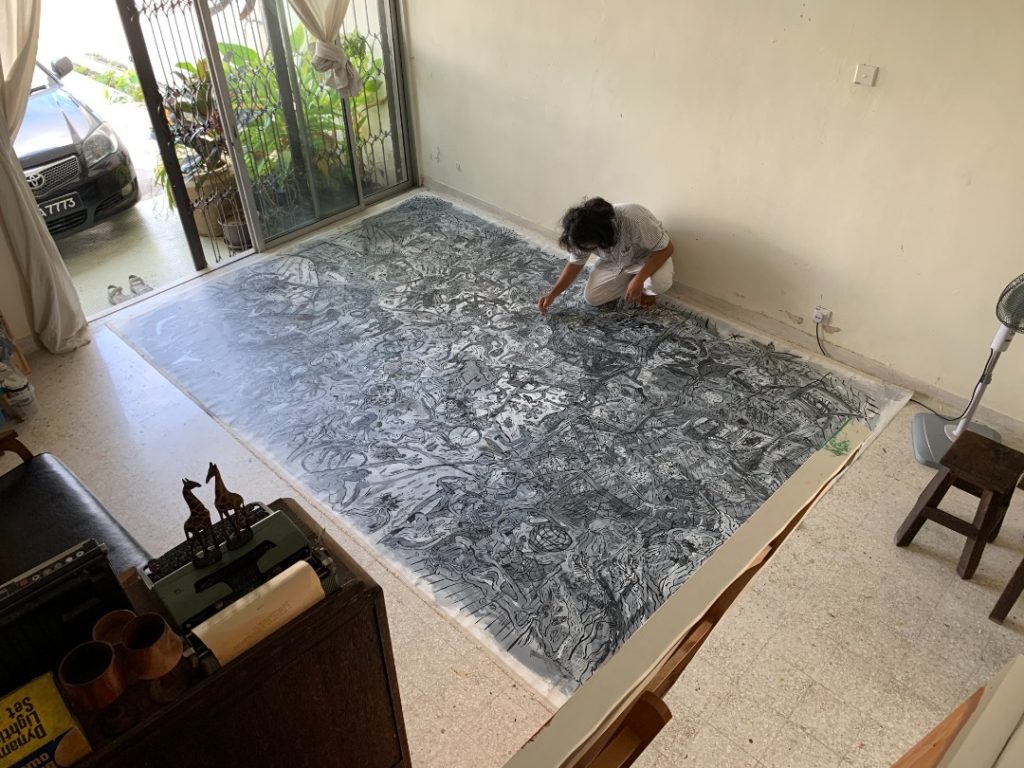 His last solo exhibition Pe'el was at Tun Perak Co-op in the heart of KL city, last August, in conjunction with his collaboration with the global streetwear brand Vans on a capsule collection titled Kide X Vans. His pictures were printed on apparel and accessories and sold the world over.
Pe'el (an old colloquial Malay word for behaviour or temperament) was blast from a better past, showcasing the best of multicultural Malaysia in scenes of everyday life: locals of all races having meals together at the corner shop, scenes of men and women revelling at parties interspersed with quaint anecdotes of home-life, and vignettes of what old Malaya looks like, at the goldsmith's, cinema and barber shop. This idea of looking at the past to understand the present is once again hinted at in the Sa-Hari-Hari, or "everyday". 
Here Kide, shares some of his thoughts on his inspirations and creative process. He talks about his memories growing up, cycling through alleyways; his dad's chalet business and its Caribbean feel, sunshiny Malaysia, his love for stories and Akira Kurosawa. The interview has been retained in a mix of English and Bahasa Malaysia, because like Kide's art, we feel this paints an authentic picture of who Kide Baharudin really is.
Your artwork is so much about the everyday life of Malaysians. What are some of your best memories of your growing up years in Malaysia?
Saya dari zaman budak lagi suka berbasikal sehingga sekarang. Saya akan randomly ambil basikal saya dan terus mengayuh di corok kampung dan pekan kecil hometown saya. Dari sini saya boleh lihat secara spontan kehidupan sehari orang2 kampung dan orang2 di pekan semasa di Kampung Mangkok, Terengganu dan di Kuala Pilah, Negri Sembilan. Tidak lupa juga memori masakan mak saya iaitu masak lomak cili api yg menjadi favourite sejak kecil.
Your artworks are so full of life and colourful. How do you choose your colours?
Sejak kecil lagi saya membesar dengan rumah yang colourful. Keluarga saya pernah memiliki sebuah business chalet di tepi pantai sejak saya berumur 2 tahun sehingga 23 tahun.
Rumah dan chalet 100% design dari abah saya dengan colour yang sangat kontra dan colourful. Dia sangat berpengaruh dengan rumah2 colourful di Pulau Caribbean. Saya ingat lagi masa kecil saya suka membelek buku2 Caribbean house ayah saya. Sehingga sekarang saya tidak bosan dengan colourful palette. Untuk karya saya pula saya suka mengenakan warna2 yang terang kerana saya ingin ia nampak situasi cuaca di Malaysia.Sebagai sebuah negara yang dikelilingi laut dan terletak berhampiran Khatulistiwa, Malaysia secara semulajadi menerima cahaya matahari yang banyak dan seterusnya sinaran matahari enam jam cahaya matahari sehari. Ini menyebabkan apa yang saya lihat warna suasana di sekeliling saya menjadi terang dan colourful. Warna favourite saya adalah merah, kuning dan turquoise. Saya akan mainkan bancuhan warna2 ini secara spontan semasa berkarya sampai saya rasa puas dan tak sakit mata memandang (bagi pandangan mata saya lah).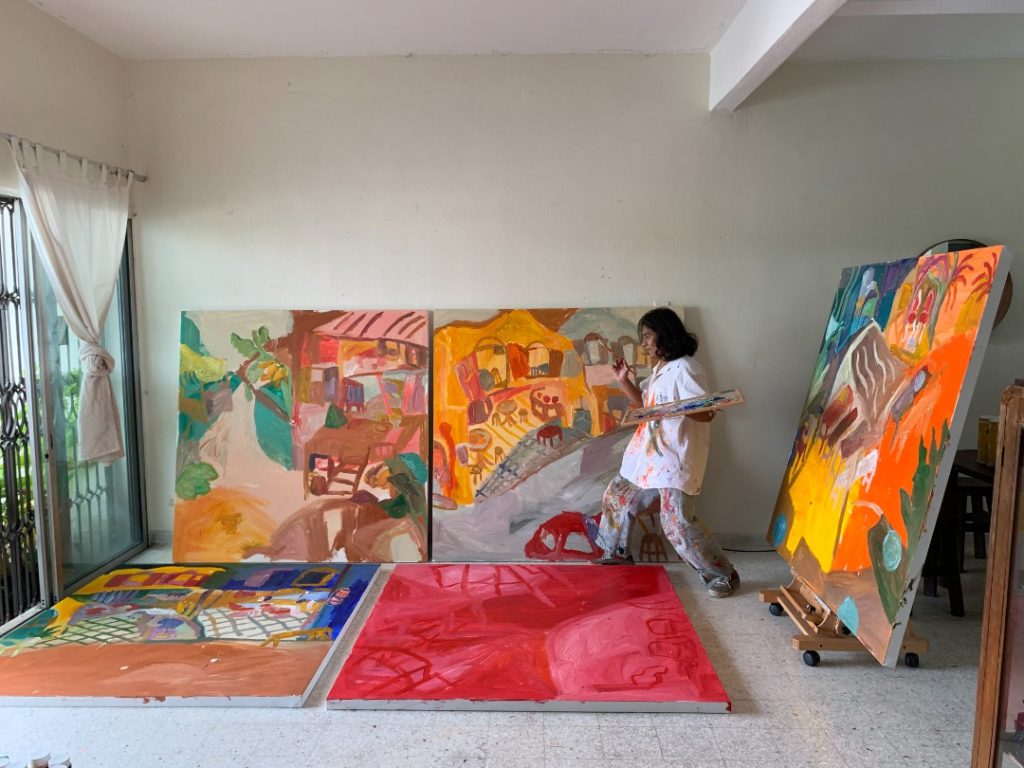 What are some of the mediums that you enjoy using and why?
Akrilik atas kanvas, Ink, grafite pensil atau charcoal di kertas, cat dan bahan-bahan buangan atau "found object" sebahagian medium kesukaan dan sudah ada "relationship" yang sangat baik. Saya memilih medium yang memudahkan proses bekarya saya. Saya bukan jenis orang penyabar dalam berkarya. Saya lebih fokuskan content / isi cerita daripada medium.
What are some of your influences?
Saya sanjung karya2 film dari Akira Kurosawa. Bagaimana dia menunjukan budaya lokal nya di seni lakon layar. Bagaimana dia bermain dengan komposisi setiap elemen pergerakan karekter boleh menghasilkan sebuah jalan penceritaan. Di sini lah terbuka otak untuk memasukan element ini di dalam karya2 kanvas saya. Saya ingin orang ramai yang melihat karekter di karya2 saya seolah2 bergerak dimana seperti lukisan2 master di era renaissance yang penuh dengan reaksi figura2 yang menunjukan penceritaan di dlm sebuah karya.
Are your artworks commentaries on Malaysian life? Are you telling stories? What would you call yourself? An artist? A storyteller?
Ya. Hampir seluruh karya saya menceritakan tentang kehidupan dan budaya lokal di Malaysia. Saya sangat teruja dengan kisah2 silam mak ayah dan kisah2 sejarah spontan melalui bualan mulut penduduk tempatan (bukannya dari buku teks) di sesebuah tempat membuatkan saya ingin olahkan cerita itu menjadi cerita imaginasi saya sendiri. Seluruh gambaran cerita pada karya saya adalah cerita rekaan semata mata. Saya bermain dengan kisah realiti yang saya sendiri tidak alami seperti sebuah mimpi dengan imaginasi saya terus kepada reaksi, expressi dan refleksi saya terhadap kisah2 itu. Artist atau storyteller? Mungkin saya tamak saya pilih dua2 nya sekali.