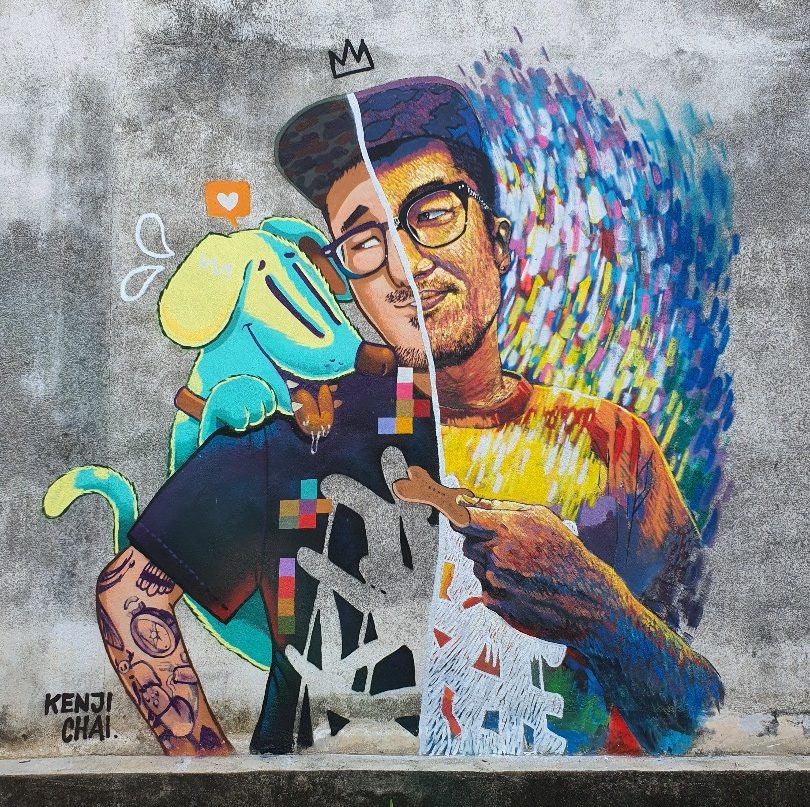 Kenji Chai's journey to becoming a world-famous artist was no bed of roses. He had to constantly push himself to survive, and it all started with Chaigo the dog.
By SOFIA SHAMSUNAHAR
Have you seen this dog (see pic above) around Kuala Lumpur? I'm sure you have. The iconic blue of the creature stands out from all the concrete gray.
In the photo above, Chaigo is seen with a self-portrait of its artist, 39-year-old Kenji Chai from Sandakan, Sabah who currently lives in Cheras, Kuala Lumpur. Chaigo is a combination of the artist's last name and "gou", the Chinese word for dog.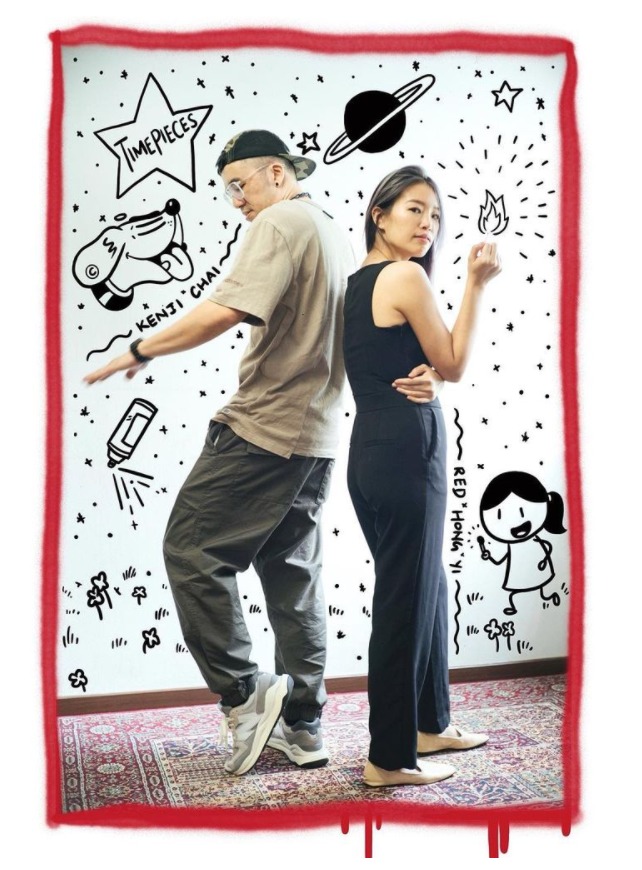 Kenji, a graffiti artist, has worked with big brands such as Netflix, Uniqlo, Puma, BMW, Vans and Swatch, whilst also being invited to mural festivals around the world to create his unique pieces. His work has been called clever and contemporary, vibrant and bold, reflecting humour, mischief and sprinkles of creativity. In recent years, the artist has been riding the crest of popularity. Just last month, it was announced that Kenji, along with fellow Sabahan artist Red Hong Yi who had chosen him for this project, would be part of Time magazine's NFT (non-fungible token) series TIMEPieces, a collection of more than 4,500 original NFTs from over 40 global artists.
Kenji's artwork features the artist's signature Chaigo in the middle of an overgrown city, and made its debut at the Zhongshan arts space building, Kampung Attap in Kuala Lumpur, it was reported in The Star.
"This artwork reflects the hope I have for a post-pandemic world. While humans have had to retreat indoors and lives have been lost, wildlife has roamed more freely and nature has been given a reset button. It is my hope that this experience will lead us to reflect and care about nature more," the artist was reported to have said.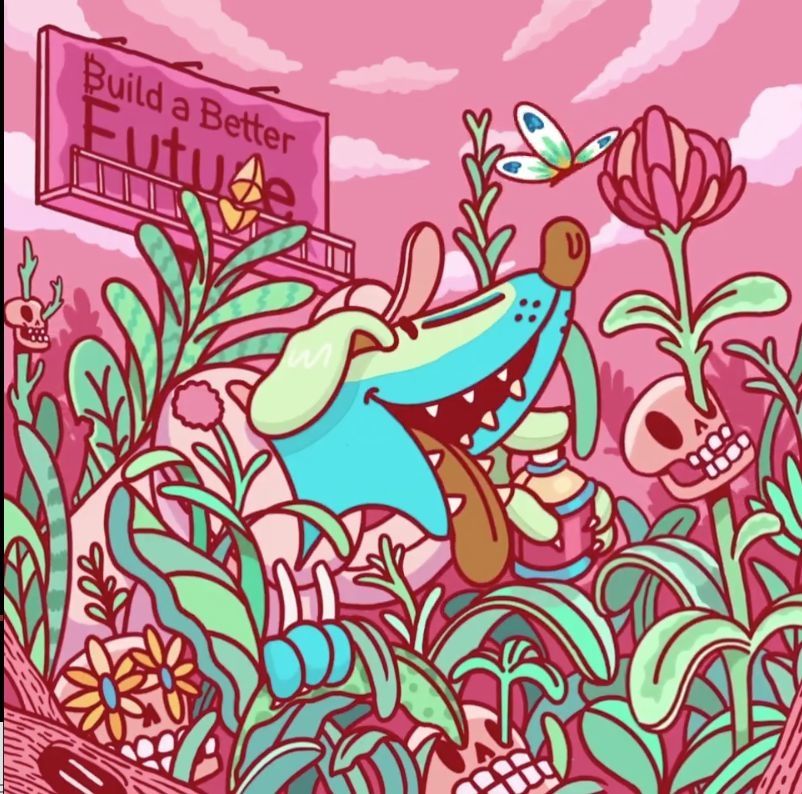 How it all began
Kenji's journey to becoming a world-famous artist was no bed of roses. He had to constantly push himself to survive, and it all started with Chaigo.
Chaigo is Kenji's alter-ego. His idea of the dog came in 2013, when he was driving back from work and saw a lot of stray dogs ending up as roadkill. It was sad for Kenji to see, and he made a mental link between the stray dogs' experience and his own life.
"I come from a broken family," he shares, adding that he needed to take care of himself. "No one is going to help you".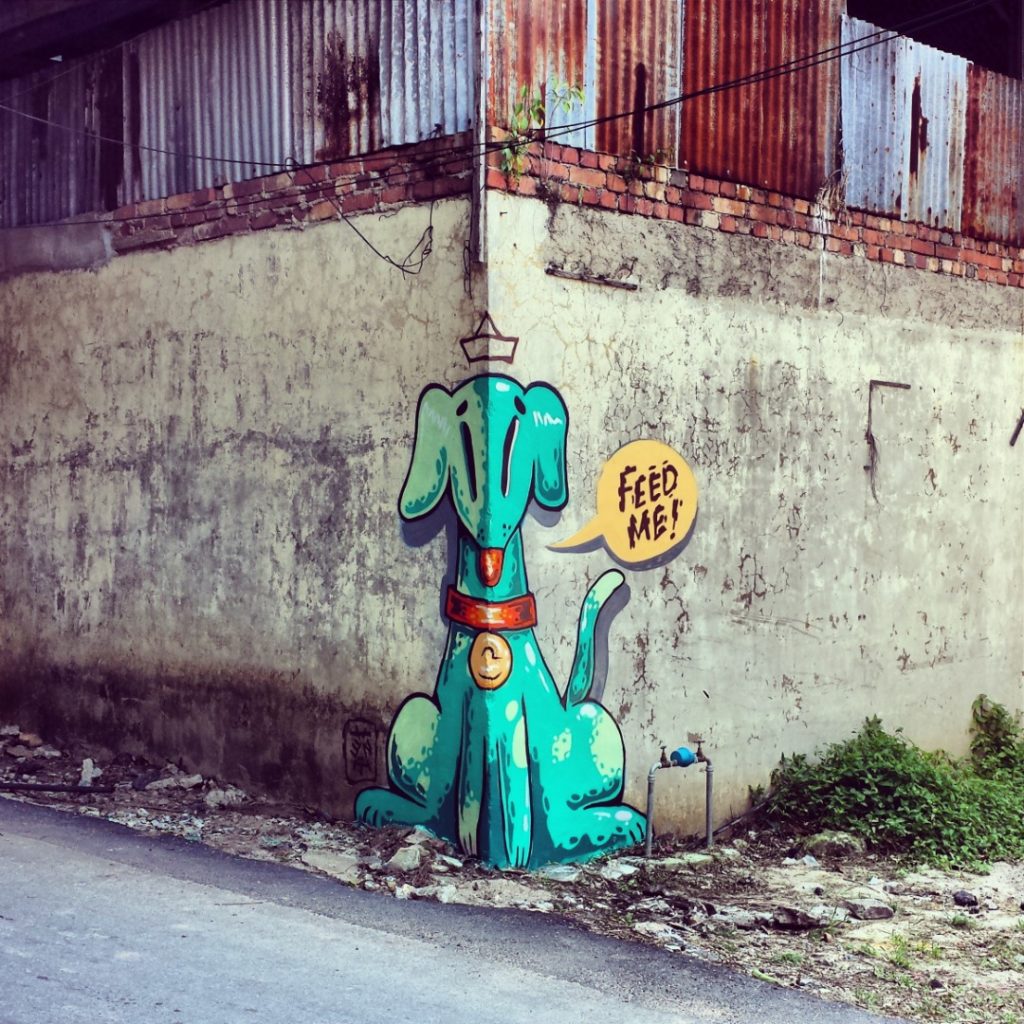 Kenji says he needed to learn how to solve problems independently by experiencing things and making mistakes. "Just like a stray dog," Kenji explains, saying that stray dogs often beg for food even when they are not welcome. "They never give up," he offers, saying that having a positive mindset and a determination to survive is the key to succeeding.
Kenji moved to Kuala Lumpur to chase his dreams a decade ago. He remembers those years as a "nightmare" because of how hard things were along the way – this included hopping from rented accommodation to rented accommodation, being robbed (lost his bike, phone and coin collection all on different occasions) and having a string of unlucky experiences in various jobs. Things were tough. But Kenji says that these experiences made him stronger, and gave him a head's up on what to expect in the real world.
Perhaps this strength to get through things is the reason Kenji has since thrived as an artist. "When you're working in art… people often look down on you and say you cannot make it, because they refer to a lot of failures. You have to be prepared both physically and mentally for this."
When Kenji was younger, he loved to draw, and would often draw his favourite cartoon characters (Ninja Turtles & Street Fighters) in exercise books. But even while in primary school, he was sceptical about getting a job as an artist.
"People used to say that artists cannot make a living," he shares. And that is why he chose to study graphic design for his diploma, something he felt would allow him to make a living from drawing.
Kenji became a graphic designer, but in 2008 he began to feel bored with his job. After reflecting and talking to others, Kenji learnt how to graffiti from friends.
"It's very hard for beginners to conquer and control the can," Kenji shares, but adds that he was fortunate to have friends to give him step-by-step lessons.
In the beginning Kenji would spray the shape of his Chaigo piece and then add the detailing with a paintbrush. But now the artist completes Chaigo all in spray.
These days Kenji claims to be happy. Work-life in the past seemed like a lot of restrictions and rules to follow, but graffiti has been a way for Kenji to express what he really wants to do, and he's able to create from his own ideas.
In the beginning, Chaigo was slimmer than what he is now. After the first 100 dogs Kenji painted, the shape started to come together. Playfully, Kenji purposely puts no name on his Chaigo pieces. He enjoys the mystery of it all. "Is he Malay or Chinese?" He thinks people will wonder.
He likes to place Chaigo in places that give people positive energy. Which is why he places the piece in spaces that usually encounter traffic jams or high-traffic areas. Kenji says he wants to add some colour in people's days.
"I want them to feel a bit of happiness. Not to feel like everyday is the same routine, like life is boring."
But really, how does he not get in trouble? Graffiti is a very grey area, Kenji says, adding that you have to be practical and mature about what your content is about, and where you choose to display your art.
Kenji never imagined his life would change with the creation of Chaigo. "It's really crazy. It's something I never thought would happen in my life." He's been going with the flow, and trying his best to grab any opportunity that comes his way.
And the opportunities have indeed been rolling in. In 2008, Kenji was invited to give a talk on TedX. He's had big brands approach him, some memorable experiences he's had is: painting a mural for his favourite fast food chain KFC, creating designs for watch brands SWATCH and Boldr, and Tiger Beer, through which he felt he had a lot of freedom to create "something cool". In 2018, he even painted a 25-storey mural on the facade of hotel Red by Sirocco in Kuala Lumpur – which was later certified by The Malaysia Book Of Records as the tallest in the country.
The artist has also been invited to mural festivals and commissioned pieces overseas, in places such as Kazakhstan, China, South Korea, India and the United States.
Pandemic blues
The Movement Control Orders and lockdown have been tough. Kenji says the last couple of years have been "really boring and sad" and feels like he's been in jail.
However, the time has allowed him to focus on creating Chaigo products, and the artist hopes to collaborate with like-minded creators. He feels that now is the time for digital artists to shine through NFTs, and sees it as part of the new norm in a new world.
When we ask Kenji for advice for emerging artists, he says "It's not easy being an artist.
"If you're serious about it, you need to create a whole concept, a brand". He explains that "charging people is like another art", and advises artists to never price their art by saying ""give whatever you feel comfortable giving". He says: "If you can't meet your daily needs, you'll be worrying for the rest of your life", so give your art a price you deserve."
For those feeling a little burnt-out during the pandemic, Kenji offers this advice: "Stop looking at Facebook, stop scrolling Instagram. Try to create more, listen to music, talk to a tree."
At CENDANA's Open Arts Classes (OAC), you learn directly from Malaysia's best including Kenji Chai who is slated to speak on Nov 14. Sign up for the Menerokai Seni Melalui Grafiti bersama Kenji Chai (which will be delivered in a combination of English and Bahasa Malaysia). Sign up here.