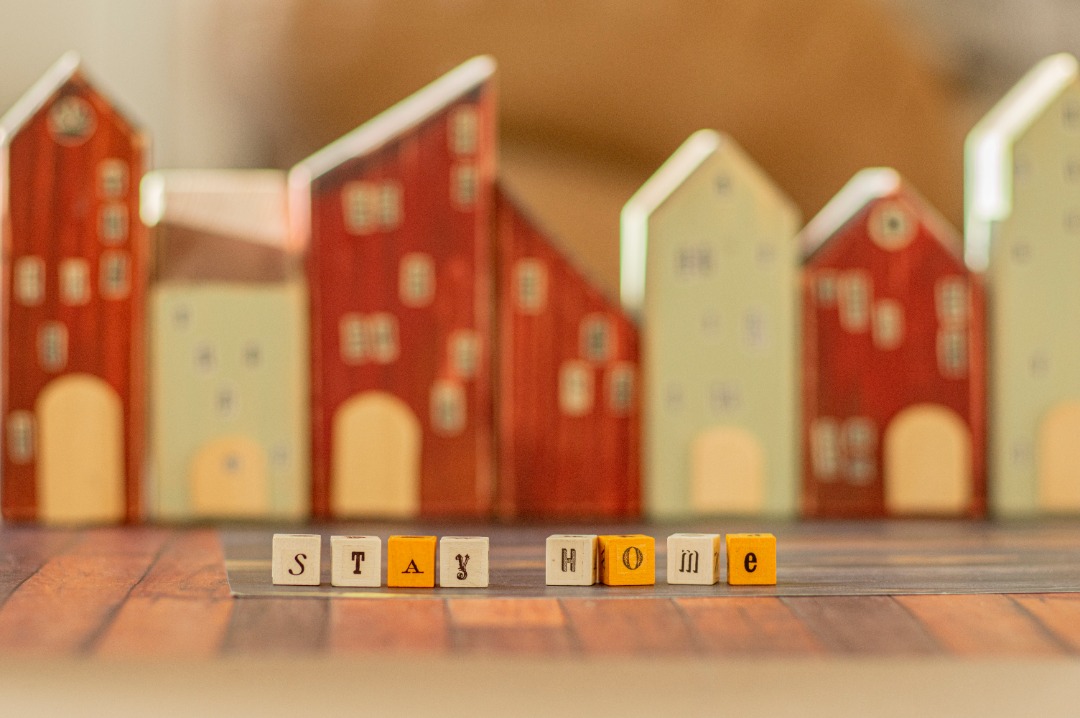 Suggestions for you to tune into the arts this week.
By ANN MARIE CHANDY
All the "staying at home" in the last few weeks has been really getting to me. Often I pretend I'm on a space station and try to imagine how astronauts cope with not being able to go out for a walk whenever they like. The Holodecks in Star Trek movies are starting to sound a whole lot more real and appealing! Here's a bunch of things that may help you through the next week, and remember, each time you attend an online performance or exhibition, or watch someone play a gig live, you're contributing to their bread and butter, literally! So thank you for supporting the arts, and let's keep on keeping on, together!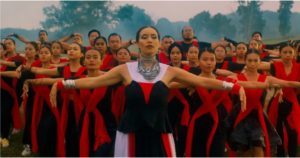 If you haven't yet checked out Alena Murang's video Warrior Spirit, you might want to. The video has been winning awards and creating headlines. Co-produced by Project Room & Kanid Studio, and directed by (Alena's cousin and frequent collaborator) Sarah Lois Dorai, the music video is inspired by Alena's Sarawakian cultural heritage and features dozens of traditional dancers, as well as Alena's band, in picturesque landscapes and colourful outfits. It's a visual and aural feast. The video has earned Best Asia & Pacific Music Video and Honourable Mention for Best Costume awards at the recent International Music Video Awards in the UK, and was also chosen as an Official Selection at the New York International Film Awards and a semi-finalist for Best Film at the 2021 Los Angeles Film Awards.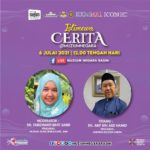 July 6, Tuesday
In conjunction with International Museum Day and 20 years of reflections (2000-2020), watch the live FB interview with Arif Abd Hamid, pengarah, Jabatan Muzium Sabah, moderated by Dr Farizawati Sabri, pengarah, Muzium Alam Semulajadi JMM, on Tuesday at noon. Tune in to Istimewa Cerita @MuziumNegara here.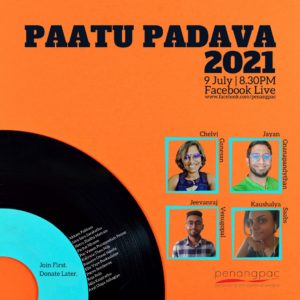 July 9, Friday
Get ready to be mesmerised with Paatu Padava 2021, as Chelvi, Jayan, Jeevanraj and Kaushalya rock the Tamil virtual stage for an evening full of wonderful melodies, old and new, brought to you by penangpac. Just tune in to penangpac's FB Live at 8.30pm, and follow these guys down memory lane. Funds collected go to keeping penangpac alive during the pandemic. And while you're "at" penangpac you might want to check out their other shows as well including Entropy, which is streaming all of this month. Whatsapp Jeevan at 016-471 8072 for more info.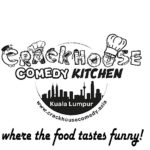 Hungry?
Tired of eating the same old pizza? Why not try to taste a pizza or two with a comedic twist? Let Crackhouse Comedy Club serve you its one-of-a-kind pizzas along with cheekily named chicken wings (Sarong Party Chicks) and cookies (The Underground Cookie). These delicious delicacies come with complimentary one-min comedy clip from past local and international headliners. In order to stay afloat this season, Crackhouse Comedy Club is exchanging its current business plan from providing comic relief to food service. You may order as much as you want for your own consumption or even purchase to donate to orphanages, senior citizen homes or anybody else in need. Please lend your support to keep this comedy venue alive by ordering via food delivery. You can call the owner Rizal (a comedian himself) directly at +6017-2056870 so they get to keep 100% of their earnings. Who knows, you might find a friendly comedian at your doorstep!
Save the date
Teachers! This one's for you. From klpac and The Actors Studio Academy Workshop Series comes "How to Teach Creatively Online: a workshop for English & Drama Teachers".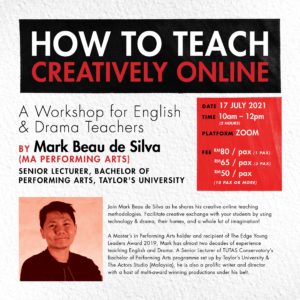 Join Mark Beau de Silva as he shares his creative online teaching methodologies, and learn how to facilitate creative exchange with your students by using technology & drama, their homes, and a whole lot of imagination! With a master's in Performing Arts, Mark, a recipient of The Edge Young Leaders Award 2019, has almost two decades of experience teaching English and Drama. A Senior Lecturer of TUTAS Conservatory's Bachelor of Performing Arts programme set up by Taylor's University & The Actors Studio (Malaysia), he is also a prolific writer and director with a host of multi-award winning productions under his belt.
This one-day only workshop for English and Drama teachers is part of klpac's Covid-19 Emergency Relief fundraiser – all fees will go to #saveklpac. The workshop will be held on July 17, from 10am to noon on Zoom. Fees: RM80 / pax (1 pax) / RM65 / pax (3 pax)/ RM50 / pax (10 pax or more). Register here.
Comedy goes online! Thanks to the Internet, international collaborations became a reality without the need for everyone to be at one location! Showcasing unique voices in stand-up comedy, I Laugh KL has a cool line-up of stand-up comedians waiting to tickle your funny bone! Tune in to Cross-Border Comedy (Season 3) on July 17 (8pm). You might want to save the date.