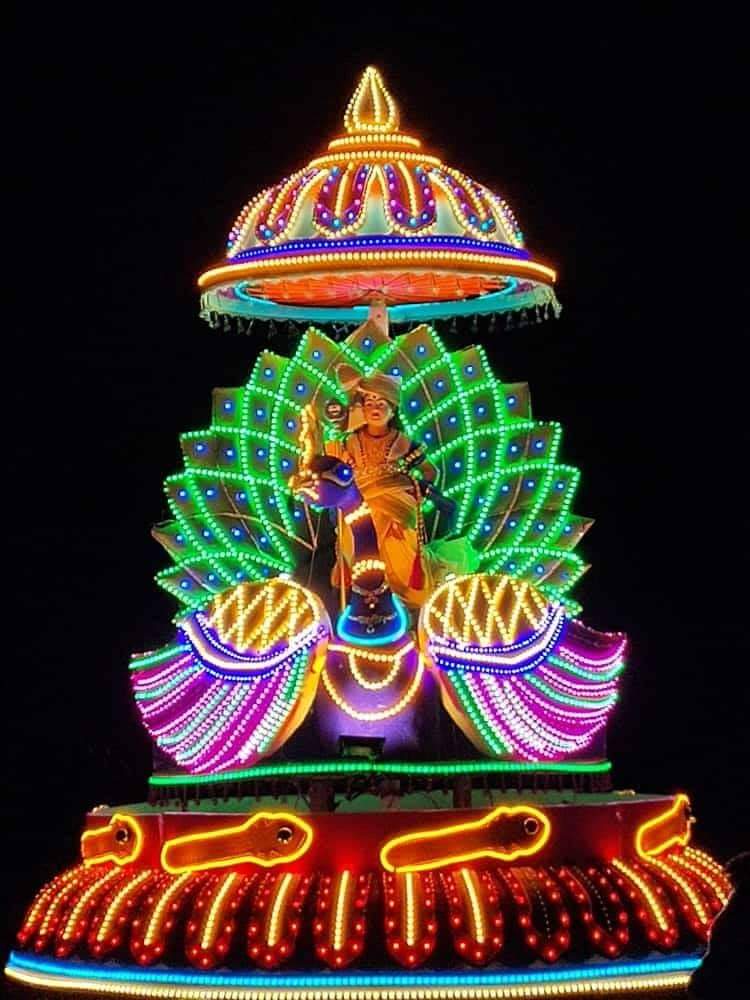 Ipoh kavadi-maker Sivabalan Doraisamy hopes that younger generations will keep the tradition of crafting these religious structures alive.
By NICOLE CHANG
Having picked up a skill or two from from his late uncle Rathakrishnan Muniappan, a pioneer at making polystyrene and illuminated kavadi in Malaysia, 38-year-old Sivabalan Doraisamy has continued the tradition of crafting kavadis for a modern age.
"The polystyrene LED-lit kavadi started becoming popular here in Ipoh some time back. Temples in Penang, Kuala Lumpur and Johor Baru began ordering these illuminated kavadis. The kavadis that I was making were being sent to further regions including Sabah, Singapore and Mauritius."
The kavadi is regarded as a physical "burden". It is a decorative, heavy structure carried by Hindu devotees while performing Kavadi Aattam or the "Burden Dance", during the ceremonial offering made while worshiping Lord Murugan during the Thaipusam festival which usually falls in January. Bearing the kavadi, the devotee dances along a pilgrimage route.
According to Sivabalan, temples keep these kavadis for ceremonial worship programmes of other Hinduism festivals too. "They may keep it for one or two years and use the same kavadi for other festivals such as Chaitra Pournami (celebrated at full moon during the month of Chitirai, in April or May) and Panguni Uhthiram (celebrated at full moon during Panguni, in March/April). On occasion, temples in smaller towns, would even rent kavadis, or purchase used kavadis for their own use. However, after repeated use, parts of the kavadi can be damaged and will need to be carefully disposed."
For Sivabalan, making these structures has enabled him to have a strong bond with his religion and traditions.
"I used to only do it on a part-time basis, primarily when I received orders during festival season. But making these kavadis has become my passion. I'll keep doing it. Besides perpetuating my uncle's legacy, I am now determined to preserve this Indian cultural heritage," he said.
"Traditionally, a kavadi is made from bamboo and coloured paper. Nowadays, however, kavadis are crafted using polystyrene or other lightweight materials. Each kavadi is created with different decorations and detail that bear different meanings linked with Hinduism. The design of the kavadi usually features the Lord Murugan."
Sivabalan adds: "Previously, I made kavadis entirely by hand using a blade. Today, to save time, I use a machine to cut out the outlines of the design of my kavadi. Then, I handcraft each part of the artwork with details using a blade. I used to paint by hand. But now I use an airbrush. The technical part is the colour mixing and the skill in shading and toning parts with an airbrush. To fine-tune the details, there needs to be hands-on linework when painting the featured subjects. The making of kavadis is not difficult, but it requires a lot of patience."
There are still many kavadi makers in Ipoh who create and supply kavadis nationwide. Despite being a niche market, kavadis are in demand annually. As Thaipusam approaches, Ipoh's kavadi makers receive orders from all over. Nevertheless, the inheritance of this traditional craftsmanship calls for young successors.
"Today's younger generations are less interested in tradition or heritage. Although some have come to me to learn the art of making kavadi, they usually give up after day one or two. They have no patience," said Sivabalan.
He feels grateful for the mentorship and support from the senior kavadi makers along his kavadi-making journey. "Instead of seeing us as their competitors, they always support us with able guidance based on their own experiences. That's become a culture among kavadi makers here. We help each other when anyone of us encounters challenges in kavadi-making."
Sivabalan urges young makers to embrace tradition by practising the elements and spirit of kavadi-making inherited from the past generations, towards promoting this meaningful heritage among community.
Contact Sivabalan on Facebook or call 014-6015653