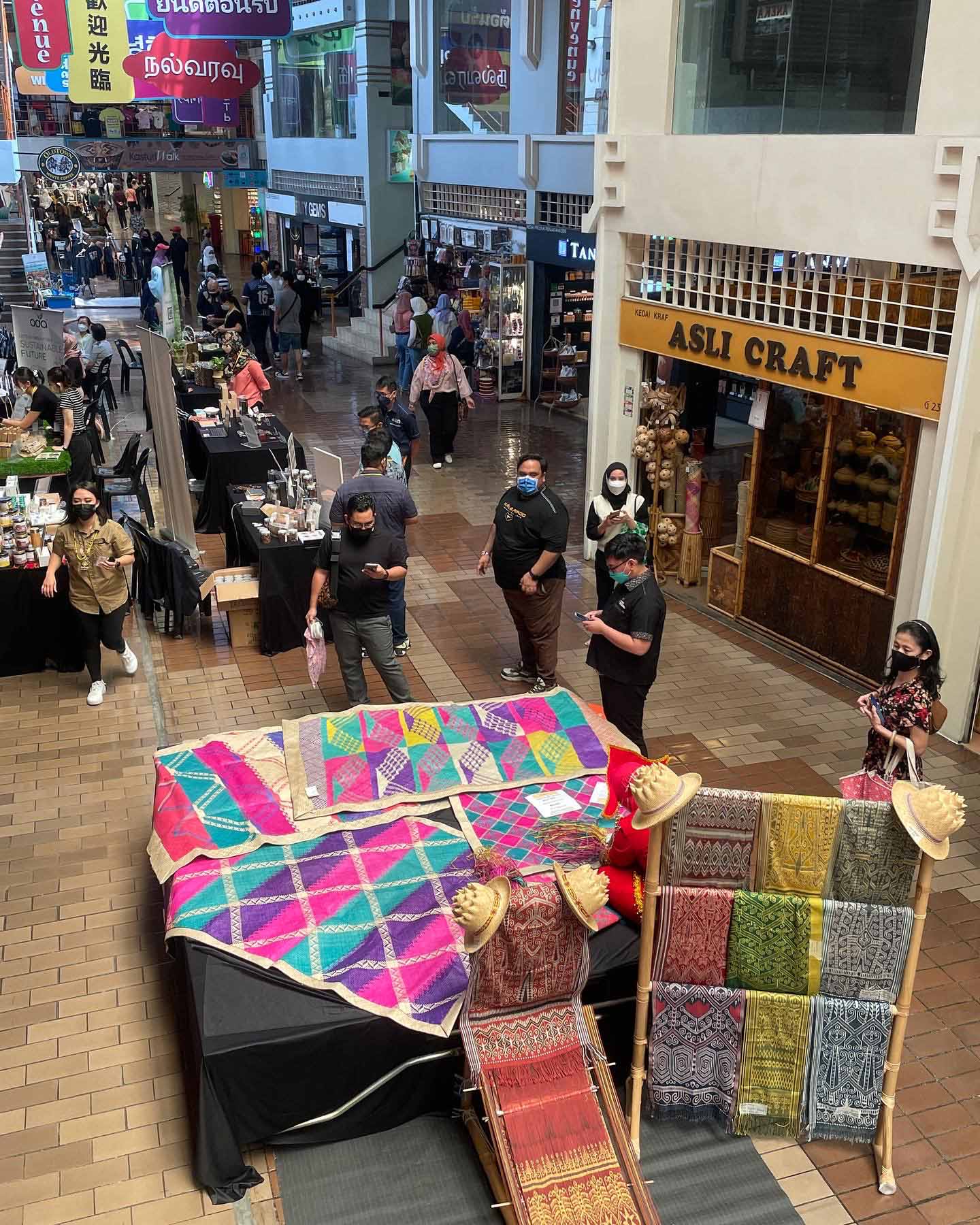 After three years in an international circuit, a group Bajau Laut women showcased their traditional pandanus woven mats, tepo, for the first time at KLWKND.
Story and photos by Yusra Zulkifli for Lensa Seni
As you walked along the central aisle of the Pasar Seni, a raised rectangular platform would have caught your eye. Here, a weaver dressed in traditional Bajau Laut garb worked on coloured pandanus mats, demonstrating a fine art of weaving. Those mats, in vibrant colours, were one of the highlights at the KLWKND exhibition held at Pasar Seni last November.
Indigenous Bajau Laut women from Omadal Island in Sabah had made these mats, known as tepo in Bajau, and it was something KL had never seen before.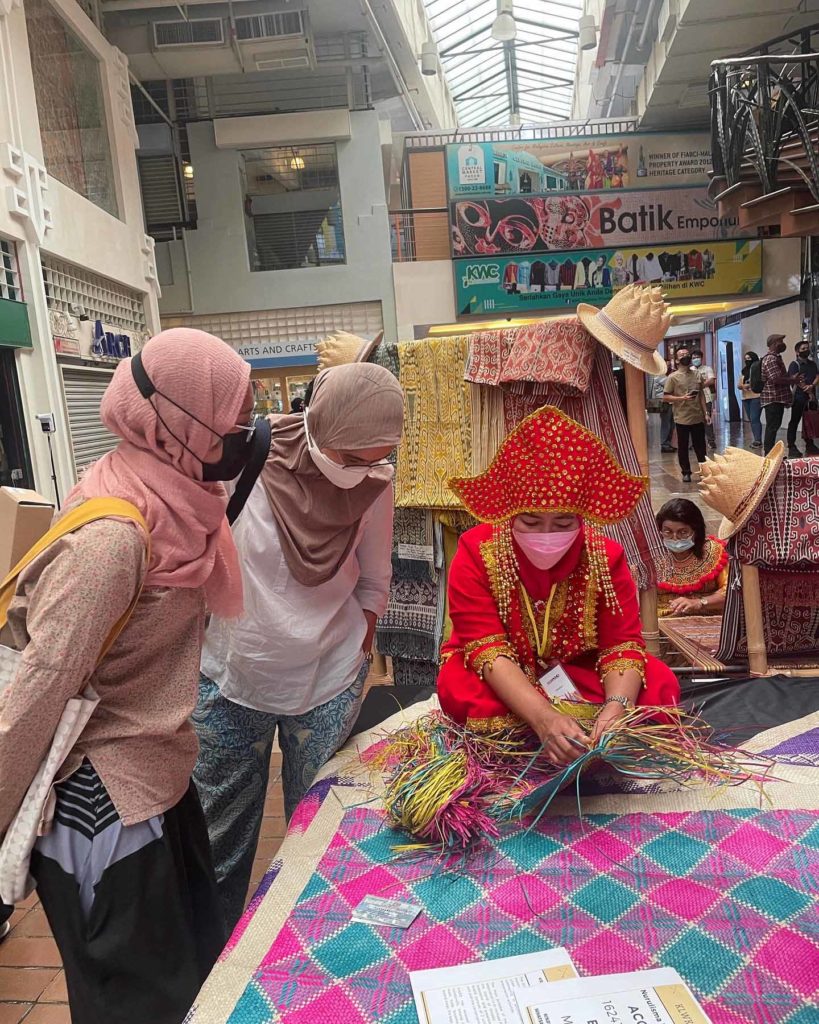 The artisans who crafted the mats are part of the Persatuan Wanita Pulau Omadal (WAPO) Semporna, which was set up in 2010. WAPO was founded to sustain the island's marine ecosystem; these handicraft benefit the island's socio-economy while maintaining the traditional culture of the Bajau Laut society.
More commonly known as Sea Gypsies or sea nomads, the Bajau Lau have lived off the coast of North Sabah and the region of Sulu Archipelago for centuries. The ocean is an integral part of their lives, and they are known to be good divers. However, their culture and heritage are less recognised. 
Bajau Laut women are good weavers. They capitalise on their skills to make handicrafts, such as the pandanus woven mat featured at KLWKND, to support their livelihood.
Despite hardships in the early years of WAPO, they were resilient. In 2016, Chairperson of WAPO Roziah Jalalid presented at the CTI-CFF Woman Leader's Forum at the International Symposium on Capacity Building for Sustainable Ocean in Tokyo, Japan. At the event Roziah highlighted that the forum was a good platform for women's groups within the six Coral Triangle countries to exchange ideas and share experiences on protecting and sustaining marine biodiversity.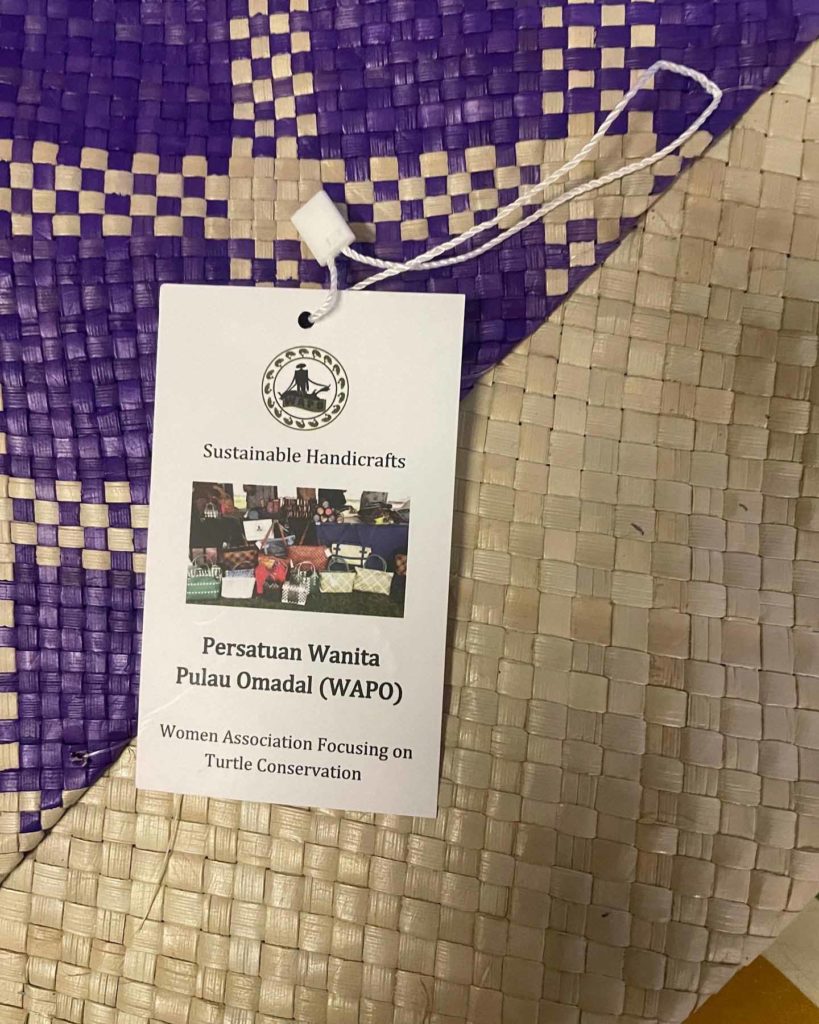 One of their breakthroughs came in 2018, when contemporary Sabah artist Yee I-Lann, approached the Keningau and Bajau Laut weavers for a commission from National Gallery Singapore. 
Yee's foray into the world of mats came about because of a family photograph coupled with her memories of rituals performed on mats; Yee's Kadazan grandmother was a weaver herself. 
After living in Kuala Lumpur for more than 20 years, she returned to Sabah in 2016, searching for her community, and somehow, her interest in mats grew. 
Since 2018, the Bajau Laut weavers have produced several artworks in collaboration with Yee.
The first was Tikar-A-Gagah (2019), exhibited at and commissioned by the National Art Gallery of Singapore. The following artwork was Tikar/Meja (2018-2020), a collection of 60 mats exhibited at Silverlens Gallery in Manila in 2019; Gillman Barracks in Singapore and the National Museum of Contemporary Art in South Korea in 2020; and the Borneo Heart Exhibition in Sabah and Centre for Heritage Arts & Textile at HongKong in 2021.
Other collaborative works with Yee – Tikar Emoji (2020), Tepo Aniya Nombor Na (2020), Tikar Reben (2020) and Tanahairku #002 (2020) – were all exhibited at the Borneo Heart Exhibition in Sabah and Centre for Heritage Arts & Textile (CHAT) in Hong Kong last year.
The Bajau Laut weavers are also currently showcasing their mats at the 10th Asia Pacific Triennial (APT10) at Queensland Art Gallery and Gallery of Modern Art (QAGOMA), Brisbane, until April 25, 2022. However, in this show, the weavers are featured as artists themselves. Their traditional mat is featured alongside other contemporary artists in the Asia Pacific Region. After 11 years of the formation of WAPO, the recognition marks a significant milestone for the weavers.
"APT10 will also feature tepo – handwoven mats made from dried pandanus leaves, crafted by the Sama Dilaut people, who live a nomadic, seafaring life throughout the Indo-Malay and Philippine archipelagos. The geometric designs of the dyed leaf mats represent sea life and everyday objects such as ladders used by people to climb on to their houseboats. There are recent moves to introduce tepo to regional museums and collectors," wrote Elizabeth Fortescue from The Art Newspaper in December.
After being featured internationally, the Bajau Laut women and their tepo were invited to showcase their handiwork at KLWKND – it was their first invitation to Kuala Lumpur! They were honoured by the invite but at the same time felt that their local recognition could have come sooner.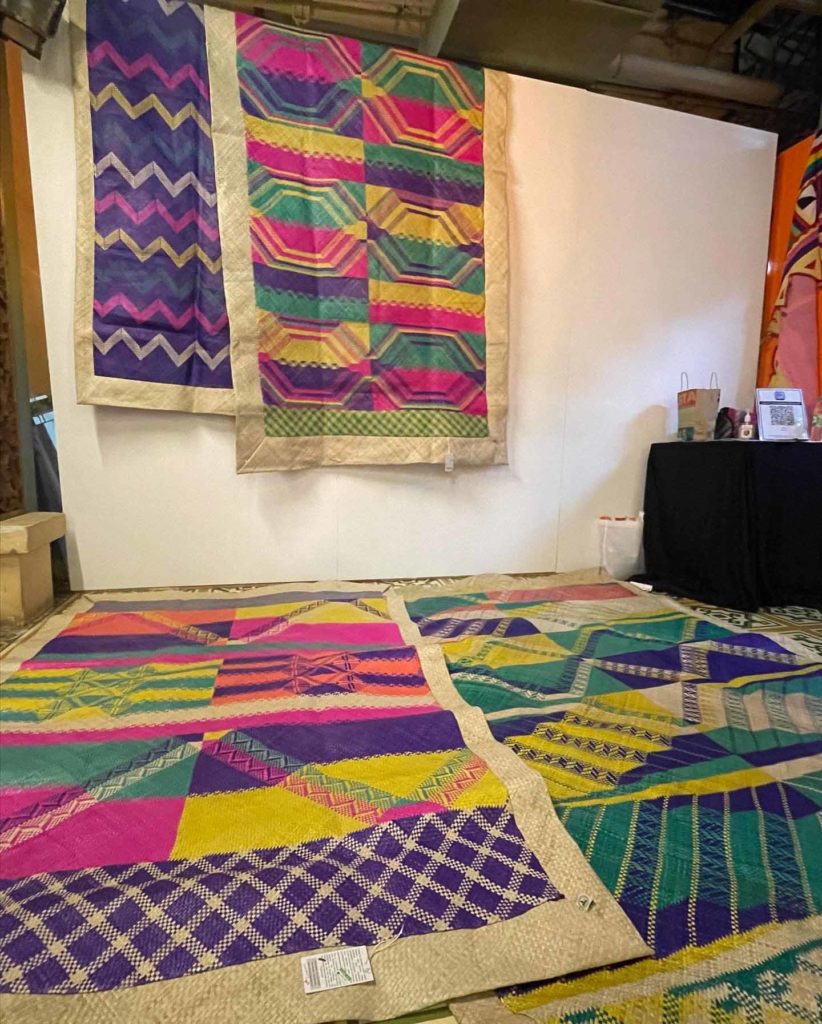 Roziah is proud that international institutions such as GAQOMA in Brisbane acquired a tepo as part of its art collection. CHAT in Hong Kong also acquired a tepo but for use in workshops and activities of the institution. In addition, Tikar Reben, Yee's artwork in collaboration with the weavers, was sold to a collection abroad. The response from the international audience has been very encouraging.
In KL, the public was equally impressed with WAPO at KLWKND. Many observed the weaving demonstration and were amazed by the intricacy employed in creating the patterns.
WAPO also had a space to display and sell their mats and other handicraft products together with other artisans from Sabah at Pasar Seni. Some mats were hung on the walls, rolled for display and laid on the floor.
The showcase also allowed for personal encounters with the weavers and the mats. The public joined in sitting on the mat, enquiring about the weavers, mainly where they came from, and how long it takes to weave a single mat. Most didn't know where Omadal Island was and were more familiar with the term "Sea Gypsies" rather than Bajau Laut. 
It apparently takes a month on average for two weavers to produce a single mat – so much painstaking effort and creativity goes into each mat's creation. Fortunately, out of 25 mats displayed at Pasar Seni, only six were left when it was time to head home. 
Immediately after KLWKND, WAPO participated in another event, PASAREKA, organised by Kraftangan Malaysia at Kuala Lumpur Craft Complex in December. At PASAREKA, the women demonstrated the belai belut sewing technique used to finish the edges of a placemat made of tepo.
Both events were firsts for WAPO to exhibit their tepo and other handicrafts in Kuala Lumpur. Hopefully, their local recognition will go in tandem with their international acknowledgement, and mark a bright future for these  
Yusra Zulkifli is a participant in the CENDANA ARTS WRITING MASTERCLASS & MENTORSHIP PROGRAMME 2021
The views and opinions expressed in this article are strictly the author's own and do not reflect those of CENDANA. CENDANA reserves the right to be excluded from any liabilities, losses, damages, defaults, and/or intellectual property infringements caused by the views and opinions expressed by the author in this article at all times, during or after publication, whether on this website or any other platforms hosted by CENDANA or if said opinions/views are republished on third party platforms.