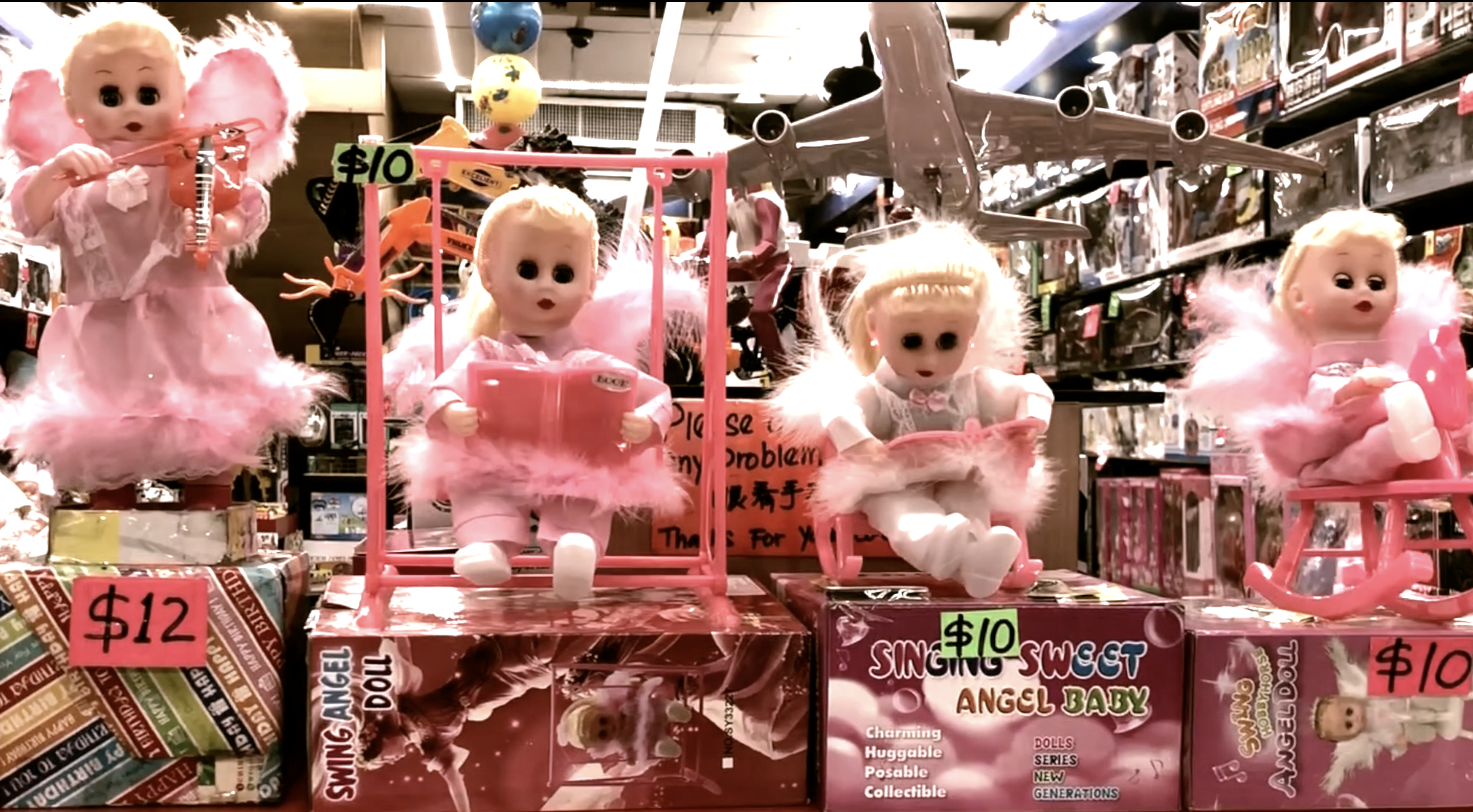 By CLARISSA LIM KYE LEE for Lensa Seni
As I step foot into a grey zone, shades of white, grey and blue wash over my skin, twinkling from the projector light. Billowing multilayered translucent curtains glow, bouncing colours from the video. It is a small experimental space with walls. The carpeted floor is grey too, warm and inviting. I sit down, cross-legged.
For the first time in a long time, I stop.
I see an exhilarating scene of Hong Kong during typhoon Mangkhut. The power of the wind, weaving around desecrating trees, construction sites and filling the shorelines of Hong Kong. I see mechanical plastic dolls, rocking forwards and backwards or swaying right and left, pink, unblinking. I see waves crashing onto the shoreline of a beach. The camera jerks and flips upside down. The ocean blue falls over our bodies. I hear soft, ambient background music. I hear elongated vowels of someone's voice, and don't even register the meaning of the words she says. "Allow yourself to rest and relax" the voice reminds us.
Uncertain Relaxation by Dipali Gupta is a video installation made in collaboration with hypnotherapist Joyce Hue and curated by Eric Goh. It is the second of the seven exhibitions by Mutual Aid Projects. It is held in an unassuming shop lot at Wisma Central on Jalan Ampang in Kuala Lumpur, next to a tailor and opposite a copy shop. With every new exhibition, Goh will transform the site into a new world.
The installation is set up as a space of healing, the voice treats the mind by injecting instructions of relaxation. We are edging onto a transmedial transformation. Gupta's body of work is inoculated with notions of the cyborg. This is a reference to the cyborg manifesto, a feminist, post-humanist theory developed by Donna Haraway that suggests an interweaving between human and machine, physical and non physical – a fluid state of inbetween. This collaborative piece is no different. The single-channel video is juxtaposed with the voice of Hue, while our bodies act as a medium between the aural and the ocular. The languid voice urges us to relax, whilst the video pans, jerks and settles.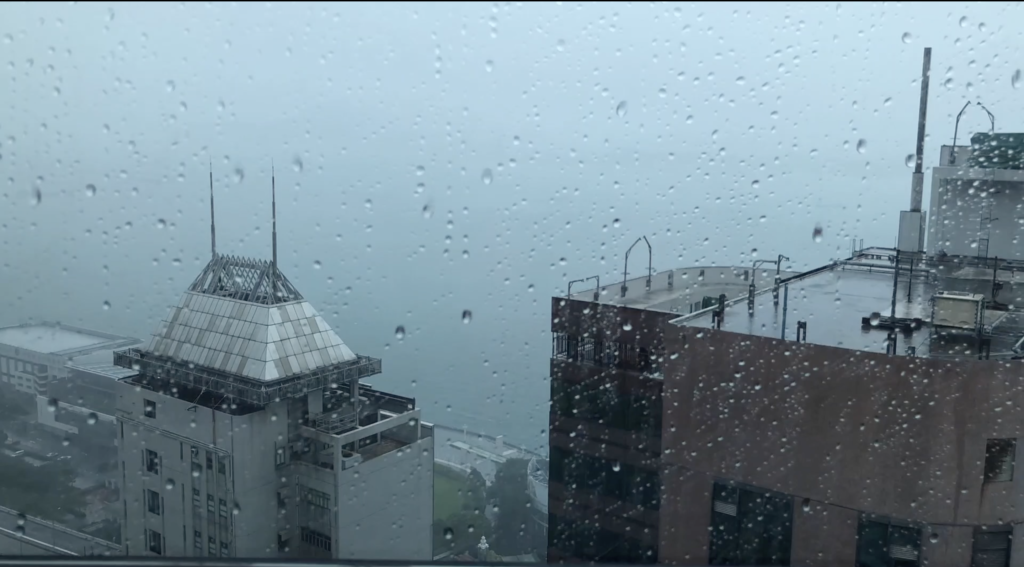 The video feed migrates from place to place, visions of lands, which seem so distant today. It offers up layer upon layer – urban cities, rural landscapes, aircrafts and machinery, images of commerce. Bound by the edges of the projected screen, the turbulent videography reminds us that we can simply watch, almost like a livestream of the artist's memories.
The voice is ignorant of our viewing sensations. It pulsates around us, in slow, lethargic tones as the installation forces us to process the two senses simultaneously. It is dizzying. It is turbulent. I have to decide.
The installation reckons with the tension of the binary that we see stamped into our social media feeds, discussed on political debates and the many contradicting and confusing pandemic regulations guiding our unsettling times. It reminds me of the constant contortion that one has to twist into so as to navigate these expectations and position oneself on either side of any contemporary issue.
After 20 minutes of incubating, I open the door to exit and am hit by the streets of the city centre. I pause. "…just allow that comfort, to spread and flow upwards" Hue's instructions continue to permeate my body. I stop, breath. It is only after a moment that I dare to step into the LRT and reenter our bound, controlled and seemingly binary world.
Uncertain Relaxation by Dipali Gupta runs until Nov 21. For updates check www.facebook.com/mutualaidprojects
Clarissa Lim Kye lee is a writer under the CENDANA – ASWARA Arts Writing Mentorship Programme 2020-2021