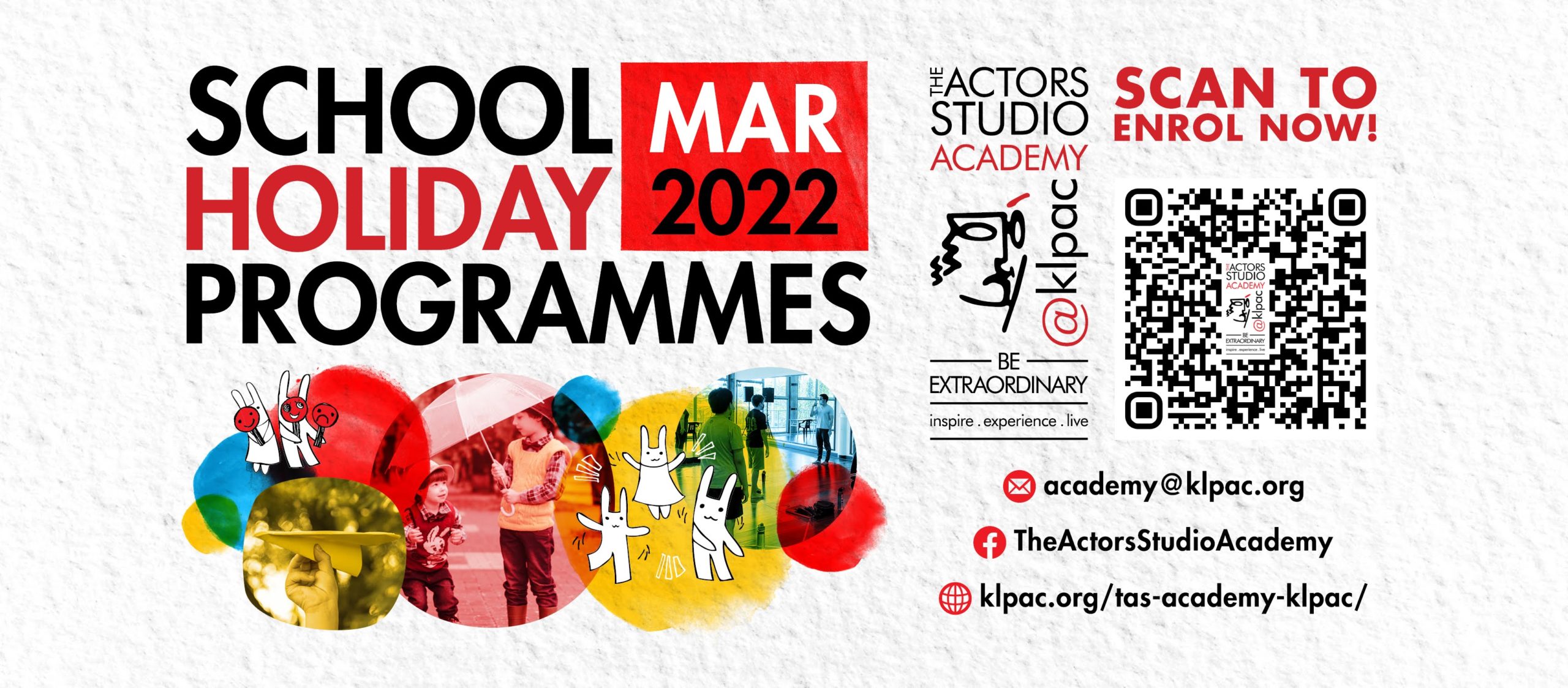 The Actors Studio Academy is back this upcoming school holidays with exciting programmes for kids and teens to enjoy and have a much-deserved break.
By SHAFIQUE DANIAL JOHARI
This school holidays, the Actors Studio Academy (TASA) is once again introducing three new programmes for both kids and adults, so you don't have to languish away with nothing to do, pandemic or no pandemic.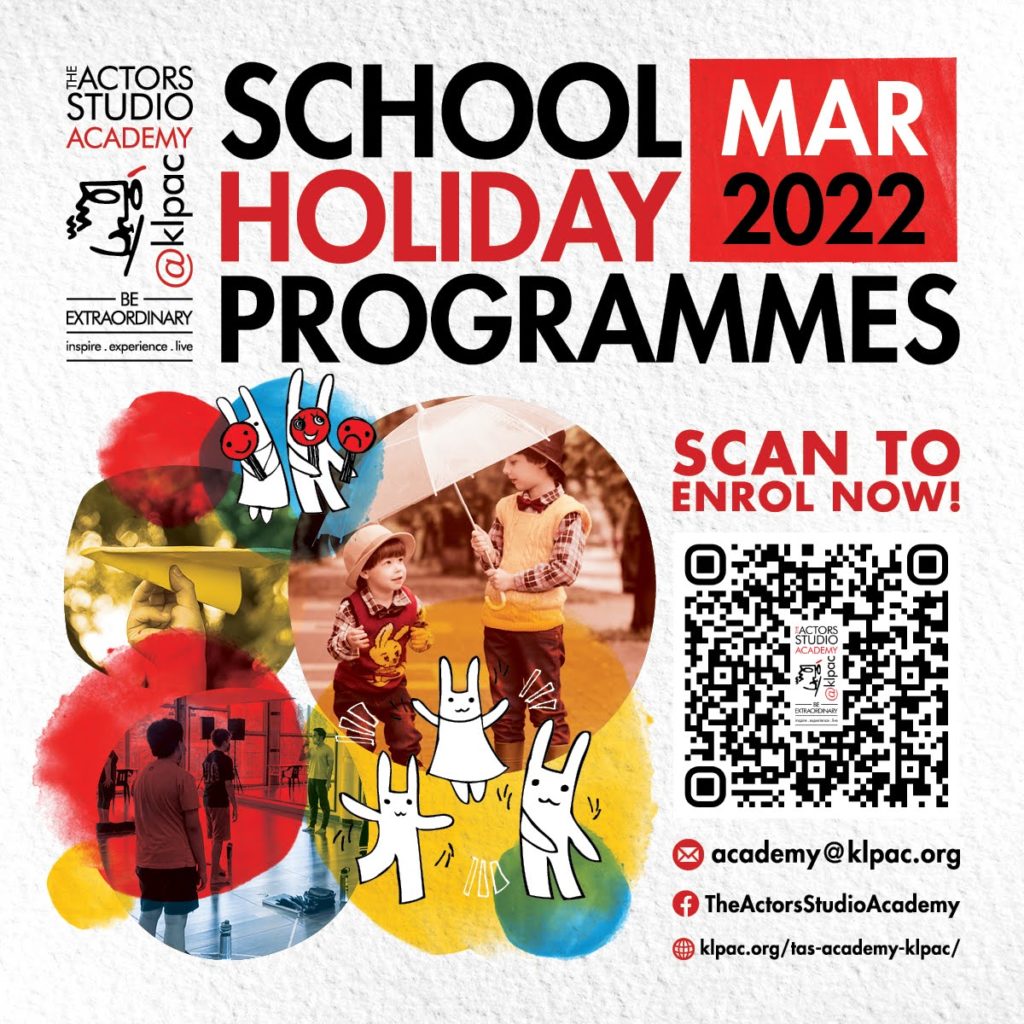 The programmes will be led by Vicky Ang and Nicholas Alphonso Pereira, experienced practitioners ready to share their knowledge and put some fun into your lives.
Ang, more commonly known as Teacher Vicky, is a preschool speech and drama teacher who is loved by many. In the past, Ang has been actively running themed holiday programmes especially crafted for kids aged 4 to 6. A long-time teacher at The Actors Studio Academy, Ang's passion for nurturing young creative minds is evident by the fantastic energy and creativity she brings to her classes. She will host several programmes which she says will be "lots of fun".
The other facilitator on duty for this season's holiday programme is Nicholas Alphonso Pereira or Teacher Nicholas. Nicholas' diverse experience includes having taught English to youths in East Timor, and conducting woodworking classes in Penang for both kids and adults.
Nicholas is an avid performer in the performance arts scene, having starred in plays such as Jungle Book: The Musical and Forkbeard. He is excited to be back with TASA this season because, he says" "Being in theatre is a gift; one that, in its truest form, can quite literally change the world."
Here's a list of the programmes:
Whether the Weather is…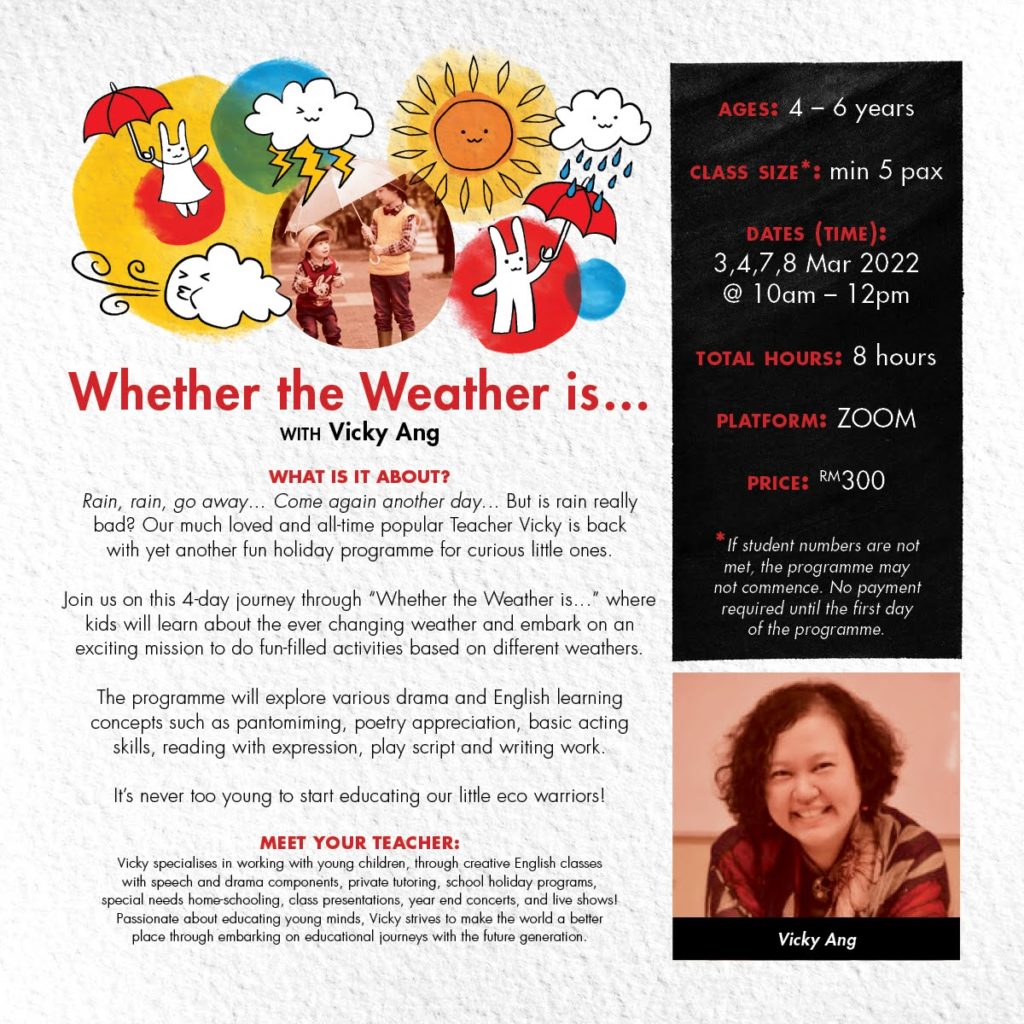 This four-day programme will be conducted by Teacher Vicky via Zoom. By nature, kids are just very curious creatures wanting to know why is this and why is that? Hence in this fun-filled programme, children will learn about the ever-changing weather and embark on an exciting mission to do activities based on the different types of weather.
Conducted in English, children will practise how to grasp the language better while learning various drama and acting skills such as poetry appreciation, writing, reading with expression and basic acting skills! Suitable for kids aged 4 to 6, this programme will be held from March 3 & 4 and March 7 & 8.
Take Flight!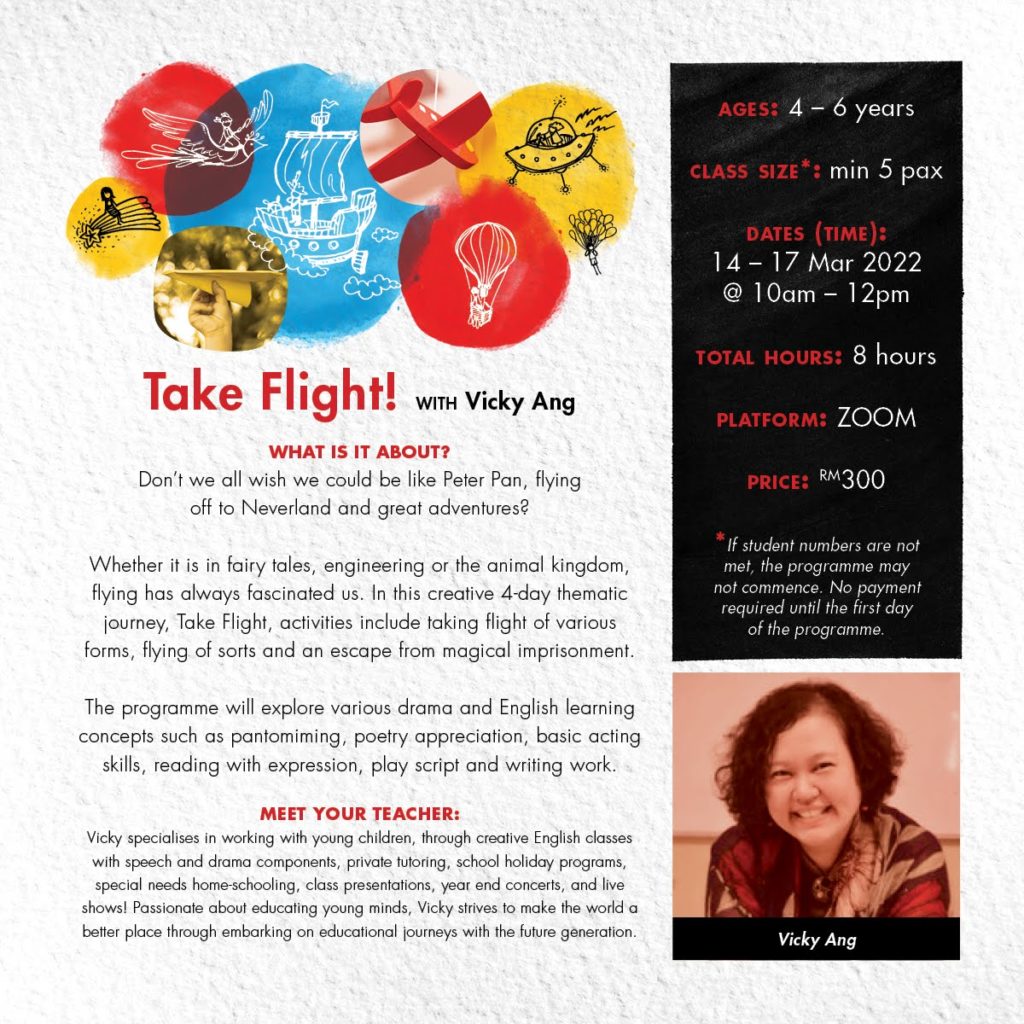 Don't kid yourself, everyone who has grown up on a diet of fairytales has definitely wished that they could fly and embark on amazing adventures.
Enroll your kids into this epic flight with Teacher Vicky across numerous fairytale adventures while learning new skills through literature and the arts. This 4-day programme begins on March 14.
Acting 101 – Theatre Workshop: The Fundamentals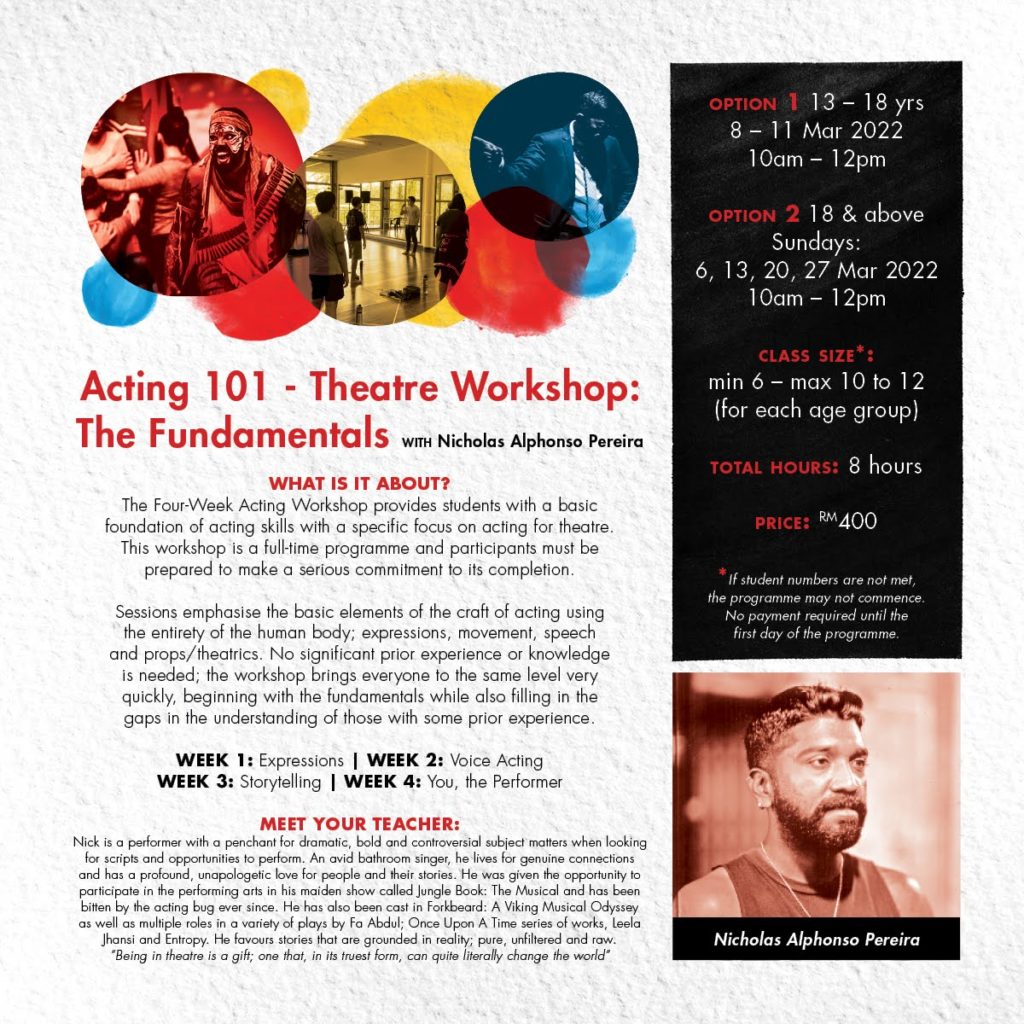 This workshop will be held in two sessions: one for teenagers (13-18) and the other session for adults (18 and above) The programme consists of four lessons over the course of one month (Expressions, Voice Acting, Storytelling and You) all conducted by Teacher Nicholas.
You'll learn the basics of acting here, including how to communicate your thoughts and feelings using expressions, body movements and theatrics. This is a beginner's class therefore no acting experience or knowledge is needed for you to enroll.
This acting workshop is being conducted physically at the Kuala Lumpur Performing Arts Centre (klpac) hence a serious commitment is recommended to ensure you get the most out of this. Teen workshops are from March 8 till March 11 while the adult sessions will be held on March 6, 13, 20 and 27.
School holiday programmes aside, the Academy's year-round programme continues to run. Those interested may register for Semester 2 of its Preschool Speech and Drama Programme for 3 to 6-year-olds and Speech and Drama Programme for 7 to 18-year-olds which begins in May.
For more information, visit the TASA website or email Yusintha Zemira, Head of Academy & Administrator at cherry@klpac.org or academy@klpac.org.