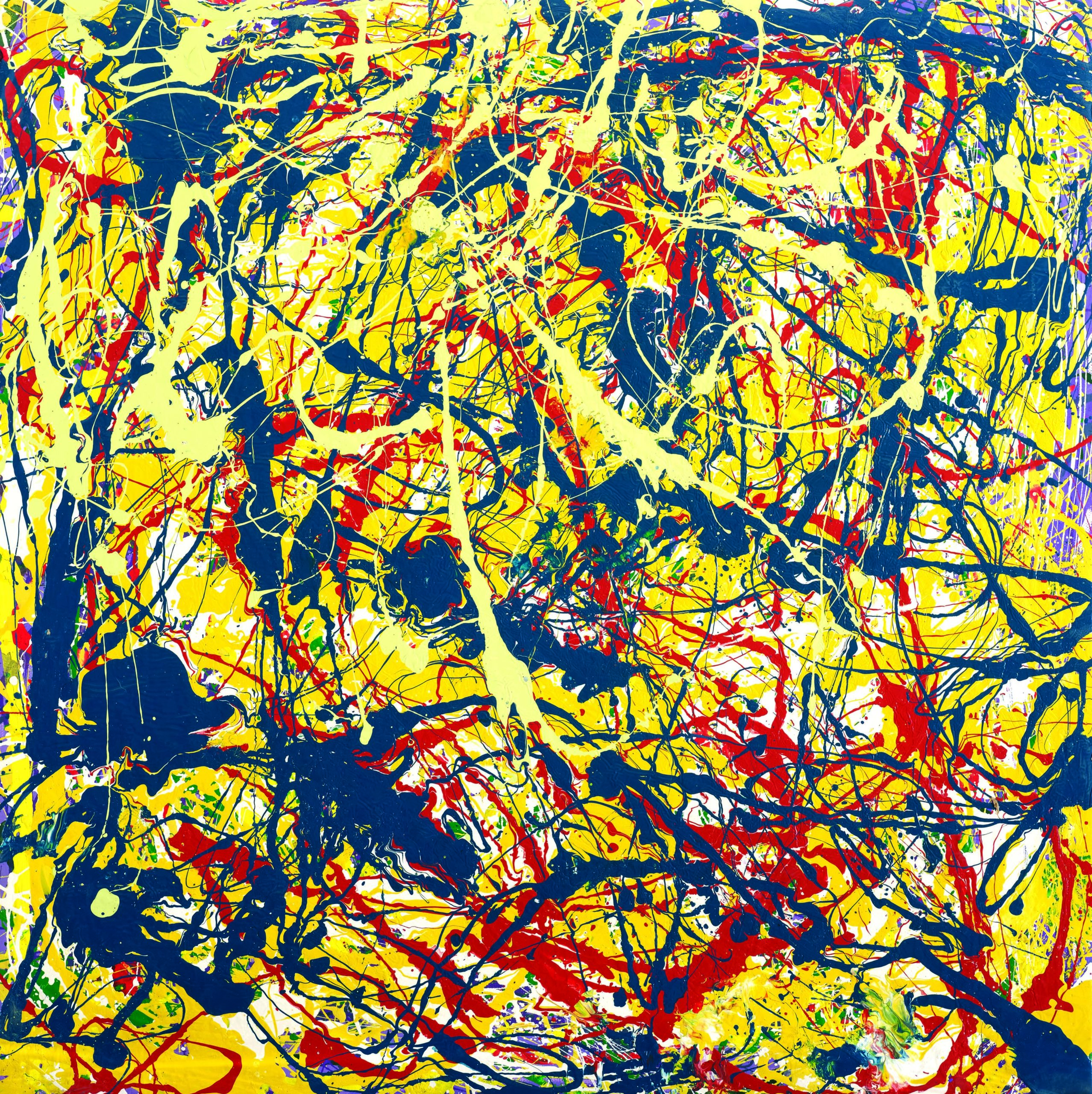 In the 12-painting series, artist Sharini Yogi uses her own take on Jackson Pollock-style drip painting to create colourful and emotional works.
By CHIN JIAN WEI
Colour dances on the canvas of Sharini Yogi's paintings. Splashes, strands, swirls of paint, all reflect the tumultuous emotions of the painter. Sharini was born in Kuala Kangsar, Perak. A self-taught artist, she cultivated a love for art from a young age and ultimately became a full-time artist. In 2019, Stephen Menon, the founder of ArtVoice Collective, an organisation dedicated to supporting and giving guidance to emerging Indian artists, met and mentored her, providing her with a platform to showcase her works. After a series of group shows over the years, HOLI is her first solo exhibition. The exhibition is curated by Stephen, and displayed at ArtVoice Gallery.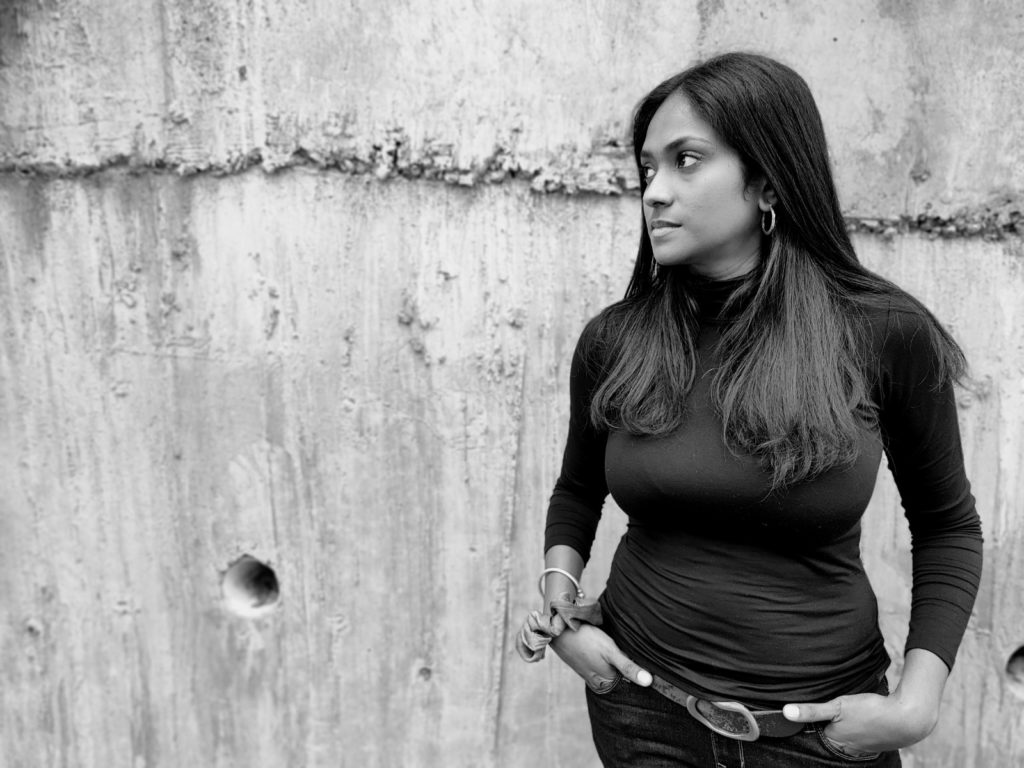 Holi, the popular Hindu festival that the body of work is named after, is a festival celebrating the triumph of good over evil. Sometimes called the festival of love, people unite, putting aside any resentments in their revelry. Famously, festival-goers throw coloured powders on each other, then frolick until the streets themselves are as colourful as its inhabitants. "I like that whole idea of colours," Sharini says. "I was also studying Jackson Pollock's work so I was trying to connect the idea of colours with Pollock's drip painting. I thought it was going to be easy, but when I started it, I almost gave up immediately," she laughs.
She elaborates on how when using the drip painting method, great care is needed when manipulating the paint, as well as the movement and speed of the hand in allowing the paint to fall exactly where she feels it should fall. After much trial and error, she has managed to put her own unique spin on the painting style, and has created works that can convey the breadth of her emotion. "Thankfully, it did work out. I want people to see how technical my paintings are, and I want to see how they play with their emotions on a deeper level. Instead of just looking at the paintings and saying 'it's nice', I want them to look through it, I want them to get a deeper understanding of each of the paintings. Each of the paintings will give you a different emotion."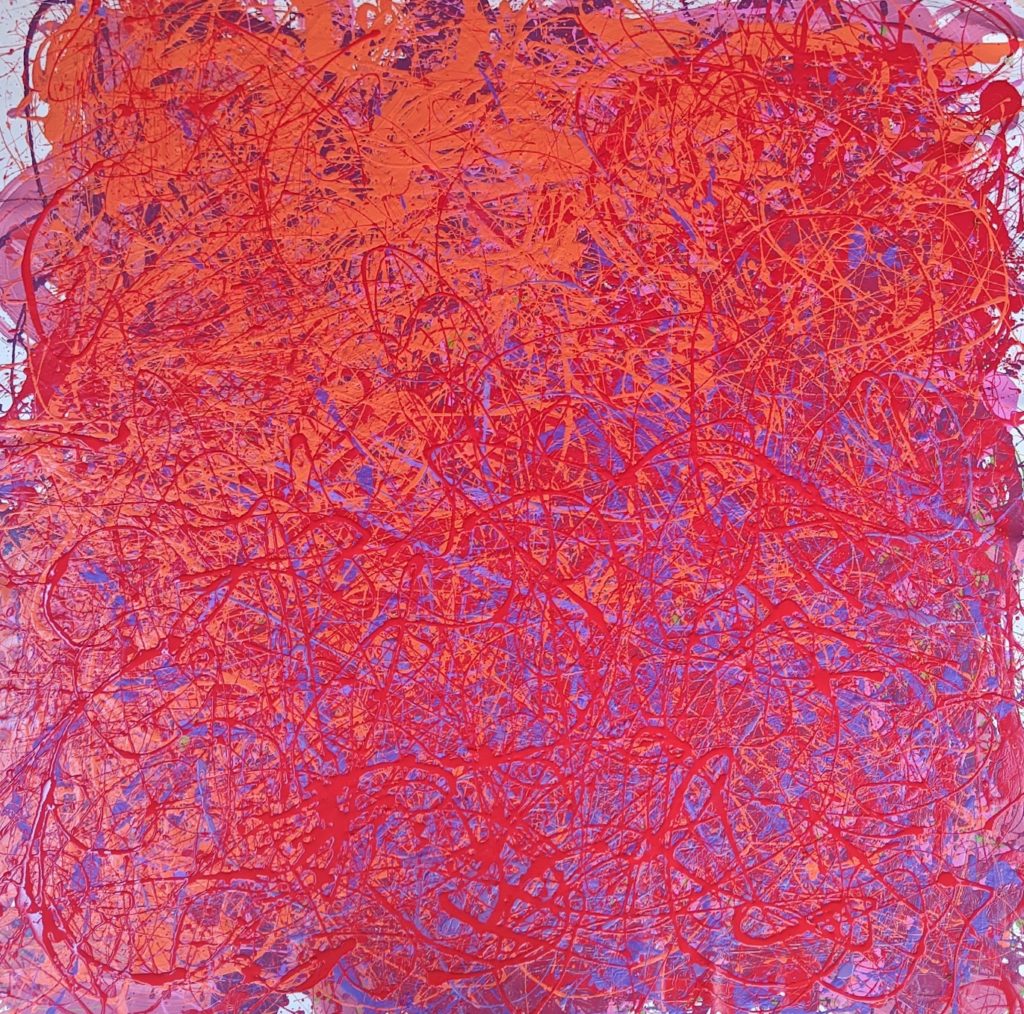 Sharini did not begin each painting with a definite end goal in mind. Like an explorer navigating the sometimes stormy landscape of her mind, she infused each piece with her emotions while she worked on them. Her frustrations, the stress she felt about her ability to complete the series, even the music she was listening to, all served to shape the forms of the paintings. After she was satisfied with a painting, she would name it and write a short, open-ended description of what it could represent.
"That one is my favourites," Sharini says, pointing at the painting entitled Achintya, which in Sanskrit means "something beyond explanation". Many of the paintings have Sanskrit names as Sharini finds comfort in the classical language so rooted in her heritage. The painting itself is beautiful chaos, a tangle of frantic swirls, the various shades of blue and yellow intertwining inextricably. "Abstract being abstract, it's not easy to explain to someone why you did what you did," Sharini says. "People will probably never understand why and how you did it, so to me it is that idea that pulls me toward abstract art. I feel that when something is beyond comprehension, it makes you think a lot, and that's what I want people to do."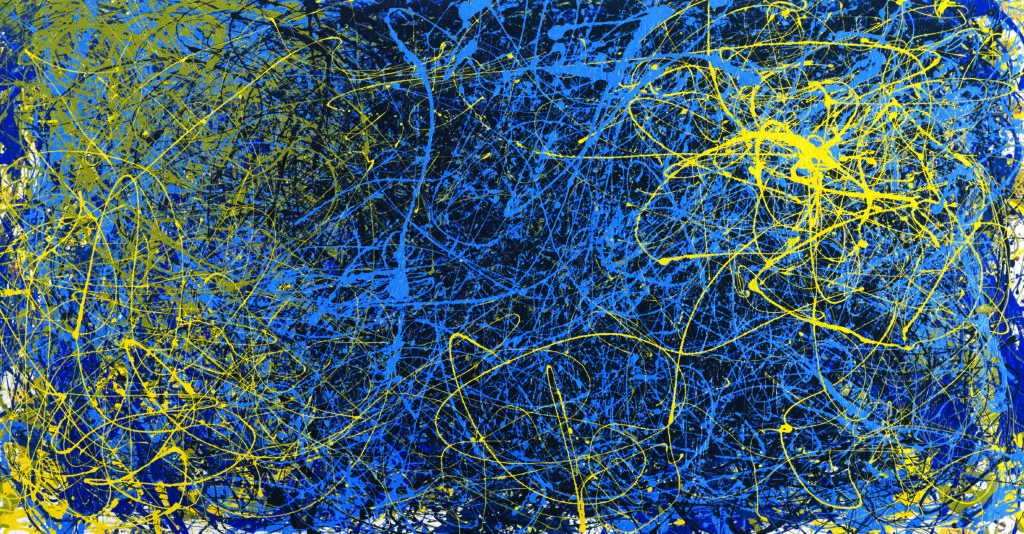 Maitri, another striking piece, is a blanket of smothering browns and blacks on a tender pink underlayer. Sharini hoped to convey recurring pain resurfacing time and again, and her efforts to ensure kindness and compassion will win out over the pain. Sometimes, she needs to remind herself to not be too hard on her body and mind, and this piece represents that struggle.
Sharini created the series of 12 paintings over a period of 12 months. Some paintings were produced very quickly, in only three days. Others, she struggled with over the course of several weeks. "I struggled with not having a studio," she says, recounting the challenges she faced while working on the series in the verandah of her house. "Financial constraints. Self doubt. A lot of ups and downs and thinking." But in her opinion, with strong support from her family and guidance from her mentor, she was ultimately able to turn that struggle into forward momentum and create work that is emotionally strong.
"It made me stronger, definitely because of my children," Sharini says. She has three young daughters. "They have always been encouraging towards me, and protective of my work. When they tell me how nice the paintings are, I feel like I am impacting them in some way. When I was working on this series, my third child was born. And ever since birth, she has been watching me paint. She is very apt with the brush, because that is what she has watched me do. So, artist in the making," Sharini says with a laugh.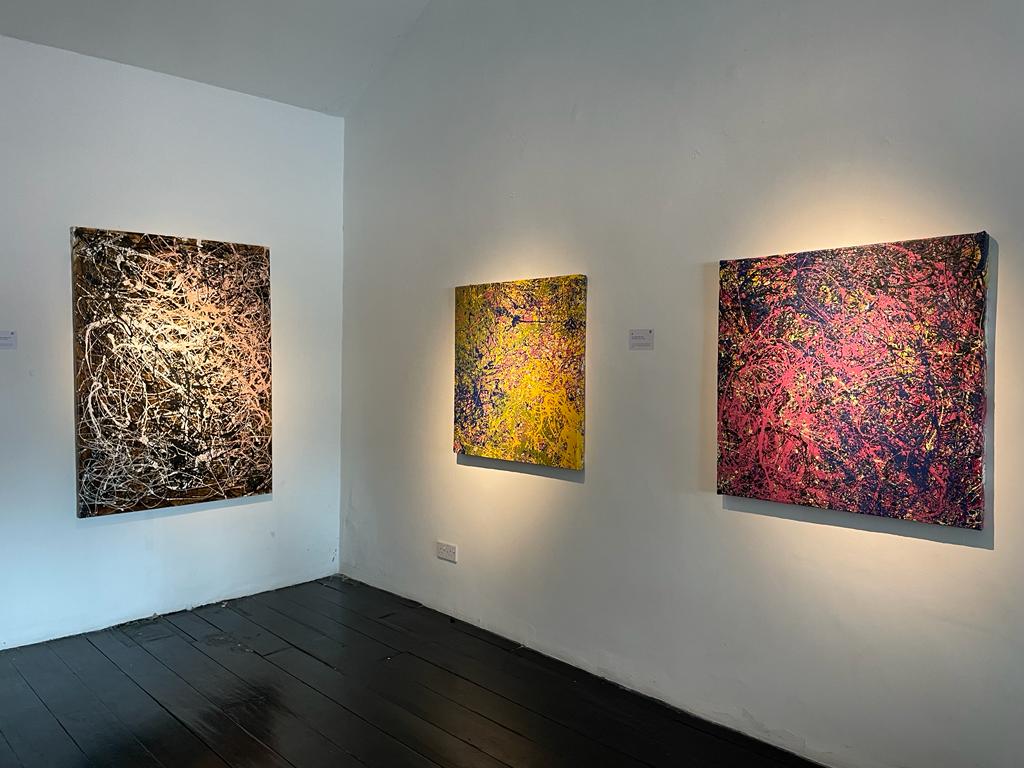 Sharini is still ardently honing her art and studying the works of master artists like Mark Rothko and Willem de Kooning. "I will not stop until I find my own thing, my own style." She admits that she doesn't know when she would feel that she has achieved this elusive and nebulous goal, but she thinks that the important part is the journey to get there. "Hopefully I will become known internationally and make Malaysia proud. Not many women artists in Malaysia are doing abstract art. I want to be there, and show everyone, 'look, we can do this.'
"To emerging artists, I have been through what you are going through. Hold your head high and be proud of what you do. Always be thankful for the talent you have been given, and not waste it just because you think you don't have the time."
HOLI will be on display at ArtVoice Gallery until Oct 22, 2022. Follow Sharini on Facebook and Instagram to see more of her art. For exhibition details, kindly email salam@artvoicegallery.org. You can also visit ArtVoice Gallery's Facebook and Instagram pages to learn more.
If you liked this article, you might also want to check out our other stories below: