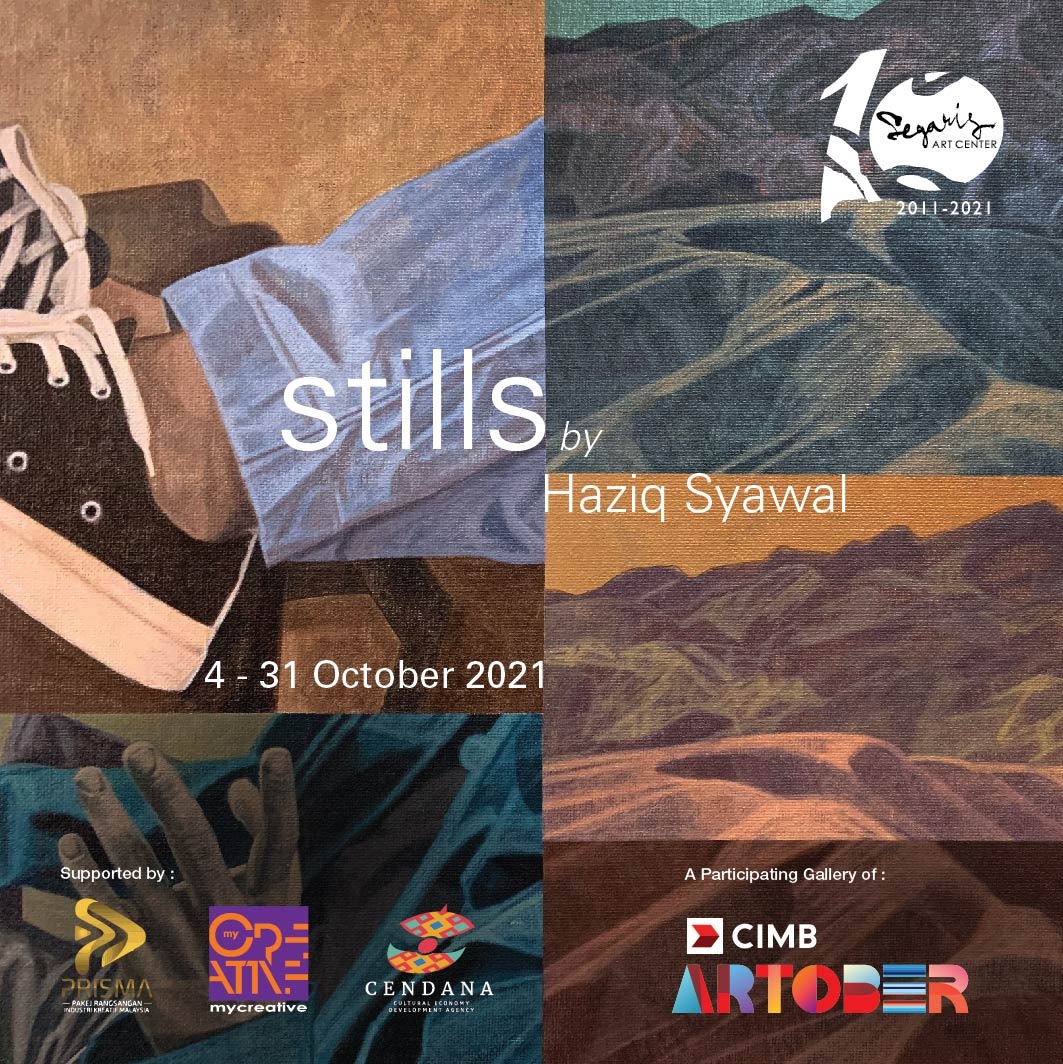 Haziq Syawal's solo exhibition is a colourful exercise of montages spliced with vistas, where clear, cogent paintings are repeatedly presented in muted colours.
By CLARISSA LIM KYE LEE
Segaris Art Center just turned 10. Not an easy feat for a gallery. The persistence and continual growth is testament to the hard work and camaraderie the gallery has built over the years. After a celebratory exhibition at The White Box at Publika Shopping Gallery, in Solaris Dutamas, Kuala Lumpur, a subdued but powerful set of paintings titled Stills: Solo Exhibition by Haziq Syawal is now on exhibition at Segaris Art Centre, in conjunction with CIMB's annual Artober programme.
I was carefully watching the exhibition unfold from the bustling metropolitan of Seoul, South Korea. Kuala Lumpur, in comparison, seems to be only now slowly opening up, and people are thirsty for arts and culture. In heightened contrast, the inaugural solo exhibition by Haziq beckons one to carefully reconsider moments of stillness.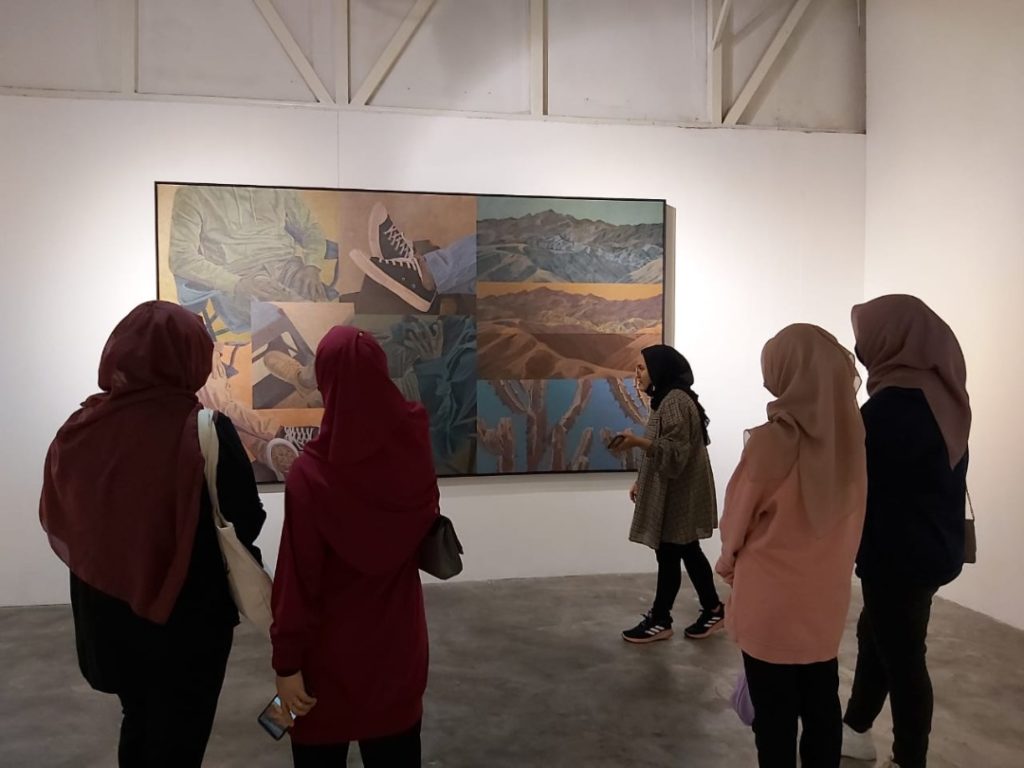 On display at Segaris, is an array of artworks by Haziq, ranging from mid-sized jute canvas pieces to expansive landscapes and montages, all framed in black. The exhibition draws attention to the "still life" genre, anticipating a call to slow down before rushing to return to normality.
Within the academy of fine arts systems, still life was often known as the lowest of the academic hierarchy of genres. The ranking apparatus drew a line connecting monetary to moral values. Without an allegorical undertaking, a piece reflecting the everyday was considered commonplace.
In Malaysia, the history of still life only spans several decades. A distinct artist figure is Georgette Chen, who migrated to Singapore several decades after World War II. In an article in ArtAsiaPacific, Redza Piyadasa alongside T.K. Sabapathy described Chen and her peers to have "consciously worked toward the establishment of a distinctive Malay and even regional identity in art". Drawing from a transnational perspective and having relocated to an emerging nation, they were able to develop a stylistic language bridging training from China, using westernised tools with a South-East Asian visage. From selecting familiar subjects such as rambutan, mangosteen and durian – the home is immediate.
Haziq's subject matter reflects our modern-day vernacular. From New Balance and Vans shoes to fish and cats, he develops a new vocabulary, traversing pop culture and the animals of our lands. Fauna is another key subject – you'll see sunflowers, cacti and the generous mountainous peaks of Perak. In choosing familiar objects, Haziq mirrors the urge to capture scenes of the everyday, much like Chen.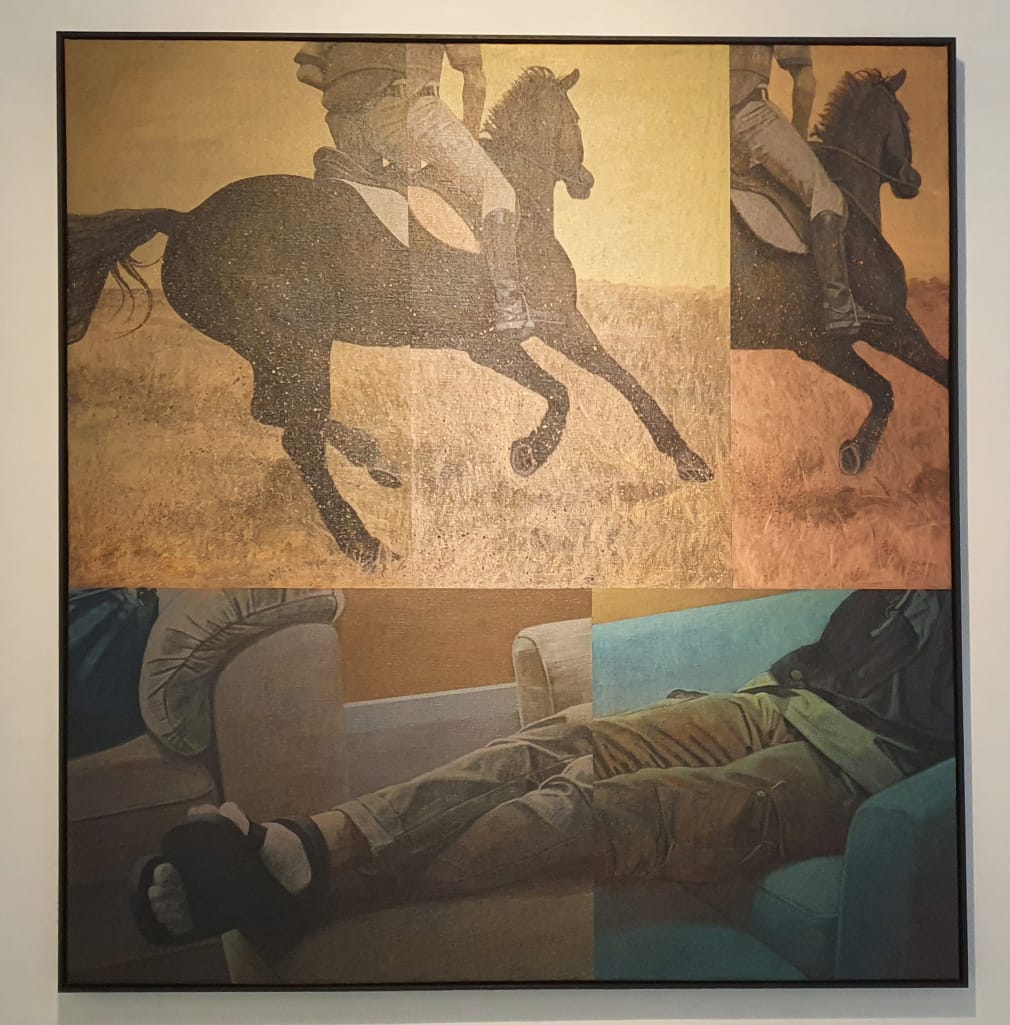 Where the two artists diverge is in the depiction of the everyday. Haziq isolates each object into a colourful exercise of montages spliced with vistas. It is a succinct study of operations – clear, cogent paintings presented in muted colours are repeated, overlapped and iterated.
The glitches and seams emerging from these sets of operations reflect the rule-making reminiscent of Johannes Itten, a Swiss painter and educator at the infamous Bauhaus. Itten taught one of the fundamental courses when one first enters the Bauhaus – colour theory in relation to the body. In The Elements of Colour, he explained: "(They) who want to become the master of colour must see, feel and experience each individual colour in its many combinations with other colours. Colours must have a physical capacity for spiritual expression, without being tied to objects."
Haziq's body of work tests these very suggestions by Itten. Divorcing objects from colour allows for a second life blossoming from the paintings. This is done through repetition, playing with scale and testing duotone palettes, depicting multiple interpretations of the everyday vernacular we are faced with. It is as if the sunflowers in your garden embody multiple spirits, offering both cooler and warmer readings.
The exhibition regales with tales of hard, continuous testing. Although distinct links can be drawn between Itten's offerings and Haziq's work, an arduous study of colours will only enrich the paintings further. Where Haziq's paintings shine are the complex layering and scalar playfulness. His voice slowly surfaces as one begins to realise the skilful execution of glitches, optical misalignments and contrasting colour choices.
A constant, continual force drives Haziq's practice. Writing in from afar, I was caught by the scale of his pieces, challenging the very vistas enshrined on the jute canvas. Immediately stopping my scrolling, I paused for several minutes (what seemed like an hour in Internet time!) to reflect, be still and breathe.
Catch the show, Stills by Haziq Syawal at the Segaris Art Centre, in Publika, ongoing until Oct 30. The official opening is slated for Oct 26 at 8pm.