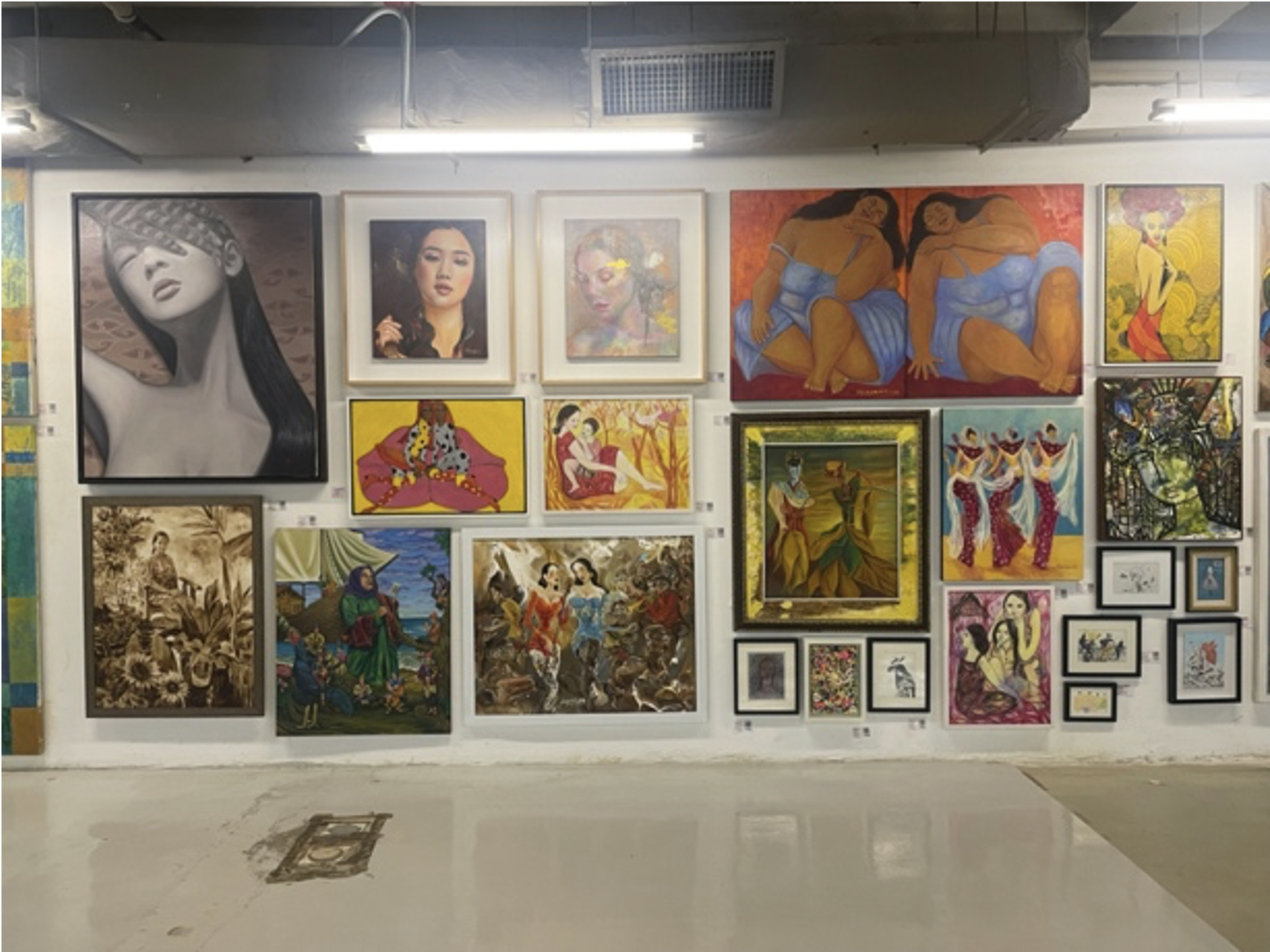 Art fairs in KL to connect the public with artworks displayed in engaging public settings.
Story and photos by YUSRA ZULKIFLI for Lensa Seni
As Kuala Lumpur eased up post-Covid restrictions late last year, there was what seemed like "art exhibition fever" in town. In November 2021, two events renewed interest in creating a new marketplace for the local art community; the CIMB Artober and ARTIsFAIR.
CIMB Bank picked up on the enthusiasm and launched CIMB Artober from Nov 4-7. It was its 2nd art exhibition in collaboration with leading art galleries in town, featuring about 350 artworks at Element by Westin Kuala Lumpur. On the other hand, ARTIsFAIR ran its debut art exhibition from Nov 12-28. ARTIsFAIR featured 2,000 artworks from Malaysia and Indonesia at the Fahrenheit88 mall, located in the busy shopping area of Bukit Bintang. ARTIsFAIR was co-created by fashion designer Bernard Chandran, BookXcess co-founder Andrew Yap and PAPU art store founder Nicholas Siau.
Both events were art fairs intended to create a sustainable local arts community.
These fairs support the artists' livelihoods by connecting the public with artworks in an engaging public setting. However, ARTIsFAIR received objections from local artists and art lovers on its launch day as some of the artworks were hung over the mall's balcony railings, which many felt were far from a proper stage. The ARTIsFAIR organisers quickly responded and relocated these artworks within the other gallery spaces on the same day.
In early November, CIMB Artober took over the whole 45th floor of the Element by Westin Kuala Lumpur Hotel. It featured a hotel art concept by allowing participating galleries to convert hotel rooms into exhibition spaces, with some galleries occupying more than one room.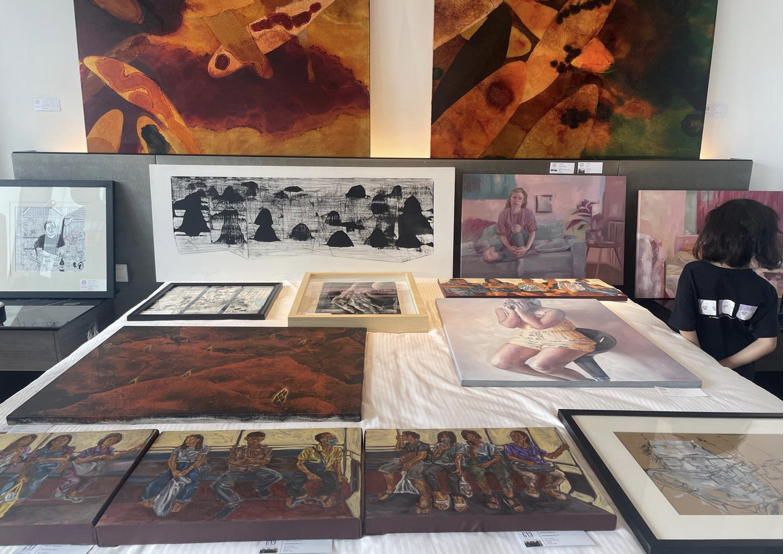 Each gallery had its own theme presented in different hotel rooms, representing a range of artists and artworks in a familiar domestic setting such as bedrooms, bathrooms, living and kitchen areas. The artworks were situated ingeniously in ways that fit the surrounding context of a hotel room, such as on the bed, in the bathtub and inside a safe deposit box.
At CIMB Artober, participating galleries were A+ Works of Art, Artas Galeri, Core Design Gallery, Cult Gallery, Segaris Art Center, TAKSU, Suma Orientalis, G13 Gallery, and Richard Koh Fine Art. In addition, craft vendor Studio C was introduced with a room featuring exquisite local crafts that displayed Malaysian rich culture and heritage.
In contrast, the ARTIsFAIR scale was grand, displaying artworks that span over four floors of Fahrenheit88 mall. The show took place in a couple of lots within the retail mall on the ground, first and second floors, and occupied the third floor.
They intentionally displayed the artworks in mixed raw and unfinished architecture and refined interior spaces. Some artworks were framed with shipment carton boxes and hung on the wall or left standing on the floor. Generally, a salon-style display was adopted where the artworks' placements extended either lower or higher than eye level to accommodate the high number of works in the showcase.
ARTIsFAIR exhibition lacked a clear overall concept, but some artworks were grouped based on their subject matter or presented in thematic colour rooms. Perhaps this wasn't the primary intention of the organisers, as Bernard said that his inspiration was from the French fashion style of mixing high with low fashion. Likewise, Siau enjoyed incorporating various artist brands within a room. Therefore, you get an eclectic mix of well-known contemporary and emerging artists in the same space.
However, as there were many artworks on show, the tight display of artworks from floor to ceiling and on balcony railings over the mall's centre court did not fully allow one to appreciate them fully. Furthermore, like the public had voiced out: how could one view or enjoy those artworks on the balcony railings 20 feet below or away from it?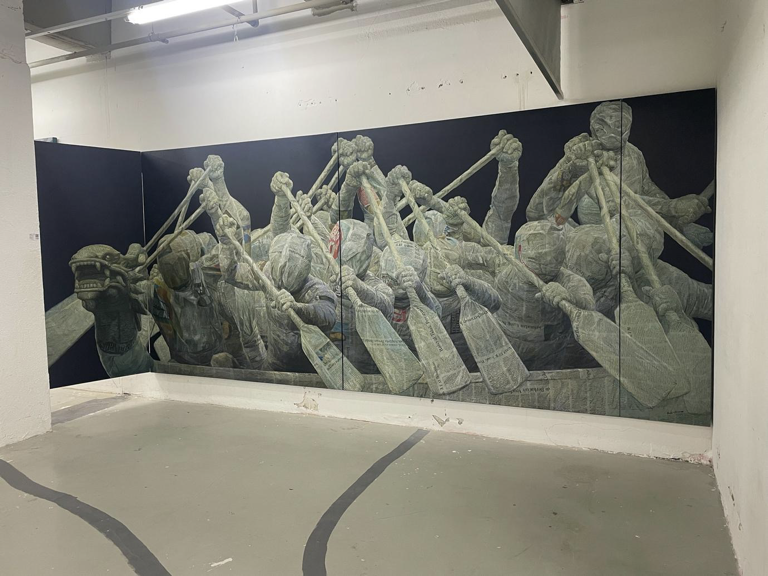 Nevertheless, two artworks caught this writer's attention. The first was a large piece displayed on its own on the third floor. It was an acrylic painting on canvas of four panels with the total size of 200cm x 550cm, depicting mummified figures covered in newspaper prints, rowing in a dragon boat.
The space was tight for all four panels to be laid open on a single wall. Therefore, the last panel was rotated perpendicular to the piece connecting to the column. This particular artwork managed to occupy and entrap one's attention in that tight corner space.
Thus, one could move closer and away from the piece to appreciate the artwork's intricacies and as a whole. This piece was by Budi Ubrux titled Dragon.
The second artwork was in the immediate space on the left of the exhibition entrance on the third floor. This work occupied most of the wall as it was lifted about one foot from the floor and ended just before the ceiling. The work shared the wall with three other smaller pieces.
The piece depicted four women dressed in a sari, cheongsam, batik and traditional Malay dress with their bodies tied by a continuous string that linked all four women to a naked male figure with a dog's head. The setting was in a domestic space with the women's gaze to the mirror or window to the outside world canvassed white.
It was very detailed and drawn entirely in ballpoint pen. Intrigued by the piece, I looked for high and low information on the artist's work. Approached by the exhibition's invigilator, she informed that it was Syahbandi Samat's work and the organisers were still working on replacing the tag that had dropped. Without the help of the invigilator, I would not have known it was Syahbandi Samat's work.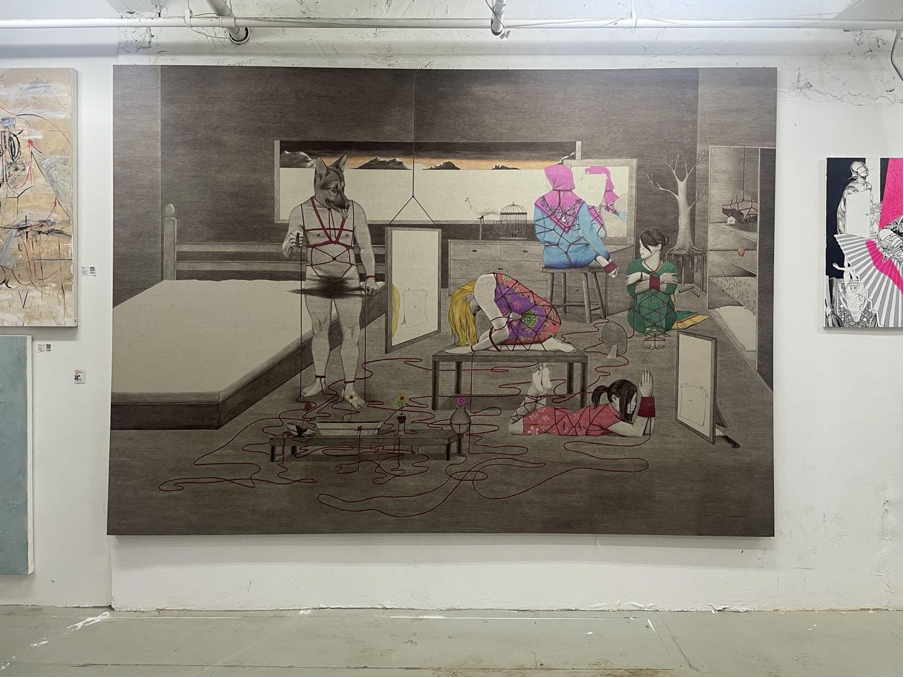 ARTIsFAIR had a hybrid platform that enabled visitors to scan the QR code next to the artwork to purchase it online. However, I left the exhibition feeling slightly disappointed as I couldn't find the title of Syahbandi Samat's work after navigating its website.
However, at CIMB Artober, leading local gallerists curated and displayed suitable artworks in a hotel room. The familiar domestic spaces allowed visitors to imagine the works shown in their home, which helped to encourage sales. The artworks were placed against the headboard or inside the cabinets. As a result, they resonated with their contextual surroundings and created a possible dialogue.
For example, in "The Missing Ring" (2013) by Liew Kung Yu, a safe deposit box was left open with one item inside it, which was a ring.
CIMB Artober and ARTIsFAIR had different target markets and provided different spatial experiences as a visitor. However, both events were worth visiting as they could leave you with mixed feelings.
Yusra Zulkifli is a participant in the CENDANA ARTS WRITING MASTERCLASS & MENTORSHIP PROGRAMME 2021
The views and opinions expressed in this article are strictly the author's own and do not reflect those of CENDANA. CENDANA reserves the right to be excluded from any liabilities, losses, damages, defaults, and/or intellectual property infringements caused by the views and opinions expressed by the author in this article at all times, during or after publication, whether on this website or any other platforms hosted by CENDANA or if said opinions/views are republished on third party platforms.