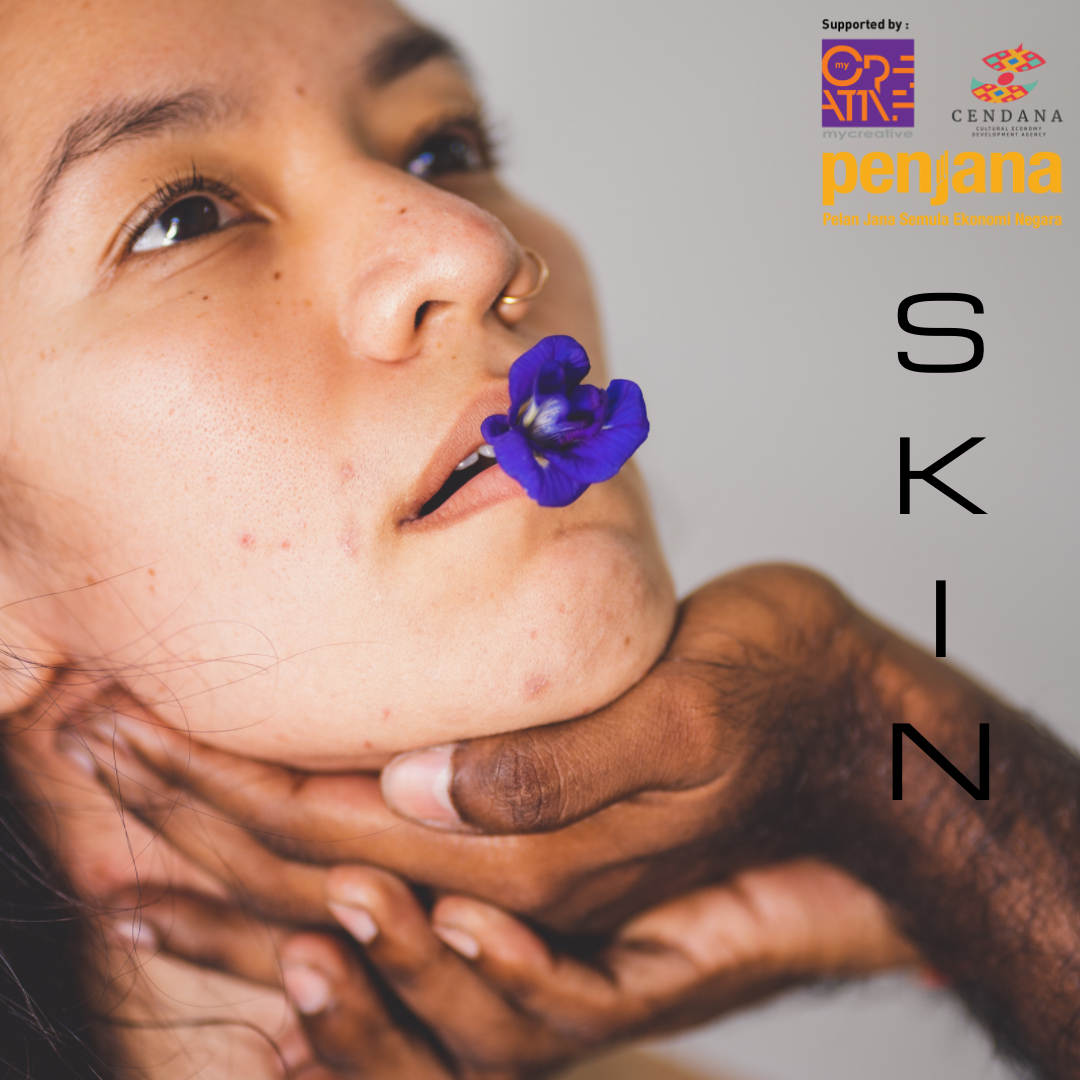 Poetic documentary SKIN examines the multiplicities of bodies and the weight of skin.
By ANN MARIE CHANDY
Skin may not be a subject many twentysomethings are passionate about. But for multidisciplinary artists Luvenia Kalia and Theyvapaalan Jayaratnam, it has been right on top of their todo list for over a year now! Luvenia, 27, and Paalan, 29, are long-time friends who have partnered together to perform and produce a film called SKIN.
"Paalan and I have known each other for way too long," Luvenia jokes, adding "We're both from Penang, I was in St Georges and Paalan was from Free School. We grew up performing together."
It should come as no surprise then that they share a lot of chemistry, which you'll see on the experimental film which premieres this week on YouTube. Luvenia and Paalan have collaborated on this exploration of culture, race, bodies and identity through dance, theatre, music and film with a "super awesome team" of multidisciplinary Malaysian artists comprising Thinakkaaran Thamilchelvam (cinematography), Quin Ooi (editing) and Santosh Logandran (sound design).
The performing duo describe the 35-45 minute film (at the time of this interview they were still in post production making the final cut) as a poetic documentary. While there's no dialogue, there is text. It's hard to define what the film is about. But in a nutshell, Luvenia, who is of Punjabi/Chinese parentage and Paalan, of Sri Lankan Tamil descent, examine the multiplicities of their bodies, and the weight their skin carries, harvested from displacement, migration and the merging of cultures.
Below, they trace their journey to the present in a series of questions and answers.
How did you both meet?
Luvenia: I started out at the Temple of Fine Arts, and Paalan used to go there to watch the shows.
Paalan: That's when I first met Luvenia, she was performing and must have been 14 or 15. And I thought to myself 'oh my goodness, who is this person?' It was a classical bharatanatyam number but Luvenia just stood out, as she often does. There's just something about her when she performs.
Luvenia: We became friends and started performing together in school productions. Later we both ended up living together in Singapore where I was doing my diploma at Lasalle (College of Arts) and Paalan was a flight attendant based there. Paalan then returned to Malaysia to study performing arts at Sunway University and participated in klpac's Theatre for Young People (T4YP). And I headed off to rural Pennsylvania, in the US, to pursue my degree in fine arts.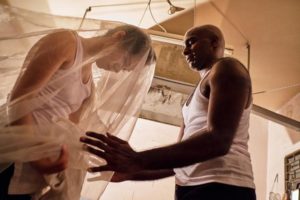 How and when did you meet again to perform?
Luvenia: In 2019, I came back for the summer and we did our first real show together during the George Town Festival that year. Our proposal didn't get accepted initially. But then (performer/choreographer) Aida Redza urged us to get together with some other dancers and put together a performance. There was this shophouse, and we were able to talk to the people who once lived there and unearth a beautiful story about them and their connection to the house. We brought to life their memories in a very simple way, and that, Your Father's House ah? Dance@74,  was our first walkthrough theatre performance together. 
What is SKIN?
Paalan: It's a film but we want to leave it open for interpretation. How we've mapped it out is like a journey of two beings discovering their skin or their shells.
Luvenia: There's a lot of choreography, but it is not dance per se, rather it's choreographed to realistic movements. It won't look exactly like a presentation, or pretty dancing. In our George Town Festival performance, the movements all came from the research based on the stories of the family. And it's the same with this film. A lot of the movement has been researched from real people and real experiences.
How did the SKIN journey start?
Luvenia: Last year I came home because of Covid-19, and at that time, we were all stressed, there was heightened racial tension everywhere, a lot of politics … We were just really frustrated every day.
It was during this time that we went to a durian plantation in Pengkalan Hulu for a residency of sorts. We needed some thinking space. For 10 days, we would wake up, work on the farm and then at nights we'd have chats. When you're away from everything, you're able to feel and see more clearly. And that's when the idea for SKIN started taking shape.
We'd just watched documentaries on indentured slavery; how Tamil people came to Malaysia back in the day. We were discovering things we didn't know before and we started digging for more information. We began comparing our experiences with religion and ritual.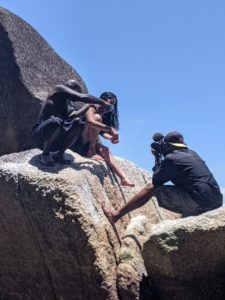 What have you learnt from developing SKIN?
Luvenia: We started talking about the differences and similarities we had, and then it branched out to our experiences being on the spectrum of being Malaysian Indian and how we are looked at in society. Very big questions started popping up.
Paalan: One of the realisations that came up was that our bodies are seen as stereotypes – Luvenia is the exoticised damsel, and my body, the typical Indian male. Just putting those stereotypes aside and doing certain movements was an interesting experiment for us. We realised that even though we live the experiences of Malaysian Indians, we don't always have the same experiences. It was a discovery finding out who we are: what the colour of our skin means to us, and to other people.
Luvenia: We continue to have beautiful realisations and I think this is the magic of this project. Part of this whole exploration is trying to make connections, and we haven't yet resolved everything, I don't think we ever will.
Paalan: However, along with those gorgeous realisations and moments of synchronicity, I think there is also a weight. You also start to learn about the generational traumas that come with your being. The beings in our film discover their skin, the sensations that come with skin … and then go on to discover the weight that comes with it.
What is the structure of the film?
Luvenia: Initially it was meant to be a stage show but there was so much anxiety putting up a stage show at this time so we converted it into a film. And that has been a blessing in disguise. Thina (the cinematographer) suggested that we address this film as a poetic documentary, and that really made sense. It's not linear. It's not really a narrative. It's just an amalgam of different elements, and it leaves a lot of room for interpretation and for the audience to absorb what they want.
Paalan: It is, however, modular and comes in four different segments so if people want to watch it then pause, or if they want to watch it all at once, they can choose to do so.
What do you hope to achieve with SKIN?
Paalan: We want people to watch it and start a dialogue. We hope it arouses conversations.
Luvenia: Starting a dialogue is a big thing that's come up, not just between Paalan and I, but the entire team. We want to know what people think. We also want to bring this concept onto other bodies. We want to take it away from ourselves and expand it to others. There's a huge opportunity not just for local dialogue but international dialogue. Through migration we went all over the place, and we can now have a borderless artistic dialogue too.
We also see this team of ours as quite concrete and we do want to grow it. Hopefully if we get a bit of funds from this venture, then we can fund our next project!
You can watch SKIN now. Purchase tickets here and receive a private Youtube link via email. SKIN will be available for viewing at anytime between June 20 and 28, 2021.